Might this be the canceled Microsoft Band 3?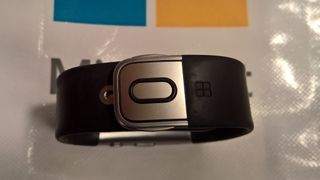 To many, the Microsoft Band line of devices were actually pretty good, available on Windows Phone as well as iPhone and Android, making it a viable option for anyone with a smartphone. In the last couple of weeks however, the company decided to terminate any plans to continue releasing new Band devices, which means we won't be getting a Band 3. That doesn't mean they were not working on one, however. A user on our forums by the name FUD Hater (who has since requested the thread be removed) has posted images of what appears to be a Microsoft Band 3 prototype, with waterproofing and a few other features.
According to the user, the Band 3 was to include the following new features over the previous Band:
Waterproof
EKG (electrocardiogram) with blood pressure tracking
RFID (radio frequency identification)
The Band 3 would've also featured a swim tile, which would've tracked swimming sessions similarly to how other tiles like walking or cycling does. In addition, there would have been a tile for detailed blood pressure statistics, another bonus for those using the Band for health.
Apart from that, the Band 3 prototype appears to look pretty much the same as the Band 2, which isn't all that bad considering the Band 2 is rocking a pretty sweet design. Regardless of this, many Band users were hoping Microsoft would go down the route of making it thinner and more comfortable instead of adding additional sensors. Not that it matters, as according to several reports the Band 3 has been canceled and the team working on the Band has been, well, disbanded.
There doesn't appear to be any sign that Microsoft is planning to introduce a Band 3 this year, or ever at this point, but the company isn't done with health services. Perhaps other OEMs are being encouraged to step up their game and release their own version of the Band, which would hook up to Microsoft's own Health services. Or maybe Microsoft is looking at releasing an all new wearable. At this point, who knows. Nevertheless, the Microsoft Band 3 was a thing, and now it sadly is not.
We're digging for more regarding this rumored Band 3 prototype, and we'll update this story once we know more.
Updated: Windows Central can confirm the legitimacy of this Band 3 prototype.
Get the Windows Central Newsletter
All the latest news, reviews, and guides for Windows and Xbox diehards.