Might this be the canceled Microsoft Band 3?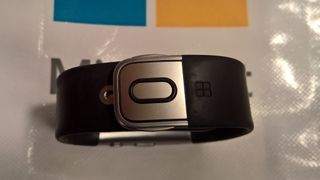 To many, the Microsoft Band line of devices were actually pretty good, available on Windows Phone as well as iPhone and Android, making it a viable option for anyone with a smartphone. In the last couple of weeks however, the company decided to terminate any plans to continue releasing new Band devices, which means we won't be getting a Band 3. That doesn't mean they were not working on one, however. A user on our forums by the name FUD Hater (who has since requested the thread be removed) has posted images of what appears to be a Microsoft Band 3 prototype, with waterproofing and a few other features.
According to the user, the Band 3 was to include the following new features over the previous Band:
Waterproof
EKG (electrocardiogram) with blood pressure tracking
RFID (radio frequency identification)
The Band 3 would've also featured a swim tile, which would've tracked swimming sessions similarly to how other tiles like walking or cycling does. In addition, there would have been a tile for detailed blood pressure statistics, another bonus for those using the Band for health.
Apart from that, the Band 3 prototype appears to look pretty much the same as the Band 2, which isn't all that bad considering the Band 2 is rocking a pretty sweet design. Regardless of this, many Band users were hoping Microsoft would go down the route of making it thinner and more comfortable instead of adding additional sensors. Not that it matters, as according to several reports the Band 3 has been canceled and the team working on the Band has been, well, disbanded.
There doesn't appear to be any sign that Microsoft is planning to introduce a Band 3 this year, or ever at this point, but the company isn't done with health services. Perhaps other OEMs are being encouraged to step up their game and release their own version of the Band, which would hook up to Microsoft's own Health services. Or maybe Microsoft is looking at releasing an all new wearable. At this point, who knows. Nevertheless, the Microsoft Band 3 was a thing, and now it sadly is not.
We're digging for more regarding this rumored Band 3 prototype, and we'll update this story once we know more.
Updated: Windows Central can confirm the legitimacy of this Band 3 prototype.
Windows Central Newsletter
Get the best of Windows Central in in your inbox, every day!
Zac Bowden is a Senior Editor at Windows Central. Bringing you exclusive coverage into the world of Windows on PCs, tablets, phones, and more. Also an avid collector of rare Microsoft prototype devices! Keep in touch on Twitter: @zacbowden.
Waterproofing alone would've been enough for me to buy this.

Same. And I know at least 3 other people waiting for the waterproof version :( such a shame

MS is like "hmm, the product didn't impress the board enough so instead we will cancel it to avoid not being competitive on the market with it". I expect more of them if they want to push back into the mobile space next year

It s Satya time....We need to wait he ll be over...

Surface Mini... MS finally has a lower cost, purse-pocketable, media-consumption-friendly tablet that'll allow the Surface lineup to enter a more mainstream audience... and instead of releasing it, they **** it up. ​Microsoft Band 3... MS improves upon an awesomely designed product to resolve some game-breaking issues... and instead of releasing it, they **** it up.

How sure are you this device is cancelled? Maybe it will be released under the Surface brand.

I don't get it. Why people on this site think that everything MS does will be rebranded as Surface and suddenly become successful? Maybe they should change the company name to Surface and all readers here will be happy? They canceled the phones, they canceled the band. Period. Maybe someday, in two years, or 10 years, when everybody forgets about MS in consumer space they will try to come back but for now it's over. They left the room.

People say/think that because of how Microsoft was/is being restructured internally. Instead of separate, say mobile and 2-in-1 devices divisions, they put all devices under Terry Myerson's division.

Terry is an incompetent...

Wondering if you're ever going to have the time to 'fix' Clear My Band. It's essential, but has never worked reliably with Band 2 on W10. Have sent several emails to your 'support' without reply. :'(

Well it's hard to be impressed with a ' strategy' to abandon a market, losing the only customers they have, and promise to do something again years hence. It's done. Stick a fork in MS Mobile devices for consumers and stop pretending. All they're Services are available on Apple and Android, and that's where we will all be forced to use them.

Unless I missed something, they never actually said they cancelled the band, only that there would be no band in 2016. There's a big difference. Posted via the Windows Central App for Android

Yeah that's the extent of my knowledge too. Didn't see anyone saying that they wouldn't ever release another one, just not in 2016...

I don't get that either. Maybe I'm optimistic, but I read this WHOLE situation as "Hey guys, we tried to get Windows 10IoT onto the next Band but we didn't nail it. Probably need another firmware based Band. Back to drawing board, see you in 2017, hopefully with a member of the UWP family like we intended."

What awsomsauce said....please be a little clearer in the articles. It's not to say that it hasn't been completely cancelled, but, everything I've read on the issue everywhere else indicated that MS stated that they won't be releasing another band product "this year".

But considering they stopped stocking and selling the Band 2, it gives us the impression that they're trying to kill it off. I had to replace my Band a couple weeks ago and was lucky enough to get the very last device they had. In a couple months' time this Band will break again and that'll be the end of it.

I don't know why Microsoft would want to get out of the fitness wearable market. The band is platform independently and feature wise its not a bad deal compared to the alternatives. So lets hope Microsoft is clearing inventory and rebrands the next gen Microsoft Band as a Surface Band. The Surface Brand is strong, high end, expensive but stands for quality and lots of features.

The Band brand is totally new and doesn't have a tarnished reputation. They don't need to rebrand their fitness wearables. Besides, the Surface brand isn't the umbrella brand for all of their hardware, it's for hybrid/convertible computing devices. The Band doesn't represent that in any way. Everyone needs to stop trying to throw every product under the Surface brand to try and make things better, it'll only bring more confusion. With Apple, iPhone is for phones, iPad is for tablets, (i)Mac is for computers, and Watch is for wearables. With Samsung (although their product lineup was extremely confusing before), Galaxy is for phones, tablets and convertibles, Notebook (formerly Series or ATIV) is for laptops, and Gear is for wearables. For Microsoft, Surface is for hybrids/convertibles (and potentially phones considering Continuum makes it a hybrid), Lumia was/is for phones, and Band is for wearables.

"Lumia was/is for phones". Definitely 'was'. Running out of stock, not bothering to support it anymore, and not making any more of them. Sound familiar? The Band is on the way out. Even if it isn't, Microsoft is showing their usual total ignorance of how to treat consumers and is salting the earth before sowing their crops - as usual.

While I agree with most of what you said, I disagree with you saying that the Band is not a hybrid. Microsoft explicitly stated when the first Band launched that their goal was to build a fitness tracker with the functionality of a smartwatch. That sounds like a hybrid to me.

Good point! Though I still don't know if putting the Band under the Surface line is a good idea considering their commitment to the Band right now.

Did you miss the part where the article says the team working on the band no longer exists and there are no plans for ever making a band?

If you're talking about the article WC posted a couple weeks ago, then they never said any of that. All the article said was that there would be no band 3 this year. It also said they were disbanding "the group of individuals who were trying to get the Band to run Windows 10", NOT the group of individuals who make/design/etc the band. They might be the same, they might not. Microsoft also said they're "deeply committed to...exploring the wearables space." now tell me, how can a company be "deeply committed" to exploring wearables yet have no plans to release one? Posted via the Windows Central App for Android

True, I don't know why people are suspecting it to be canceled. Just because they stopped sells of the previous bands doesn't mean they still won't release this one

It isn't cancelled. I covered this in the band 2 article. My team just received approval and confirmation of inclusion of our part of the band 3.

I can't get to specific, it we do two sensors and one core.

What company do you work for? Surely telling people where you work is not in an NDA,unless you are part of some sort of secret service.

Not a wise idea. Corporate NDAs can be pretty far reaching.

I know. But these articles are killing hope, when they are inaccurate.

Sadly, that is one of the primary reasons Microsoft fails in the consumer space. When the hell will they lure some Some Apple marketing people over and put them in charge?

Sadly, that is one of the primary reasons Microsoft fails in the consumer space. When the hell will they lure some Some Apple marketing people over and put them in charge?

Well this is exactly what I'm saying, there may be aband three band they are killing the market for it completely and by the time it comes out it will be already dead. At least for windows.

Awesome.... If it is the truth

What is eta on band 3? 2017? Thanks for helping restore faith in the band. I love this product and want to see where they take it. (I hope not a smart watch)

Honestly, it was q2, but it will be later.

The band 3 is not cancelled. This photo is a Band 2 prototype.

Good to hear. I'm choosing to wait and see what early 2017 brings, assuming my Band 2 chugs along healthily

By "prototype", do you mean "a pre-release version of Band 2", or "a current Band 2 beta device"?

I can assure you it is...I have one.

Could you please upload a picture of your prototype on your wrist? it would be nice to see how different the PT is compare to teh B2

It's in our office, in a case. It is not purely mine. I have to talk to my colleagues. I can see them panicking cause we weren't supposed to keep it.

Being deceived over Windows Central as the deceiver professed their secret projects to his/her victim, but isn't who they say they are. I think we are being CATFISHED...

It is what? A pre-production Band 2, or the current Band 2 beta?

Same here. Plus reasonable battery life. Other sensors would have been a bonus. Shame.

It was already reasonable, it had much more sensors than all the fitness wearables and it lasted more than most of them. The only thing it needed was little better materials and maybe some color choices.

A better strap would have been perfect too, I have sent two back already. Waterproof would have been perfect.

Removable/replaceable straps would be good. LIke the new fitbit charge 2. That would solve the strap problem and generate additional revenue with colors, etc....maybe have some sttraps with smaller and larger batteries for differnt peoples needs...open the straps up to third parties.

I don't get why people complain about the battery life. All you need to do is throw it on the charger every day for 20-30min while you shower or whatever, and it was good. That to me was the perfect charging routine. You have to charge your phone every day, do we complain about that?

But now with the shower tile you could monitor how clean you are!

That 20-30 minute timeframe never worked out for me. I used mine for sleep tracking, tracking an hour of cardio, and tracking an hour of weights each day, 5 days a week. I also wore it constantly for it's notifications functionality. I didn't have the "watch" (i.e. screen always on) turned on, and I didn't use Cortana (Bluetooth would never get past "connecting"). Anything less than an hour charge a day, and I was running flat in 2-3 days with the 20-30 minute "charge while you're in the shower" regime. So it gets a pretty heavy workout. Oddly, I've never had problems with the strap, either. Still in near-perfect condition. I think the difference there is that I don't wear it as tightly as I wore the Band 1. Maybe a little movement takes the stress off it? That said ... WATERPROOF. How good would that have been! :-(

That's all my band one gets every couple days or so... I sleep in it, workout, and every other daily task... I don't telling I am walking or riding my bike Everytime I am active, but i use it heavily... Never an issue with battery life. My girl uses her band 2 regularly, but no issues. Posted via the Windows Central App for Android

Not so, I need to charge my Band 2 to 100% while I am at work and then a little top up at night before I go to bed or it loses power in the night and fails to track sleep. It all depends on usage. I go out every day at work for an hour walk, have lots of notifications set up, do proper sleep tracking etc and need closer to an hour to charge it, certainly not just the time I spend in a shower..

Exactly! Plus I sometimes take mine off when I'm sitting at my desk working, as I don't need it to be tracking anything at that moment, then let it charge then if it's imperative. The Band can go through 1000 charges, that's over 2 years if charged once a day.

LOL... a smartwatch that needs to be charged every day or ever other day is a joke. My Pebble time lasts 10 days...has fitness things (step and sleep tracking), is water proof to 30m and has a color display...and the BEST part. It's a FREAKING WATCH, not a fitness band... The new one coming out in Jan will have a larger display and 95% of the features of the band...and still 10 day life.. I had a Band 1 and 2... I got sick of chaging it... I guess I got spoiled when I got a standard Pebble way back when... Charging every day is really a joke...

I am using my Band for Tracking my golf play. The device gets just about through a round before it needs charging again. There might be about an hour of battery life left after a around of golf. I call this ridiculous. :( Other than the poor battery life I really love the band; it is just too bad that Microsoft decided to drop any effort on improving battery life or the golf integration. Sooo much potential and I really hope it is not dead. :'(

Me too, but it would benefit from a better strap material.

Blood pressure tracking would have been a huge bonus for me! Thats like the main thing I was hoping for since Band 1!

Yep, blood pressure and waterproof for me.. would have made it the best wearable.

Really amazing. Blood pressure tracking is amazing even for those not into sports.

Agreed. Same here. I assumed a 3 would be waterproofed and held out. I own ZERO apple products but may get the watch now still

I was honestly considering the same thing after seeing the Apple Watch 2 (I REALLY wanna be able to track my swimming workouts, which is why I was looking forward to the Band 3), but then I remembered you need an iPhone. For better or worse, I'm still happy with my 950 XL, and I definitely don't have the cash to just go plopping down on an iPhone. So I guess I'll remain tracker-less, just ponder what could've been.

Check out Garmin's trackers. My wife's is waterproof and she has used it for marathons and swimming laps. Not a touch screen, though but still nice.

Same, was the only thing stopping me getting a band. The included sensors are unmatched by any other fitness device.

I love my band 2 and my 1520.

I was desperately waiting for it. I passed on Band 2 when it had the price drop and I'm still wearing my original Band every day.
Looks like I'll have to buy Band 2, since my Band is really showing its age now.

I bought my replacement Band 2 on ebay.

Same here... What a shame...

Same here. Looks like you expressed the sentiment of many on here.

I don't care what it would have had in version 3. With the inconsistent notifications and splitting bands with the THREE Bands I did have, I wouldn't buy another without proving they fixed these problems.

Same here! That was the version I was waiting for! Shame on Microsoft, always frustrating their customers!

Waterproof and EKG? What a device! Shame it most likely won't see the light of day

Why does Microsoft do this

Microsoft has discontinued good devices in the past., this is nothing new and isn't a "Nadella thing". Decisions are taken on niche products all over the business landscape every now and then. The challenge is balancing short-term savings versus missing out on having a competitive leg in the market, however it turns out.

That's the thing though, phones and wearables aren't niche; Microsoft's market share is though. I feel they have to be okay building loyalty and show customers they believe in their own vision.

There also an issue called ' Consumer Confidence', which is finished when you prematurely abandon product lines. Microsoft is a textbook case of a company that has, thru It's actions, earned no confidence from It's customers. This tends to result in poor sales, resulting in abandoned products, spiralling down to the bottom, which is where we now lie. MS' Board is to blame for constantly selecting insiders who don't know any different.

Exactly, Nadella is the single worst thing that has happed to Microsoft; and if this continues he will be the end of Microsoft; in the consumer space at least, and in the mobile space all but guaranteed already. I though I never say this, but I wish Ballmer was back.

Baller believed in a product so much he went to war with it. While WP didn't have android market share it was higher than today. While they didn't have 50oems...they had Nokia....and bought them. X360 lost some 2billion dollars cause of the redring thing, balmer saved it by saying do whatever it takes to fix it. He believed in the surface and more. We get they don't want to piss off oems but at this point with android being so dominant of first touched devices kids will be looking to extend android first and not buy a pc. And if Nadella doesn't go full nuclear they will loose it in about ten years....this includes desktop. I say this as a person with a band 1, band 2, 950, 950xl, desktops, laptops, surfaces, and even more various windows phones.

Yep I was thinking about the Xbox too. Today's MS would have given up on the first Xbox as soon as it didnt' make headway against the PS2, let alone stay the course through the XB360.

Wow! A few years back when Ballmer was still in charge there were so many people at this site and other's that were ready to tar and feather him... mocking him. Now he's like the missing messiah. But that's what happens a lot of times when some people always thinks the grass in greener somewhere else. Well to those who wanted Ballmer gone. You've got what you've got! Enjoy! :)

Upvoted you. I'm one of those who wanted to tar and feather Ballmer. Still do, for a lot of reasons. I'm also not a fan of Nadella. (I don't see any evidence of his "challenger mindset" talk he was giving early on. Maybe there's some sort of a complex 3D chess strategy, but I'm not seeing it.) Per a comment above, I do think that Ballmer would champion and "go to war" for an MS product, even if it was the wrong product and had no chance, and I still think he was not a good CEO. But Nadella so far seems to me to be a case of the pendulum swinging too far in the other direction where if something isn't an immediate success, it gets canned or at least moved to a backburner with no apparent strategy for moving forward.

He only looks good in the rearview mirror - when Nadela is looming outside the front windshield. MS' Board has failed to appoint the right CEO twice now.

I'm starting to think MS making Satya CEO was mistake. 2 in 1 PC's, office 365, azure, band, etc are all product introduced under Steve Ballmer, but everyone keeps giving Satya credit for releasing items that were already in the product cycle from Ballmer's reign. all satya is doing is ignoring mobile and focusing soley on cloud items along with Apple and Android along with a cancelling almost everything Ballmer started.

I am hoping the MS board comes to its senses and kicks Nadella out on his ass one of these days.

Microsoft hasn't done anything, why does everyone on here read an article by someone who has ZERO knowledge on what MS are actually doing and assume it is gospel fact. It's hearsay and conjecture...

bnow apple will add EKG and they invented it

Well, if they can get an actual product for sale with it first, I'll give them that.

Maybe it's the 2017 version?

Its running the same software as Band 2 which is being dropped. If there's a Band product it won't likely be compatible with existing Band apps/software...see Microsofts claim the SDK is no longer available and they discourage any new development of Band apps.

Where did they say they discourage band app development?

Sad days indeed, think about me with three apps in the store for Band. They removed the developer SDK from the webpage without even saying it was retired. What a waste of time developing for MS platforms and being treated like this, F* them. And even if they did release Band3, abandoning W10M would have killed sales anyway so, again, F* them.

Whoa.... I didn't know that. This makes me so sad I just bought one.

https://developer.microsoftband.com/

Oh please release this Microsoft.

Never trust Nadella, he'll cut your heart out. He just doesn't care about consumers.

"Never trust Nadella, he'll cut your heart out. He just doesn't care about loyal mobile consumers." There...I fixed that for ya....

Hell he does'nt care about his employees. Report after report from former employees say that its a friggin sweatshop now and NO morale. Go figure....

this is all numbers for the quarter balance. he doesnt care

So this article seems to take a stronger stance than previous ones...it is the opinion of the site's admins that there will never be a Microsoft Band 3, then? From what I had read before, it was just that there wouldn't be a new release this year, but 2017 was totally open for possibilities. ​Very frustrating to see products like this get so close to completion and then killed off. I could understand Microsoft not wanting to tarnish their stellar hardware reputation with a sub-part product. But Microsoft never really had a hardware reputation to begin with, so I don't see the harm in pushing this out and seeing how it does.

Well, Microsoft has canceled whatever plans it had for the Band 3 this year. With most of the team disbanded, it doesn't look like it'll arrive anytime soon. Perhaps one day, however.

What about that person who claimed, up-and-down in the comments for the last article WC published regarding Band 3 cancellation, to be working for a compnay providing parts to MS for band 3 and that it still will come in 2017?

True & that same person gave me hope, I wish it could come true anytime soon ☹

Perhaps this prototype was what he was referring to (without him knowing the full story). My hunch is that this is the Band 3, they had it ready to go and were ordering parts (hence, that dude's story), but then they realized the Band 2 design flaw (the strap breaking in the same spot) was more of an issue than they had previously suspected and, fearing the Band 3 didn't fix the issue, decided to can it, as I'm sure they've lost a ton of money replacing Band 2's under warranty. Remember the Surface Mini was also ready for imminent release and was killed at the last minute, so it's not unprecedented for Microsoft to cut their losses at the last possible minute and just eat the sunk costs rather than incur more costs trying to sell a flawed product.

I would LOVE to know the % of Bands that get replaced vs number sold. It HAS to be close to or even over 100% number wise

All I know is that I went to get my Band 2 replaced at a local Microsoft Store and they said they exchange anywhere from 6-8 broken Band 2s per day! That's just one store. Imagine how many are exchanged across all stores and via mail. That is why we aren't getting Band 3.

Even if this was true this would mean they could not create another kind of strap. They can engineer tens of sensors plus a curved amoled but they can't copy fitbit rubber and then they kill the whole product?

Of course they can fix the strap. But doing so requires resources--time and money--and they may have concluded it's not worth it. Personally, I think it's a shame. I have the Band 2 and love it, and it's frustrating seeing Microsoft abandon yet another thing I've bought into from them: Windows Phone, Surface RT, Kinect, Band, etc. Believe me, no one is more frustrated by Microsoft's premature quitting than I am.

The photo on this article is a prototype band 2. You can see the telemetry sensor used for testing.

What part exactly is the "telemetry sensor"? And what does that even mean? What telemetry are you referring to?

The fact they are actively discouraging development of any further Band apps a Band 3 seems unlikely even in 2017...if there is one it won't be the Band we know and won't be compatible with other Band apps. Wouldn't hold your breath but once GATT is in there will be loads of FitBit devices to choose from with most of the Band features

Except fitbit is closed (as in devs can only read stats recap from it) while the band had an SDK which enabled developers to create rich apps (like on the iWatch but with more limitations since code, in the end, was not uploaded to the band itself while the watch can run third party code too). They created a decent ecosystem and they killed it in less than 2 years, well done!

What explains the disconnection between what you're saying "The Band 3 is still coming!" with all reporting we've been seeing about the Band devices over the last few weeks? Are all of the reporters just getting terrible information? Making a lot of incorrect assumptions?

What we have been saying is the name Band is gone, but the device, under a different name, lives on.

I'm really holding out for a Surface Watch or something similiar where they take all this technology and make it in a better, more reliable device. The Band 2 was awesome, until it fell apart on me twice. The band 3 looked to have an almost same band as the Band 2 which wasn't designed well. The act device and display were great, but charging was horrible and would go unrecognized half the time. I'd expect that's why they pulled the plug to prevent further erosion in the brand.

Zac, But that's not what you said in the headline and in the front end of the article. You're entitled to speculate, and you could turn out to right, but today, no one really knows for sure except that Microsoft announced no new Band "this year." Fair?

I'd say that's totally fair. Plus, does it matter if the band specific team was disbanded? They could've just moved it under the devices team (or whoever makes/designs the Surfaces). Heck, they could've kept all the same people working on the band, but if they were separate from the devices team then one could still technically say that team was disbanded Posted via the Windows Central App for Android

The article definitely comes across as stating that development of the Band has ceased. Without any affirmative statement from Microsoft, why take that posture? It is just as likely that the Band 3 wasn't on track to make the 2016 holiday season and is instead being pushed to 2017. We are all passionate fans, writers and readers alike, but we need to temper that with fact. There is no benefit to calling a program canceled without any confirmation as it will only frustrate the readers and potentially impact future development/success as customers turn to other options based on inaccurate information.

If every tech news site is saying the Band is cancelled, and Microsoft has yet to come out and say that it isn't, then the Band is basically dead even if it isn't. They've shot themselves in the foot.

Yup the Band is axed, windows phone is axed, MS is axed, everything is axed thanks Nadella what a great CEO you AREN'T

Triggered. Posted via the Windows Central App for Android

Assuming you are not just living up to your name, I appreciate your optimism. Bottom line for me though, is that by Christmas there will be a shiny new iPhone and Apple Watch under my tree.
Keeping in mind that I have owned 15 Windows Phones, stretching ask the way back to the MPx200, bought the Band 1 within seconds of It's release, own a Band 2, a Surface Pro and a Surface Pro 3, Steered my company away from Google, and blogged for years about Microsoft products, it should be getting thru to someone at MS that the way they are handling Consumer products is not going to succeed.

Recycled as some kind of an anal probe perhaps? Posted via the Windows Central App for Android

I'm a little confused as well, in this article, http://www.windowscentral.com/microsoft-bands-future-doubt-efforts-get-i...​ a quote from ZDNet states. Contacts told me recently that Microsoft has no plans to release a new Band fitness device this calendar year. I also heard that Microsoft disbanded the group of individuals who were trying to get the Band to run Windows 10 a number of weeks ago. But they weren't certain whether Microsoft might simply release a Band 3 running firmware at some point in the future. The first- and second-generation Band devices run custom firmware, not Windows. To me I get that efforts to get Windows 10 on the Band was cancelled but not the Band itself. Just because there's won't be a Band 3 released this year doesn't prevent them from announcing it at the end of October for 2017 pre-order/release.

MS being a software company, Band3 running on a custom firmware is of now use to them

Not true, firmware running lighter version of their development framework can be a huge asset to their development tools division, to extend reach to devices too underpowered to run a complete OS.
​Windows NT isn't the answer to everything yet, even if it can successfully run on a Raspberry Pi 2, these are still very powerfull devices from an electronics point of view. Look at the MSN Direct / SPOT technology they had (smartwatches 15 years ago) and you'll realize it really was just a side project to porting the .NET Framework to run on microcontrollers without any operating system. The technology enabled the .NET Micro Framework. While I'm not surprised the team working on a Win10-powered band failed and got reassigned, I would be surprised if they didn't have some team still working on bringing their technologies to microcontrollers. And it would make perfect sense to be another team, as it's usually not the same people that have expertise in creating a custom Windows NT Embedded device and creating a microcontroller-based runtime framework.

First of all, Microsoft is not exclusively a software company. I've had keyboards and mice made by Microsoft and those are still on sale. The XBox isn't "software". My Band and Lumia aren't "software"....and we don't know the future of Surface Phone or Band 3. ​Why would a device running a firmware upgrade be of no use to Microsoft?

It seems like MSFT device success is now tied to core Windows integration. First Win RT and associated devices, now band. Mobile still has a leg to stand on platform wise, it's the hardware sales that might axe that arena. Even Xbox is getting closer to "just running Windows", and we see new products like Hololens run Windows as well. Wish the Band team had been able to figure out getting windows running on there to keep the value there for MSFT.

Love my band 2, but this would fix all my issues with it.

You mean the band's failing wrist closure after a while on nearly every sold device will be fixed by this?? Really??? I didn't read that anywhere....

i haven't had that issue, so it would solve all MY issues with it. Truth be told, actually, my biggest issue is the battery just starting to REALLY SUCK after 3-4 months. like 10 hours a charge suck.

oh wow....that does suck....I noticied that also with the battery not lasting longer than 24-30 hours when I first got mine....and I barely used it. I literally had charged it overnight the day before, wore it for a full day, didn't really use it, and then the next morning I wanted to go running, but I hadn't charged it, and I figured it would hold at least until the end of my run.....but nope, it died in between.....I thought that was ridiculous, and I ended up returning it after 2 weeks. And I really liked it, but I just could not fathom paying that much for something that I had to charge every single day, that would not last longer than a day....especially something where my phone did all of those functions already.

Everyone has different experiences. I bought the Band 1 the day it was released. Never had problems with it. Upgraded to the Band 2 on the day it was released. Never had issues with it! I still wear it. Never leaves my wrist, except to shower and it charges whilst I shower. Never had the battery run out. If I miss a morning charge, it lasts fine until the next morning charge.

You mean the band's failing wrist closure after a while on nearly every sold

I've been wearing a Band 2 for almost a year and I've never heard of this being an issue. There were some other issues that I've read reported, and experienced a few myself, but this was not one of them.

I have never heard of anyone having this issue. I have had 3 bands due to the split rubber issue and none of them had clasp failure. My wife has a band 2 that has never split and that doesnt have a clasp failure. I think the last part of your statement is correct. You didn't read that anywhere...

what failing wrist closure issue? It has worked well for a year now.

I'ved talked to people who own both Bands and other...They all agree that the fitness tracking on the band is better...but not in terms on notifications.

I have a band 2 and Fitbit alta. I prefer the band greatly over the alta. I find it better in terms of notifications as well. My problem with the band notification is in the responding to texts. A lot of the time it will say you're not connected to Bluetooth when you can clearly see you are.

This is specifically a problem on Windows 10 Mobile. This actually worked perfectly on Windows Phone 8.1 :-(

It never worked perfectly for me even on WP 8.1. I don't even try to do it anymore it has been so unreliable.

Never had that problem on Android.

I've never had a single issue on iOS. I guess all these notification issues are WP specific.

We need band 3 asap but need to be little more reliable than band 2

You need them to dump this lame duck CEO then.

Would have bought one right out of the gate. Huge opportunity lost by Microsoft.

Nooooooooo! That completes my list for a replacement to my original band. It'd need to be a while lot more sturdy though as each of my 1st bands started to fall apart after 6 months.

I had band one and left it in my car while I was at work, ot bubbled and quit working

If it's racist to one person, it's racist. You don't get to decide what other people consider racist. Only they do. Just like only you know what is offensive to you.

When did he say he's deciding it's not racist? He was asking how one felt that way? Maybe he can open someones eyes afterward to show them something isn't racist by starting a discussion. Also, saying because one person finds it racst, makes it racist, is completely false. By that logic anyone can claim literally anything is racist and it becomes deemed as such. And that's not only illogical, but unreasonable.

What you just said is racists to me. So I guess your a racists.

wow... that was pretty racist. I feel offended

The public dgaf about peoples opinions, or feelings, if he/we want your opinion or to hear how you feel about a statement we will ask, everyone thinks they matter, truth is we are insignificant and so are our opinions! Piss off

It can be offensive to one person, but to label something/someone "racist" is bit much.

Because one might assume that calling him Nutella is not just because of the similarity of the name.

What else could it be? I'm curious.

Well, maybe you don't have this where you're from...however, Nutella is a chocolate/hazelnut spread, feel free to search on it. Its a play on his last name, one I'd never use as I consider it racist as well. I can't believe WinCentral hasn't banned it, its pretty disappointing its allowed to continue.

Leave then, if your weak enough to let a persons words typed from thousands of miles away bother you then you should quite the internet

I've called him that because he's NUTTY and it's a close soundalike to his name. So....not racist.

That's why I always say nadella fruitella, it's safer, not racist sounding and still very funny hhegrhehhehehe

I am offended by that crise, sounds like your homophobic...

I'm pansexual like Miley.

that would be panophobic!

Jeez, we are all going to hell in a handcart if that's deemed racist. Let's keep it simple eh? The guy in charge is an absolute knob who is turning a once innovative company into a car crash. I guess all the cars will have to be gray as any reference to colour could be misinterpreted!! Oh hell, I've just upset Roger the Alien!! It baffles me how the PC brigade always find something racist, when no one else even thought something racist. In my eyes, the PC brigade ARE the racists!! They have to think race etc to find fault!

You fanboys are delusional. You guys only think he's a terrible CEO because of his attitude towards Windows 10 Mobile. He runs an entire company and that company's stock prices are up. So?

Maybe they should devide the company in two, enterprise and consumer

isn't that what HP did, spit there enterprise/cloud and the computer/hardware business. That could work if they tried, which they don't do very often.

@Darkness690. Yes, he does a great job for the shareholders, but we consumers measure a company by the products they deliver. So far Nadella's reign has resulted in the discontinuation of several promising products without introducing new ones. He's steadily been turning the company away from the consumer market.
1.5 years ago I saw a Microsoft full of promise, releasing several bold new products. Now they seem to be shrinking back to their original core products. Although MS had it's fair share of screw ups under Balmer, at least he had the guts to throw a lot of **** against the fan to see if it stuck.
It wouldn't surprise me to hear about the HoloLens being cancelled a year or two from now.

Name calling and then putting words into people's mouths. I think he's a terrible CEO because he wants to put all of his eggs into the cloud and is purposefully tanking Mobile. As an insignificant stockholder, I think he's horrible for the future of the company. He should be running one division since that's all he seems capable of having any passion for. There is competition about in all of the traditional cash cows, but he just loves courting iDroid users with FREE apps that provide ZERO revenue. While revenue generating opportunities are ignored. ​If you know anything about stock prices, they have little to do with long term company health. That is a result of profits made in the previoius quarter. He's written some things down and fired lots of people. Are revenues significantly up? What is the forecast for earnings? Stock prices up, does NOT alone mean that he's a good CEO. ​So yeah, he does suck and no, I'm not a "delusional fanboy". Someone having a perspective different than yours, does not immediately require the use of unoriginal name calling.

It's not racist...... People seem to think everything is racist nowadays

I don't know. Nadella is brown and Nutella is a chocolate spread?

The jar has a white lid....so I guess it is reverse racism? Some of you people stretch real far look for a race issue with anything. He sucks as a CEO and his name rhymes with Nutella. I dont care if he is white, brown, or pink. Any argument that it is racists, is idiotic.

Honestly the whole both are brown thing didn't even come to my mind. That's a little far to go to find racism in something.

The label has red on it as well. who do we offend by that one?

I'd say, but Ms. Thank over there would call me a racist.

wow I mean nutella is a nice product, since when being brown or be called chocolate or black or brown is a bad a thing...

It's not racist, it's just plain rude!!!

I would have bought that in a heartbeat!!! got the band and band 2, come on microsoft do the decent thing and release it :D

On the reflection of the screen one can see cancelled Surface phone prototype.

Those. Are. Not. Sentences.

Show me where Microsoft said its cancelled and I will happily agree. All they have said is that there will not be a band 3 in 2016. There's quite a difference between "no band in 2016" and "cancelled" Posted via the Windows Central App for Android

Hopefully there's an OEM out there preparing a 'Band' type device now with MS's total support and blessing.

i love my band 1 i was hlod out band 3 hope it will come out next year im hope the do one next year

in the same boat. Got my band 1 on black friday last year and skipped the 2 in hopes of the 3 next year. really sucks. I still love my Band 1, but for the design once I saw the Band 2s.

Same. Had the Band 1 since release and skipped the Band 2. I recently went into a MS Store and inquired about purchasing a new Band 1. Surprisingly they had one in the back of the store and would sell it for $120. I didn't buy, but thought it was interesting they even had one available.

I'd like think of Microsoft leaving its Band in the hands of Surface division, like a 'Surface Band' (refresh) may be. Having all the hardware and design at one place makes sense to me. Msft could reveal the next iteration of Band at some times later, I'm thinking Fall of 2017.

I have this theory too, and this makes sense with all of the rest of the info, app name, team disbanding, buying parts, not being a Band anymore, etc.

More wishful thinking; there is no Surface Phone and no Surface Band and there never will be, get over it, Microsoft is done with those product segments until they kick out Nadella, and someone sensible is put in charge.

more like someone capable is put in charge.

No doubt there would have been the same issues as the previous varieties. Covers peeling, straps splitting and the clasp mechanism damaging itself when taking it off to charge etc, and then you have the poor battery life...... I've had several exchanged, and I've still got two in the works. Nice gadgets, poor build quality.

Is your company no longer involved in it? Honestly asking

???? The only involvement I had was knowing the warranty better than customer services.

Yeah, I'm smokin'. I mistook you for someone else that swore up and down it was coming and the company he worked for were part of it. I apologize for that! :)

Surface Wear. Watch is too mainstream.

I like that, I like it a lot. That could be the perfect name, and could cover a whole range of wearables.

The photos surfaced on the forums almost 2 weeks back. Also see Panos wearing it here. https://www.youtube.com/watch?time_continue=16&v=7kWALZUFOg0

No. That was a prototype for waterproofing. They made it white so it would be easier to identify as a waterproofed device.

I'm not into fitness bands but would surely get it just because of that blood pressure tracking.

I want one, please give it to us next April.

This is the problem with MSFT, they always cancel 1 version to early!!! I understand why, because with Apple watch 2 being waterproof, they were late to the game and didn't think they could pull in converts. What is it going to take for them to get ahead of the curve and release a product first?

Be a different company, it seems

Plenty of companies do rather well not being Apple, anyway. They should just do their thing.

Looks more like a prototype of the Band 2. I can't imagine Microsoft using that rubber band again, it was prone to splitting and scuffs and scratches.

And the clasp damaged itself!

Waterproofing + swimming+ blood pressure +++= Brilliant
Where can I buy one? I want one!... If only...

Ugh, this is such a tease. Why would they cancel this? The Band is/was the best fitness/smart wearable on the market imho.

I am on my 4th band 2, two battery deaths, one ripped band. Really wanted this device category to progress. Not sure what to replace it with so I can continue to get notifications from my phone (950xl). Garmin appears to be the only one supporting W10m with an official app, although I see there are issues with it since AU.

Fitbit actually has an official app as well.

Fitbit are still offering regular app updates, and hopefully, notifications coming soon

Didn't realize fitbit had an official app, thanks. I may buy another Band 2 as a backup to get me through until, hopefully, the situation improves.

Waterproof, EKG and blood pressure´. I would pay $400 for it without any hasitation even if I had to replace it each 4 months

Wow, have some standards man. hahaha.

I love my Band 2. The band splitting issues only arose when I started sleep-tracking. As far as waterproofing is concerned, mine has been submerged <100 times in fresh water, with no consequences. Hope they allow an OEM to do version 3.

Seems like MS is folding up shop in the mobile market. First their phones, now this. I'm betting WP itself will shuttered by next year.

Please provide proof the band was cancelled! I have never heard factual proof of this from Microsoft myself, all I have heard is statements by third parties that heard some indirect information.

Go to an MS store and try buy one. Go to MS website and search for it. Try to develop some app for it - "The Microsoft Band SDK is no longer available" - https://developer.microsoftband.com/bandSDK

That is Band 2, which has been discontinued, this is a talk about Band 3, please keep up!!

Chat online with MS Store sales person... They (Microsoft) told me that "sadly the Band product line has been discontinued..."

Sorry, I phrased that wrong, we all know sales have stopped for band 2, you pick your reason, show me any official proof a 3rd iteration of any band type device is officially dead. Maybe the band sdk is that proof. I would be disappointed, but I am still hopeful.

Please don't take sales staff at their word, they no nothing. I chatted online with MS Store Staff trying to find out when the Limited Edition Gears of War Xbox One S was going to go on sale in the UK. They told me there was no plans to release it in the UK. Even though it had already been announced and there was a placeholder for it on Amazon UK. They know nothing..!!

I know who to blame for Band 3 being cancelled. China...

Terrible shame to miss out on this. As an aside; I would have paid good money just for a Band that didn't split wide open along the strap, after a week of gentle use.

We have three bands in our family and none have this problem. However, I hear about it all the time. Makes me somewhat nervous...

Same here, I had the band 2 since November 2015 and no issues with cracks etc... I wear the band 23.30/7, sleep with it etc and no issue at all. Same for the battery, no issue with charging etc... the only time the battery was draining fast was due to Win10 Mobile insider releases (now fixed)... on a full charge, I get a solid 1.5 days (sometime 2 days) of use. I charge my band 30 minutes daily while driving to work. I am very happy with my Band 2 indeed

At the very moment the fitness tracker situation on Windows 10 looks terrible...I have two fitbit Flex 2 yet ready to refund since there is no way to make them pair with the app both on mobile and PC. Garmin app has a lots of problems too...and since Nadella decided somehow that Microsoft go go ahead needs to go back to 2001 investing only in corporate...well...if someone here is really into fitness stats I guess is really time to start looking for an Android Phone...

Microsoft already killed Band, there's not even an SDK anymore. Stop dreaming...

The SDK is still available, it's just not supported by MS: https://www.nuget.org/packages/Microsoft.Band/

Good luck trying to publish any new app at the store. And even if you magically do, in about one year there will be no users to download it. Stop living the dream, it's a nightmare. Personally I'm not in this denial madness anymore; gonna use my Band 2 and L950 for a couple of months and then leave this dead end route. I don't need any "enterprise" excuses, I'm a enterprise user and Apple devices are already integrated in my work place, no restrictions. Apple Watch 2 will be a good replacement too. Plus my car is iOS Carplay ready. Later I will switch me Surface Pro 3 for an iPad air, it's good enough. I'm gone, and I really tried and resisted much a can; all the signs wore there but I'm fooling myself; now is pretty clear what's MS is doing, they want to get rid off us and keep the cloud business, office 365 and Windows desktop enterprise volume licenses.

Ha...careful with that MacBook purchase. Apple may step away from MacOS altogether and focus entirely on iOS. Their laptops have not seen any real updates in over 3 years. The company I work for has traditionally been all Apple but now everyone is requesting and getting Surface.

I'm not going to buy one. I'll change my Surface 3 for an iPad as I mostly use it as a tablet already. And still have one desktop witch a barely use now a days...

Don't let the door hit you in the ass...

It will not. Microsoft is kindling opening the door for all, bringing they're services and apps to other platforms. I'll still keep using Office 365, OneDrive and Outlook mail. Maybe I'll stick with onenote and office lens too, I'm use to them. Also playing on my Xbox One - even tough my kinetic became just useless. And I'll keep my old 2° generation core i5 desktop... I use it maybe once or twice at month.

I didn't mention anything about getting apps published, all I said was the SDK is still out there.

Well I was kind of fed up with how the band series had seeming QC issues quitting charging after 3 to z4 or so months. But I really liked the design of the 2 and the feel of it. Is it a coincidence that the announcement about the band 3 non release and the GATT announcement were so close. Im thinking not. I don't believe much in coincidences.

ohhhhh EKG. Please revive this

"Would've, Could've, Should've" - that's going to be on Satya's tombstone

The Band will not be the focus of MS this year. They are retrenching and waiting for a paradigm shift in the use of fitness trackers.

Retrench is such a cop out. The consumer ship is being driven into an iceberg at the expense of Nutella's bonuses. This guy flat out sucks.

Dude, the consumer ship hit the iceberg over a year ago when windows 10 was announced. This was the plan all along. send out windows 10 for free to gather data to sell, and drop EVERY other product.

Maybe he's trying to save up enough to buy India

You're not allowed to say "India", you racist.

They stopped production on Band 2, that doesn't mean there isn't a Band 3.

"That doesn't mean they were not working on one" Don't worry in two years we'll be looking at pictures of the cancelled Surface Phone. Thanks Nutella! #MakeMsSuckAgain

Was there ever confirmation that there was a Surface phone in the works?

Where there's smoke, there's usually fire

There is not. Fanboys just want it to be true. Cancel the Lumia? There'll be a Surface phone! Cancel the Band? There'll be Surface wearables! It's sad.

Transparency is a huge issue with Microsoft, especially to their loyal customers who supported them from day 1. If they need to change course, such as the rumored re-write of the code based on Windows 10 instead, they would need more time to release the next version, that we can understand. But for goodness sake, don't just cancel the product release and no words of what is going on and let us hanging. Is this the end of Band and why should we not jump ship, given the dead silence on future plans and the hints of no Band 3 coming, this year or ever? I consider myself a loyal customer. I am still using my Surface 2 and Phone 8.1, Lumia 920 and soon with my third Lumia 640 I got for $29, unlocked, I'll on Windows 10 mobile. I can't help feeling abandoned or betrayed nonetheless once again, even though I have not invested in Band, good or bad.

We are no more than dollar signs on a spreadsheet. Transparency is not a common thing in the tech world, although Apple let a certain amount of info 'escape' and it doesn't deter their lemming / sell your kidney type, if anything it creates a huge buzz. How long ago did we start seeing ads about iPhone 7?? Now advertising the long promoted Apple Watch 2, and people are in a frenzy again. So, yes, a bit more leakage from MS would help, although they probably don't want people hearing the continual negative stuff, which, I presume, is why there is a lack of transparency.

No, there's not an transparency problem. It's clear, Microsoft it's pulling the plugs. Surface Phone? Surface Band? Those things only exists in the mind of those who chose the blue pill.

They stopped production on Band 2, that doesn't mean there isn't a Band 3.

They didn't pull (or let Band 1 sell out) inventory from retailers or remove references when Band 2 launched...so that's different this time around.

I like my Band 1. It's not perfect but have every features I need. Band 2 looks better...I was hopping band 3 would be perfect. ​But, Band 1-2 had big quality and design problems. How many people, with good reason, return Band 1-2 for exchange or money back? This is, for me, a good reason to cancel Band 3!

I'm a swimmer... I had my hopes up so high for a waterproof Microsoft Band 3. To see that they were actually working on it and have now cancelled it absolutely crushes me, because I've been wanting a tracker to give me insights to how I'm doing in practice for so long. Microsoft: The Band was one of your least controversial product lines out there, and it was great because it worked across Windows, iOS and Android. Why hast thou forsaken us so by killing the Band?

As a swimmer too, I'll recommend iWatch 2.

Good point! But I am sure you get mine :)

This is unfortunate. I totally understand why they are doing many of the things they are doing. I have been an avid and loyal user of Microsoft hardware including the SideWinders, ergonomic keyboards, their mice, then the mobile phones with their OS starting with the Samsung Focus, HTC products, LG, and on through nearly every model of Lumia including the late 950, the Surface RT, Surface Pro 3, and Surface Pro 4. But, this re-entrenchment we keep reading about is leaving me behind. I won't give up Windows 10 on desktops, but I decided last month it was time for me to leave mobile in search of greener pastures. I will still follow Microsoft, mobile, and anything that has to do with them really (as I am obviously commenting on WC), but I will need to make more practical decisions going forward. I replaced my 950 with an iPhone 7. It has issues. It sure does. And almost nothing has changed since I first owned many of them pre-Microsoft Windows Phone 7 days. But I know it will be supported and I am reminded now at the plethora of apps available that I wouldn't conceive of seeing in Windows store in the short or perhaps long term. Now, pulling Microsoft Band off the market will force me to consider the Apple gen2 watch. :/ I await the day their vision is complete maybe then I'll get to harvest the fruit of their labor. For those wondering why not Google? Google mobile OS is a mess for me and I want to receive at least nominal support. Additionally, Google has not played nice with Microsoft as far as offering customers choice. I won't soon forget the double-standards or hypocrisy of Google's behavior.

I hear you. I have used all 3 platforms. Lumia 920, Surface RT, Surface Pro 2, Surface Pro 3. Honestly in my experience I spent too much time trying to fix something or figure a work around to make something work as advertised from Microsoft. Apparently the solution to everything Microsoft is to hard reset your hardware. Just buy whatever works for you. I wen't 100% Apple 2 years ago and never looked back. The Apple Watch 2 is pretty damn nice by the way.

Got two on the way to us...can't wait to use them. Rose gold for the wife, space grey for moi!

Microsoft is one of the most confusing and, as a fan, infuriating, companies to follow. I know they have their reasons, but it seems like they have so much potential all the time and then willingly choose to squander it.

I wanna from them cancel it..and make a new one Its call surface watch ..like the surface phone..surface tablet....

surface oven, surface washer, surface car, surface plane. The possibilities...

surface table. Thats about the length of vision at MS. a flat surface held up by four legs. but every so often the legs break and you have to get a weekly update for them.

Band is not dead, something similar will come up. The thing with this "Band 3" prototype thing is that it seems to use the same rubber strap which basically has proven to be not very durable. I think this was just an intermediate, internal prototype, not a true next generation.

Who says they cancelled a band 3? Microsoft's statement said they had no plans to launch a new one "this year". The project to get create a firmware with Win10IOT was stopped but that may have been for a later gen any way like 4 or 5. Plus for all we actually know there never were plans for a 3rd gen. Maybe the win10iot group was working on a different wearable.

Exactly. The same mentality that Lumia is dead, when in reality it's windows 10 that matters. Change the hardware, keep the heart. zune never died, the design and software went on to become windows 8 then 10. Posted via the Windows Central App for Android

That's huge problem if they are not transparent about the plans. All we have now are rumors and a history leaving loyal customers holding the bag. Tell us your plans and quash the rumors. Is that so difficult?

The plans are clear, they want there customers to go to other platform and keep using they're services (apps). It's all there; Office, OneDrive, OneNote, Cortana... There's even more Microsoft apps in other platforms - thanks garage guys ...

Its shame that Microsoft abandoned such a great product...

having a blood pressure monitor would have been awesome! I would have pre-ordered it for that alone.

Was it actually cancelled? The only thing we have heard from them is that there will not be an updated band released this year. Also, how is it possible to monitor blood pressure without an inflated cuff?

you can try to choke yourself.

While I am super disappointed that this may never see the light of day, many of the comments (BAU anymore I guess) are absurd.

Damn I want this. I have been waiting for a waterproof version of the Band2. Damnit MSFT. DreamKillers! lol

I really was waiting for the Band 3 cause the strap on my Band 1 is really starting to come apart and it's hard to find a Band 2 for a reasonable price if at all.

Probably got enough data from Band 2 to scrap this prototype for Band 3. I'd love ot see it return but not in its current iteration. I'm hoping it look more like a conventional watch.

"I'm hoping it look more like a conventional watch" Why? There are plenty of those on the market from other manufacturers. I love the form of the band, and I prefer it on the inside of my wrist because it makes it easier to interact with the screen. I want another band.

This could hv been the best fitness band of all time. Capable to sync between many phone OS's

Food for thought: The band 1 was designed as a "reference device". In that, any company could license any aspect of it; software, UI, sensors, even the actual hardware. What if the Band 3 was "cancelled", as a MS product, and instead will be released under a different banner, from an unannounced partner (e.g. maybe Adidas decided to partner with MS to release their own branded or co-branded device, to counter the Apple-Nike partnerhsip, and the UA-HTC partnership).

Much sadness, waterproofing was what I was waiting for.

So is there anything on the market right now which can do what the Band 3 would have done? I'm on my second Band 2 and know its days are numbered, so I've been looking around for a suitable replacement. With the GATT support coming soon to W10, that should open up quite a few new options in the wearable space.

If there is no band 3 I demand a Surface band! I use only Microsoft tech products, no oem! #MicrosoftLoyalist #BleedGreen

Well count me in the crowd of the dissappointed. I bought my Band 1 just before Ignite 2015 and mostly used it to track my crappy golf game which it did without issue. The partnership with TaylorMade golf, the WP integration and the look of it were all the things i loved about it. Unfortuantely, it started deteriorating just past a year to the point where it no longer tracks sleep or heart rate. Even though I switched to Android, the Band still rocked. I stupidly decided slip 2 and wait for 3 which looks unlikely to ever see the light of day. Shame. Maybe someone will build on the Band to take advantage of the platform - doubt it.

If it was then I'm so happy it was canceled. Hideous. That clasp, just like in the first two versions... horrid.

Microsoft has such a horrible track record with consumer devices. Just awful.

Except for all those great mice and keyboards

OMG OMG OMG this would be so great!

I'm skeptical. EKG and blood pressure on a wrist device? But love my B2, would've loved an improved device.

My thoughs too. EKG needs more than just a wrist strap. and BP needs more than a watch band. The only way this would work is through other connected device monitoring

Can't see ho to do BP on the device, but EKG - looking at that clasp maybe you put finger of other hand on that pad. Would that be enough for EKG? Why would you even want that on tiny display? TMI. Still not convinced.

There is a replacement band for the Apple Watch that does "medical grade" EKG - you can look it up. It's called Kardia Band. And it too has a place where you place your finger. So it definitely is possible. Not sure about blood pressure.

It worked up until they stopped upgrading the firmware.

FUD Hater, you seem to have a lot of information. I wish you could share it.

Blood pressure can be done with the same type of optical sensor that does the pulse and blood O2

Even Apple is having a hard time moving such devices to their sheeple. I don't blame Microsoft for scraping the Band for the foreseeable future. Doesn't seem that wearables are "there" yet for the general public.

I hope Surface took it over for a watch instead. I would love to have NFC payments on my wrist.

I would have bought the 3. Typical MS, canceling products as soon as they make them good enough to get people interested.

Too bad. I would have bought the new band. My band 2 is excellent.

The next thing cancelled will be The Surface and then Surfacebook. Its like they leave everything half-baked and then quits !!

Cool. Agree that waterproofing would be huge...

EKG with blood pressure tracking? Seriously, that'd be awesome.

I'd like to know how something strapped to your wrist can take a blood pressue...... I've not heard that it works. and the ones that are availabvle are much larger than a watch. Let alone the EKG. both would need to have companion devices to work. Maybe they'd paired up with one of the companies that made wirless ones of these

I doubt they would be medical-grade precise anyway, otherwise they would need pretty heavy certification for that.

Bing "optical blood pressure monitor/sensor" It's been a thing for 4ish years now

this is crazy Microsoft cancels all these wonderful products and the leaks sound amazing Microsoft better pull there act together and something amazing should come out of it better than the surface phone which would have to come out
also thanks for the advice on wearing the loosely and it stops cracking

Do we actually know that the device was canceled? So far what we've heard is that they disbanded a team trying to port Band over to Win 10 IoT and they're not going to release in 2016. And we've also been hearing a lot of news about MS researchers using the Band for studies... Hmm.

V3 has always been the Microsoft win. Hopefully it comes out.

When the hell did they say they weren't releasing another Band? Their statement only said they weren't releasing a new model this year, which doesn't surprise me given we have less than 3 months left in the year.

More likely just heart stats...and the design is too similar to B2 for anything but a prototype...even the strap and face section look pretty identical...

Band is not cancelled, just putting more work into it. Full stop.

I would hope that the Band 3 would have a new wristband since the one they use now tears so easily. Or at least reinforce it or move the internals that caused it to rip.

That's too bad. Hopefully they'll relaunch the line if Windows Mobile ever turns around. Posted via the Windows Central App for Android

Just maybe the specs were so good that MS sold the device and patents to a drug or pharmaceutical company. Seriously EKG tracking? Many medical suppliers would have cried foul.

I know this isn't going to happen...BUT, I have a theory that the Band was cancelled because of the next iteration of Continuum. I believe Continuum will be the future with many devices, but image the Band being the device, streaming to 'dummy screens.' This won't happen yet...this will happen some day....but we have been surprised before. Remember the HoloLens? Yeah, that came out of nowhere and was pretty damned incredible....So until I hear otherwise, this is what I will believe.

Damn, I would have replaced my first gen with that one.

How did saying there will be no Band 3 in 2016 go to it being cancelled? How did reports of the people assigned to convert Band to Windows 10 being reassigned turn Into everyone on Band 3 reassigned? Did I miss some articles? Or is reporting getting sloppy like The Verge?

Sloppy reporting, then sloppy reporters quoting the sloppy reporters... and MS not bothering to clarify anything. Now there's mass hysteria going on, apparently. We'll probably hear something at the Devices event in a week or so.

I already have Band1 and Band2. It has been working fine for me without any issues and i had planned to buy Band3. Such a shame that it has been discontinued. For the first time I feel with Sathya Nadella at the helm there is just no guarantee on the stuff we buy.

Don't worry guys. Cancelled == code for transferred to HP ;-) They will carry the mantle.

They should have rebranded this Band 3 to Lumia Band,
maybe that would have helped the Lumia phone sales as well. Guess the Band 3 could have been a wildly successful product
had MS made it available globally. Usually it takes Microsoft 3 turns to get things right. Now, that MS seem to have gotten the Band 3 right they a-band-on it,
respectively do not comment on its (non-) future. Maybe MS will come up with a Surface-branded version of the Band 3,
maybe they leave it to Xiaomi to take over the product
or maybe they simply wait until all the things that are still missing (in their eyes)
and go public with a superior product sometime in 2017 / 2018. But: It also could be that "Monty Python's Flying Circus"
has taken over product management at MS, who knows. Maybe Steven Hawking will be able to explain all this.
I mean, he's an expert in "black holes" (with or without hair) after all
and has THE expertise on how things could disappear without leaving traces
that theoretically could help to reconstruct the original thing. There must be some serious event-horizon lurking somewhere in Seattle
and it seems to happen that some stuff unpredictically crosses this fine line
and is never seen again and nobody really can explain why.
BAZINGA! . .

Um . . . I thought MS's press release said they weren't releasing another Band this year. That is what MS said to ZDNet in this artice (http://www.windowscentral.com/microsoft-band-2-listings-go-missing-micro...) posted by Windows Central. So why is everyone saying that they won't be making any at all? We just aren't getting one this year. I'm not saying we will get one next year, but MS never said that they "decided to terminate any plans to continue releasing new Band devices." Did I miss something, or is this just bad reporting?

Aw man..... Hope it sees the light of day in 2017

It hasn't been cancelled. ****! This place is like Chinese whispers anything can be twisted and turned. Nowhere does it say cancelled. They are doing the same in store as they have done with the 950 & XL...better things to come, and the people that say MS is finished or 'when it turns around' etc. WTF are you talking about? MS is going very well, just because you don't know their plan, you shouldn't add your own imagined bullshit.

Are you kidding about the Lumia thing. Ridiculous. Best thing MS did was drop that name. MS makes much better hardware than Nokia and that's why they are perfecting the Surface Phone. 950/640/650 are all relics of yesteryear and MS phones will launch on their own merits -COMPLETELY. Nokia did itself in similar to how Apple could do and any company. Things can change in a second, and DO.
All the naysayers did the same thing when Surface was coming out, AND Surface Book. They are both excellent products and ahead of the pack and being emulated. The band was a success but needs to evolve. Surface all-in-one will be awesome, Surface Phone will be amazing, Pro 5 and Book 2 Great. Basically MS is being attacked because it's going so well.

Design of the Band 2 was great in theory, however the actual band was less than par as it split easily. Can't imagine using it with water at ALL. If anything, they need to have scrapped anything that would have been simple a refreshed Band 2. I liked the Band 2 a LOT sans the literal band (of which I had two different ones rip; in addition to my sister's in the same fashion). Since then... Garmin 735X. PERFECT! Still miss some features from the Band 2 (display, sleep algorithms, customization and custom workouts were better with the band). But, the 735XT is still perfect for me considering fit and finish, durability, reliability and running features (race your previous runs, etc.)

This is a great shame. Even with all the problems I have had with my Band 2, I still would've bought this in a heartbeat for the WATERPROOFING! I feel like the Band has been "good" Microsoft - tackling a new market and offering a competitive product. Like I said, shame it's over.

This pics are an easy, easy fake... It is, clearly, a Band 2 with some amateura changes... Posted via the Windows Central App for Android

I would have picked it up just because. Isn't that what apple people do??

If this is it, I can see why it's cancelled.

Already switched to Fitbit as soon as my band2 broke for the second time and the cancelation of the band rumors surfaced... Posted via the Windows Central App for Android

This all looks and sounds good. I think things like this need to come out once every two years, this way it can be perfected or with as little flaws as possible. so they can fix things like the strap problem with Band 2.
If all that was said is true they I will be upgrading from Band 2 in 2017.

Looks like it has a camera?

While the Band 2's design was light years better than the first, it had a horrible design flaw that made the band break where the metal ended on the strap. I went through 3 bands in 4 months, until I finally bought a Galaxy Gear Fit 2, which is waterproof and functions pretty much the same as a Band 2. No looking back for me. Posted via the Windows Central App for Android

Gear Fit 2 isn't waterproof. You can't go swimming in it.

It's IP68. I'd swim with it. I wouldn't dive with it though. I swim with my Sony smartwatch 3 with no issues which is also IP68 and I have done consistently for the last 2 years. Posted via the Windows Central App for Android

I've had my band 2 for 8 months and its fine. No issues at all. Not everyone had this problem

I hope they continue working on the Band 3 - ekg and blood pressure - cool! That's a lot of info and hopefully can be used for the public at large. Seek Federal funding!

So sad. I love my band 2 and would have happily bought a band 3 on release day, as I did with the 2 and the 1.

Wow. Sad to say the least. Loved my Band 1, and then loved/love my Band 2 even more...I feel like this would have been the next step.

This is why I had to put down my 950xl and get a IPhone.

Would have liked a new version. Never mind.

Swimming was the only other thing I wanted on my Band 2. This would have been perfect. There is no actual word from MS on this, it is all hearsay and rumour, so still holding hope for this....

joined the #FireNadella tag...let's make MS great again with a proper CEO.

I love my band2. On hearing Microsoft is shelving devices in this area it has frustrated and upset me. Love my Lumia 950xl dual sim. Everything is getting canned and not competing against apple in the consumer space..... Will have to start reconsidering Microsoft in future..... As there is no long term consumer loyalty....

Hmm MS seems to cancel all good things and push really bad stuff... MS leaders are really digging their own grave. I guess MS is ditching HW that isn't Surface and retur to doing software again.. sadly

I dunno, this looks too much like the Band 2 in my opinion.

Love my band... It's another shame if Microsoft drops this product too

So far I'm very satisfied with my Band 2, that I luckely brought before they stop selling it. But Band was perhaps a first test of the werable marked. Remember it was relased with almost no fanfare. Maybe they now has got enough info to make something extreme appaling, or they just do not go for this marked.

Guys don't worry, Surface Band is coming...

It's not. Microsoft is implementing GATT server APIs in Windows to allow OEMs to make wearables work with Windows. Let's wait for OEMs... As we still waiting for then make phones, sooooon

I wonder if it still had the battery within the clasp. Possibly the only thing I don't like about my band 2

If you're giving up on it, open source it!!!

I would buy it just for waterproof!! I hope that this news is to determine demand so as to not cancel the program. The EKG sensor would also be great, for I have an irregular heartbeat heart condition and having EKG tracks would be nice to show my doctor. Since we are dreaming; how about a way to replace or change band colors.

Oh man, so sad. I could dismiss that as they wouldn't address some design options (the peeling situation (I'm on my 3rd Band and it began to crack) and clasping mechanism, etc. But blood pressure sensors? Man, just fantastic! I could easily sell the idea to several people.

Sad and sad again... I own the version one and it has amazing functions not found in other wearables. Texting and Cortana integration make me stay with it. I was hopping to get the band 3 which as the other ones was to be released around this time. I have met several owners and in talking about the band the only thing was waterproofing and they were ready to get the band 3. It is sad that Nadella is focused in the short time gain and not in the establishment of the brand. It is senseless that MS has no problem in buying billion dollars storefronts (LinkedIn) and have trouble managing device production and commercialisation of small margins that in the long run could mean the life of the company. He is a micro-manager. Whoever appointed him ,should be dimmed an idiot!

"Nevertheless, the Microsoft Band 3 was a thing, and now it sadly is not." What do you mean? Is the band dead all the way around? Last i recall, it was that no band expected this year was the update, not its a scrapped project/product.

That supposedly dis ... uh ... banded Band development team just sent through new software and firmware for the Band 2. No change log I can see, no "what's new" tile on the band either.

Looks too much like the Band 2 which means they yet haven't addressed the issue with the splitting band. They won't want to release Band 3 with this issue.

So I was wondering - maybe they just didn't have time to prepare everything so that the new functions truly work. Waterproofing and swimming tracking seem like logical progress, but EKG and blood pressure move WAY into the Health category. Perhaps MS just didn't have the services (data processing, generating meaningful insights etc.) ready in time to make the features meaningful. Perhaps they will launch it at a later date as a true fitness AND health tracker and leverage the power of MS Health. Because a pure fitness tracker (they way the Band is positioned now) with EKG+blood pressure tracking doesn't really make that much sense to me as the features are only relevant to a small sub-set of the fitness-band community. Thoughts?

I loved my band (1) unfortunately it was BARELY large enough for my wrist and the band 2 didn't have a size that fit me. I was hoping they'd either release a larger verion or go with the replacable strap like a watch so it wasn't an issue. I'd rather they just make the larger one since I liked the style of the band and the name IS "Band" but that's low on the list of priorities versus having a device at all...

Looks great. Sounds like it would have been another step Nows its anither step away by MS. Too bad

cancelled two generations too late

My guess is that Nadella is dreaming other OEMs will take the MS platform, including the sensor tech, in wearables. Posted via the Windows Central App for Android

Waterproofing and swim tracking alone would have been enough for me to move from Band 2 to Band 3, such a shame. Posted via the Windows Central App for Android

Aw, this looks so awesome. I was even planning on upgrading my Band 1 to the Band 3 once it came out. Makes me wish they discontinued the Band line just after the Band 3 was released...

Maybe we cab can change their mind? https://www.change.org/p/microsoft-do-not-cancel-the-microsoft-band

It is a great shame that the straps on the band one and two were such massive failures. They just weren't strong enough and tore very easily. I really miss mine and was really looking forward to owning a band3. Hopefully Microsoft will have a change of heart and bring out the band three with a super strong hard wearing strap.
Windows Central Newsletter
Thank you for signing up to Windows Central. You will receive a verification email shortly.
There was a problem. Please refresh the page and try again.