Quick look: Vector Smartwatch and the Lumia 950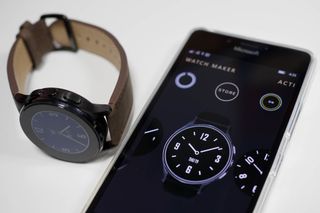 It is not secret that Windows Phone does not get a lot of love from smart watch manufacturers with Pebble being the biggest offender. And while we do get plenty of attention from Fitbit and the Band there is that hole of a 'classic' looking smart watch for the platform.
Vector is a relative newcomer to the smartwatch craze, but what caught our attention was their support for Windows Phone. Yes, there is a bona fide official app available for Windows Phone 8.1 and Windows 10 Mobile, so we just had to give it a go.
Watch our hands-on video and learn what you need to know!
Vector Smart Watch
Compatible with iOS, Android, and Windows Phone 8.1/Windows 10 Mobile
Bluetooth LE support
2-year warranty
Price ranges between $299 and $349
Water resistant to 50M including 'surface swimming.'
44mm custom solid 316L stainless steel case with mineral glass
30-day battery life
Notifications (even on Windows Phone) for missed calls, text, email and more
Configurable watch faces that are customizable
(Limited) third-party app support
Luna or Meridian bezel designs
Various styles including black, steel, rose gold, champagne gold bezel, and metal or leather bands
Hardware
Our Vector Luna showed up on a very posh box that was both minimalist but elegant. Pairing was simple and instant with our Lumia 950. However, the name of the device was a non-obvious 'RZ3K9'. There is no instruction manual with the watch, but you can find the PDF on their site, which is recommended as it provides a lot of information.
The quality of the watch is decent. It is sort of what you would expect for a sub-$400 watch. I think the steel version with a steel band would feel a bit higher quality than the leather band. The Luna is not thin, but I'd hardly call it thick for a smart watch.
The watch has three buttons including an up and down one and one as an action button. A double-tap of the action button can turn on the backlight at night or return you to the main watch face if reading a notification or using an app.
The display is non-touch and more susceptible to fingerprints than I'd prefer. In terms of looks and resolution, it seems like a less blocky Pebble gen 1 device. It's not bad at all and actually looks quite nice, but there is nothing astonishing about it either. Then again, they are promising 30 days of battery life, so...
The App
The Vector app is pretty well done but still has some bugs. Frequent crashes of the app were experienced, but you could still do what you needed to do. Within the app you can do things like change watch faces, customize them, add apps, add streaming items (to put on the watch face), see your calories and footsteps taken, sleep info and more.
The Vector watch does not have a heart rate monitor, but it can detect motion, sleep and steps. Unfortunately for those in the U.S. the bio settings are in metric, so you'll need your converter ready. The weather though can be done in Fahrenheit.
Download the Vector app for Windows Phone
Depending on the watch face chosen you can add two to three items on the face. Such items include weather, steps taken, calendar events, time zone, date/date, calories, and distance. This is probably one of the neatest features, although it would be nice if the app guided you through how to do this the first time. Instead, I had to "discover" it on my own.
There is an in-app Store where you can also download more watch face designs, add other streaming items, and even add third party apps (more are coming in 2016). All of these are free.
Notifications are here
Perhaps the biggest surprise is that notifications work including incoming and missed calls. The app ties into the Windows Phone notification center so if it shows up there it seems to show up on the watch. I need more time with it, but you can set alerts for specific apps only although I am not certain it works.
Vector even added a cool gesture whereby when a notification comes in the watch vibrates. Within 10 seconds of that notification if you raise your watch to look at it will show you the notification automatically. When you lower your hand back to your side, the notification is automatically dismissed.
Not only is this super cool, but it too worked.
The Vector Luna is supposed to get up to 30 days of battery life, which is obviously something I have not yet tested having the watch only for a few hours. I can say it charges very quickly with the included proprietary magnetic USB charger. My watch went from 4 percent to 98% in just over an hour.
Wrap up (for now)
If there is interest, we'll follow up this article with another in a week or two about how the Vector has held up. Obviously, comparisons with the Band can be made, and while they do overlap, there are some pros and cons to each that you can probably figure for yourselves.
The bottom line is so far I am impressed with the Vector. I am not sure it is worth $300, which is not cheap, but overall it is a neat offering especially for those on Windows Phone.
I can say I am disappointed Microsoft is not helping to promote this company and their watch a bit more seeing as there are so few choices for Windows Phone owners. Not only is Vector a solid offering, but it works (putting aside a few quirks). Microsoft should lend some development support to them to bring this app up to speed and do a little more promotion (at least sell them in your store).
Vector, in my opinion, has a lot of potential and Microsoft should capitalize on that.
Buy Vector Watch from Amazon.com (various) (opens in new tab)
Buy Vector Watch from Vector (various)
Vector Watches Main Site
Let us know what you think and if you want more coverage of this device. Own a Vector smart watch? Share with us your thoughts in comments!
Daniel Rubino is the Executive Editor of Windows Central, head reviewer, podcast co-host, and analyst. He has been covering Microsoft here since 2007, back when this site was called WMExperts (and later Windows Phone Central). His interests include Windows, Microsoft Surface, laptops, next-gen computing, and arguing with people on the internet.
Now the swimmers have an option, nice.

its not worth more than 60USD what can it do? Show time, calories and steps? WOOOW thats totally worth 300USD ... just NOT

Did you read the actual article?

I honestly agree, when you compare it to the other options, what makes it worth so much? put it next to the band, that is 50 dollars cheaper, what exactly does it do that the band cant? how about the samsung gear? its a ncie device, but defiantely not soemthing that looks worth 300 USD

That battery life in my opinion is a must for any thing that purports to be a watch. The band is a fitness band not exactly a full on smartwatch per se.

while the battery is a real positive and nice, There is no way that watch is worth 50 dollars more than sometihng like the band/gear just for the better battery life, or even the same price, knock it down to $150 and I'd say its a good buy

Well, they need to make profits whereas samsung and microsoft have pretty deep pockets soo...

Disagree. It does what it is intended to do, and does it well. Tastefully and well crafted. Others, as noted elsewhere, are trying to be everything and do everything and clutter your life and add to the distractions...and often times do not perform the simple funcitons they were intended to..look it up.

You can say that about many products but to tell you the truth, this is the first smartwatch that impressed me cos It has the battery life! And yes battery life is a big deal, if its worth it or not you can judge that yourself. Well yeah 300 is much but come on these guys are new to this and went out of their way to support Windows, thats enough reason for me to spend that money, if I had it :P Well poor me doesn't have that much money anyways but impressed I am! They did something a giant like Samsung refused to do (support windows).

It looks like a watch. Watches run for a few bucks to thousands of dollars. It cost less than my watch, which does nothing but tell time and show the date. I don't think you can pin a price point on it by functions. It's actually the first one I've seen that I would consider, so for me, it is worth more than the others. Why? Battery life and aesthetic. I would never wear a Band or anything that looks like a digital watch or has a big screen like a mini-Pip Boy. I also don't want something I need to take off to charge every night. I take my current watch off twice a year to change the time for Daylight Savings Time and on months with less than 31 days to adjust the date, and that's it. I respect those other wearable devices, but they're just not "me". However, I could imagine giving up my watch for a good looking device that I only need to take off once a month to charge, and not worry about it skiing, swimming, in the shower, etc. Pairing with Windows Phone would be a must for me. Not sure I would get this Vector, but it's the first that has even tempted me and that I'd seriously consider (metal band only for me).

From the horse mouth:

Right now our watches support any languatge which uses "Latin" characters... We are looking forward to implement... Greek, Russian and Chinese somewhere in the future.

Needless to say, this is a classic "You can have any color as long as it's black" type of response. I suppose we shouldn't hold breath for Cyrillic, Greek, Hebrew, or any other non-Latin support materializing any time soon.

I'd like to know your opinion a week into using the device please!

Interested in how the glass holds up. I have a Fitbit Surge that looks beat to heck and I spend most of my day behind a desk.

How can some unknown manufacturer come up with a water resistant smartwatch for swimming and a 30 day lasting battery while others can't?

Wow. U should work in R&D /s

I don't get your answers... Them supposed to be funny?

Its Kellogg's what do you expect

Less features, bigger battery, less sensors so more space for said battery, e-ink display does not consume any power, newer version of Bluetooth with even lower power, no touchscreen, no constant backlight, slower but more power efficient processor instead of fancy ARM version in Android Wear / iWatch

And its first and foremost watch first!

they're not unknown. The CEO used to be CEO of Timex. This is not some no-name startup with no experience.

See bellow a brief presentation of the company. At the end, someone asks the same thing as you do: https://www.youtube.com/watch?v=RjUAIfsusBU&feature=youtu.be

It's nice to see one more option for the windows platform, although the watch doesn't look like much. Makes me think of the LG watch R, not in the form per se, but in the fact that you need to touch to see it's not plastic. I'm still not sold on the whole smartwatch thing though. It's nice to have notifications without having to look at the phone, but it's nothing "revolutionary". At least this company is giving us an option which lasts a whole month without needing to be charged again.

Sweeet. I like hearing about smart watches. You guys should try the Kairos to see what that is like.

Now that's a nice looking watch. Sadly way out of my price range.

Does it work with the Lumia 830?

Does it run Windows Phone 8.1 or Windows 10 Mobile? Then the answer would be 'yes'.

Haha, you really have to wonder about some people...

Hello Daniel - My apologies first for a rudimentary question. The Vector Website states the watch supports Windows Phone 8.1 Update 1, as such, does NOT list the Lumia Icon (Verizon). It does list the 1520, 930, and others however. Would you think the "notifications" would work on the Icon, even though we never received Update 1? Thank you in advance

Daniel you have the patience of a saint...

It was not listed on their website as a compatible item, which is why I asked. This phone seems to get let out a lot. So, willied, you have to wonder why you need to act so...

Windows insider never said all phones with Windows 8.1 will work. And Daniel has never said otherwise either. The point is that if the phone runs Windows 8.1 of Windows 10, then it is supported. If there are issues you can go to Vector and they will help fix them. The app will work on the Lumia 830. If it didn't then they would say Windows Phone 8.1 or Windows 10 Mobile except the Lumia 830... Posted via the Windows Central App for Android

I apologize; that was mean of me.

Looks nice. Does the alarms app have smart alarms?

This is an example of a manufacturer that's worth supporting. Not to mention that the app looks fantastic. It doesn't have any of the circular toggle button nonsense of Windows 10, which is very Android-esque.

When you say it dismiss the notification, is that just on the Vector, or does it dismiss it in Windows as well?

If it works like Android Wear them they are linked. You dismiss it on one and it is dismissed on the other. Posted via the Windows Central App for Android

It stays in the phone's notification centre, both in WP and Android.

30 day battery life is nice

How come a relative no name brand can get notifications to work but a huge company like Fitbit haven't figured it out yet?

It's not that Fitbit can't figure it out, it's that the method they use isn't currently supported by Microsoft.

It is probably due to timing. Fitbit designed their hardware before Windows Phone supported BTLE and notifications on connected devices. As a result they used a method that requires the phone to have a GATT server. (Both iOS and Android do.) Then Microsoft added support, kind-of, for notifications on connected devices, but they don't have a GATT server, not even on Windows 10 Mobile. So Fitbit is up the creek at this point, there is nothing they can do without developing new hardware, or possibly a major firmware update to their devices, just to support Windows until Microsoft adds the necessary GATT server. Vector, and Microsoft for that matter, came along later and could look at everything and see that Windows didn't support GATT so they had the opportunity to design the product to work with what was available on Windows. If you want notifications on your Fitbit I suggest you go into the Windows Feedback app, search for GATT and upvote the requests for a GATT server to be added to Windows 10.

I would've been in except for the non touch aspect

Beautiful, might just get one because they support windows phone.

Nice review and nice looking watch. Would like to know if it displays kanji, korean or chinese characters... band v1 does not, not sure about band v2.

I've got band 2, sadly double-byte character support is still lacking.

Hey I'm curious about the same thing. If you get an answer let me know!

I think the next version will be touch

Not likely, unless the battery life is sacrificed

looks great and its available in the UK already.

I love the line about MSFT not helping to push the watch. Come on!! They don't even push their own phone products! ;)

hahahahahahahahahaha! The sad but funny truth!

Would be better without a grainy display. And its got that cheap blue tint to it. Clearblack display with more pixels and you will get my money.

Never really been excited about wearables but this has changed my mind because it actually looks dämn nice. I'm sure the app bugs will be ironed out and the expansion capabilities to other apps is amazing for a new player to the market. Kudos Vector. I have a new Christmas present at the top of my list, though after a 950XL and SP4 within a week I may have to wait...

Always nice to see new companies support Windows 10 Mobile. It's a European company, so they will likely get plenty of support from people there. So,I do agree that Microsoft should support them on their websites and stores (online or physical).

Vector got me at 30 day battery life, I so got to get me one of these!
It made me sit up, stop reading and start watching the video review lol. Also just downloaded the app to show support :).

Right on the money with the support from MS. Mozo got some love, and look at what happened, great covers. Would like to see a cyan leather Mozo. And the red looks great, aside from the rose gold.

They should definitely get behind this, it's a solid offering. Watched the video review and I am definitely buying one.

too early.... I would wait till early 2016 when it's released publicly (for 3rd parties to make watch faces and apps)....If there is demand, I might end up with one...

DavidinCT, no it's not too early. If there is no demand then what is the point?
So that demand needs to be generated especially when the offering is pretty solid. Plus third parties will only support it if there is only demand for the product.

I'm glad to see a smartwatch support Windows. It's too bad Agent couldn't ever get theirs together. Now it looks like a joke.

Niche smartwatch company, let's see how many 3rd party apps appear in their store... Not worth it

The Connected by Tag Heuer is the top of the pile but whaddya know, it only supports Lagdroid and Crapple...our small user base just kills us every time...

It also doesn't help that within our small user base we have immature people like you that use words like lagdroid and crapple.

Honestly this site is ridiculous for that reason. Do you know what Android Central users call Windows Phone? Windows Phone. They call Apple Apple. In general their reader base is much more mature. And to take it a step further, I can't tell you how often I see fights in Windows Central, in Android Central I've seen maybe 2 or 3. If this is representative of other sites that support Windows Phone, no wonder people don't look into Windows Phone. Yes the app gap is a problem, but so is the community. You are no different than the extreme part of the Linux community. The same people that put people down for using "Winblows" or "Microsucks." Some people just need to grow up. Posted via the Windows Central App for Android

I guess you don't read very much over there. I have seen more win'doh's references on both android central and Imore. Blackberry forum and windows central has the most mature of all the forums I have been on.

Daniel, I've used 3 diffeent smartwatches now with Windows Phone. The Pebble 301bl, the Pebble Steel (that I still own) and the Microsoft Band (first one). The Pebble watches have about a week life, so it's great for a smartwatch. The Band gets about a day and 1/2 or 2 on weekends (when notifications are slower). The Pebble Notifcations app still works with Windows 10 mobile (at least last build) but, no offical support. I would compare this watch more with the Pebble than the Band. When you use the OS on the phone, I know you have used both of them, What one would you feel is better ? Are notifcations better (more infomation) ? Now going by the Pebble, it claims water resistant up to 30m.... on my Pebble Steel, I have gone swimming with it, in 8 feet of water (pool, 8 feet deep, right to the bottom with the watch), and with the phone on the side of the pool, I was getting notifcations on my watch at about 5 feet. :) No problems with water. Does this watch have sensors, or is it dependant on the phone (for running, sleeping, etc). I'll admint 30 day life sounds impressive but, looking over the videos, not sure of the detail on the display... Time will tell but, at this point, it's too early to say yes...

30-day battery life, sleep tracking, notifications, WP app - and $249 for the box case version (website) - nice.
I wish the Wellograph watch did notifications - nice device.

That battery life is what is really selling it for me, the crappy battery life is what puts me off every smart watch. I'm used to a watch lasting several years before I need to change the battery.
So I'm pretty curious to see how it holds up :). In regards to the sleep tracking, it might be too bulky :P.

Well said. I'm right there with you.

You get location based reminders on the watch as they pop up on the phone; if you don't dismiss them at that time on the phone, when you first open the phone the reminders pop up on the watch again. Sometimes I will have to dismiss the same location based reminder from the watch 3 or 4 times. I haven't been able to turn off getting emails so I'll have to dismiss a dozen screens on the watch that say nothing but these three words formatted just like this,
Subject:
Description:
Details:
Sometimes watch faces won't update to the phone, so if you add them again you'll have the same face twice or be missing two or more that show on the app but not the watch.
I had the watch less than a month when I noticed it had long scratches across the face; I went to facebook like others did and they erased my post, said they'd "research" the scratches and get back to me. That was almost two months ago. I love the watch, it has some issues,but overall I'd hate to be without it on my wrist for more than a few minutes.

Dan sounds so happy.. Now that app is clearly made for 8.1 look how gorgeous it is, and it might not have that crashing bug on 8.1 I've some old apps that never crashed on 8.1 but now do on 10

really sweet, kinda classic look, MS Band 2 is nice but this is one is more of a jewlery... liking it. too bad just bougth a band. ;)

I like this watch but the price is a bit steep. MS need to find some way to become compatible with Android Wear (but better than the limited compatibility IOS has). If they are making tools to allow conversions of Android Apps for Windows Phones cant they do something similar for the Watches OS? Or partner with some of the better watch makers (not fitness accessories) like the Huawei Smartwatch which would in turn help them sell microsoft phones to those people who are holding out from lack of smart wearables compatible.

Yeah, I could roll with it. I'm not a flashy guy but I like tech. If it works with Microsoft Health it would be a stellar feature. I hope it will at some point.

i have notice this watch ,mand had big debate between this watch and band 2 ,

"bio settings are in metric"... A perfect excuse to switch to the far superior system! ;-)
Kidding aside, feedback after a longer period of use would be nice, so do get back to it in a few weeks time.

I know this isn't directly related, but since we're talking about a (smart) watch, when I read about the bio settings being in metric, my thoughts immediately went to the joke from The Simpons about metric time: http://deadhomersociety.com/2011/08/24/quote-of-the-day-889/

Not only are the trains now running on time, they're running on metric time. Remember this moment, people, eighty past two on April 47th...

etc.

Wow, a smartwatch that works with Windows Phone and actually looks nice and packs lots of features! Kinda wish I knew about this before I got the Band 2. I mean the Band does have more features especially for fitness tracking, and they're basically the same price. So maybe in the future... doesn't make sense if I use both Band and another smartwatch...

The sillicone versions are so much cheaper... really just a different material of band cost $100 more?! Personally I either go with leather or silicone because I get steal alergies

It will be enough for me if WP will support Garmin to make Garmin connect app!!!

It should be a big challenge for such devices to combine with grove music Cortana and of course the if possible the third party apps and AT&T to deliver more great stuff Posted via the Windows Central App for Android

Looks nice. Posted via the Blackberry Priv

This watch looks great like any regular watch...i prefer leather though coz it must look like a watch. If it's metal than the band should have links. It must be able to replace a regular watch...MS band is not a watch...it does not interpret a watch. Its just a device with a screen around the wrist lol that's why they named it band. Its just a "band" coz with a band u have flexibility and more options away from been a "watch" lol

This watch actually made me consider buying. A month long battery life. I was like WOW. And then I saw the price and was like OH. :(

Check out Runtastic Moment :-)

Are the bands a standard width? It would be nice to have a few band options with the steel body.

Daniel digging his 950 :)

A touch screen and heart rate monitor (even if that means battery life halved) would have tempted me to buy it. I wish microsoft did not cancel nokia's smart watch. Any chance you will review the meridian?

Touch screen on a watch is a recipe for annoyance (you'll set it off all the **** time) and no battery. IMO, Vector's solution is far better.

Does this watch allow music control? Volume, stop start etc? Thats one of the reasons I stay with my Pebble and Android :(

Not at the moment, I don't think. But my MS Band 2 just added this feature and it works like a charm

The Vector facebook feed says it's coming with the next update. Updates have been pretty frequent so far.

To all this who don't think it is worth it, I just have to say that compare it with a Moto 360 or Galaxy Gear and then say if it is expensive. It does everything that those two do, and is water resitstant for swimming, has a great battery life and supports all OS forms unlike majy iOS only or Androind only smartwatches. I am from that school that does not consider watch as an jwellery or fashion statement. Yes it has to look good, but I wear it for the utilitiy. That is why I am not fan of fitness bands that cannot really replace a watch, even if they tell time. They are just too ackward for me to wear for smartwach purposes. Plus many of them do not support notifications from your phones. That is where, I feel the ideal device would have been the iWatch, provided it was compatible with other OS's and available at much lower price points. Both of these things are not there and wont be there either. That is where third party manufacturers like Vector come in. Reading the review and looking at images of this, I think this is the perfect balacing device. It does all that a fitness tracker does, including tracking your swimming stats. It has a great battery life required for a watch. Plus it tell time, weather and even supports notifications. I am sure in future iterations, it will include funtionality to control music and answer or reject calls or read/reply to text messages. Those are software depending things which can be included if there is a demand for such features. All in all, I find this a pretty impressive that has lot of room for improvement. But even for what it is right now, it is probably the best the smartwatch, even better than Fitibit Surge, supporting windows phones.

To be fair to Android Wear, it does stuff like Maps and navigation which the Vector doesn't. Personally, I'm okay with that.

Maybe so, but guess what, android wear does not work with.......WINDOWS PHONE!

I think smart watches are still a solution in need of a problem. They're gimmicky. Gadgetry for the sake of gadgetry. For most, they accomplish little more than your basic $80 fitness tracker. The $300 price point is probably spot-on since this is more of a luxury device. I have to say that I definitely appreciate the looks of this smart watch over others that I've seen, however.

Please do a follow-up...aside from the claimed battery-charge life, I am also very interested in the claim that it is "water-resistant" up to 50ATM. THANKS!!!

It's 50 meters, not 50 ATM (which is very deep indeed, that's a full diver's watch). It is certainly waterproof past 25 meters. I've dived deeper than that with mine on with no ill effects.

I own a Vector Watch (I do not work for Vector and am not affiliated with them in any way except for owning one of their watches). Mine is the pre-order black Vector with the G10 NATO canvas strap. I have an MS Band (v1) but found it made my wrist itch (to the point of eczema patches) after a while. The nylon G10 strap does not and it's kind of nice to wear one again, reminds me of my Army days. So far I've used the watch with a Lumia 930, a Lumia 1520 and a Silent Circle Blackphone 2. The Android app is considerably better than the WP app. It's easy to set up profile information for fitness tracking etc on Android where the controls are a pig on WP. Fitness stuff and sleep tracking are done entirely on the watch and then uploaded as burst data to your handset. They rely on the accelerometer of the watch to function which is okay. Better than a Fitbit, not as accurate as the MS Band. Tethering distance is around 20-25 feet. I noticed that with my phone in my bag by the side of the swimming pool, I was receiving notifications underwater at about 5' down and 20' away but not much further. The Watch is very definitely waterproof although I'd counsel caution to those who opt for the leather strap. The chlorine will eat it. Battery life is considerably better with WP (which does not resend notifications) than Android (which does). I found I got approximately 23-25 days on Android whereas I never got less than the full 30 days (and usually more) with WP. You can easily trim the list of apps which notify you in the Watch App, which can improve battery life in both instances. The watch faces are nice, tasteful and not overtly digital unless you select a "numbers" face. The Watch itself is rather beautiful. It's about a centimeter thick though, which might put some people off. On me it looks fine but I'm 6'4" tall and have massive bones and immense wrists and ankles. YMMV. Overall, I'm extremely happy with my Vector watch and would strongly recommend it, if you like the aesthetics. If you don't, you'll hate it.

This is the best smart watch on windows MIcrosoft should buy this company and improve it.

Like they did with Nokia or Danger or Sendo? No, I don't think so.

Daniel, any suggestions on how to connect the 950 to the Vector watch? I just received it today and am trying to set it all up. It is connected via bluetooth but simply idles on the Connect screen of the app ... saying "Let's connect your Vector Watch". I've rebooted the phone a couple of times and it gets no further. I have seen a couple of reviews on the store that refers to this exact scenario/problem. Any help would be greatly appreciated.

I have reset (soft) my phone one more time and also reset the watch. It connects to bluetooth again, but simply stays on the "Let's connect your Vector Watch" Connect screen of the app on the 950. I'll see about getting support via Vector, but as of this situation ... and referencing the app store reviews ... it is not positive.

I finally got it connected, but it doesn't show the correct time, day or date. Additionally, the app is crashing more than it's changing anything on the watch. I have tried updaiting the watch and it appears there is no newer update available. I have set the 'Alerts' to be the same as my phone ("mirror my phone"). I did see the subject line of 3 emails on the watchface at one point, but I have no idea just yet how this showed up or how to get it to show up again. I cannot seem to identify where to change the time. One would think it would pick up the time from the phone, but it definitely isn't. I live around Dallas, where the local time is not 3:44 p.m. My watch says it's 10:40 on the watch dial (it's p.m. because I saw 22:40 elsewhere), and the day is showing "Monday" with the date being "10". So I'll keep digging ... Man, did I mention this app is constantly crashing!

The watch finally decided to sync up with the time on my 950. I set up a couple of appointments and they notify me ... BUT nothing showed up an 'event' on the watchface. It says "NO EVENTS" on the face, but there were calendar events on my calendar. According to the Vector support rep I spoke with on the phone ... yes, I called them and they did answer rather quickly ... calendar appointments should show up on the watch face. As a matter of fact, he said "all" appointments would show, which not even one showed up on mine. Emails are pushing through to the phone as soon as they arrive onto the 950. I had my wife send me a text and although it showed up on my phone, it didn't pass through to the watch.

I mentioned I called Vector ... well, they replied with an email. He said he was going to send me some 'help', suggesting directions, to help with the time syncing between the 950 and the watch. Here is his official reply from Vector: "I'm contacting you regarding the time display issue that you have mentioned in your call. We regret to inform you that Windows 10 Mobile is not currently supported. We plan to implement this support by the start of next year, probably January-February. Till then you can manually set your watch time by pushing the up button and the middle button at the same time for 5 seconds and then select set time or date. Please do not hesitate to contact us in case you have further queries." Also while speaking with the customer support rep on the phone, he suggested that all calendar events on the calendar would show up ... which I assume you could scroll through if it were actually so. But as mentioned, mine simply says "No Events" where calendar events should show up. The text message I had my wife send me never showed up on the watch. I asked about the display being dim and asked about being able to change it. He said that an option to change the brightness would be coming next year with an update. I guess there could be hope in a month or two, but for now I'm not so enamored with what this watch is offering. I was excited when I saw this being a watch that worked with Windows. And seeing the write-up by Daniel I was hopeful. It's a good step in the Windows direction, but it's lacking. I'll most likely be returning it and waiting for something with more functionality. I will say it is a nice looking piece.

I have played with my Vector watch now for 3 days and I honestly belive its a great smart watch! However I have the same issues with events, I'm also running WP 10 and as they have rewritten both outlook and calendar it might not be working correctly. I have disabled the notifications for emails but I still continually receive notifications. The Windows Phone app is buggy as I'm sure everyone already noticed and the store lacks a lot of useful apps, the manual even mentions Facebook but thats not available in on the watch. I had some issues with BT stopped working and I had to re-pair the phone + watch a few times until It got sorted out. Apart from that I'm happy with the watch, love the "always on" and battery life and the fact that it works in water. I'd like to see more localization support, ie. showing the days etc in a local language, integration with the native music api so we can do volume control on the phone, and pick next track/pause on the music player/spotify. Customization for the buttons would also be nice.

I have picked a second hand one up for curiosities sake - it is well built. However........I would have been disappointed if I had paid full price for it. I have never owned a smart watch before but the displays on the Moto 360 etc are nicer, however it syncs well with my 950XL and notifications are almost instant. The screen is not very bright and difficult to see in the dark - even though the battery lasts for 30days it would be good if there was the option to increase the brighness a bit and only get 15 days battery life. The graphics are basic, however it works and does what it says on the tin.

You can bright up the display by pressing the middle button, works for me in the dark without issues.

I just wanted to warn anyone who, like me, decided to pull the trigger on this because of Windows Central's erroneous review. This watch DOES NOT SUPPORT WINDOWS 10 MOBILE. I received it today from Amazon and spent a few frustrating hours trying to get it to work. With a WP10M phone, you can 1) pair it 2) install the app and that is as far as you'll get. The app will then happily get stuck on the "Let's connect your Vector Watch" cursor and will never ever let you get past it. I then tried it with a Windows Phone 8.1 device and it worked fine and got past the app setup. Needless to say, who wants to go back to WP8.1 just to get a stupid watch to work. I'm annoyed I dropped $350 clams for this one on an erroneous article but it wouldn't be the first time "sponsored content" is dubious. To the editor, can someone at least have the decency to edit the original review to reflect the fact that it only works with 8.1 so that others are not misled and end up buying one only to find out they have to regress their phone OS to use it. P.S. Forget about Vector Customer Service, I called their customer support numbers in the US, UK and Switzerland and got a very smug "Goodbye" voicemail. That was it, a ONE SECOND RECORDED MESSAGE in a tone that suggested they were giving you the middle finger. This was of course during business hours. I suggest we be a lot more wary of Windows Central product reviews from now on, as our fondness for Windows is really getting the better of us, for some more expensively than others. As for Vector, forget it, nice watch for those who use 8.1, and it's quite nice and solid to use but who wants to deal with a company who can't even answer the phone numbers they publish on their support pages?

im running WM10 on the 950XL and it works fine for me ☺

Can I suggest you upgrade to the latest build 10.0.586.36 and let us know if it still works, I think you won't be smiling for long

I have returned the Vector for a refund. I purchased a Band2 and am enjoying it. Having spent about $150 less on the Band2 ($199) than the Vector ($350), I have happy. The Band2 isn't as nice a looking device as the Vector, it does provide WAY more functionality. It passes along the time, texts, emails, calls, sleep tracking and a handful of apps. It is definitely a more convenient product than the Vector.

Although I returned the Vector, I received an email this morning that states there are new 'apps' and 'streams' for the watch: Social Streams
Get your Facebook and Twitter updates with the brand new social streams Music App
Easily control your music at the touch of a button using the brand new music app Evernote™ App
Stay organised and open your Evernote™ to-do lists directly from the watch app Nest™ App
Use your new Nest™ app to remotely control all your room temperatures Search Store
Find all your favourite store items easily using the new store search functionality Also coming soon ... UBER™ app! It looks to be getting more functionality. But there was no mention of if 'officially' being support by Windows Phone 10 (see my previous post about Vector Support saying it was not officially supporting WP 10 at present).

Vector has released several new watchfaces, new streams and new apps. Howver zero of these has been released to the vector WP app. Vector told me on FB why - The WP app has not been updated, nor does it include th "update my watch firmware" - functionality. I managed to get hold on the beta app (that supports WP10) - It took me about 100 reboots of the watch and the app to get the firmware update process kicking (updating the watch firmsare to 1.0) However that will not give you any new apps (I was hoping on the music app to control music players) - It adds the facebook and twitter streams, but I have not managed to get them working. It do fix the issue with calendar not working on WP10 (Now I see next events and get a notification on unoming events) The whole WP10 experience is very much what you can expect from a WP10 perspective, most tings not working, almost everything buggy.

How did you get the beta app?

Will there be a follow up of this review? Maybe Vector managed to patch the app by now and the UX has improved. Also, a battery test would be very nice.

Well, I signed up only to offer my thoughts. Having researched all of this and being new to smartwatches, the Pebble graphics immediately turned me off. Went through all others and began to appreciate what Pebble is about, everything about them. Coming from a timepiece background, i must say, as usual, upon all the absurd reseach and time spent, when i received the Pebble Time Steel i was disappointed with the quality. Felt very cheap. Steel? Feels like plastic..i can appreciate their swatch comparison. I was disappointed and intended to sell it immediately next day..my gut just told me no..so much for that. Came across Vector. now, having just received it, it is exactly what I was after. Very well constructed. Appears and feels like a fine timepiece. Screw case back allows electronic updates or upgrades in teh future (ie. battery years down the road)..something any electronic tech could do. Nevertheless, it will last years as is. And with such a long battery life, less charging equals even longer. I could not be more pleased. The Pebble graphic options, faces, and characteristics are cute adn fun...for a while. but it becomes old...especially for a man, in my opinion. the novelty soon wears off. The Vector is a fine timepiece with extras, as it was intended. Messages received, notifications, alarms..that's all i want. Talking into the wrist for messages etc. with Pebble et al. was not as useful as I initially thought. Everything is working fine thus far. i appreciate it is new, so bugs are to be expected, however nothing i have coem across. if this changes i will post an update as i know how useful real world experience is, and I would have wanted the same when I was searching. I also appreciate teh design. It is well sized. The others sized at 47mm...crazy. I know all to well the fad with large wristwatches these days, and I don't understand nor like it honestly. I own the meridian and prefer the square design to round generally. I cannot speak for the Luna. 44 may be a bit to large for me..i owned a Panerai and 42mm was really the max i thought I could ever go. At any rate, i agree with the well made point of this reviewer above that Microsoft should help promote this brand and assist with marketing for the precise reasons described. All i would have wished for otherwise is a sapphire crystal. I have read good things about support, so I may make point to mention this. My 2 cents.

I bought my Luna steel with steel band for around $205 off Amazon. It paired first time with my 950, no issues. Downloaded the app. It took a while to be able to get the biometric info added - that part of the app is really buggy. However, once entered it seems pretty accurate at least for casual use. I like the watch face switching ability from within the app or from the watch, and notifications are generally reliable (though occasionally it'll buzz but not show anything, usually with Facebook.) Overall the watch looks great. I had it for a month or so, and it still looks like new despite the occasional bump on a wall. Haven't been swimming yet, and I usually swim in salt water (the beach) so I hope it's really waterproof... Coming from a Band 1, I miss some functionality e.g. the heart rate monitor. I also haven't figured out if I can download the activity data to my phone or a PC for retention/tracking. Easier to do that on a Band. However, my first Band quit after 4 months and the warranty replacement fell apart after 4 more, and Microsoft declined to replace that one, so I'm done with Bands. Waiting impatiently for more apps. The website talks about a BBC app and an ESPN app but haven't found them.
Windows Central Newsletter
Get the best of Windows Central in in your inbox, every day!
Thank you for signing up to Windows Central. You will receive a verification email shortly.
There was a problem. Please refresh the page and try again.