Velocity 103 Availability Announced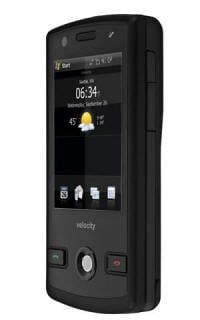 Remember back in April when we showed you the Velocity 103 and how sweet it looked. Well today they are announcing the retail availability of it. It will be sporting Windows Mobile 6.1 Professional, Velocity Over The Air updates (Vota), and its own GUI. The Vota is something special because they built it on top of the Windows Mobile platform. What that means is that consumers no longer need to worry if they have the latest software because it can get pushed to them automatically through the network. Kind of like Windows Mobile Update except this one might actually get used. Velocity says that they can update pretty much anything that isn't core to WM.
If you want to take a sneak peak of the interface action check out the video, but remember to put your bib on as were not responsible for any drool covered keyboards. Other specs include:
-Odyssey Interface -Qualcomm msm7201 chipset -Gsm/gprs/edge and umts/hsdpa/hsupa -WiFi -TV/VGA out -2.0 megapixel camera -256 MB ROM 128 RAM
Windows Central Newsletter
Get the best of Windows Central in your inbox, every day!
,但60年前看到的其他照片和底片已经没有了。吉本映三说,他亲具体是何时去北京展览公司,上司是谁,照片是怎么照的。他家在阪神大地北京展览公司,其他资料也都没有了