Hands on with Velocity 103 and 111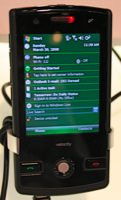 The Velocity 103, ladies and gents, is a sweet device. Windows Mobile 6.1 Pro, Quad-band 3G on GSM, 128 meg RAM, 256 ROM, 4 Hour Talks Time, AGPS, TV-out, WiFi, and a 480x640 Touch screen.
We know that people throw the term "Treo Killer" around a lot, but the Velocity 111 just might do the trick. It's a Windows Mobile 6.1 Pro device with a flush touchscreen at 240x320 screen resolution and all the other trimmings of the 103.
It also sports a decent-enough QWERTY Keyboard that has a design that's ripped off directly inspired by the BlackBerry 8800 keyboard. The BlackBerry "inspiration" doesn't stop there, though, check out the white scroll ball in the center. Tell you what - that scroll ball works darn well on a Windows Mobile Device. We approve.
Velocity doesn't have any carrier deals set up, so if you're hankering for either on of these you'll need to a) wait and b) try to find it unlocked somewheres.
Full Gallery after the break!
I saw the Velocity 103 and thought wow! This is what I wanted the Touch Cruise to look like! Hopefully they'll back up the touch screen with something like TouchFlo. Do you know what processor is under the hood? Screen and device dimensions? Looks cool and yes, I hope it come unlocked somewhere; unlocked phones are the only kind I buy anymore.

Hi man, Do you still have velocity 103 in hand? I really need the Original Rom from that phone, is it possilbe for you to export the rom of velocity 103 for me? Thanks a millioooooon!

Rumor has it that Inventec is the ODM....
They seem to make nice stuff over there.

This is something I will look for on Mobile Planet. I want a nice Pro device with a front facing keyboard. Was waiting for the HP 910, but god knows when/if that will be released the 111 here looks incredible.

Thanks Dieter;
This phone 111 looks absolutely gorgeous. And with WiFi, the track ball and a touch screen to boot?!? I am so there!
How does it stack up to the Motorola Q9h? Bigger? Smaller? Heavier? Lighter?
I actually like the BlackBerry-esque look of the phone and if Velocity doesn't end up charging an arm and a leg for one (and the reviews are as good as your quick Hands-On), this would replace my Q9h.
(Hey, did you get my e-mail?)

@ajwalker - No!
@everybody else -- will try to do a follow up post with specs. Will also do my damndest to get a review unit somehow of both because...wow.

uh oh could this be the end of my 750? Im a sucker for the scroll ball on blackberrys
Windows Central Newsletter
Get the best of Windows Central in in your inbox, every day!
Thank you for signing up to Windows Central. You will receive a verification email shortly.
There was a problem. Please refresh the page and try again.