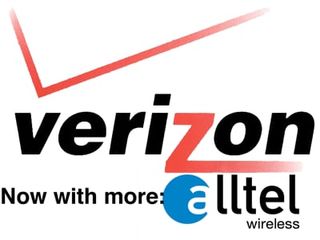 Can you say "Whoa?" Can you also say "Goodnight Sprint?" Check it out: Verizon is purchasing Alltel. They're dishing out $5.9 billion in cash and taking on another $22.2 billion in debt for a grand total of 28.1 billion dollars. This will make Verizon a bigger juggernaut than they already were and is all syngergistic and stuff:
...So much for my pipe dream of Alltel buying out Sprint, eh? Alltel has been rumored to have been fishing for a buyout from Verizon for a long time. Is this good or bad for Alltel's customers? They'll surely get better roaming, but Alltel has a reputation of offering quality, personal service to its customers? Will a giant like Verizon be able to do the same?
More details as Forbes, looks like the deal isn't a firm go yet and heaven only knows whether or not the FTC will allow it.
Thanks to Phil for the tip!
Windows Central Newsletter
Get the best of Windows Central in your inbox, every day!
Nothing good will come from this. I am an Alltel customer who lives in a rural area and never dreamed of evdo until Alltel provided. Alltel takes care of rural America. Verizon, Sprint, and AT&T have historically had no interest in rural America. Every carrier has had to be competitive in the market place. AT&T has roll over, Sprint has the best data plans, Alltel has my circle and Verizon has. . . . . .??? Verizon has ?We are the best that is why we cost the most.? Also lets not forget that 5 gig limit . . .err I mean unlimited data plan that new alltel customers will inherent while at the same time loosing my circle, If you are already a Verizon customers expect to pay even more as the competition is being bought out (or destroyed = sprint). Maybe next year unlimited will mean 2.5 gig.

I heard about this from a buddy that works at Verizon months ago --- just seems completely ridiculous. With everything that Verizons doing with Fios and home services, they are literally taking over the entire market one piece at a time. Smaller companies like Comcast and Metro PCS are going to find it much harder to compete.