Verizon HTC Trophy - Review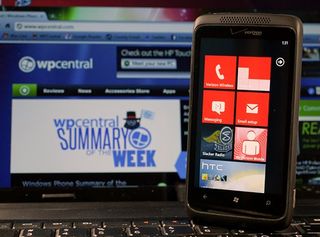 Verizon Customers may say, "It's about time" with regards to the release of the HTC Trophy but I think they will be very pleased with their first Windows Phone 7 device. The Trophy completes the Windows Phone coverage for the major U.S. Wireless Carriers and isn't a shabby addition to the Windows Phone line up.
We had the opportunity to get our hands on an HTC Trophy for a few days and the Windows Phone made a nice first impression. The phone felt good in the hand, had a nice design to it, and the 3.8" screen looked good. To see if our first impression was changed much after using the Trophy for a few days, make the jump past the break.
Design
While the HTC Trophy has a solid feel to it, there's not much flash to the phone's design. The phone has a black matte finish with just a hint of chrome accent around the screen. While it may be conservative in appearance, I think the phone looks really nice.
The tell of the tape has the Trophy coming in at 4.67 x 2.42 x .47 inches and weighing 4.9 ounces. The Trophy compares closest to the HTC Surround that comes in at 4.71 x 2.42 x .51 and 5.82 ounces.
Controls are laid out with the volume button resting on the left side along with the microUSB port. The camera button is the sole control resting on the right side with the power button and 3.5mm jack at the top of the phone.
To the rear of the phone is the 5mp camera, LED light and speaker.
With regards to fit and feel, the Trophy gets good marks. The phone is compact and light enough to make pocket carry comfortable. The control layout is a little on the unique side but more so something to get used to than something that is an issue. Volume, power, and camera buttons were responsive and didn't feel soft.
Screen
The Trophy sports a 3.8" 480x800 WVGA screen. It is very receptive to the touch and looks nice. At first, the screen appeared to have a touch more contrast than other WVGA screens. It's not as vibrant as the Super AMOLED screens but I'm discovering that some color schemes pop out better on the LCD screens, such as the Verizon red.
Regardless, the Trophy has a very good screen with respect to image quality and video playback.
Software
The one nice thing about Windows Phone 7 is the consistency with respect to the software running on these phones. The Trophy has your typical HTC Windows Phone 7 setup with the HTC Hub. For the record, the Trophy is running OS version 7.0.7389.0 and firmware version 2305.06.10322.605.
The HTC Sound Enhancer and Photo Enhancer are pre-installed and there is also a My Verizon Mobile app installed. The My Verizon app appears to be similar to the AT&T MyWireless App that gives you access to your wireless account information (minutes use, data usage, billing information, etc.). As with the AT&T apps, the Verizon app can be uninstalled.
One pleasant surprise was the presence of a pre-installed versions of Slacker Radio and Netflix. Granted it doesn't take much effort to download either from the Marketplace but having them preloaded saves you a little time in setting up the phone.
Under the Hood
The HTC Trophy is fitted with the customary 1ghz Snapdragon processor that moves things alone nicely. Easily on par with other Windows Phones.
The Trophy has 16gb of storage on board with 576mb RAM and 512mb ROM. The 16gb's of storage is well buried under the hood to prevent temptation.
A 1300mah battery powers the Trophy and gets respectable mileage. With moderate usage (email, web browsing, games, voice calls) the phone makes it through the day with about 15ish percent of the power left. Should this not be enough, there is an 2150mah extended battery available for the Trophy.
Camera
The Trophy is fitted with a 5mp camera that has both video and still image capability. For the most part, the camera software is similar to camera software on any other Windows Phone camera. You've got a handful of scenes (portrait, landscapes, sports, beach, etc.), effects/filters (grayscale, negative, sepia and solarize), resolution, metering mode and flicker adjustment.
There isn't an anti-shaking or image stabilization setting. The LED is your typical camera light that is good for a focus assist lamp and for flash light apps. It's really not great for photos.
The one stand out with regards to the camera function is the Trophy's camera button. The button is oversized which makes it easy to access. It's not too large to accidentally activate the camera but large enough that the camera is more comfortable/easier to use.
Still Images
The HTC Trophy produces nice snapshots that are on par with other phone cameras with regards to quality. I did get a little haze and color cast with some of the photos but nothing to be concerned about. You can generate decent "straight from the phone" pictures and nice photos with the help of a photo editor.
Note: Only editing performed on images was to resize them for publication.
Video Performance
The Trophy can record video in three formats, blah, VGA and 720p HD. Video quality, as with still images, was good and on par with other phone cameras.
Overall, the Trophy has a decent camera. Nothing to jump up and down about but nice enough to satisfy your basic snapshot needs.
Phone Performance
As far as a phone goes, the Trophy performed nicely. Call quality receives all around good marks. The speaker was the weakest performer with regards to call quality. Using the speaker phone option, call volume was a little on the muffled side.
One nice thing I found about the Trophy was the vibrating alarm is distinctive. I've commented on this before but with Windows Phone 7, the vibrating alarm has taken a step back from the Windows Mobile days. I'm in situations all day when I don't need the AT&T jingle disturbing things. With the HTC HD7S and Trophy, the Windows Phone vibrating alarms is getting there.
As a phone, the HTC Trophy is a good choice. I wouldn't rely on it too much for a speaker phone but as a handset, it gets good marks. Oh... Bluetooth performance through the Jabra Cruiser II (opens in new tab) was good and on par with other Windows Phones I've used.
Overall Impression
The easiest way to describe the Trophy is that it's the HTC Surround without the slide out speaker. It's a very nice Windows Phone that Verizon customers will be pleased with.
Sure, it lacks a 4" screen but the 3.8" screen isn't too shabby. The design of the Trophy looks good and the phone is comfortable in the hand. The curved corners and sides help not only make the phone feel good, but helps with the phone's pocketability.
Battery life is respectable and call quality good. The camera will do and I really like the larger camera button. It's a refreshing change from the thin, hard to press buttons on other Windows Phones. The Trophy could benefit from an improved back speaker. What's in place will do but you're going to have to turn off the car stereo, get the kids to be quiet and roll up the windows to hear it.
While I'm partial to the larger screened Windows Phones (Samsung Focus, HTC HD7s) if the Trophy was the only game in town, I wouldn't hesitate to snatch one up.
Last we saw, the phone was going for $199.99 through Verizon after discounts but there are other deals out there (AmazonWireless (opens in new tab) lists it for a penny). If you're a Verizon customer looking to make the move to a Windows Phone or a Windows Phone fanatic moving to Verizon, the HTC Trophy might be a pleasant surprise.
Windows Central Newsletter
Get the best of Windows Central in in your inbox, every day!
George is the Reviews Editor at Windows Central, concentrating on Windows 10 PC and Mobile apps. He's been a supporter of the platform since the days of Windows CE and uses his current Windows 10 Mobile phone daily to keep up with life and enjoy a game during down time.
The speaker is the only problem i see with this phone. If its above 20 in volume it sounds scratchy and well horrible. Great device other then the speaker.

Great review...Love my Trophy.

I'm really on the fence on this one ... my contract is up in August (or I could early upgrade now) ... I do not know if I should wait to see if another Windows Phone gets released on Verizon around August or move to a different carrier (like At&t) which has more Windows Phone options or just get the Trophy ... Suggestions?

If you can hold out a couple of months more, the Mango phones should be coming in the fall. Let's hope Verizon doesn't wait 6 months to get one of those.

Part of the reason for the delay was Microsoft's not having built CDMA support into the OS. It wasn't until NoDo was released that it did. Now that WP7 fully supports CDMA, there should be no reason why CDMA phones won't be released with Mango.

My two cents... if you're happy with Verizon and don't need a larger screen or a slide-out keyboard, then you'll be happy with the Trophy.

The Microsoft Store online is offering the Trophy for 1 penny for a contract renewal or upgrade. They give you a free Xbox live 4000 Points Card, waive the activation fee and ship overnight for free. I purchased 2 of them this week and really like the phone so far.

This is such a great deal. I hope it lasts until my upgrade on the 28th.

"the phone makes it through the day with about 85ish percent of the power left"So you are saying that through an average day of moderate use you used 15% of the 1300mAh battery. Is that correct? Just want to clarify.

From personal experience, I'd say the way it is in the review is a mistake. I have to charge this thing every day with moderate use. The battery got better after about 3-4 days of use and charging for some reason, though.

ugh... backwards... I've got about 15% left. Hitting the edit button now.

Thank you. That's what I assumed, which is reasonable battery usage btw. But you know what happens when you **** u-me anything.

I have the Trophy, agree with the review, good respectable phone, Nothing especially exciting about the hardware, it is after all a first generation device. Was a fan of the OS the first time I saw it in the spring 2010 and have been anxious to get one. The phone that I had was an Omnia that was really just not a good phone for me and jumped first chance that I could to the Trophy. Thank God and Microsoft for WinPhone, this is such a fantastic system, already dreaming of a Nokia N8 type phone. Anxiously waiting to see what Nokia shows off next week, expecting some s3xy gear! If they come out with something that causes me to become a Tripod... I'll probably drop the retail cash... and I did read somewhere that VZW was working with Nokia on a WP device.

I got tired of waiting for HP to bring out the Pre3, and my Blackberry died, so I jumped on the Trophy, getting a pre-ordered phone.I really believe I made the right switch, as it syncs very, very well with the company's Microsoft Exchange, and my Windows Live site. It's fast, reliable, and Office docs work well. Not being much of a gamer, the "lack of apps" don't bother me, and since I listen to music from my iPod, the lower quality speakers don't bother me either.Sorry HP. I may get a Pre3 for my wife later, as the Droid phone isn't what we had hoped.

I'm brand new to the Trophy as I've only had it for about 6 hours, but I really do enjoy it. I've had BB, Android, and webOS. I have played around with the iphone and had an ipod touch. But I really enjoy the Trophy. The form/shape fits my hand very well, the call quality sounds pretty good to me through the headset, and the OS is unique and a great experience. I'm definitely glad I've made the switch. I don't need front facing cameras and dual-core stuff. I used to have an xbox 360 and this phone makes me want to take up gaming again haha. But all in all after playing with it for pretty much 6 hours, I'm impressed and happy with the Trophy.

what case is that in the pic.. anyone got links to good cases/holsters for this thing??

Ecolife Top Case http://store.wpcentral.com/ecolife-element-top-case/4A25A5654.htm

George, you rated the phone 9 (Great) but the tone of this review until you got to the end came off to me as "nothing to write home about"... what gives?

There really isn't one feature that stands out with the Trophy, one that you might write home about, but collectively it's a great phone.For example, when you see the HTC HD7/s your first thought is likely, "Wow, what a big screen" or with the Quantum, "Cool, a slide out keyboard". With the Trophy you lack that "wow" feature but once you've used the phone you realize it's a very good/great phone. Just as good as the other Windows Phones just without a spotlight feature.Hope that makes sense.

I got mine with out a contract thinking it was a basic model as I wanted a WP7 device with a QWERTY keyboard. I'm plesanty suprised. It's a nice phone over all, not the best but, really well built phone. I wrote a full review of mine over at PPCgeeks in the Trophy area.The thing I hate is the speaker phone, I used my Touch Pro 2's speaker phone al the time (with the mute button on the back) and this thing is a joke compaired to it.

Have mine and love it, based on previous reviews I did not expect much. The camera is much better than hoped, I was afraid of not having a hardwardware keyboard but it has not been a problem either. If you are on the fence I suggest you get one. I went from a touchpro2, couldn't be happier

When is Microsoft going to do something about how poorly these phones are being marketed? Go to the Verizon website page for the HTC Trophy, https://www.windowscentral.com/e?link=https2F2F... on "Explore Features," and one of the first things the video says is that this phone runs Windows Mobile. Really?! Are they trying to sell this phone or make no one buy it? Everyone has to admit it, Windows Mobile was terrible. But Windows Phone is gorgeous, refreshing, and wonderful! Microsoft should have called it a Zune Phone or something because until people (which sadly includes people who have the power to sell the phones) realize that WP7 is a million times better than and NOT THE SAME THING AS WM6.5, these phones are going to continue to sit on the shelves.

I know this is an old thread, but I went into a Verizon store yesterday to check out this phone and they didn't even have one on display. The only WP device on VZW and no display! I asked the guy if he had a Windows Phone device and he said "I think so - somewhere in the back". Great job - your store looks like a freaking Android store. Might as well put a Google logo up out front!

Yeah, same story at a local Verizon store here in San Diego. The Verizon rep really talked down the Trophy -- poor quality, many coming back, low demand, etc. I don't get it. From all accounts, WP is a successful phone system and yet Verizon doesn't seem to want to play. I thought they would bust loose a new phone once Mango was released, but I'm still waiting. Something just doesn't add up here.
I'm a long-time Zune music service subscriber and the thought of having access to all that musical and podcast goodness sync'ed into my cell phone is really appealing. Don't you just hate to stand at the check-out register, money in hand, and no one wants to ring you up? Sheesh, c'mon already.

Tale of woe from Minneapolis. Several times since the Mango update started getting press, I visited my local Verizon store to check out the phone. I did not initially know if I wanted a smart phone, but the WP7 reviews were glowing, and I knew the iPhone (and especially Android) ecosystems were not for me. (I also knew that a feature phone seemed more limiting than it did last time I was eligible to upgrade.) I use Office at home and work, and am immersed in Windows 7 a dozen hours a day. Above all though, WP7 was the first phone OS that seemed like a usable tool to me, rather than a gadget.
I digress. Each time I visited the store and asked to see a WP7 handset, a different rep would question my choice, argue against it, and ultimately encourage me to look at an Android or iPhone instead. My last trip took the cake, however. The rep told me flat out that he thought the Trophy was a "terrible" phone, that "nobody" was buying Windows phones, that those that did were disappointed about buggy performance, freezes and update issues, and that he would sell me the phone if I insisted, but that it was a very bad idea.
When I challenged his assumptions (Can you describe a specific instance of a complainHave you read the reviews on [blank] tech sites? Are these complaints about Kin? NoDo? Mango? Is performance the issue here, or is preference?) thoroughly enough, I got him to admit that he A) uses Apple products exclusively, B) dislikes Microsoft because of the latest XBox update (with the Metro interface) "sucks", and C) is distrustful of Microsoft because of the Kin debacle. He also said he'd have to special order the phone because it was "probably being discontinued", although he could offer no hard evidence that Verizon was doing this. He repeated several times that he was looking out for me because he didn't want to see me in a few weeks trying to make a return.
I managed to catch the manager's eye, and fortunately, this person was better informed about the platform. He answered my questions, and was generally helpful. He assured me that Verizon is not phasing out the WP7 platform and that, if I had a problem with the phone, I could return it during the customary 14-day period, yadda yadda.
Eventually, they located a phone for sale across town, which I picked up. I paid $179 for the phone, after rebate, and was offered a discount on accessories, but then learned they didn't stock any accessories for the Trophy. Indeed, I had purchases one of four Trophy phones for sale in the Twin Cities, from what I was told.
The ordeal took about three hours, but I eventually returned home with a 7.0X version Trophy, which I upgraded to Mango using Zune. No problems so far. I still can't see what all the kvetching was about. If I didn't need to be on Verizon, I would have checked out another provider. Verizon seemingly has no stomach to push this platform, for whatever reason.

I was just wondering if you can take on screen photos like the iphone/ipod can

After having this phone for about 2 years now, its time to retire it. Despite how much I love windows phone and this phone I'm leaving for android, it just has more customization and power that I need especially with Jelly Bean. Also it feels like Verizon 3G has gotten a helluva lot slower over 2 years and waiting 10 minutes (literally) for an HQ video to load on youtube is rediculous. But its a great phone, music sounds amazing through good headphones the games on it aren't half bad and the battery life strangely has gotten better (wut?) over all of the charge cycles. My dads Samsung Fascinate that he got at roughly the same time is showing obvious signs of death (bad visual glitches all of the time, slow, etc.) while my Trophy is running better than when I got it (thanks to Mango and the strange properties of Li-Po batteries). It will be a sad time to see my trophy go and I will probably keep it for a while just to play around with it. My only complaint is the lack of customization (comparitive to android) and the fact that the camera lens is made of butter (unlike the phone itself, has survived many falls onto concrete from a speeding bycicle and the screen is perfect); I can't take even good daylight photos because they are blurry and hazy (scratched up lens).

Not sure if you'll see this but sad to see you go. I just bought a new WP8 Nokia Lumia 822. To each their own. Enjoy your new phone.
Windows Central Newsletter
Thank you for signing up to Windows Central. You will receive a verification email shortly.
There was a problem. Please refresh the page and try again.