Verizon begins pushing Update 3 (GDR3) for HTC 8X Windows Phone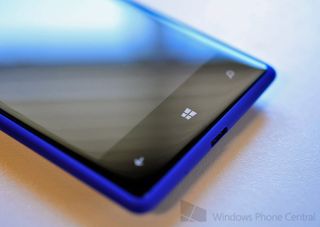 Good news for those on Verizon and yearning for the official version of Update 3 aka GDR3. Verizon is now pushing out that update (3 for the OS, 1 for firmware) to all HTC 8X Windows Phones now, though of course you could manually force-check the update. We hear nearly 1 GB of spare storage may be needed to install the update, which should be done over Wi-Fi.
Update 3 brings a cluster of new features to Windows Phone, including Driving Mode, Bluetooth fixes, enabled Wi-Fi during device setup and of course, screen orientation lock. You can read the full changes in our Update 3 article to learn more.
What if you are enrolled in the "preview" version of Update 3? We hear that you're A-okay. Instead of getting the OS update, you'll just pull in the matching HTC firmware. That firmware will enable things like charging while the device is off, a huge feature is for many, and other unlisted bug fixes.
For those who have not tried out the preview Update 3, here is what will happen:
MS update 8.0.10492.116
MS update 8.0.10328.78
MS update 8.0.10501.127
HTC update (no info; firmware)
Basically you will download and install three OS updates, ending up on 10501 and then installing the crucial firmware.
To force check for the update, head into Settings > Phone Update > Check for updates.
Verizon users seem to be excited about the update, and we can't blame them. HTC was one of the first OEMs to start pushing Update 3 to devices, although Verizon was a tad behind AT&T (end of October) and Sprint (a week earlier than AT&T). Luckily, your day is here.
Head into the 8X Window Phone forums for assistance with your update or if you have any questions.
Thanks, kavu2, Donald B., and others for the tips
Daniel Rubino is the Editor-in-chief of Windows Central, head reviewer, podcast co-host, and analyst. He has been here covering Microsoft since 2007 when this site was called WMExperts (and later Windows Phone Central). His interests include Windows, Microsoft Surface, laptops, next-gen computing, and for some reason, watches. Before all this tech stuff, he worked on a Ph.D. in linguistics and ran the projectors at movie theaters, which has done absolutely nothing for his career.
Now release it for the 822/928

FYI.. I went into the att store yesterday to see how I couldn't get the 1520 because I'm only halfway through my contract.. They couldn't give me the online price of $99, but at the franchise store they said I could trade in my 920 for $99.. They also said that if I had any devices laying around that are in good condition and purchased from att in the past 3 years, they would give me $99 each for them.. So, if I gave them my old Focus, and the 920, the 1520 will be free... I'm in Arlington, TX, so I'm not sure if this will work everywhere, but $99 for that old first Gen. Samsung Focus is a good deal,,, especially when I only paid $49... These are just some options if you are still under contract, and have to go into a store to add a line in order to "trick" the system.. But, you may be able to get the online price of $99 if you call a representative, and add a line, but you'd have to ask for the discounted price... Of course if you're already on a family plan then you can simply add a line online, but be careful not to start any new contracts when you can't cancel out old ones.. It's safer to go into the store and let them work the system, because there's things they can pull of that we can't online...

Just an FYI, my local store gives me the credit even for non ATT phones. Pretty sure the devices do not have to be ATT.

Thanks, fine sir❕.. I stand to be corrected....;-)

When I went to ATT to get my 1020, they told me that a $99 credit is only valid when you upgrade using next. If you do a normal upgrade your old phone for trade in may not be worth $99. (L900 was only $60).

Funny. Yes, there are two of them.

Now the Nokia/AT&T comments. :P

I'm waiting patiently because last time we had to wait longer for our GDR2 920 update,, but so far it seems problem free..

at&t needs to stop being last. I'm not as angry BC obviously I got the gdr3 preview but still...

AT&T isn't last. My GF got her Update on her 8X weeks ago.. It's the Lumia devices that are last.. The same thing happened with GDR2 on att.. She got her update over a month before I got mine on my 920.. For some reason AT&T likes to do HTC phones before Nokia phones, but they are one of the first to push out GDR3,, just not to every device all at once.

Maybe because there there are a lot less HTC devices out there. Nokia has something like 90% of the WP market.

They were first with the 8X ;)

So they were the first to update a hundred or so 8x phones... Not good enough

and what does it have to be "good enough" for? does the number of phones have a bearing on the release date?

Waiting patiently here for T-Mobile.....

Patiently?? I think you are the only one lol

I have the same question. When is GDR 3 going to arrive OTA for the HTC 8X on T-Mobile USA? http://forums.wpcentral.com/htc-8x/250643-t-mobile-htc-windows-phone-8x-t-mobile-when-will-we-get-ota-gdr3.html

Allready installed weeks ago: T-Mobile branded The Netherlands.

Where is my unbranded Nokia Lumia 925 update?

And I sold my 8X yesterday. The wife will be happy as she still has the 8X.

I went with the developer preview route for GDR3, and got this update this morning. Went very smoothly and un-eventful (a good thing).

Good job, I'm holding out for the official update but it is hard to wait.

This particular update was very quick since I already had the base GDR3 installed. If anything, you can get the preview version and then wait for the rest of the update (non-OS stuff) to arrive from Verizon / HTC (radio updates, and other Verizon / HTC things).

I did this weeks ago with no problem. Some nice additions

I would do the preview right now if it didn't void my warranty on my new 925

It "may" void your warranty.

How much memory did you need for the additional updates? I have previewer Gdr3 on my HTC 8x right now with about 500mb free

The phone update for me was about 251 MB (according to Data Sense). You should have enough space for it, if you already had the developer GDR3 update. I bet the OS is smart to detect only what it needs rather than having to download the entire thing, so your download size may vary.

I got mine last night. Installed just the firmware since I had the Microsoft Updates from Developer Preview. It seems to function just fine.

HTC usually update their page to show this, but they haven't. Also, waiting on Tmobile.

When will we get it for the Lumia 822? Any news?

Is there battery improvements in gdr3 ???......any idea ??

I was having battery issues, did a phone reset, issues gone.

Any news for gdr3 for Lumia 920 in india?

No man, it takes long for India specially almost a month minimum...

Why in the world is charging with the phone off in the 3rd update to wp8?? Why in the world is disabling a gyro sensor (portrait lock) in the third update to wp8??

In order to understand what happened to killer, you have to understand who killer the dog really was...

I'm on Three in the UK and got the update last night. Sweet

Good info @rodneyej! I have two 920s and although I loathe the AT&T strip-down 1520 I think I'll trade one 920 for a 1520. Was looking forward to the international version but this will work out to be a lot cheaper. My phones are on a mobile share plan so will swap one out for a 1520... When available.

It's most sexy device in d world

Yep❕.. Just make sure it's a franchise store..

Warning!: Don't utilize the blind peoples option for this phone. I tried it and couldn't get passed the lock screen. I've waited months for this update that didn't give me practically anything. Waste of time for a lowsy product. Now I'm going to have to buy a new phone due to the huge bug in the blind person software that doesn't allow me to get through the lockscreen. Fuck you microsoft and everything that you stand for. I'm done with you. Having a Windows phone the past year has opened my eyes. I am ashamed to have bought this device and upgraded to GDR3.

Learn how to use your phone.. The rest of us have had the most pleasant experience ever with WP the past year.. What's wrong with you❔

High contrast? Mobile accessibility? I used High Contrast after updating and it worked fine. I haven't tried Mobile Accessibility... Honestly didn't notice it until just now..

LOL, wow. I've gotten this complaint from so many peple when using the similar features on iOS and Android. Generally, the devices will read whatever you touch, so the first touch does nothing but read the screen to you. A double tap will select the item. I found the below at Microsoft's website: Tips To close Mobile Accessibility, press the Back button on your phone when you're on the Mobile Accessibility start screen, then flick left or double tap Yes in the confirmation message to exit. To open Mobile Accessibility again, turn your screen off and on again or press the Camera button. Want to turn off Mobile Accessibility so it doesn't start when your phone does? In Settings , tap Ease of Access, turn off Mobile Accessibility, then tap Restart phone. It appears that the "double-tap to confirm" method is in effect on this OS as well. I hope this helps. I'm not sure how this infuriated you so much, nor can I figure how you assume you have to buy a new phone again...

It may be later than Sprint and AT&T but it's still earlier than when Verizon normally pushes out updates.

My OS version is 8.0.10211.204 and I check for update but the phone is up to date , this is the last version of os for HTC 8X ?

i have update 2......so is update 3 on the 928 yet becacuse i have not recieved a notification and when will it be on the 928 if at all

I've got a Nokia Lumia 928 with Verizon. Here is it, January 11, 2014, and I still don't have GDR3. Why is that? What's Verizon waiting for, the year 2050?

I have the is version 8.0.9903.10,which not showing the updates....and its displaying your phone is an up to date...whats is the pronlem??

How can i update my phone....there is message sending problem in it

How can i update my htc 8x....here is message sending problem with my phone
Windows Central Newsletter
Thank you for signing up to Windows Central. You will receive a verification email shortly.
There was a problem. Please refresh the page and try again.