Verizon Releases Samsung i760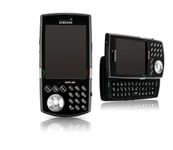 Given that the Samsung SCH-i760 was already kinda sorta released over a month ago, the news that it's officially available online tomorrow and in stores on November 2nd is a little underwhelming. Still, it's an intriguing form factor and the specs on the i760 are decent enough:
Windows Mobile 6
EVDO
WiFi
Bluetooth 2.0
128 megs ROM, 64 megs RAM
microSD slot
Early reports have indicated that the i760 doesn't quite get the details right - there's some little devil in there. Still, it might be worth checking out if you have $350 to drop (after rebates, that is). Me, I'd wait to see just how well it stacks up against the XV6800.
via: jkOnTheRun
I completely agree with the above comments. This phone, as has been the case with all my Samsung phones, is a complete disappointment. It will be going back soon.

I happen to think it's a pretty nice little Pocket PC. When compared to the Mogul (PPC-6800), the Samsung is much more responsive and quick. The construction is much nicer too.

Phenom,
How's the bluetooth performance with a headset or a car kit? Did you have problems with the Mogul that you no longer have with the i760?
Windows Central Newsletter
Get the best of Windows Central in in your inbox, every day!
Thank you for signing up to Windows Central. You will receive a verification email shortly.
There was a problem. Please refresh the page and try again.