Verto Studio VR is a 3D modeling tool built for HoloLens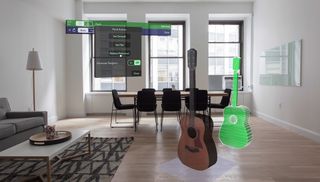 Verto Studio VR, a new tool for 3D modeling on Microsoft HoloLens and other Windows Holographic devices, is now available on the Windows Store (opens in new tab). What makes Verto Studio VR particularly interesting is that you can use the app to create entire 3D scenes using just a HoloLens, with all of the tools that you'd expect from such an app in place.
Here's a quick look at just some of Verto Studio VR's main features:
Create 3D scenes from scratch without the need for external computers or software.
Truly 3D holographic editing tools such as box select, 3-axis translation, rotation, etc.
Import & place, move, scale and rotate existing Verto Studio 3D scenes & content in a mixed-reality environment.
Real-world unit measurements in meters.
Export Verto Studio scenes to cloud drive.
Automatic shader conversion to stereo rendering, even for user-custom Verto Studio shaders.
Dynamic polycount reduction capability for Hologram rendering optimization.
Texture assigment (diffuse & bump maps) - Environment mapping support via cube-maps.
Texture coordinate editing
UI-hiding "Presentation Mode" to allow display of holograms without any distractions.
Many more features that are part of the Verto Studio 3D software suite.
Importantly, Verto Studio packs support for FBX, DAE, OBJ, and STL file types (among others), so you can easily import and work with any 3D models you already have available. All of Verto's features come at a price however, with the app coming in at $100. If you've already got your hands on a HoloLens and want to do some 3D modeling work in a holographic environment, however, this might be one worth checking out.
Download Verto Studio VR at the Microsoft Store (opens in new tab)
Get the Windows Central Newsletter
All the latest news, reviews, and guides for Windows and Xbox diehards.
Dan Thorp-Lancaster is the former Editor-in-Chief of Windows Central. He began working with Windows Central, Android Central, and iMore as a news writer in 2014 and is obsessed with tech of all sorts. You can follow Dan on Twitter @DthorpL and Instagram @heyitsdtl.
Windows 10 is $120 but an app is $100!!!

Really good software has always been considerably more expensive than the OS and many times, the hardware it runs on. IMO, $100 is very reasonable for the capabilities.

This!! People these days are spoiled by ad supported free software, dollar apps, or open source software like Blender. Pop some member berries and remember $4,000+ 3D software like Softimage, 3D Studio, etc. Significant amounts of time and resources go into software development, and the creators deserve a return on investment.

I'll go further and quote the developer himself on this: "Your purchase means so much to me. Thank you so much. Don't hesitate to reach out at all if anything isn't perfect. Future updates will hopefully rectify any problems if you do happen to find any. I gave up seven months of my life and parts of my sanity to make this app, $99 was the only way I could justify how much work I put into it. Also, I believe the market is relatively small, I really don't know how many of these devices have been sold. If I do find a larger market, the price will obviously go down" Source: https://www.reddit.com/r/HoloLens/comments/5ozyic/my_project_is_done_ful...

Money well spent for that kind of passion and support.

Developer worked 6 motnhs. It is a lot of time spent for a small audience. when MS sells for 100+$, it is sold in 100s millions of copies. and Voulme corp licensing. Next time please think before posting and spend/pay for developers passionate hardwork.

Catia does cost $30,000 (2008 price)

Considering that my professional 3D modeling software is $3500 I'd say that this is CHEAP!

That is so cool. I'm going to go with the poor man's version using the Kinect. 😎

Possible to use this with the Kinect?

I highly doubt it but you can use the Kinect scanning app to scan 3D models directly into 3D Builder. I just need to get the adapter and I'll be good to go.

Oooh I got the adapter, so I can use my Kinect with my XB1S! Can the Kinect scanning app be used on the XB1S, or only on a W10 "PC"? I'm giving the XB1S & Kinect to my brother, don't think he has a W10 PC. TY/BR.

It only works with a W10 PC. It serves a different purpose than this app but it is still really cool. I finally ordered the adapter last night. 😎

See my latest post. ;-) Can you plz confirm they're the apps you meant.

If this is what you meant by "Kinect scanner app", sadly no it can't be used on the XB1S: https://www.microsoft.com/en-us/store/p/3d-scan/9nblggh68pmc Damn-it!!! :-S If this is what you meant by "3D Builder", weirdly it CAN be used on the XB1S: https://www.microsoft.com/en-us/store/p/3d-builder/9wzdncrfj3t6 So maybe there's hope for "3D Scan" longer-term... O_o

Yes, that is the app I'm referring to. 3D Builder now has the option to use it to scan models directly into it. I can only assume that it could work on Xbox and Windows 10 on ARM but they have it locked down to PC for now. It probably uses alot of compute cycles.

The very idea that you can scan an object using an untethered AR headset is pretty awesome. If I had a HoloLens, I would buy this software in a heartbeat.

Indeed!!! :) First thing in the morn I'll install 3DBuilder on my XB1S, & 3DBuilder + 3DScan on my SP3 (Surface). Excited, 4am now, bed time, TY/BR!

It also supports 3D printing through online services. During the Creator's Update announcement, they used an HP X3 to scan a 3D model. They said the app would be available for Windows 10 devices with iOS and Android support as well. Would seem as though they can now use a camera without depth sensing. If so, that would be ground breaking stuff.