Viber for VOIP now available for Windows Phone, but still exclusive to Nokia for now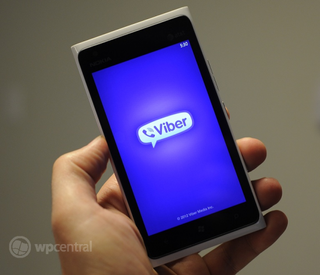 The popular VOIP service Viber has been a long time in the making for Windows Phone. The fist app was merely a preview beta that only had direct messaging but no voice capability. Then a few weeks ago we got word that the 'HD' version with full VOIP capability was headed to Nokia Lumia phones.
During that time though, a lot has happened including a very long delay, much to the surprise of the developer who had anticipated a quick releases. Due to Microsoft's quirky (and backlogged) app submission process, Viber got lost in the shuffle and had to have some pushing before the Store could give birth.
The new Viber for voice calls
The good news was as a compromise, Microsoft reportedly was going to lift the "Nokia-only" label from the device and allow all Windows Phones to freely download it (your outrage in comments helped too). Alas, the app is now available, even to those in the UK and here in the US, but as far as we can tell it is still a Nokia-exclusive, despite the developer being under the impression otherwise. The app's Store link went 'live' yesterday but for most people, it was widely unavailable.
Needless to say, it's a bit of a mess for what is actually a very well done app.
The full Viber app is loaded with some nice functionality, including contact lookup (to show you who is already on Viber), push notifications, a way to set up your account and more. The app launches with a nice walkthrough to get you started. And the app looks sharp too—lots of black of the bold, purple color that's the signature of Viber.
So will Viber go to all Windows Phones? We think so but it depends on if and when Microsoft lifts the 'exclusive' status. That may surprise many people who think it is Nokia controlling these things but we're told through various sources that is not the case.
In the meantime, if you do have a Nokia Lumia phone, you can finally grab Viber HD here in the Store (Nokia Collection).
Windows Central Newsletter
Get the best of Windows Central in in your inbox, every day!
Daniel Rubino is the Editor-in-chief of Windows Central, head reviewer, podcast co-host, and analyst. He has been covering Microsoft since 2007 when this site was called WMExperts (and later Windows Phone Central). His interests include Windows, laptops, next-gen computing, and for some reason, watches. Before all this tech stuff, he worked on a Ph.D. in linguistics, watched people sleep (for medical purposes!), and ran the projectors at movie theaters because it was fun.
1...2...3.. and complains are coming out for Nokia exclusives. ;)

Downloaded Viber HD yesterday and loving it so far.

Have you actually tried calling anyone?
Calling feature is there, but both you and the other party won't be hearing anything.
Also, the call will get auto disconnect after about 10 seconds into the call.

Working fine here. Though only used it via WiFI so far.

You are one of the lucky few to have it working out of the box...

doens't work for me + 2 other people i know with Lumias

Exclusive my ass. Using on my Titan right now.

Thank god all this will end once I get my 920...no more waiting for exclusive apps...

That's why I chose Nokia with my 920.

I mean 900. And that I'm getting a 920.

Oh, I didn't know that this app will not be "Nokia exclusive"! When this changed? I read WP Central all days and I didn't see this. Good news for all!!

a question: Does this mean that I can make long distance calls using this app for free?

The answer is no. Only Viber/Viber and over the internet (WiFi/Cellular) calls are free. You must check your data plans before you get over charged from your ISP.

So is it similar to Tango app?

Unless they have Viper as well, no.

Already downloaded, but I wonder If the call will still go through when the app is not in background and it seems that I had to signup once again.
I noticed that the app uses the load speaker instead of the earpiece during a call. But all in all, the app feels really smooth this time.

Its in the marketplace as a different app its gone from Viber Messenger to Viber Thats why you had to signup again.

It would mean you can make any calls for free, or at least for the cost of data. Free on WIFI

I've been trying to use the call feature but no sound is coming out from either end!!! Is anyone else experiencing this? :-/

I couldn't catch anyone yet but I noticed that the sound volume comming from the loud speakers is too low, try increasing the volume to the maximum.

Same thing here. A bug? Or a server problem?

i am having the same issue. Tried to call one of my friend in UK, call went thru but couldn't hear anything from both end.

+1 it looks like a bug. The other end was an iphone and neither I or they can hear anything. Call goes through but that's it. It was over 3g.

yep i am. i suggest as many of us as possible log an issue with Viber, you can do so here:
http://helpme.viber.com/index.php?/Tickets/Submit/RenderForm/1



I also downloaded the app today, just only 1 problem, some of my contacts have pictures and some have grey squares :S, don't know why. I also removed Viber Messenger (the one with voice calls).

Have you tried adding a profile picture of yourself?

yes, i have done that from the beginning, like i said: some have a picture, some don't.

Don't u mean viber messenger, the one without voice calls?

no, i uninstalled that one cause otherwise i would have 2 vibers and i mean the new one

Still forcing me to buy a Lumia....keep your app.

Profilr pic worked for me but the issue is cannot hear anything from the other end.... I am not getting notification about call even i logged onto viber.... Hw come.... Please fix it naa.... Much awaited app for me.....

very happy windows phone user now... it's not amazing but it does work, gives a small toast message when someone rings. I live in the countryside with zero signal so this is a blessing as many of my friends have this on their iphones and andriods!
when I bought my windows phone i missed 3 main apps, one for my cctv (ip cam contorller fixed this) my banking (i changed banks and they offer a mobile website rather than an app, so that does me) and finally viber :)

So should I throw my trophy into garbage?

nope. unlock it, install viber. profit.

Other party can't hear me :(

Having trouble, it installed fine. It crashed when attempting to key enter name.

I have had to disable it on my Lumia 800 as the phone kept re-starting.
Maybe I'll try again later.


This app can kick rocks!!

I had sent and received a few text / picture messages. Then tried to ring a mate, but had the problem everyone else is getting, ie no sound. So I decided to restart the phone and since then the phone keeps re starting itself.
I deactivated it in settings.
But what do you know the phone has just restarted itself again.
So I am now gonna uninstall it.
My view is its not yet ready for human consumption !

I have the same issue. I all had message just after installing stating Viber is not available or banned!

I am able to call friends, all with android, but we are not able to hear anything :(, as others already pointed out

After watching a couple of Android users struggle to have a conversation longer than two minutes before the call was dropped I'll stick to Skype thank you.

Wow I have 2Viber hahahaha..
Wpcentral stop logging me off.. Please!!!

The Application keep closing in the Lumia 710

No voice here either, call goes through, nothing to hear on either side. Both Lumia 800s..
Hope this will be fixed soon, very bad commercial like this.

As soon as I installed and open the app on my Lumia 800, the app closed after a few seconds. Tried this after multiple times and still the same thing happen. Uninstall and reinstall still doesn't do the trick! Gonna stick to Viber Messenger for now.

Call it a complaint if you like. Exclusives such as this actually hurt the Windows Phone viability. The same argument "buy a Lumia" could say, "Buy an iPhone."

If u are a iPhone troll, get out.

The best way to stop this practice is to not support Nokia. I'm getting an HTC phone

Microsoft is enforcing this particular exclusivity deal, not Nokia. At least according to Viber themselves.

Can't set the profile, the app close by itself after 3 seconds :-/

Yep same here connects call but no voices heard at both ends

Daniel, have you got this to work on your Lumia? There are many people complaining here that the calls don't work and they don't work on my phone, my wife's phone or my friends phone. So something is definitely wrong with maybe a few people that it is working. I tweeted the problem @wp_central hoping you'd pick this up, and add it to this article so hopefully Viber notice and get it fix asap. Just makes our WP7 platform more of a joke that a huge app like this which heaps of people have been waiting for, gets released and doesn't work for the majority.

This is an "EXCLUSIVE" app, only that very few lucky selected will get it working...

Can't hear any from both the ends lumia 800, 710
fix the bug fastly
Connects over speaker

Hi all,

This is an official member of the Viber R&D Team. I'm here to provide you with info and support. We are aware of the problems some of you are experiencing with the new update, and we're working around the clock to find the source of the problem and resolve it as soon as possible. We apologize for the temporary inconvenience, and we recommend that you stay tuned for news and updates.

Best regards,
the Viber Team.

Thanks guys, looking forward to using the functional version. By the way for all the retards upset that you can only get these awesome apps on NOKIAs, do you realize that most serious developers didn't care for WP until NOKIA got involved. I dare say that if it weren't for NOKIA, WP may never have gotten off the ground. Nowadays in Australia, I have seen many people post on forums that they are getting the Lumia 920. The tide is turning people, WP8 ftw.

Hope the bugs will be fixed asap

Cover he has been taking off the marketplace

Viber has been taken off the marketplace

All, We have decided to pull our calling update from Market Place due to problems found with the calling feature for some users. We are working around the clock to fix the problem, and we hope to make a new version available on Market Place shortly. We apologize for the temporary inconvenience, and we recommend that you stay tuned for news and updates. Regards, the Viber Team.

I have Viber VOIP on my Lumia 800 and since the App is Nokia exclusive i managed to get my partnere to change her phone and buy a Nokia (820) however i am in trouble now as i can't findf the App any more. I though it is Nokia exclusive and still available. is it not???
Please help (this app is super important for my family to connect with relative and firends in the troubled Syria)


hi guys, just got my lumia 820 today...and was surprised that viber hd couldnt be installed...is this app only compaaible for wp7 lumia devices?

Why will viber not work on my lumia 820



Viber HD that only supports WVGA (480x800) ?!?!?! Crap.

Is viber calls now available for htc hd7 ?

Is viber available for htc hd7???
Windows Central Newsletter
Thank you for signing up to Windows Central. You will receive a verification email shortly.
There was a problem. Please refresh the page and try again.