Video 360 adds support for 3D VR and cardboard headsets in latest update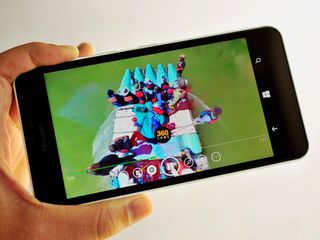 Earlier this summer, we reported on a new universal app called Video 360, which lets users view 360-degree videos posted on YouTube. Now the Video 360 app has been updated to let users view those clips with an optional 3D VR headset or cardboard headset.
Here's the change log for the new version of the app:
New Feature : 3D VR Headset supported (Oculus Rift like devices, Google Cardboard etc.)
3D VR Headset : Customize Interpupillary distance (IPD)
3D VR Headset : Buy recommended device via the app
Better UI experience (click once to show/hide the player controls)
Better video performances
Handle URI to play videos (in addition of local & YouTube videos)
Bug fixes
If you want to try this out, our sister site Android Central can tell you where you can get your hands on a cardboard VR viewer. The app costs $1.99, but there's a free trial and it's a universal app, meaning that if you get it for Windows Phone, the Windows version is free and vice-versa.
Download Video 360 for Windows Phone ($1.99, free trial)
Download Video 360 for Windows 8.1/Windows 10 (opens in new tab) ($1.99, free trial)
I've always wanted to try something on my phone like that

Why are you insulting such a great developer?
Btw, he's the only one who released a 360 degrees video for Windows phone.

Fuck yeah is a happy exclamation in the states.

Ah ok. Lol. I thought it's "you" not "yeah"

What other apps are there? I don't know what to search for. Do u know if there are virtual graphics tours and things like that as well?

Where can I find 3D video?????
It's good that it supports cardboard

Just type 360 video in the the developer's YouTube application and you'll find a lot

For some reason it wont let me update it on my phone (Lumia 720). I have the paid version. I uninstalled it and now cant even re-install it! o.O wtf! error: 800004005 which doesnt help me at all... I'll have to email Webrox I guess...

When you have any problem with the store or any purchases, you have to contact Microsoft support, not the developers.

Fyi if you want to do a diy search for biconvex or bi-convex lens on amazon or ebay. The average diameter seems to be 45mm for this project. I just ordered a pair of lenses off ebay for $1.60 including shipping. you may call it cheap, but the same item of alleged better quality is $8 on amazon. they're probably made in the same factory with the same plastic in china anyway.

See my post: http://www.reddit.com/r/windowsphone/comments/366yiq/google_cardboard_vr...

Having problems with tubecast as the app isn't available in store, also it wont use mytube as the default youtube app.

Use This Link https://www.windowscentral.com/e?link=https2F%2Fclick.linksynergy.co... the store is handled by the Worst MS team
Windows Central Newsletter
Get the best of Windows Central in in your inbox, every day!
Thank you for signing up to Windows Central. You will receive a verification email shortly.
There was a problem. Please refresh the page and try again.