Video chat messenger Glide launches official app for Windows 10 Mobile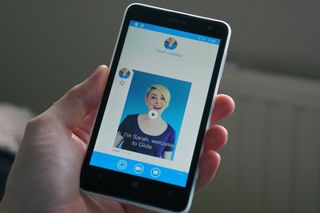 Glide is a live video messaging app that has just launched on Windows Phone and Windows 10 Mobile. The service is already available on other platforms, including Android and iOS, but now those with a Windows-powered smartphone will be able to join in the fun and chat with others.
The app focuses on sending short and snappy video messages, so instead of receiving "lol" you'd actually be able to see the reaction of the person you're talking to. What's more is those who are part of the conversation can also see live recordings of others in the chat as they record their messages. Best of all, it's completely free and videos are stored in the cloud to save on local storage.
It's ideal for most situations since the app can support up to 50 people in a single group chat, perfect for groups of friends or family. The app is available for both Windows Phone 8.1 and Windows 10 Mobile. Hit the store link below for more details.
Download Glide for Windows 10 Mobile (opens in new tab)
Source: Glide (Twitter); Thanks @Sedp23, for the tip!
Rich Edmonds is Senior Editor of PC hardware at Windows Central, covering everything related to PC components and NAS. He's been involved in technology for more than a decade and knows a thing or two about the magic inside a PC chassis. You can follow him over on Twitter at @RichEdmonds.
May be it is taking time but W10M will eventually be the perfect OS for all.

Yeah - with this speed my Children will be able to enjoy that time eventually

So you are 10 years old Right?

Hahahah . I say my grandchildren would enjoy it and wait for W10 insider build .1,35,987

That's what we all hoped for...

Its Raining apps. But i want an app for playstation and clash of clans.

PS app. Never going to happen. We have a higher chance of Snapchat coming to Windows 10 lol.

Don't understand why you want freemium crap like coc but playstation app would be nice.

Sony and Microsoft make competing gaming systems and Sony hasn't made a Windows phone in forever so a PS app doesn't seem likely

A store app for desktops, laptops and tablets would be handy. Sony is losing out on integration here. Had to retype my comment as something bizarre happened... Lol.

It's present in windows phone 8.1 too because of showing the option of app download in my windows phone 8.1..,.wow

Can't wait for this on pc and Xbox.

Took ages to create a profile....it might take centuries to send a video message...

Worked fast on my 640 windows 10. No problems at all everything works great

I agree. Verification code came very late

The profile setup is slow, but the app works fast. Sending video and chating is so good. Even create groups is easy. With improvements will be a killer app

Did have enough patience to get through the set up process? Cus, after that the app is super fast.

Glad to see new apps in window10mobile.. And hope to more soon.. CoC hehe

What's the difference between Skype QIK and this?

Same thing really.more people use this tho. Skype qik was a copy and nobody bothered with it

Still not sure what MS is doing with Skype Qik. Why not integrate the Qik features with the actual Skype platform already?

Qik never really worked for me. Microsoft dropped the ball on that one by using the Skype name, but not leveraging Skype's large user base. It is also like WhatsApp in that you can't use it on multiple devices without deactivating and activating. I'll have to see what this Glide is like.

So is this ghetto SnapChat or something?

I don't think it's really like Snapchat at all. Besides, what if it was upscale, gated-community Snapchat vs ghetto?

How is it different? And if it were gated, it wouldn't be on all the platforms with no barriers to joining.

Gated was just a counter to your ghetto. I wasn't expecting it to be a perfect analogy, just a positive spin vs a negative spin. It's very different than Snapchat which is centered around vanishing photo messages with texting and video as add one over time. This is video centric and messages don't vanish. You can also use text. I don't see a photo message option. You already mentioned the big difference is that Glide is open to Win10m, unlike Snap.

May be it is a windows continuum app...

This will become more popular than snapchat.

Would be nice. I think it could be in the long term. It's less complicated & more open. The vanishing thing will lose it favor. Besides, people are always looking for the next thing, so nothing will stay on top forever.

Nice to see this one cone aboard... P.s. I love skype qik ;)

Wow wasn't expecting that! Hope it's not to late. :)

Thanks Rudyhuyn, it has your touch and speed!

Not OS concerned but, do we really need messaging applications these days?
I use whatsapp and hike, hardly!
This is just my opinion.

The only app I am wanting on the platform is a messaging one (Trillian).

I was a big Trillian fan on my laptop years ago. Cool that they are still around. Not cool that they aren't on Win10m.

So, YOU don't need/want it. Others might. I don't need/want Hike. Just my opinion. No one has nailed quick and easy video messaging, so Glide is trying to be that company.

We need any and all official apps we can get

It keeps telling me my password is wrong. I can't register

What password ? Verification code will be sent to your phone. Just type that!
I didn't had no issues making an id!

Does sound nice but how does it match up to qik skype which does the same.

Faster, easier, less crashing, more users, can put on both my phones without having to re-setup every time I switch devices.

Still not sure what MS is doing with Skype Qik. Why not integrate the Qik features with the actual Skype platform already?

Still not sure why the same exact comment keeps showing up...

Wow!! Been requesting this app for over 2 years. Gave up on it. Will download, but don't know if my friends still use it

The app is just amazing. Now the dev have to improve it and make the windows 10 version
Windows Central Newsletter
Thank you for signing up to Windows Central. You will receive a verification email shortly.
There was a problem. Please refresh the page and try again.