Video Memories for Windows Phone gets a big update with 512MB device support and more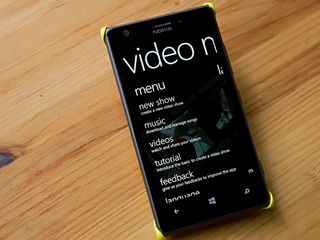 Video Memories, the well reviewed Windows Phone video maker app that was previously known as UbiShow, got a big update this week that brings its version number up to 3.0. The update allows the app to run on Windows Phone devices that have 512MB of RAM for the first time.
Here's a quick look at the additional features for the new version:
40 PROFESSIONAL TRANSITION EFFECTS: swirl, cube, page curl, pixelate, wave, kaleidoscope, ripple...
PAN-ZOOM effect included.
2x FASTER VIDEO CREATION.
Instagram-style video making.
100 free photo frames for themed events: Chrismas, New year, Birthday, Family...
512 MB devices supported (including Lumia 520, 530, 630).
Was it really not available for 512mb devices earlier ??? I think I have installed it earlier in my L620. I can be wrong though.

For just the mentioned ones like the 520,,530 and 630..!! Maybe

I installed this app for ages with 512 ram device. The writer must be???

And John has got nothing to say about it......!!!

He's a rich guy so he didn't buy a 512 MB WP..!!

What he do if the change log is like that...

Please do not blame the writer! I am the developer, to make it clear: it previously could be installed on 512MB devices but it was not officialy supported especially Lumia 530. This update supports all devices, but the most important thing is we are now utilizing GPU (not CPU) to render the effects. The technique does not only help reducing the required memory to run the app but also improving the video quality. You can compare the video created by Video Memories and the other similar apps like: Flippagram or Movie Maker 8.1. I believe you can easily see the difference in quality :) Finally, thanks all of you for using the app!

Appreciate your willingness to respond dear developer.......:) And good job creating such an excellent app. Keep going.......:)

Installing now. Looks like a good app.

Wait, it was already 512 compatible, I have this installed from last three months.

It's possible that this new version makes 512MB device compatibility official; we are just going by the change notes.

Yep, agreed, the change notes didn't mention anything about this earlier, it does now, after this update. There is also some improved performance for lower memory devices.

I am the developer. It did not work well with 530 and sometime crash on 512MB. This version makes the app much more stable for 512MB devices. This is not the most important thing. Download Movie Maker 8.1 and compare the quality of the transition to see how we are better :) The best feature in this version is GPU-powered effects.

Yep, there was not single instance where this app crashed, but others did repeatedly, so earlier I used to think that it has something to do with my low RAM. Nevertheless, now I have got at least one stable app.

Ok, time to install and try out on my L520, now for all those 1GB RAM apps that can actually do this to take note

This is such an awesome app. Between this and Microsoft's Movie Creator, we're covered admirably in the video creation department.

Especially when you look at Android....which as far as I can tell, doesn't have ONE proficient offline video editor.

Shh. Don't you know WP has no advantages over Android and is barely above a flip-phone? ;-)

Can this app upload the videos to instagram?

Movie creator beta...... It should updated to add more than 25 media files , 1080p video creation support. And I didn't find video memories to be as good as Movie Creator beta

These two apps serve two different, although not entirely different, but still different purposes, Movie Creator Beta isn't a lite app, it is a large app, and is much slower on low ram, whereas this one is for quick editing and is also low app size.

This is off topic but if yall don't know the head of the windows phone division for Microsoft confirm via his twitter account that good news for Verizon customers the 8.1 +denim will be going live for the Nokia Lumia 922+928 the icon to follow in early 2015.

Old news...already reported by Windows Central

The best! This app plus movie maker and movie creator beta you can do almost everything! Try it!

Nice movie maker out there...

Updated on 18th on my L620 :)

Strange. I remember I have had this on my 520 by the name "UbiShow" (as remarked by John) and it worked really well. But I'm not sure whether they supported 512mb ram devices or not after having the title being changed.

If you are still using UbiShow, please install Video Memories to get updated version. VM3.0 provides you much more beautiful and smooth effects, hafl video creation time, tripple the number of photo frames.

Thanks so much for the info!!!
I instantly updated the version on both my phones (Lumia 520 and 930) after hearing the news from Windows Central. Actually, after getting my new 930, I had been looking for the app by the name "UbiShow" for a long time (for over a few months) but never got it in the Store search results until I realized today that the name has been changed.
A SMALL SUGGESTION: This might be a little late already, but could you please add the word "UbiShow" to the "keywords" list during updating the app next time? I guess, this might help some fellas like me :)

https://www.youtube.com/watch?v=zRUvf_nU2_g
Windows Central Newsletter
Get the best of Windows Central in in your inbox, every day!
Thank you for signing up to Windows Central. You will receive a verification email shortly.
There was a problem. Please refresh the page and try again.