Video Upload to Instagram grabs quick fix for Lumia 830, some new features too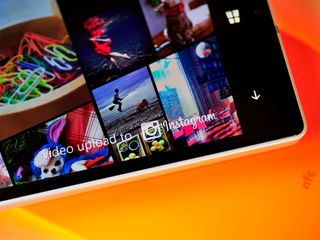 Last week, Venetasoft released a new app descriptively called Video Upload to Instagram. The app is the first standalone tool to let users grab videos from their library, crop, and upload to Instagram (the official app does not allow this, nor does 6tag).
Today, version 1.0.0.6 is out and with comes a big fix for the using a Lumia 830. Additionally, there are a few new features for editing. Let's take a look.
Video Upload to Instagram 1.0.0.6
Fix for Lumia 830
Browse their camera roll to add a separate cover to a video (not only a frame in it)
By popular demand: Preserve 16:9 video without cropping (centered)
Change audio level from 0% to 100%
Replace original audio with a track from the user music folder
The fix for the Lumia 830 refers specifically to a problem experienced by some owners of the Lumia 830, and a few Lumia 820 and Lumia 720 owners too. In short, the '+' button was unclickable, which prevented users from loading up videos from their library, rendering the app useless. That problem should now be fixed.
The rest of the new features are just bonuses. The biggest cool new thing is the "preserve 16:9" tool. It lets you letterbox the video instead of square-cropping it. The gizmo is found to the left after you hit the check mark and acts as a toggle. 'Custom cover' is like YouTube in that it lets you pick a thumbnail image different from the video itself. This image is what users will see in their timeline (instead of a possibly blurry video-cap).
Finally, in Video Upload to Instagram, you can now have a slider to let you control the video volume before publishing.
Video Upload to Instagram was already a great app, but today's updates are even better. Grab it now and let us know what you think!
Competition flaring up
In a separate but related note, 6tag developer Rudy Huyn did mention that he is now finally working on video uploads to Instagram (via his app). Clearly a fire has been lit to motivate him to do so, and he says he will have it done by "next week". Traditionally, standalone solutions are much more powerful, making them real options for power users. Which will be better? Currently, it is the one you can use now, but things may chance in a few weeks, so stay tuned!
Download Video Upload to Instagram ($1.99, free trial)
Daniel Rubino is the Editor-in-chief of Windows Central, head reviewer, podcast co-host, and analyst. He has been here covering Microsoft since 2007 when this site was called WMExperts (and later Windows Phone Central). His interests include Windows, Microsoft Surface, laptops, next-gen computing, and for some reason, watches. Before all this tech stuff, he worked on a Ph.D. in linguistics and ran the projectors at movie theaters, which has done absolutely nothing for his career.
Rudy vs. Venetasoft
Love their passion!!

things may CHANGE* in a few weeks :) good stuff Daniel

I see Lumia 830 in the headlines and hoped it was the Denim update! :(

I wonder when a fire is going to be lit to motivate Instagram BETA?

That fire will not motivate, but may rather burn down the app.

They will not remove it, I had some kind email exchange with them in the past for Instagraph.
They only want to protect their brand, and I 100% agree, that's the same for any company (me too).

That's fine, but how does an over 1 year unupdated beta protect their brand ?? When indie devs can make such amazing apps am sure fb/instagram can set atleast 2 people to update the beta. But, the reverse seems to be at work here, when indie's can make great apps, why waste manpower for a minority platform. That is, until a privacy breach occurs.

Did they talk nice to you, or did they call you an iDiot gay like you call people that dare to say your app is crashing and draining the battery?

Hopefully RUDY won't add this to the premium package. Let it be free!

He is working on it... Look up his twitter

Yet again, we are paying for a basic third party app for something that other platforms get for free and with full support. I'm all up for third party apps, they're great, but when your entire store is starting to be based off them...

Sure, because all Windows third party devs have millions of dollars to invest so their apps can be free. They are very greedy to take our money like that. /s

In a way I agree but third party apps is better than not having the services at all on our platform plus devs have to make money especially from a system like windows mobile

Unfortunately I m not rich and I need to work to live.. Be sure if I will win the lottery, I will release WP apps 4 free for all my life (really I would like to ;)

Depends on how much money you make.

Something can be "costly" with being out of reach. $1.99 isn't prohibitive, relative to most peoples income, but for a one trick app, it seems to be selling at about twice it's value. 50 cents woukd "costly" if it's for a lemon at the grocery store. Alternatively, $90k is a "bargain" if it's for a fully loaded Tesla...even though I can't afford one. :)

Need to pay Azure encoding bills, my friend.

more codes? wpc22k doesn't work

Stop being a cheapskate. If you want a free video editor, just download Microsoft's one.
If you want a fully featured editor made by a single developer, put your hand in your wallet and give the guy some money!

.. Its not publishing.. It gets struck at 0% what to do?

Please write me at support@venetasoft.it, if it s a bug, I ll solve it fast ;)

That's what we need is more competition on windows phone from developers it keeps the app numbers climbing and keeps the quality up

Competition is super good, for now the score is Italy 2 - France 0 (Intagraph + Video Uploader were the first evvvvver IG uploaders ;)

Will u be giving out more codes?

I give codes to ALL WPCentral readers

Could I have one please sir?

Yeah, Venetasoft, you also insult people for free and send them emails calling them iDiot gays.

Good work even though I don't own this app. Rudy has competition now lol

Things MAY change... (in a few weeks)

Bit annoyed with these guys. I paid for this app because movie maker wasn't/ isn't uploading to instagram with its built in feature but it works with this new stand alone app. Didn't realise it was the same developer. Feel cheated

Movie Maker IS uploading to IG too :)
If u own it, don't pay for this app, just send me an email.

Things that needs fixing: - Cannot create another paragraph when posting to Instagram. The 'enter' key simply wont work to make another paragraph. - Emoticons does not work. - Typing in landscape mode ONLY is a PITA. For goodness sake! Why is the app locked to landscape mode ONLY?!? Have you tried using it on a 1520?

Awesome ideas :)
Next time just write me, I have an email address too ;)
Yes I always carry my L1520 with me (but I prefer L930 for daily use)

I m using Lumia 830 and still face the problems in having difficulty in pressing the "+" and ✅ button. Need a few tries before it recognizes my touch. Pls fix this! Thanks!

I bought a L830 just to fix this strange issue, it works.
Try to uninstall + soft reset + reinstall.
If this won't fix, write me at my support email for a deeper analysis.

I suggest you to buy a Lumia 930 too, maybe this will convince you that your app is the problem and people aren't stupid or iDiot gays like you told them in your emails.

Traditionally, standalone solutions are much more powerful, making them real options for power users.

I disagree with this one, I don't like 8281822 standalone apps for easy tasks. That's why I prefer all-in-one and I would love video upload in 6tag. <3
Windows Central Newsletter
Thank you for signing up to Windows Central. You will receive a verification email shortly.
There was a problem. Please refresh the page and try again.