Vimeo for Windows Phone 7 returns to the marketplace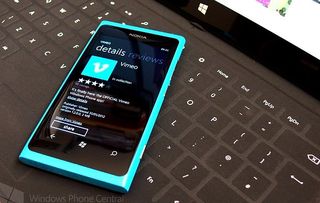 Previously when we saw the release of the Vimeo for Windows Phone 8 we noticed that it had vanished from the marketplace for Windows Phone 7. Whilst concerned that it was being pulled for the previous version of the OS we did have a hunch it might just be a marketplace glitch.
Turns out our hunch was right and the app is now available to grab and install again from the marketplace.
The Windows Phone 7 version lists itself as being version 1.2 and has the following features:-
Watch and manage all your existing Vimeo videos
Watch videos from your Vimeo inbox, Watch Later queue, or videos you have liked
Easily like, comment on, and add videos to your Watch Later queue
Discover new and fascinating featured videos
Quickly search for videos on Vimeo
Easily upload your footage in HD
Pause and resume uploads
Replace existing videos
Edit titles, descriptions, tags, privacy settings, and credits
Share via Facebook, Twitter, email, or SMS
Add videos to your Groups, Channels, and Albums
Get stats on plays, likes, and comments
Oddly, currently if we hit the web version of the marketplace it's showing the Windows Phone 8 version and related features. If you hit the links from your Windows Phone 7 device then you'll get all the platform specific information. More bugs in the Store? We're sure that this is just a case of the peculiarities of how it propagates through the marketplace.
Currently it isn't appearing when I search for it in the marketplace but that is likely a temporary issue, you'll still be able to scan the QR code or hit the link to grab the app. If there are any differences you notice please be sure to let us know if we missed anything.
Download Vimeo from the marketplace here
Windows Central Newsletter
Get the best of Windows Central in your inbox, every day!
I must say... damn the Lumia 800 looks great. Still consider it the nicest of all Nokia Windows Phone designs so far.

Imo N9 is the best looking phone ever. Afterall that was the UI this design was made. No buttons and front all screen.

agreed. N9 has been my personal favorite.

N9 hahaha. Give up N9 boring and dead

Am I missing something, or can you still not view a vimeo video on the web if someone shares it in a Facebook post? Why can't this work like YouTube videos shared?

I see no UI change like the WP8 one. Still looks old....and still don't see any videos under featured.

From experience, the WEB version of the marketplace is equivelant to what you would see on a Windows Phone 8 device. That is, you would see the WP8 version if there are differences between the WP7 and WP8 versions, and you would not find at all an app that has been de-listed from WP8. On the phones however, everthing works according to your WP version so no biggie.

Just received an update to the WP8 version and it installs the WP7 version instead. If you're on WP8 don't update.

Same issue here. Strange.

lol, a glitch. yeah, right...