Visit Abu Dhabi is an awesome travel app for the Emirates capital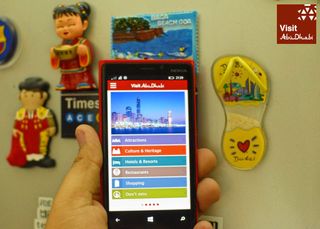 While we are moving away from bulky maps and heavy guidebooks to mobile apps for our travels, there aren't many of those that match a Lonely Planet or Fodor's exhaustive experience.
Published by the Abu Dhabi Tourism & Culture Authority, the new Visit Abu Dhabi app for Windows Phone offers an easy and user-friendly way to discover the largest emirate.
The app includes comprehensive local information – from attractions and experiences to culture and heritage. You can add individual attractions as favorites to check them out at a later time. The app includes full listings of hotels, restaurants, and spas with filters to find what's best for you. There's a collection of inspiring video and photo galleries and very useful travel tips and answers to the most frequently asked questions.
The easy-to-navigate app also helps you with information on getting to and around the emirate with comprehensive local maps. The 'Near Me' feature helps you look for options available in your vicinity.
A currency convertor is also a handy addition to the app. The app also includes prayer times for Abu Dhabi which might be useful if you are visiting a mosque (Sheikh Zayed Grand Mosque is not to be missed!) or meeting up with local folks. There's also a list of upcoming events and the latest news.
Available in nine languages - English, Arabic, French, German, Italian, Russian, Brazilian Portuguese, Japanese, and Chinese - the app is a pretty good trip planning tool, and quite handy to use while you are in Abu Dhabi. It's got a visually appealing and intuitive design, and if you are travelling to Abu Dhabi, this app should be pinned to your Start screen!
Download the Visit Abu Dhabi app for Windows Phone 8 devices for free from the Windows Phone Store. The app offers everything you need to know about the emirate – searchable and portable – both online and offline.
Windows Central Newsletter
Get the best of Windows Central in your inbox, every day!
Both of you, I need some money. Or you can just send me a white Aventador.

Wish we had this when we went there for Nokia World!

You probably enjoyed yourselves alot even without this app. ;) :P

They should include a section on what not to do. Isn't that the place where they have strict Muslim laws?

We Muslims don't have strict laws. -_- And please keep religion out of this -.-

Didn't some drummer just get arrested there for "offending" people? I'm not making anything up. I've heard more than once about people getting arrested for some thing they wouldn't get arrested for anywhere else.

Oh really?And what about France where every Muslim woman was not allowed to cover their heads/faces.Wasn't this their right?You care about your drummer but close your eyes to the hundreds of thousands of Muslims who are suffering because of people like you?People like you should grow up and stop blaming an entire religion for the crime of a single person/group -_-

http://en.wikipedia.org/wiki/Human_rights_in_Dubai Dubai is slightly more lax in its laws than other Muslim countries it seems but is still strict. To claim Sharia Law isn't strict is just laughable.
I think it's important to know the laws of where you travel to. Especially countries with any form of Sharia law.

Sharia law is not strict.Get your facts right.I can also find a wikipedia article to shut you up but I wont because I know that people like you dont understand.To get to know a religion you have to meet the people who are involved in it the right way.You dont read up articles on Wikipedia to learn about Islam. -_-

I grew up in Muslim culture. There are plenty of wonderful people, but it would be ignorant to deny that overall Islamic law is relatively strict. You're being bitter. I know plenty of Muslims who would accept that thier laws are strict, and accept it gracefully. They would be proud and explanatory rather than blaming and critical....

Some Muslim places do... I grew up in Al Ain (city about an hour outside Abu Dhabi). It was a little stricter there than in AD or Dubai. And Saudi Arabia, for example, is extremely strict. I see what you're saying, but Excuse the guy for seeming a little naive, because he's partially right. Either way it's a nice little app.

I've visited Abu Dhabi, Dubai, and Sharjah and there were no restrictions. I and my friends, including girls, wore what they usually wear (except at the mosque), ate and drink boundless, and had a great time. It's just the hardlined negative buzz that people believe.

Thank you for clearing that Abhishek.It's really nice to see that you are not biased against us Muslims and our laws like "some" people in this world. :)Thumbs up man! (y)

Thumbs up for u too man!! You're a Legend ;)

Abhishek has enjoyed the IPL in Emirates based on the locations you visited and timing :)

I am flying to Abu Dhabi in a few weeks and I was hoping to use this, but when I try and install, i get a message that it is not compatible with my display resolution. I have a Lumia1520 - 1080x1920.

This makes wanna go to Abu Dhabi now! lol

Not compatible with the 1520 apparently because of screen resolution.

It's always nice to have a new app in the store but I don't agree with "got a visually appealing and intuitive design". Maybe an intuitive design for people that use android but I am more into native apps and not a hybrid html app that looks the same in all app stores.

Not compatible with my 1520 :(

Not compatible with HTC 8x. It supports only 2 resolution screens.

Im on my way now. Just happen to have a spare 10, 000 laying around.