VLC beta for Windows Phone picks up another bug fixing patch in version 1.08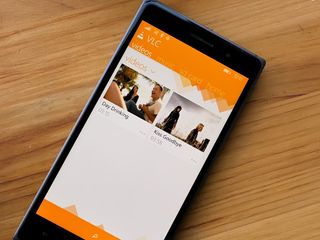 Last week, the VLC beta app for Windows Phone picked up a big update that addressed background audio and issues with the UI. Today, version 1.08 is now live in the Store, and although the changelog is less specific, users should see all around improvements.
Version 1.08 brings "Lots of bugfixes" according to Thomas Nigro, who is heading the Windows Phone port's development. Although it would be nice to have more detail, we are surmising that there are lots of nitty gritty fixes that developers would only understand (translation for you: "seems faster").
Nigro does suggest that version 1.09 of VLC is likely bringing "tiny cosmetic changes, bugfixes, and maybe algorithm improvements". We'll, of course, keep our eyes peeled for that update.
Daniel Rubino is the Executive Editor of Windows Central, head reviewer, podcast co-host, and analyst. He has been covering Microsoft here since 2007, back when this site was called WMExperts (and later Windows Phone Central). His interests include Windows, Microsoft Surface, laptops, next-gen computing, and arguing with people on the internet.
Nice to see regular updates :) Thank you!

The regular updates would be nicer if it didn't delete my music collection everytime.
Needs background sync too.
Doesn't recognize any of my playlists.
Most videos dont play.
-If I don't have my songs/playlists and can't play videos... it's kinda useless.

We delete the collection because we're still making breaking changes to the database. Don't forget it's a Beta and not intended for daily use.

I understand, just eager to use it. (my collection is 11,000+ songs, so it's time consuming)
Two questions...
Will it only recognize playlists made in VLC, or will it eventually recognize my playlists?
How long do you anticipate this beta to last?

I think we will recognize already existing playlists.
This beta will last 24h, we'll send a new one tomorrow.

Thanks Thomas! I appreciate your work and efforts. I see the app getting better in every new update.

I know it's bit far fetched but what about Zune version of vlc

thank you very much Thomas for bringing such nice app to windows (phone), one thing i want to report, during video playing, flipping the screen or stop/resume some times cause GREEN screen. the other thing i couldn't know the benefit from the KEY button. thank you again

Is it real Thomas replying here....ohhhhh myyyyyy... Thank u

Thanks for the regular updates

Great app. Thanks for bringing here and support

Good job. Thanks for the update

Will it finally support rtsp?

Keep it going, Thomas. ;)

It seeks in the videos a lot quicker now

Keep up the good work Thomas.

Still don't play videos made with phone camera (L930).

1730 ? There is no such Lumia as 1730 borrow me your time machine pleaseeeeee? /:s

Seriously? Didn't you get what he meant... He meant L730. He forgot to activate capitals on that L so it seemed l730.. But dude seriously time machine.. Lolol Posted via the Windows Phone Central App for Android

Lol that's L730... :'D good one ahmu! :D

We are still working on the hardware decoding by the way. Maybe for early february, but I'm not sure and I don't want to say any deadline, because, you know, we are famous for never respecting it. :D

Much better, it has grown a lot, keep the updates coming

Love it when developers engage with users in the comments section

I'm a developer but first of all I'm a WP user :)

We got mad respect for what you do.

Hardware decoding will hopefully help with the battery usage. The app currently drains the battery on my Lumia 920 quite fast. Thanks for all your efforts.

Looking forward to it, whenever it arrives :D

Great to see Thomas Nigro replying to the user comments. Really..

Nice to know that. Yes, hardware decoding is a very welcome feature. Looking forward to it!

I dont know if you will be reading this... But just wanted to tell you that please dont feel bad when someone says bad about your app... It's just that we love it so much, and as it available for download, we want it perfect more than ever!
So please dont feel bad... People respect you alot and you can see it here itself. Its just that we sometimes get overexcited.
;)
Anyways, thank you for getting the app to windows, and all the very best for the development of this app. :)
Have a good day. :) :)

sup thomas im just wondering, i cant seem to find the name of this app whenever i try to add it on my sysapp pusher is it invisible in the store? because id like to know/get notifications (via sysapp pusher) if there are any updates for the app without having to visit windowscentral everytime thanks

Have you looked into DTS audio not working in videos yet?

Posted that in the app updates thread a couple minutes ago before the post. xD

It's funny, I don't see any of the people that we're bashing Thomas and VLC for being "too slow" and "taking our money" here saying "I'm sorry" and "Thanks". Just want you to know we in the silent majority truly appreciate all the hard work put in to bringing VLC to WP. Thanks.

I dont see him apologizing for the bashing and crying about Windows and Windows Phone after taking money to work on it.

What I do see is a bunch of a**kissers tryng to butter up to a person that totally disrespected the whole WP community based on a few inconsiderate people and comments. That whole fiasco was unnecessary from his side. But what's done is done. We should leave it at that instead of trying to bring it back up, just like you did. I have no need for a program like VLC or any other media player for that matter.

This. I believe it's the desperation on our part. Posted via the Windows Phone Central App for Android

Still crashes upon opening on my 920

Try uninstalling and then reinstalling the app.

"Translation for you" - Loved it...lol

Commitment to your product. I like. edit: I can already see improvement. The issue with the play button not becoming a pause button after pressing play seems to be corrected. Nice. Keep it up VideoLAN.

But, why does it messes up my album covers?

because the code is still totally a mess, and it's getting better and better everyday, but lots of problems on album covers for now.

Yes I have noticed that. Now it's finding covers alot faster even though they are not correct for each album. Wish you very best of luck in further progress!

Still cant play mp4 on 1520.

Seems... better. But still don't play HD videos.

i thought they gonna take out the app. Such an arrogant...

This may sound racist....but that developer has an odd name

<mylife> Not racist, I also been really curious about the meaning of this name. Could be odd for some, but it's just a standard italian family name. it indeed could mean "noir", "black" in english. </mylife>

My Grandmother was married to a Nigro... As in surname... I'll ask when I see her next ;)

Thanx for the insight....love the app btw....can't wait for it to assume full posture...much appreciation for ur work

Italian here, I've never heard your surname eheh. I'm from southern Italy but I've been living in northern Italy for more than 10 years. Funny names are funny :D Keep up the good work btw!

Hopefully you've never been an uncle, Tom. :P (I'm black, it's okay for me to say that haha)

Crappy app with very basic features, and they take forever to fix very simple bugs. To think that I was hopping it had DLNA support... Ha!

it's a BETA. Before adding new features we want to make sure the basic features are working properly.
Of course radio, smb (samba), dlna, chromecast are planned, but not for now. We have tons of things in the works.

Rest assured that your efforts are appreciated and the beta process understood by the majority of the community.

"Alpha" would be a better label for it. As a software developer with more than 20 years of experience, I can assure you that this "beta" was rushed out way too early. That's ok, but at least label it accordingly.

can you do it better? and faster? if you can, do it, and shut up..

I doubt that you're a developer @David_JRG. You are an asshole who don't know how to respect other developers.

hi! also, please optimize it for low end, low memory devices many thanks!

//Crappy app with very basic features, // Atleast have the basic courtesy of using right words, though an app may not function as you expect. "Simple" would've been better. David_JRG Since you're also a software developer, how would you feel when someone walks you over and say "Your code is a crap, and it's full of bugs?" 1. Will you greet them with a happy face or 2. Will you say GTFO.

It won't play any of my videos. I hope you fix this. Anyway I am really excited about VLC :) keep up the good work :)

He it's support srt subtitles now :) getting better every time.

Cant play 1080p video recorded on lumia 1520...

Can't play anything recorded on the anything at the moment. I'm sure we'll get there in the end.

Great work! Keep the updates coming :)

Haha, love the translation :D

I can't play downloaded videos it stucks my phone when I try to open downloaded videos and so I force a power shut down +lm925

I can't even close the app with the back button, neither after this update!

Thank you, Thomas, for all your dedicated work, and for the love of our favorite platform. Downloading new beta now.

It still drives me crazy that a few pixels worth of the 'open file', 'search', and 'random' text show up in the bottom even when the app menu isn't extended. I know it's crazy nitpicky but it's one of those things I can't stop seeing. I also wish that my podcasts downloaded using the built-in WP8.1 Podcasts app didn't show up in VLC, but I don't think VLC can do anything about that (as the Podcasts app downloads them into a subfolder of the music folder).

Haha exactly those pixels are bugging me too. And the icons are too small and turn ugly black when clicking. Drives me insane.

Not noticed it before now. Now I can't stop seeing it. Thanks. #OCDbyosmosis

Regular updates would be better if they worked properly.

Get some common sense first before commenting. It is a BETA. That means that you should not expect stability. Beta testers are meant to test the app before it is public. If you cannot comprehend that, then delete the app, and wait for the final non-beta release.

Much much better! But still stack when I try to play flac. After this "freeze" I need to reopen the app even if I want to play mp3 song. Anyway: this is the only app in the store, that catch's updates so frequently)

The app doesn't close by pressing the back button once its opened. To close it I have to long press the back button n then only appcan be closed. Do Fix it sir
Lumia 625 user

Still crashes and it doesn't show all my music albums.

Is this update available worldwide? I'm in Australia & am currently on v0.0.1.5. When I check for updates none are found & when I search in the App store the VLC App isn't there. Also the above link to download it, just shows a NOT FOUND The page you want doesn't exist on this site.

What happened to the biweekly update of the Xbox music app?

That app has never been updated since I joined Wp last year

Cannot play video shot with 930.very lags.

What part of BETA does someone not understand! Get it together people!!

Thank you for the update!

Great! With this one its finally playing my local videos. Interesting enough its also playing the offline videos downloaded by MyTube as if they were any local video! Don't get me wrong, loved the idea, but how come?

Like Thomas said, the app is in beta. If you ain't a beta tester get the hell outta here with ur crap comments.

I tried, to play an flac but still not being recognized by VLC also an MPEG2 TS that is an ATSC stream just work but it's very slow almost can't be watched also appear the subtitle of the video, it's an way to disable the subtitles of the video Close captions of it I understand that already can't be played HD videos on VLC

Thanks for updating regularly. That said, video won't play for the most part. An mpg podcast played fine, but video recorded at 1080p and that at 720p from my previous phone stutter and stop and pixilated. I do continue updating as long as you are putting in the effort, so again, thank you.

Thanks Thomas! It's incredible!

Thanks for the update... Seems faster

Keep up the good work - getting better.

Is it just me or are there updates "slow"? I kid I kid. Thanks VLC team for all you do. And WC community, remember to appreciate the fact that we even exist as a third ecosystem. It's because of the developers, developers, developers!

Whoa I thought someone was looking for a fight with the vlc team. And then I read the whole comment.

Thomas. Thank you... Any chance you can support the streaming file type used with ragecenter.com?

It seems the previous article"vlc vs wp fans" has changed the things alot which can also be seen in comments... But some fools are still out of mind...anyways thanks Thomas

I hope the ability to access and play network shares is added soon, like the desktop version.

For the phones with virtual buttons the app's task bar is not aligning with respect to virtual buttons. It always goes outta place

I love this app.great ui.and you should make available the working of mkv and hd videos

Wao! Long line of continues updates! Thanks VLC! For for supporting our about to be called windows 10 mobile

I can't update, the store times out.

When's the HD playback coming?
The 1.07 was the major update. Was sick at the lags. Thanks Thomas
Had heard .0.8would fix the HD playback issue. Haven't got! Maybe next update :)

I got problems updating the VLC app
I face this problem only with VLC
On every update

Same here. It just stucks at some point.

I'm sick & tired of this pending status!

Keep em coming Thomas. Appreciate your hard work.

We thank you Thomas , keep the updates rolling!

I like to read a joke or two in the article, the seems faster actually made me laugh. Thanks Daniel.

Keep updates coming... (;

Sweet, get out your wallet and start paying for his time then you impatient fool

The video problem is still there but the music experience with this update has become awesome

This app is starting to look fully sick! Videos play sweet now including camera roll on 930 still no music joy but loving the ui

Now the app working fine L720

Why there is green border when playing video. Thats irritating. Fix it soon Daniel. Good luck.

Getting better........i want to see vlc player in every windows phone...Good luck nigro..

Still can't show .ASS subtitles from MKV files.

It's nice to see that you spend a lot of your time improving this app.Good job!

Perpetually in beta. Wake me up when it is ready for prime time.

thank you thomas for this article,respect for you

I am not able to download this app in my Lumia 920

Everytime I open vlc, it search for library and add all videos in queue plz fix this
Windows Central Newsletter
Get the best of Windows Central in in your inbox, every day!
Thank you for signing up to Windows Central. You will receive a verification email shortly.
There was a problem. Please refresh the page and try again.