VLC for Windows Phone picks up a responsive layout, several new features in latest update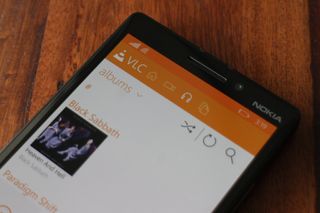 VLC media player for Windows Phone picked up an update to version 1.3 that includes a more responsive layout along with features such as the ability to browse for content stored in a folder directly from the app, updated design for the video player and much more.
The partial changelog shared by Thomas Nigro lists the following updates:
Updated User Interface
Optimisations of XAML code, which is between 50% and 130% faster (parsing and layout rendering).
LastFM scrobbling working on Windows
Browse music and videos from folders. For example if your songs are not correctly tagged, you can browse in VLC and « play a folder » just like you would play an album.
XAML Responsive Design enhancements : we're trying to use your screen as best as possible. On tiny screens we removed the « now playing » title which is useless, and on a big screen we give more options with extra buttons, etc.
Use of Windows 10 APIs via Reflection for setting a custom, orange window background color.
New icons, margins and alignments are more polished (even if it's still work in progress)
Refresh button in the Video Library, just like the Music library
Search videos or albums easily.
Updated design for Video Player (still very work in progress though)
Adding Semantic Zoom in the Albums view, with custom selection of ordering (by artist, by date, by album).
We added a back button so devices like Lumia 730 or future tiny tablets will be able to go back easily.
Using the same colors as VLC for Android/iOS.
The developer mentioned that 99 percent of the code is now shared between the Windows Phone and Windows versions of the apps, paving the way for Windows 10 SDK migration once it becomes available. Nigro notes that this update is just for the Windows Phone client, although another update dubbed 1.3.1 with more bug fixes and improvements will be made available for Windows, Windows Phone and Windows RT sometime next week.
Download VLC for Windows Phone (free)
Thanks to everyone who sent this in!
Windows Central Newsletter
Get the best of Windows Central in in your inbox, every day!
Harish Jonnalagadda is a Senior Editor overseeing Asia for Android Central, Windows Central's sister site. When not reviewing phones, he's testing PC hardware, including video cards, motherboards, gaming accessories, and keyboards.
Can you remember all the grief they gave this guy? those posters should now bow their head in shame. Nice one Thomas Nigro

I remember those times. Ok, can i laugh now? AHAHAHAHAHAHAHAHAHAHAH!

But that's how life is in general. Only the brave won't throw in the towel. Nice to see VLC making strides. Thanks Thomas.

Really? I preferred the previous slide menu.

Oh yeah! This sounds like a lot of hard work. Much appreciated Mr. Nigro. Keep it up and thanks for the support!

Thank you :) Let's see how well this work on W10p

Wtf msft, i urgently need denim on my 920, still on cyan, and apps are not updating anymore!! Please find a way to override win10 version nr

Italy?... Impossible all lumia have denim

Even my 1020 showing as cyan after wp10 preview

Isn't that just an error with Extras+Info?

Yeah, I think so. My 920 says Cyan under E+I, but System>About shows the true W10 version number.

Can you install all app updates??

i use the insder app to get denim back on my 925 after test the wp10 preview out about two days ago

Insider app to get denim???

Always good to see updates :)

Nice to see devs starting to create apps based on windows 10 APIs. Hopefully everybody else that currently has an app follows suit.

A lot of apps are stuck on Silverlight 8.0 or Silverlight 8.1 and are not made specifically for Windows Phone 8.1 using the new WinRT APIs because of lacking functionality or comprises in functionality from Silverlight 8.0/8.1. With the proper APIs now in place with W10, I expect apps functionaly and design to fully expand.

Wp doesn's has nice design app, Ui and Store...hope this things changes.. But, some people make a grete Job, comares Playerpro Ui, with the Xbox musicUI Xbox musicUI its Ungly and old

Sounds great! As soon as there's xbox music pass integration, I'll be all over it :)

Same. I'm really looking forward the XBOX Music integration. I hope to work on it during May.

Thanks a lot for such nice updates Thomas. I was one of the early adopters and have really seen the app work up its paces...really nice to see all the hard work you put in...superb

Can I expect vlc for windows to play mkv files like it plays mkv..
I hope yes from you

Hey Thomas.. Screen rotation isn't working after the update(L730). Hope I'm not alone who is facing the issue.

The app is AMAZING. Thank you so much. We love you. <3

Hope all windows phone app UI going to be like this

I have a doubt.... This is created by Windows 10 APIs . But my phone is Running in Lumia Denim . Won't it result in any kind more battery drain ot laag

Sorry for all the crap you got from the community earlier. I've been meaning to thank you profusely over the last few days. This is because initially yes the app used to crash a lot on my 730. But recently I've been watching a lot of my tutorial videos (learning some subjects and programming language) on this app and it's been such a charm! I love how amazing the app is and how responsive it is. The design and functionality has impressed me to no end. Thanks again :)
Wanted to shout out to you on twitter in fact. What's your handle?

Thanks :) Fortunately the crappy dudes are only a small part of the community. I just ignore them. Twitter: @ThomasNigro

People think they can be rude and exhibit no decency or manners just because they have a means to do so via social sites.
It's an awful byproduct of the internet and truth be told, a sad reflection of what society has become.
Kudos to you for all the hard work you've done.


thanks for the update, Mr. Nigro. :D

Thank you, excellent work done I must say. :)

Hi,the app doesnt show album arts in full screen.the first time the vlc player launched i could see my album arts.but now not!any help?

can't seem to download it. repeatedly getting error 80073cf0. edit: finally it downloaded. and it's working now. after this update i think VLC is gonna be my primary media player now! :)

I had no problem downloading it. Try uninstalling the older version first, then download the app.

i tried that. didn't work.

Same error here. M running Win 10 10052 build

i'm on official windows phone 8.1 + denim.

How about a soft reset? (pres and hold volume down + power button until the phone vibrates and reboots)

Lovely app. Thank you developers!

Still we can't open Stream

We're working on HEVC and DASH streams.

thanks for the amazing support. :)

Would really love HEVC streaming.. Currently can't properly play any 720p HEVC videos on my 730. Haven't tried anything below though. Atleast you guys support the format, thats great. Looking forward to further improvements and optimisations in that front. I understand that my device can't do any HEVC Hardware decoding, but i can't help but notice that my friend with a Galaxy Core can run 720p HEVC using MX player. I was wondering if some partial HW decoding using something like DXVA2 was available for Windows Phones or not. WP isn't that open as Android, but i just fell in love with HEVC :(

Great update, but I still think it's a bit annoying to have a physical and on-screen back button
But I guess it's necessary

Personally i liked the old interface better especially the colour

I think the reason why Thomas did that was because of consistency with other VLC counterparts apps Posted via the Windows Central App for Android

I kinda prefer the old color too

Use of Windows 10 APIs via reflection? Nice to see the app getting updates, still haven't been able to play videos recorded on the device itself, will try this one out when I get home!

Reflection information enables you to "understand" libraries at runtime, even if you have no bindings. Which is the case due to the lack of a SDK.

Still doesn't play HD video

I have a couple of HD videos that play just fine through VLC, I would say it's more likely to be the videos themselves than VLC

Same problem here. The same videos plays just fine in Moliplayer.

Moliplayer is a great Silverlight app. I still use it when VLC doesn't work the way I expect it, honestly.

Moliplayer can not play videos on my phone memory. I don't want to keep them in pictures folder. So I must say VLC is better for phones like ICON

vlc still can't play hd/fullHd videos.... specially mkv hd/fullHd.... you have to wait more,truth is you can't survive with only vlc.... vlc needs a lots of improvement.... if you have HD /fullHD videos to watch....then you need moliplayer pro....

Instead of writing those useless " ... " everywhere you could take some time and read my blog post which explains we're the first WinRT third party app that tries to enable hardware decoding with D3D11, thus the fact that it's really difficult because no one can help us :)

Great to see you being active and replying here Thomas, downloading now, keep up the good work.

You'll really pave way for new developers with this project then. I hope Microsoft sees how this is working out, and that it becomes easier for you to use hardware decoding with future APIs. The resume times on this update are *insane*! It's amazing, and much faster than XBM. Good job man.

actually we are not blaming you #thomas ,we are just discussing current situation.we really appreciate your hard work towards WP platform....and we know videolan team is working hard to making VLC better and better....

What device you're using? I can play 1080p videos just fine using VLC on my L1520.

How do we use the shows section?

Based on the filename we try to detect if it's a show. Like "Breaking Bad S01E03.mkv".

It works. Are there any plans for enabling data from TheTVDB so that it shows the cover art and description for each titles discovered in the SD card?

Doese anybody know if there are plans for the app to support Casting, like Tubecast ?

Supporting this developer and all those who keep updating their apps.

Same here, VLC is one of the few apps that is regularly updated on WP. One thing I noticed in this version is that it no longer has to search for your music when you update to it.

It's a nice update. The appbar buttons really need to have a label though.

Can't you hold the appbar button and have a label appear under your finger where you can't read it? I know that some site talked about how you could do that on Spartan. Either way, you really shouldn't act like such a bitch because Microsoft did tons of research that showed them they know what they're doing now and need to ditch useless crap like that.

Why am I "acting like a bitch" when I give Thomas the feedback that he's asking for? What does this have to do with research by Microsoft? Labels for icons are not useless crap. They enhance the usability because the user knows what the button is supposed to do before clicking it.

Kind of redundant to use both. If you need a label, something's wrong with the icon (and Thomas acknowledges that the icons are a work-in-progress). You shouldn't be getting abuse for feedback, though!

The icons should be enough for understanding what's meant to. However I agree that the icons are still far from perfect.

Well, the settings one is obvious of course, the "open file" one I'd interpret as upload though. Labels would make it easier - it was always one of the strengths of WP that you could easily find out what the button is supposed to do.

Thanks Thomas! You tha man!

This is too good to be true! Great Design, great UI (those guys nailed it when it comes to Windows 10 design language), extremly fast and it even has native Last.fm support! Bye bye Xbox Music!

Unstable, long responses, very often crashes. Lumia 625, WP8.1 Update 2, Denim.

Really? Even on a Lumia 520 it works kinda great with lots of musics and videos.
If you can precise what's going wrong I'll be glad to hear some feedback ;)

mine is getting error when updating. error code 8103010d

After upgrade or clean installation app several crashes during searching for media titles. Missing album art for music titles (without problems in Xbox Music).
Sometimes avi video with audio only (without problems in Xbox Video). Sometimes app crashes during video (low resolution avi, mp4, mkv) playback. Bad responses of music or video buttons.

same here, often crash while load music

If you are installed it first time let the app to scan the content in your storage.
then after 10 to 15 minute open and play; and it's really charming in my Lumia 520 & 620.

I'm having similar problems in my 1320, changing song takes alot of time, pressing shuffle on now playing makes app go crazy (won't change song anymore, sometimes black screen with vlc colours on top), pressing shuffle again makes it crash everytime. UI is bit unresponsive too. Running Denim (no PfD)

Hmmm... Readit just got updated too. 15MB update.

Still no way to skip by first letter; it's scroll scroll scroll through about 500 artists to get down to Pink Floyd, not to mention the 735 to ZZ Top...!

Just click on the name of the artist and a jumplist appears.

Clicking on the name of an artist brings a list of said artist's albums, as it should...

As often as Thomas is updating this app and as hard as he has been working to implement features, I'm sure it will be on the list to make it into a future build. It takes time to build an app from the ground up like he has had to do. Especially one with so many nice features. Awesome work, Thomas Nigro! We look forward to the added functionality in future versions as well! Thank you for supporting our beloved platform.

I'll add Semantic Zoom in Artist Page today and it will be available in the 1.3.1 update. Thanks for the feedback!

Thumbs up for the developers for the good work they are doing. Which others could follow their steps

Thomas and the VLC team are great.

And notice the hamburger menu is gone

Crashes thrice on Lumia 720 and can't play subtitles.

same problem whenever i tries to add .srt file it hangs looks like .srt is not supported try .ssa and other format of subs

Well, since it finally opened on my 920 I'll give it a go. Seems like a nice app

Jay! Another update for RT :-) The current one isn't really stable in the Music dpt. and still refuses to see some of my Music? It also has the same issue as XBox Music, and that is loosing the SD Card after 5 min. or so. MediaMonkey has no issues there, so I don't know if MM hacked it somehow, or Music and VLC are flawed ;-) And yes, I provide bugreports....

You may have an issue with an unstable SD Card. I used to have the same issue, until I replaced the SD Card with a new one. Sometimes you get a bad one from a batch. Xbox Music never looses the SD card for me now. If you have a spare SD card around, it would be worth testing.

Thanks, but I'm on my 3rd SD Card and it's the same thing with Music (and VLC). The weird thing is that none of the cards show the same behavior with playing video. It's just the music related apps that will kick the card out of the system. Only MediaMonkey has no issues here.

Bring hamburger menu! It will become made for windows 10

It's crashing in my L720. And restarted my mobile also in first use.

I like the ui. Wireframe design, win10!

I don't get the back button thing. I visited the 730's page (http://www.microsoft.com/en/mobile/phone/lumia730-dual-sim/) to see if Microsoft removed it, but they didn't show a single image of the actual 730 with any buttons... so what's up with that?

All the way to the bottom and I didn't see a "seems faster" comment. What's going on?

Atfirst thnx to @Thomas and whole team of VLC.....Sir plz brimg widget for audio control, supports audio headsets control

After the update on my 1520.3 with GDR2 it would launch and display the mian page for a few seconds and then exit. I uninstalled and reinstalled and now it works. It looks great. The UI changes really cleaned things up. It really looks great. Thanks Thomas for continuing to work on the app.

I did uninstall and install but didnt resolve the issue

I noticed some weird behaviours. It's the registration of the background audio task that fails because of an unknown runtime error I still don't understand. After a reboot of the phone it should work.

Am I the only that experiences crashes everytime i open the app or browse video? 1520 user with denim

I noticed some weird behaviours. It's the registration of the background audio task that fails because of an unknown runtime error I still don't understand. After a reboot of the phone it should work.

Is there a fix for the wrong album artworks?? I mean, when i play it on xbox it shows the right AA but when i play the song on VLC it shows the wrong one :c

As I said in the blog post, we're still having issues with album art on Windows Phone and someone's working on it ;)

Oh okay. Thank you for supporting the platform by keeping the app updated. Cheers to you!! U rock!

People do not have patience

The change log in the store still says "this is the first public version of VLC on Windows Phone". EDIT: Just saw the link to the developer's blog. That's where it was taken from. Apologies.

I just saw how much is now harder to use app with controls both up and at the bottom.
Otherwise nice app, don't use it, but like to follow the development of it.

It was not updating properly,it always shows pending

Nicely done. Quite fluid enough. Not super fast, but not stuttering either. But it still randomly crashed on my Lumia 520 (and quite often too, specially when scrolling on a long list of music artists). Question to developer (Thomas Nigro) ... How to use that Win10 layout? Are you define it yourself on XAML or is there any step we can already use for Win8.1 (and WinPhone8.1) apps? I'm thinking of preparing new layout design for my app but afraid of useless effort if I have to repeat the redesign process again when Win10 is released (by using Win10 SDK).

That's some amazing work Thomas! Love the app!! Super fluid and I really dig those wireframe icons. I was really doubtful of the direction w10 was taking. Now am at peace. :D
And is it possible to do something regarding the Album Art?
Cheerios :)

Awesomeness. Even though i kind of prefer the old colors.

Hey guys subtitles are not showing what do I do? When I select the subtitle file still nothing happens.

VLC didn't show the album cover for any songs on my Lumia 730.. Nigro help me please

Wish there was a way to exclude the podcast folder from being included with my music.

Perhaps he'll add a Genre sorting option to help with that. It's not exactly what you're asking for, but it's probably the simplest and cleanest way to provide a solution (plus adding a bit of an improvement for everyone at the same time, whether they use podcasts or not).

Any chance this will ever fetch DVD covers for TV shows and movies from IMDB and tvdb like movie premier and media box on Windows does?

The navigation bar looks so much like Android's Material Design.

Someone help me......i can't download the app on my Lumia 525

Brilliantly done.one feedback. The settings option is blocked by now playing song which minimises

Finally I pinned VLC to my start screen. Thanks Thomas.. Love ya..

Does it loads SRT automatically now along with the video now?

Finally someone added an option to play music by folders... now that I don't need it anymore thanks to Spotify :D

Is it possible to connect to my network drive with vlc?

great video player nice update!

Does anyone know, or use this with the DLNA feature of the HDHomerun tuner? I feel like I tried it before but it didn't work. I'm at work right now so can't try it, just curious. Thanks!

Awesome work by Thomas Nigro! VLC is going in right direction.

When will this support 60 fps?

Very good! I'm really surprised this is a free app. The Music mode is immeasurably better than the current MS one, or any others I've tried, and although I don't use it the Last.fm integration is a great addition. Minor issues, which I guess will get improved over time: Music: The default Albums view only loaded the first four and then stopped. I gave it a few minutes, switched to Artist instead, and it quickly populated. Album view was fine after that. Video: The glitches are gone during .mkv playback and the video quality is perfect in jolts, but it quickly becomes choppy. Getting very close though! Moliplayer Pro seems to have cracked whatever the problem is, so maybe it's worth taking a look at what they're doing. [Lumia 920, Win 10 TP]

Why is this app still going to the photo hub when tapping the open file button? Can't it just use the file picker introduced in 8.1? I don't want to move my videos to the photos folder.

VLC didn't show the album cover for any songs on my Lumia 730.. Nigro help me please

VLC didn't show the album cover for any songs on my Lumia 730.. Nigro help me please...

looks better the vlc but what about MKV and background playback?

So cool.. This kid is amazing! I requested for this feature just about 3 weeks ago and it's been implemented. Playing folder contents..

Not that good. But appreciate the efforts. Though its been so long they are making improvements in the app. But still they haven't got enough.
I think UI is pretty well. But needs more sharpening at many places like alphabets while searching.. Or order wise listings of songs... Insta fetch album art from file... Kind of... And if aond doesn't have any album art then why control change its place from bottom to middle. Without showing blank album art... Disappointed. Still no equaliser.... Too disappointed

Ah, yet another example of a developer improving their WP app. I'm still waiting for WindowsCentral to put up that running tally of apps that leave vs apps that are added or updated. That way maybe some people that frequent the negative threads won't assume the worst.

Still lacks the DRM music support

1.3.1 update for WP just came up today. That was fast.
Windows Central Newsletter
Thank you for signing up to Windows Central. You will receive a verification email shortly.
There was a problem. Please refresh the page and try again.