Voice Navigation Round-up: GPS Voice vs. Turn by Turn Navigation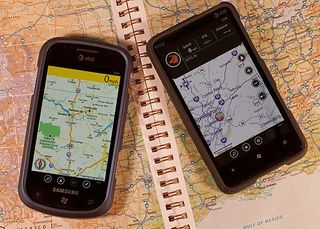 Voice navigation has landed on your Windows Phone by way of apps such as GPS Voice Navigation, Silver Navigator, aSpass and Turn by Turn Navigation. These navigation apps bring the spoken word to your travel directions, But which is better? Prices range from $2.99 to $6.99 but which are worth the price of admission and which aren't?
We decided to do a head to head comparison of the various voice navigation apps available for your Windows Phone. First up, we take a look at GPS Voice Navigation and Turn by Turn Navigation. They are the heavy weights of the group (both in price and features) and we'll turn our sights on Silver Navigator and aSpass next.
We recently took both GPS Voice and Turn by Turn out for a road trip to see how well both performed. Did GPS Voice Navigation out perform Turn by Turn or did it land us in the middle of nowhere? Did Turn by Turn steer us into a cow pasture or did was it the shiny coin between the two?
You know the drill. To find out how these two navigation apps shook out, navigate your way past the break.
General Appearance
A navigation application can have pin point accuracy but if the layout of the application is poorly designed, you might as well stop at the local 7-11 and ask for directions. Fortunately, both GPS Voice and Turn by Turn Navigation are well laid out apps.
GPS Voice Navigation utilizes a combination of Bing, Google, Yahoo and MapQuest maps and supports both road and hybrid views.
Your GPS signal indicator and speed are displayed at the top of the map with a small compass located in the bottom left corner. Buttons to search for addresses, follow me (centers the map on your location), create directions and look-up (finds the closest address to the center of the map). The three-dot menu has controls to clear the trip/route, view the route/trip details as well as access the settings, help and about features.
GPS Voice's map is touch zoomable and lists a limited number of businesses. There is also a slide scale to the right of the screen you can use to zoom in/out. GPS Voice does not have the ability to save destinations as favorites but will display your most recent address searches when you pull up the search field.
Once a route/trip is established a scale will appear to indicate the distance your route has and the time the app is estimating it will take to reach your destination.
Turn by Turn Navigation is laid out in a similar fashion. Turn by Turn utilizes BING maps and also supports road and hybrid views. To the top of the main page is your navigational displays (speed, estimated time of arrival, distance, and next turn). There is also an icon to the left of this panel that will give you a visual of your next turn and how far you are from it. Down the right side of the screen are controls to follow your position, zoom in/out, and mute the audible directions.
The map on Turn by Turn is also touch navigable (pinch to zoom, etc.) or you can use the "+" and "-" buttons to zoom in and out.
Button controls are located at the bottom of the screen that control search, favorites, settings and the about screen. The three dot menu pulls up controls to toggle between street and hybrid views as well as stopping the navigation.
Both GPS Voice and Turn by Turn support both vertical and horizontal orientations. Additionally, both can have the map rotate with your movement or be static with directional north always being at the top.
Interface
Both Turn by Turn Navigation and GPS Voice Navigation have search features to locate destination addresses. Once you've found your destination, with GPS Voice you have a "directions" button at the bottom of the screen you can push to generate your driving directions.
With Turn by Turn you tap on the address flag on the map to pull up information on your destination. From this window you can rate the address, add it to your favorites, and (for some locations) call the location or check out it's web site. Most importantly, from this window you can tap the "Go" button and generate driving directions.
I have to give the nod to GPS Voice for the easier interface to generate directions but Turn by Turn makes up for it by providing more information on your destination.
Oh... another plus for Turn by Turn is that you can search for business names. GPS Voice will only search for locations by address.
On the Road
In testing out both GPS Voice and Turn by Turn, I took a 45 mile road trip (perfect excuse to go fishing) to my parent's lake house. On the trip to the lake, I used Turn by Turn and on the return trip, I used GPS Voice.
The biggest hurdle both navigation apps have to overcome is the data dependence. Both apps struggled to redraw maps while on the open road (traveling at interstate speeds) and at times, could not download maps at all. Turn by Turn performed the best, re-drawing maps faster but I still had periods where the re-draw rate couldn't match my speed (resulting in blurry roads) and there were empty voids on the map when a strong data connection wasn't present.
The accuracy of my location was displayed within feet of my actual location with both apps. Travel speeds were within 3mph or my actual speed and while there was a little lag in displaying my movements, it wasn't enough to cause problems. Even when the maps struggled to re-drawn, the little cursor represnting my location moved along nicely.
In choosing a familiar route, I was able to deviate my travels to test the route re-calculation feature on both apps without risking getting lost. GPS Voice Navigation re-calculated my route the quickest but both took a dreadful amount of time to find an alternate route. I also noticed that both plotted a course that really wasn't as direct as it could be.
I liked the larger header on GPS Voice Navigation. It displayed my speed, how far until the next turn and a large road sign to indicate the nature of the turn. Turn by Turn has a similar layout but the print is smaller. Turn by Turn does have a nice feature where a red dot blinks on the map at your next turn. Both, in their own perspective, made it easy to pick up on your next turn but I have to give the edge to GPS Navigation.
Turn by Turn ran smoothly during the 45 minute drive but GPS Voice crashed twice generating an "unknown error". Luckily, when I re-started GPS Voice it resumed my route. Still, the instability could cause you to miss a turn.
Lastly, both GPS Voice and Turn by Turn take their toll on your Windows Phone battery. From keeping the screen on to the data connection, either can suck the life out of a battery rather easily. A car charger is a must for either.
Conclusion
While both GPS Voice Navigation and Turn by Turn Navigation are nice travel apps for your Windows Phone, I have to give the nod to Turn by Turn.
Turn by Turn offers more features such as favorites, keyword searches for businesses, and the ability to access websites and make calls from within the app. I think the factor that pushed Turn by Turn over the top was the instability experienced with GPS Voice. It was nice to see my route was saved when I re-started the app but again, the delay was long enough where I could have missed a turn.
I do like GPS Voice's header a little better for it's simplicity and ease of reading at a glance. Both, and I don't know if this is possible, really needs to find a way to load maps to the phone to prevent any data lag that slows down re-draw rates or loss of maps completely. The route re-calculation needs to speed up as well. I understand this issue could be caused by a poor data signal and not a flaw in the app. Still, had I not been traveling on familiar roads, I would have had to pull over to avoid getting lost while the route was re-calculated.
Another factor that might enter into the equation as to which voice navigation app is the best would be the cost. Turn by Turn is running $4.99 while GPS Voice is $6.99.
Luckily, there is a trial version of both to allow you to try before you buy. Each trial has a limit of a 12 mile route but otherwise is fully functional.
As far as ratings go, I'd give Turn by Turn an 7.5 and GPS Voice a 6 (fix the stability issues and then it's a 7). You can find GPS Voice Navigation here (opens Zune) and Turn by Turn Navigation here at the Marketplace.
Updates for both in the works
And you thought we were done....
We mentioned this a few days ago that GPS Voice Navigation is due for a major update. Well, Turn by Turn Navigation is also slated for a major update. I was able to take both updates out for a test drive (following the same route) and here's how they break down.
GPS Voice Navigation
The updated version of GPS Voice Navigation, version 2, was recently released on the Marketplace and brings the following improvements to the app.
Added multi-language support for both UI and routing for all currently supported WP languages (EN, FR, DE, IT, SP)
Significantly improved voice guidance behavior on the road including small features such as roundabout support, composite directions such as Turn left then turn right, timing, etc
Improved numerous layout features including better landscape view, smoother animations, more stable behavior of the map
Improved searching and favorite destinations functionality
Significantly improved map loading performance
Addressed a common issue with not being able to find a route in situations when the GPS is not ready yet, or there is an internet connection issue
Improved overall stability of the app.
In taking version (v2) out for a test drive and the updated version does address many of the issues I found with v1. Maps loaded smoother and I didn't have the dead spaces when data reception became weak. The app seems as if when the app downloads maps, it downloads a larger overall map for your route. There was still a little lag time when traveling interstate speeds (as if the map could re-draw fast enough) but noticeably better with version 2.
Where v1 crashed during my travels, v2 ran smoothly with no glitches, bugs or crashes experienced.
GPS Voice Navigation still doesn't support keyword searches but the updated version does bring these two app closer.
Turn by Turn Navigation
Turn by Turn brings the following features to the table with version 1.1:
Map download feature to minimize data roaming where only the route planning requires the data connection (smaller amount of data transferred)
Itinerary/Turn List feature
List view of search results that can be sorted by Name or Distance
Option to avoid or minimize Toll Roads/Highways
The customary bug fixes, performance enhancements.
The downloadable maps is a nice feature. Simply use a brush tool to paint the area of the map you want to save that encompasses your route and hit save. The save process does take a while but even the smallest maps are 30-40mb in size. This feature helps address the lag time experienced with map re-draws that the current version possesses. As with GPS Voice, there is a little lag time present but not as noticeable as with version 1.
The Itinerary list is a nice addition as well. GPS Voice has had this feature and it's a nice way to review your turns before getting behind the wheel.
Turn by Turn version 1.1 is in the final testing phases with the developer and is expected to be submitted to Microsoft for certification shortly. Additionally, the developers are already working on version 1.2 that will bring German, French, Italian, Spanish and Portuguese language support into the mix.
Conclusion Part Two
Overall, both updates heading to these voice navigation apps improve both apps tremendously. I'll stick with my recommendation on Turn by Turn Navigation as having a slight edge over GPS Voice Navigation but the gap is definitely narrowed with these updates.
Again, the biggest weakness of both navigational apps is the dependence on data. Turn by Turn is improving things, in part, by having the downloadable map option. GPS Voice also takes a step in the right direction by downloading a larger portion of the map involved in the route. But if you're in a weak signal area, route calculations (or re-calculations) are still laggy at times. Not sure how to fix that data dependent feature and it simply may be one aspect we'll have to live with.
Speaking of which, both update recalculated routes noticeably quicker than the previous versions.
Once both updated versions are available at the Marketplace, these two apps may be so close it will take downloading the trial to see which one meets your personal tastes and needs best. Here's how we'll rate these apps taking the updates into consideration.
GPS Voice Navigation: 7.5 (update really helps overall performance)
Turn by Turn Navigation: 8.5 (keyword search and downloadable maps give it the edge)
Get the Windows Central Newsletter
All the latest news, reviews, and guides for Windows and Xbox diehards.
George is the Reviews Editor at Windows Central, concentrating on Windows 10 PC and Mobile apps. He's been a supporter of the platform since the days of Windows CE and uses his current Windows 10 Mobile phone daily to keep up with life and enjoy a game during down time.