Volcanoids for PC preview: Welcome to an underground adventure
A survival game with a base that moves.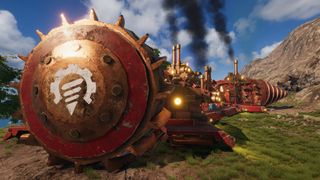 (Image credit: Volcanoid)
Building or setting up bases is a core part of every survival game. They provide protection and the space you need for processes like upgrading, so having them is crucial. However, one downside to bases is that they're static. Because you can't take your base with you, your ability to safely explore is reduced the farther away from your base you go.
This is not the case in Volcanoids, a new PC title in Early Access, however. Unlike other survival games, your base — which is a giant drillship — comes with you everywhere you go, both above and below ground. And thanks to your drillship's mobility, the fun of exploring Volcanoids' weird and wacky world never stops.
Drill through the Earth
Salvation lies underground

Volcanoid blends the joys of mobile base-building with fun combat and exploration, making it a compelling and fresh survival experience.
Surviving in a volcanic world
In Volcanoids, you're trapped on a massive island where volcanic eruptions routinely devastate all life on the surface. You can go above ground, but staying up there too long is very risky. Thankfully, you can build a drillship, and it gives you the ability to escape by tunneling underground.
Beneath the surface, you'll need to hunt for important materials that will allow you to unlock and upgrade gear. Within your drillship, you can design a storage space, engineer automated systems to produce things like important parts for machinery, work towards researching new technologies, and more.
Thanks to the mobility of your drillship, you'll never go too long without finding a new location to explore. The world is filled with unique caverns, caves, and other interesting places to find, and when it's safe, you can also explore the surface for as well. In fact, you'll want to go back above ground when possible to get all available resources, so you shouldn't hide forever. Overall, the gameplay loop of loot-drill-explore works very well, and it kept me playing much longer than I initially thought it would.
Take down robot foes
While volcanic eruptions dictate where you can safely go in Volcanoids, they're far from the only threat in the game's world. Hordes of strange, murderous robots called COGs lie in wait for you all throughout Volcanoids' locations, and you'll be using a variety of ranged weapons to take them down. Whether you're gunslinging with a revolver, going in guns blazing with a gatling gun, or blowing enemies to smithereens with a handheld mortar, you'll always have cool weapons to take on the metal menace with.
You can construct special defenses on your drillship, too, which will help prevent it from being assaulted by enemies. The combat is overlal enjoyable. The gunplay feels a little too weightless, but the smart enemy AI and the weapon variety help offset that.
Initially, your goal against the COGs is to simply survive. However, as you get further in the game, you'll discover that the COGs and the volcanoes erupting are directly linked. Your goal from then on is to discover how to reduce or stop the volcanic eruptions by taking down COGs in key areas. This is accomplished through a series of quests that help you find the right places to travel in order to unearth the secrets of the world.
The road ahead
Volcanoids is expected to fully launch around 2021, according to the timeframe given by the developer on Volcanoids' Steam page, and you can track the progress of individual changes and updates on this public Trello roadmap. Upcoming gameplay features and additions include PvP, a volcano boss fight, new weapons, new animations, more diverse areas to explore, and more. Recently, co-operative multiplayer was added, so if you want to tackle Volcanoids' world with one or more friends, you can.
In terms of performance, Volcanoids runs well. Due to its Early Access state, Volcanoids lacks polish in some areas, such as the animation and graphics department. However, the game still plays smoothly and is very stable. This isn't something you can say for a lot of Early Access titles, which makes Volcanoids all the more impressive.
Final thoughts on Volcanoids
While Volcanoids could use more polish, and while the game's content offerings aren't all there just yet, the game is nevertheless a blast to play. There aren't many survival games that emphasize using a mobile base to dig underground for survival, but there's a niche for it and Volcanoids has capitalized. For $20, you get a unique survival game with a looting and exploration loop that will keep you hooked, as well as an engaging, action-packed combat system in which you blow up robots. What's not to like?
Volcanoids is available now on Steam Early Access.
Drill through the Earth
Salvation lies underground

Volcanoid blends the joys of mobile base-building with fun combat and exploration, making it a compelling and fresh survival experience.
Get the Windows Central Newsletter
All the latest news, reviews, and guides for Windows and Xbox diehards.
Brendan Lowry is a Windows Central writer and Oakland University graduate with a burning passion for video games, of which he's been an avid fan since childhood. You'll find him doing reviews, editorials, and general coverage on everything Xbox and PC. Follow him on Twitter.