Volume, a Windows Phone volume management app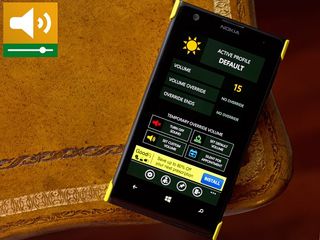 Volume is an interesting utility app for Windows Phone 8 that helps you manage your phone's volume levels. If you are constantly adjusting the volume throughout the day or find that you often forget to adjust things, this app may be of help. Volume will let you set up profiles to automatically adjust your Windows Phone's volume during key times of the day (meetings, after hours, during classes, etc.) and create Live Tiles to quickly adjust the volume for those unexpected times.
Volume has plenty of options, some of which require an in-app purchase for the premium version, available to regulate your Windows Phone volume. The app's user interface takes a little time to get used to but overall, Volume comes across as a handy app for those needing a little help adjusting the volume levels.
Features
Key features for Volume include:
Automatically adjusting the sound volume based on the time of the day or day of the week.
Use pre-set profiles to switch between different sound settings.
Profile override ability.
Live Tiles to display current sound profile, to temporarily adjust the volume, to activate a sound profile, and to apply the default volume.
The main page for Volume will display your active profile, current volume level, controls to override the profile, establish a time limit on the override. You also have tile buttons to turn off the sound, set a custom volume, return to the default volume, and silent the volume for appointments (available in the Pro version).
There are also four control buttons at the bottom of the main page that includes access to the app's settings, view your sound profiles, create a Live Tile and view more apps from the developer. Up under the three-dot menu are links to the app's main menu and a troubleshooting/help section.
The Main Menu option sends you to a screen that will give you list options to access Volume's settings, profiles, the help/feedback page and the about screen.
App Settings
Volume's settings cover general application options, volume management, notifications and appointment options. They break down as follows:
General options cover language choices and setting an auto exit time. When you use a Live Tile that changes settings, the app will launch briefly to reflect the changes the Live Tile has made. The auto exit time controls how long the app is displayed.
Volume Management has three options to turn on/off automatic volume management, skip any volume changes if music is playing and an early profile change.
Notification options include turning on/off notifications for profile changes, disabling notifications when in silent mode and choosing the notification sound.
Appointment settings allow you to choose which account to monitor for appointments, turning on/off the silent mode during appointments and choosing the notification sound.
Profile Settings
Volume comes with two, pre-set sound profiles. You do have the ability to add more profiles but you will need to upgrade to the Pro version to enjoy this feature. The two pre-set profiles include a Night Profile and the Default Profile.
To access and edit these profiles, just tap the Profiles control button off the main page. Editing options include general, activation and volume settings. General settings deal with the name, color and icon of the profile. Activation settings cover the day and time the profile should be active and notification sounds. Volume settings allow you to set that particular profile's volume level.
Activation options are time based for every day of the week or specific days of the week.
Live Tiles
Four Live Tiles are available for Volume. They include a main Live Tile that displays the active profile, a set volume Live Tile, a Live Tile to activate a profile, and a Live Tile to override the current volume profile.
Volume has a nice Live Tile creation wizard that walks you through all the parameters for each Live Tile. The free version is limited to one active Live Tile. To add more Live Tiles to your Windows Phone Start Screen you will need to upgrade to the Pro version of Volume.
Pro Version
While the free version of Volume has plenty of features, a Pro version is available through a $1.99 in-app purchase. The Pro version brings the following features to the table.
Removes the ad-support
The ability to create additional profiles
The ability to pin more than one Live Tile
Allows for notifications when the volume changes
Unlocks the feature to automatically set your Windows Phone to silent during meetings
Adds a one second, immediately, and tap to close options for the auto exit time.
The need to upgrade is solely up to your individual needs. If two profiles and one Live Tile will do the trick, it probably isn't worth the in-app purchase.
Overall Impression
Volume has a lot going for it with plenty of options to manage your Windows Phone sound levels. The app ran smoothly and did not skip a beat when automatically adjusting the volume.
The app's interface is a little on the cumbersome side and I would not mind seeing the Main Menu option removed from the three-dot menu. It just felt a little redundant when you have control buttons to access the same features the Main Menu offers. It takes a little time using Volume to get the hang of things but once you do, setting up your profiles and activating them does become easier.
Overall, Volume is a nice Windows Phone 8 app for those who need to automatically adjust their sound levels. The free version has enough meat on the bones to satisfy most Windows Phone owner's needs while the Pro version is available for those needing a little more.
Volume is a free, ad-supported app that is available for Windows Phone 8 devices (including low-memory devices). You can find your copy of Volume here in the Windows Phone Store.
Get the Windows Central Newsletter
All the latest news, reviews, and guides for Windows and Xbox diehards.
George is the Reviews Editor at Windows Central, concentrating on Windows 10 PC and Mobile apps. He's been a supporter of the platform since the days of Windows CE and uses his current Windows 10 Mobile phone daily to keep up with life and enjoy a game during down time.
Nice! Until April 10th (fingers crossed)

Until you tried this completely, after i purchased this, i never touch my volume control anymore. It automatically adjust from the morning start,when u start to work,when i have meeting sched on my outlook,after work and until i go to bed...anf so on. It can override anytime, and setup whatever you wanted. I really recommend this app.

I dont think it can do the same function as this one

I'm using it since its original release and it is everything I was missing in Windows Phone. Works flawlessly and I love it.

This is something I used to appreciate about Android, I was okay with parting with this level of third party app control over the OS because.... well... bye bye Android, LOL! But happy to have it here in Windows Phone.

At first i thought this is it...independent volume controls for apps. April 10th... I miss you the more

why is WP team not funding this?
i need nokia Symbian type volume settings and profiles

They dont need to fund this - they know very well how to implement this. WM users will know - WP users just think Microsoft is to dump to develop rather than them having not enough time

Exactly! For former Symbian users, this app is HUGE! It is the closest I've found to creating Symbian's sound profiles. It's also the first app I've found that will silence your phone during meetings, something I've long missed in WP from Symbian days. The only problem with Volume at the moment is that it can only trigger a few times an hour due to the OS limitations. The OS limitation will be removed with 8.1, allowing apps to trigger once a minute. This should make Volume really close to true Symbian sound profiles. I hope 8.1 allows apps to automate things like ringtone, SMS tone, Wi-Fi on/off, data on/off. If so, Volume could duplicate the long-missed Symbian profiles and the Situations app, which allowed for all sorts of great automated configuration.

The volume is well wonky on lumia 920. When i go into music apps the volume sticks. I have to switch phone of and on to get it to work properly. I think Microsoft should be fixing problems like this

The latest "audio" update fixed this.
Go check if you have the latest version of that setting.

Interesting app - will it still be pertinent post the 8.1 dev release? Either way, good to see a decent volume app.

To build, yes. Nothing else.

Well - everyone here will gain great confidence in this system :)

What about a quick vibrate switch?

Not now dear, I have a headache.

Ha!!!!! But for real is there a quicker way to turn it on and off?

What, people are incapable of using the mute option or the volume controls? Seriously? We've gotten that lame?

I was thinking the same thing....push volume up or down and select vibrate. Done. Or push volume up or down again to turn it back to ring.....and all ad free in the free version that comes with WP!

But if you do switch volumes all the time everyday, ist better to do it once or press it all the time?

So, anybody with different needs and habits then yours is lame. Isn't that lame?

Ha!!!!! But for real is there a quicker way to turn it on and off?

Excessive permissions...why does it need contacts?

Almost downloaded it, thanks for heads up. Does this app really needs all those permissions?

Uninstalling right away. Can't believe I've had it for a month now.

How come a countdown timer for official announcement of wp8.1 hasn't gone up yet? It is tommorrow..right?

My question is does it give the ability to only have notification for say phone call? while emails and toasts are suppressed? That would be a good feature


I didn't like it much. It wasn't that easy. A bit complicated perhaps. Perhaps i didn't give it enough time.

Glad this app is getting its recognition here at WPCentral. I've had it on my phone for about 2 weeks so far and it works as designed on my Lumia 920. It doesn't seem to adversely impact my battery either.

Won't this be implemented in the 8.1 update or did I just assume that?

Upgrade volume controls on 8.1 has a different point compare to this one. And i dont think the functionality of this app would not be the same on 8.1..very different

Ok gotcha. I think I got these features mixed up with the separate volume(music, phone) settings in the update.

Saw the headline and thought this was an April fools joke about the volume buttons...

This uses a work around found by folks on XDA Dev. It usually wouldn't pass certification, so in simple terms, the code is hidden in a wrapper. I did try this app when it first hit the store, but to be honest i don't have need. It takes the best part of 5 seconds to change the volume.

I love this time-and-date/location based stuff. It would be really nice if my phone phone could unmute itself once I leave school/work, and turn off 3G and enable Wi-Fi when I get home!!

If rumors are true, WP8.1 will bring this with Geofencing.

Will it allow me to fine tune the volume below "1"? I sleep with earbuds and "1" sometimes is just too loud on my Limia 920. A sliding volume bar ala IOS would be welcomed...

All the features you require are coming in WP 8.1 so I suggest you wait

You can make profiles for each volume settings you want and can arrange according to the time you set. It changes automatically. Ex: set profile for high volume from 8-9pm then set profile for mute after 9pm

That really has nothing to do with his question ...

How do you set the system volume in C#?

noob questions:- 1.if i exit the app will it still run to control the volume levels? 2.if i manually overide the volume level will it revert back to the default level in the app? ( i tried but it doesnt revert or am i doing something wrong? ) thx

This shouldn't have passed cert in the first place. O.o

I wanted to add a little bit of perspective to this app from a developer point of view. Firstly, this is not intended - the volume API is not publicly available. One should expect Microsoft to soon step up the plate and include a similar feature. Did someone shout 8.1 there? If it's not intended, how does it work? This was originally figured out by someone on a well-known hacking site, but not publicly disclosed until a few weeks later and only a few developers knew & understood the method. Since it was disclosed, a couple of copycats sprang up and presumably this is one of them. Here's how it works: Obviously the OS provides methods to change the volume. Your average app is just not allowed to use them. To work around this, one creates a piece of code for Windows 8 (not Phone) which accesses the decrease/increase methods via a method called p/invokeand compiles it for ARM devices. Even though the same code for Windows Phone wouldn't work due to some restrictions, for miraculous reasons (thanks to the shared core between Win8 RT & WIn8 phone), the compiled code can actually be used inside a Windows Phone app. This is probably not intended, but hey it works. To be honest, it's a bit weird Microsoft allows the app through certificiation, but presumably they didn't quite understand what was going on at first and now they don't want to backtrack. Side note: The same method allows one to do similar things; though (this is why we were originally interested in it) Bluetooth low energy is not one of them.

Interesting! Thanks for the insight.

Will this automatically lower the volume to a designated level when headphones are plugged into the phone?

I didn't even know 3rd party developers could access the volume. This is fantastic!

The Volume app stopped working for me after the WP 8.1 update. Is it just me or...? I was relying heavily on this app for muting my phone during my work hours. :(

This app is only for windows 8? So 7.5 gets left out in the cold i guess. As much as people already hate windows phone because it has the least amount of aps in the industry, this kind of thing is making me want to go to Android. What's next? Windows phone 8.5 which makes 8.0 apps obsolete as well?

Are there any volume apps for wp8.1? Pretty much all of my side buttons are broken and I can't use volume management apps since the update. Thanks for your help.