Voxer for Windows Phone hits beta, but you can't download it yet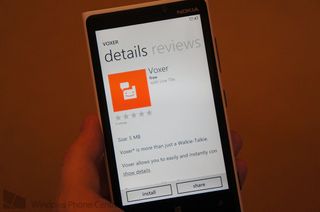 As we noted in a recent article, the Voxer team has opened up its Windows Phone 8 app for consumers to hop on to the beta program and get involved to help shape the app for launch. The app is currently listed on the store, but is unavailable to those who are not signed up and been accepted for the test program. But it's not all doom and gloom as this shows it's almost here and also provides a tease to what we can all expect.
We've followed the development of the Voxer app for some time, ever since the team originally revealed plans to bring the same solution that's available on Android to Windows Phone. Should you not be familiar with what all the fuss is about, Voxer is is a VoIP client that takes calling and messaging contacts that step further.
Looking at the feature list, which has been published on the Voxer app page, we're in for a ride indeed. Consumers will be able to enjoy free push-to-talk functionality with voice, text, photos and location messages all supported. All voice messages are recorded and can be played back at a later date. As an added bonus, group interactions is also possible. Here's the full list:
Enjoy free, live Walkie Talkie - PTT (Push To Talk)
Talk with friends on Windows Phone, Android and iPhone
Send voice, text, photos and location messages
Play messages back later - they're all recorded
Chat with one friend or with a group
Create messages even when offline
Get notifications for new messages
Avoid annoying advertisements
Use any connection including WiFi, 3G, 4G, EDGE
Play voice messages faster at 2x or 3x speed
You'll be able to download Voxer from the Windows Phone Store once the team flips the magic switch of availability. We'll be sure to update you all once the app is finally live. If you're interested in taking part in the beta program, be sure to reach out to the Voxer team for early access (see our previous coverage for more details on how to go about this). Thanks, pbroy, for the tip!
Rich Edmonds is a word conjurer at Windows Central, covering everything related to Windows, gaming, and hardware. He's been involved in technology for more than a decade and knows a thing or two about the magic inside a device chassis. You can follow him over on Twitter at @RichEdmonds.
Hadn't heard of this, looks interesting. I'll definitely be getting it when it's available.

Same case. Tried downloading. No joy. Did send them an email.

WP8 quickly becoming more and more of a solid contender.

Where's the like button? lol

Sweet :D More apps!!! WP is growing! keep it up.

It shows as available to download and install for me (i did not go through the complete installation) although I never signed up. BTW, how is it different from whatsapp, hike, kik, wechat etc etc.?

edit: after you click "Get app", it says,"You don't have required permissions to get this app".

Idk. My friend (on android) kept bugging me to get it...
Still can't download...

Read the article, lmao! Not available for download unless you are in the closed beta! #Illiteracy it's a real problem.

It showed as "install" on the Store, that's why I thought it was available. Parentheses are not always ignored, read complete comment.
#Illiteracy it's a real problem.

The article says your unable to get it... That's what he meant. Your asking us how to get permission but the answer was already there... You can't

You need to be part of the beta to download it, folks :-)

Just like Waze
http://www.windowsphone.com/en-us/store/app/waze/b5d1bd9d-7d67-4b2f-9249...

Voxer is riddled with bugs❕

I'm part of beta and can't download it

Can't download. Toronto -Canada.Rogers '(

WMPoweruser posted a similar article and said nothing about it not being available to everyone yet. Went to download and got something like You do not have permission to use this app. My reaction was Wait for WPcentral to post about it.

You've been covering VoX, not Voxer. Voxer is a very recent development!

I signed up for the beta program and they replied back saying they needed my live ID to end with @live.com or @outlook.com. Mine ends with @sbcglobal.net so I think they might skip me. :-/

It's getting smaller and smaller that's for sure.

IYO, what 5 most important apps is WP missing?

Gmail, hangouts, Clear and flip board.

gmail... OUTLOOK! or ovi... :D

You want an outlook app? Seriously?

I prefer Google make an app.

Do you mean Clear as in the internet provider?

No its a reminders app that syncs between my iOS and and android and OSX devices.

it's funny and a bit ridiculous that the writer is confusing between Vox and Voxer

I know right? Its like the writer doesn't read the comments.

Looks good ! Windows phone and nokia back on form.
What we need is subway surfer , temple run and few more games.Andriod is far behind then.

I noticed today that "bike race" which is very popular on IOS and android came to windows phone like 2 weeks ago! But its missing multiplayer but is coming in an update

Tip WPC on that! Send them the link.

We have temple run!!!!... http://www.windowsphone.com/en-us/store/app/temple-run/1a7cb5f8-792a-499...

I STRONGLY AGREE about Subway Surfers

But I can't download it. yeah, I said it

You're not special, but that's a good thing... I guess.. Lol!!

Only for 1GB Ram. Damn !!

I'm about 6 emails into trying to join the beta program. They treat the request like a tech support ticket and sort of expect you to already be a user. Its really confusing.

Its really stupid, i sent them four emails 7 days ago to join the beta program and no response yet. Ridiculous!

Can't wait to try Voxer out on WP.

My buddy is gonna be super happy when he gets out of Jail ND sees this lol

I can't wait! I completely forgot about this gem of a program.

I can't wait! I completely forgot about this gem of a program.

Cant wait either been waiting for this for over a year since I've switch from Android. Used voxer at least every other day.

Don't have permission -.-
Windows Central Newsletter
Get the best of Windows Central in in your inbox, every day!
Thank you for signing up to Windows Central. You will receive a verification email shortly.
There was a problem. Please refresh the page and try again.