Walgreens, ABC News and more join Voxer on Windows Phone 8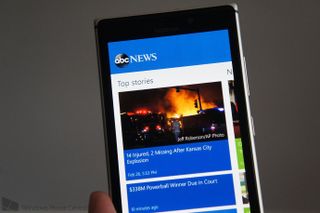 It's becoming quite the busy term for Windows Phone with all these new official apps that are appearing on our store. We recently looked at Voxer, which has just been released, but Microsoft has announced a handful more that are definitely worth checking out. We've got ABC News, Walgreens, MarketWatch and XFINITY TV Remote joining push-to-talk messenger Voxer.
Since we've already covered Voxer, we'll take a quick gander at each of the other highlighted apps and throw up download links for you all to get cracking.
Walgreens
Walgreens enables Windows Phone owners to reorder and track prescriptions, as well as enjoy some of the chain's other services offered. The app is feature rich with the ability to scan barcodes on bottles for instant medication refills, as well as text reminders to let users know when they're almost running dry. A Walgreens reward card can also be added to the Windows Phone Wallet just in case.
Although we've had an official Walgreens app for Windows Phone 7.x for a few years now, this version has been rewritten for Windows Phone 8.
You can download Walgreens from the Windows Phone Store for free (Windows Phone 8 only).
ABC News
As the name would suggest, this official ABC News app helps keep you up-to-date with everything that's happening in the world. Including articles, videos, slideshows and live footage from ABC News, it's quite the app. We're also looking at Live Tiles with sections that can be pinned to the Start screen (Money, Sports, etc.).
This app was released a few days ago, but now Microsoft has made it "official".
Lockscreen support is included, as well as voice commands. If you're interested in stories supplied, you can share the news via SMS, Tap+Send, email and social networks. We're impressed with what's on offer here. You can download ABC News from the Windows Phone Store for free (Windows Phone 8 only).
MarketWatch
MarketWatch (www.marketwatch.com) is the new app from the popular financial website. It boasts everything you need if you're looking to manage your portfolio or simply keep on top of what's happening in the markets. Real-time market quotes, breaking business news, podcasts and customised watch lists if we're going to name but a few features.
You can download MarcketWatch from the Windows Phone Store for free (Windows Phone 8 only).
XFINITY TV Remote
Lastly, we have XFINITY TV Remote from Comcast, which is essentially exactly as the name suggests. The app offers movies, TV shows and on-demand programming, handy for browsing listings, controlling the TV and even schedule recordings. You can download XFINITY TV Remote from the Windows Phone Store for free (Windows Phone 8 only).
Source: Windows Phone Blog
Rich Edmonds is a word conjurer at Windows Central, covering everything related to Windows, gaming, and hardware. He's been involved in technology for more than a decade and knows a thing or two about the magic inside a device chassis. You can follow him over on Twitter at @RichEdmonds.
Nice! More Official apps!

Yeah. So much WP love lately.

Why don't I get the choice of apps when I click the download link in the wpcentral app? It takes me directly to the Walgreens app.

Same, I think Rich needs to do something.

Glad Xfinity is now on board! Hope to get an app for my Xfinity Home Security System now!

We're dead to them. I've accepted it.

Yep, wp7 is dead. Good too. It's less than half and by the end of this year most of the L900 people will upgrade. I rather have more to look forward to when I upgrade. Though I wish I could keep track of these.

with the Lumia 520 at $130-150 there are no more excuses to keep 7.x around. I would have been in your camp before that but Nokia has removed the high cost to entry on WP8.

Stuck in contract is one. That would be 130-150$ + ETF if you're on an Lumia 900.

I've felt the pain as well, however I've upgraded to a 920 two months ago. It's worthwhile. Maybe buy a 52X for a cheap price until you can upgrade to a flagship.

Xfinity app is a step in the right direction, but I'm still waiting on the ability to watch content.

Same, I would like to see the streampix support added, as it is much like Hulu or Netflix. Live tv streaming would also be a great addition to the app.

I just need American Express. Any annoucements for that?

None that I am aware, I need AmEx and a few others

So I'm assuming the old Walgreens app was not official or WP7?

Just Wp7, this is newly written.

Xfiniyy didn't work for me, doesn't switch channels.

Great news! Hope we get the optimum app soon.

Finally Walgreens. Just want it for wallet tho

Nice. I'm feeling the love for WP today. WELLS FARGO where you at?!?!

I could have sworn the ABC News app had been available for some time now. Or maybe I'm confusing that with the NBC app?
Nonetheless, its always a great thing seeing this platform grow more and more.

I tweeted Walgreens yesterday and they said no plans wish they could have said its on its way or check back in a few days.

the best thing to happen to WP is W8. the more its adopted the more apps the phone will get. especially once the stores are unified. w8 app count may even pass wp8 by the start of 2014

yes finally a walgreens app!!

now can we have a capital one & autozone app :D

Everyday we get new official apps, I get giddy. I'm a frequent Walgreens shopper and am so happy that the app has been updated to include rewards.

Great! Now if we could just get an updated Directv app and MLB At Bat!!

Talk about "Burying the lead", Xfinity is the biggest most surprising news for me. Now bring on Xbox One. Good job Comcast. WP is on a roll now.

This lumia 925 needs to hurry up and come out so I can upgrade from my 710 and enjoy all these winphone8 apps!!!!

This is great to see, so many official apps hitting the store the past few days! The one I'm missing is PNC Bank, that would make me most happy to see find it's way to WP8. Also, HBO Go.

Your Walgreens link is weird. It brings you to the Walgreens app but the release date on it is the end of May and it has a 4.5* rating. If you search the store the release is today but it only has a 2.5* rating. Both are the same version and both are the same when opened just different ratings and release dates.

I know this is off topic, but I was in a Microsoft Store in St. Louis. I was looking at the L928. Another customer had a GS2. I said I wish that this was T-Mobile and that it is such a fantastic phone. The customer told me that if I'm on T-Mobile, I should get a Samsung instead. I told him a L928 would eat his GS2 for lunch. He was probably there just to troll.

Yeah...seeing how the Xfinity app works...the Xbox one will not need the IR blaster to change channels.
Windows Central Newsletter
Get the best of Windows Central in in your inbox, every day!
Thank you for signing up to Windows Central. You will receive a verification email shortly.
There was a problem. Please refresh the page and try again.