Want all your news in Hindi? Grab the Navbharat Times app.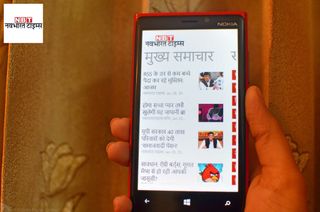 If you're in India you've probably heard of Navbharat Times. Not only is it one of the largest circulated papers, but it's also widely read with over 2.6 million readers daily. It's published by The Times Group, which is also responsible for other popular publications like The Times of India, The Economic Times, and Maharasthtra Times. Today we've got a Windows Phone app now available for the Navbharat Times.
The Windows Phone app for the Navbharat Times brings you the news and latest updates from 26 major cities. In addition to cricket scores, movie reviews, astrology advice, and information from stock markets. You can jump into specific categories or choose a particular city to read the news about your interest and around you.
The app also packs in diverse photo galleries and videos. It should be pointed out that the captions in photo galleries are in English and the videos are also in English, sourced from the network's English news channel – Times Now.
While reading a news item or watching a photo, you can share it on your social networks or via email. You can also add your comment, and view other posted comments as well. You don't need to register or login to post comments, but provide your name, email, and city obviously.
Navbharat Times app is available for free for Windows Phone 8 devices from the Windows Phone Store. The app is well designed, and has a neat user experience. If you are a NBT reader or looking for a fine app for news in Hindi, give it a spin and let us know how you like it.
Windows Central Newsletter
Get the best of Windows Central in your inbox, every day!
Keeps getting better and better

Oh yes. Indians seem to support the ecosystem in a better manner.

India has always been pro-Microsoft even during virus days

Yeah 34% employees of MS are Indians

You guys of WP Central married with India,80%of your news is for the Indian apps!

That isn't correct. Many apps for other countries get blog posts, including many US-only apps.

you may feel so because more indian apps are realeased compared to other regions

Can't blame WPcentral if Windows phone is getting traction in India which eventually leads to good ecosystem growth and local apps which gets reported here.

You get news articles from where news are. What's the point writing everyday about how AT&T Lumia 920 is *still* not updated?

I don't download apps published from TIMESMOBILE LIMITED as they don't update their apps. The Times of India app hasn't been updated in 2 years now. Anyways thanks for bringing the app to our notice.

Yes youre right. One has to approach them so that they update their apps regularly. We do have many news apps but here ppl find newspapers to be better then apps.

I've shared the feedback with CEO of Times Internet. All in hope.

Read first two news in first PIC... ROFL... :D :D

hahahahahaha sharp eyes :D

LOL...Those headlines lightened up my mood here in office... haha

lol control naren , ppl are around you :-p

haha...i was alone in my cabin ;)

I'd love to see war between india and china hehe

What a idiotic statement.