Canadians get excited, Watch Corner Gas is now on Windows Phone 8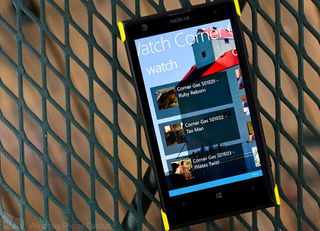 Watch Corner Gas is a Windows Phone 8 entertainment app that delivers the Canadian sitcom Corner Gas (opens in new tab) to your phone. Watch Corner Gas lets you stream all 107 episodes of the Canadian sitcom Corner Gas which ran from 2004 to 2009. The comedy series is described as "the Canadian version of Seinfeld (opens in new tab)" and in just checking out a few episodes, I can see the comparison.
On a side note the app was developed in part with the relatively new Microsoft App Studio and later fine tuned in Visual Studio. The App Studio was designed to show app developers how to build a full Windows Phone app prototype without any programming code, all from a web browser. An effort to make it easier for developers to jump on board with Windows Phone.
Watch Corner Gas's developers found the service rather handy and the result is an appealing Windows Phone app that delivers Canadian humor to our Windows Phones.
Watch Corner Gas is laid out in clean, straight forward fashion with pages listing all 107 episodes, listing the various characters of the show, and a more info page that gives you a little background on the show from various sources such as Wikipedia and IMDb.
Episodes are streamed using the default Windows Phone video player and it is noted that some episodes are in 4:3 standard format with later episodes stretching to 16:10 format. The smaller 4:3 format does seem a little cramped at first (not much you can do about that) but video quality is good and streaming smooth.
You also have lockscreen support to use a photo of the iconic Corner Gas station as your Windows Phone lockscreen wallpaper.
If you're a fan of the show or just looking for an entertaining, funny show to watch from your Windows Phone Watch Corner Gas is worth looking into. It is a free, ad supported app available for Windows Phone 8. You can get rid of the ads through a $.99 in-app purchase.
You can find Watch Corner Gas here in the (opens in new tab) Windows Phone Store.
George is the Reviews Editor at Windows Central, concentrating on Windows 10 PC and Mobile apps. He's been a supporter of the platform since the days of Windows CE and uses his current Windows 10 Mobile phone daily to keep up with life and enjoy a game during down time.
No one in Canada, outside of Saskatchewan, watches Corner Gas - for the record. Nice to see an app for the show in any event.

Excuse me? Average # of viewers was over 1million. Which Saskatchewan barely has. Since not everyone watched this in sask, this means people from outside sask watched it. BTW, I AM from Saskatchewan.

Ya, I didn't write that with the intention that my words be taken quite so literally; what with the common sense translation of what I said being "not that many people in Canada watched the show, and most of those who did resided in Saskatchewan." There was a certain amount of jest in what I said, which was apparently lost. I, for one, do not know anyone (literally not one person) who watched that show - though perhaps that is a generational thing. Also, and this is more @tesla, I didn't criticize the show's quality or 'sweetness'. If it did, in fact, have a million viewers per episode, then I retract what was only ever meant as a quip.

as an american who only lived in toronto for a couple years, I can say you are most definitely wrong. corner gas was a sweet show (probably the best original canadian comedy) and this app sounds cool. hoping they release a w8 version though, then id actually be able to get into it..

"Sweet show" might be overselling it a lot.

I'm a US resident but I watched one episode of Corner Gas on one of the local channels several years ago. I got hooked and have watched every single episode multiple times.
It is one of the funniest, cleanest comedy you'll find.
And it doesn't matter if you're not from Canada - the small town appeal is universal.
If you like clean comedy, don't miss this show!!!

I beg to differ. I'm guessing you are from Ontario?

Are you new to this country? That show was watched nationwide. Get a clue. I say this as a GTA-ish resident.

I don't like the show but I'm glad to at least see the app.

I loved this show. They use to show this on WGN in the U.S.

No, that's "eh". It's "A". Watch the movie strange brew A.

Kind of hard to get excited for this one. I mean Corner Gas is a great show, but it's been cancelled for half a decade now. Get something like this going for new, still-in-production shows, and I'll be thrilled.

..a lot more legal bs to deal with for currently on-air/recent stuff. I for one would love to see more apps like this for classic off-air shows..

CRTC has a real issue with that kind of proposition for some reason; hence our watered-down version of Netflix. Presumably its regulatory BS meant to protect major broadcasters, Rogers, Bell, etc.

That's not why Netflix is watered down in Canada. It's because in the U.S. the content creators are also typically the distributors, making negotiations easier. Outside the U.S., it's more common for content creators to not be the distributors meaning negotiations are harder as you have three parties arguing how to divy up the pie.

Awesome, not just good for Canadians, good for everyone!

I loathe this show. It's a case in point against CanCon laws.

There's that trailer park boys show or something that I use to watch when I lived up there. Is that still on?

Not anymore but rumor has it that they are looking to do a another season. Its been off the air for years now.

I am a Canadian and I have always hated that show. Apparently the show is big in some parts of the US and they think that is how all Canadians are too =/

Holy... The show was a take on small town rural life that a lot of Canadians and Americans can likely relate to. The show grew on me particularly because I could relate just about every character in the show to someone in my real life. :)

I lost interest in this show after episode three. Brent Butt is just not that funny.

I never watched an episode in my life but good for them for supporting the platform.

Vancouver guy here. I never watched it when it was on, but I caught a few reruns recently and it's a good family show.

And BTW, Saskatchewan people are good people. Salt of the earth.

Where's the Littlest Hobo & Beachcombers apps? :-)

Don't forget "Seeing Things"! :-)

... or On the Road Again, Road to Avonlea, and *gags* Golden Girls?

I just heard the 'Kings of Kensington' app is in beta testing. Al Waxman must be smiling from the heavens

Good app. As for the show... NO.

I wonder about the legality of this. Or are the episodes freely streamable now?
Windows Central Newsletter
Thank you for signing up to Windows Central. You will receive a verification email shortly.
There was a problem. Please refresh the page and try again.