Watch live NBA games with the new Game Time app for Windows Phone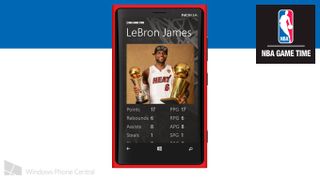 Believe it or not, the NBA has had a Windows Phone app since 2011. They first launched Game Time back in time for the 2011 playoffs allowing players to catch the latest news from the NBA. A year later, the app was updated with the ability to watch live video of the playoffs if you were an NBA League Pass holder. Today, we're looking at a new update for NBA fans that will let you catch the entire season. Details below.
NBA Game Time is the app for basketball fans on Windows Phone. You'll get over 50 new video highlights a day from around the league. If you're a League Pass subscriber you'll also get live and on-demand games through the app. We're not that serious with our basketball affection yet, so we can't really test it out right now.
Want to watch those live games? Again, you'll need to be a League Pass member with a current plan. There are three different tiers. For example, the mobile only option starts at $49.99 and allows access to NBA games on your iPhone, Android device and presumably Windows Phone. We say presumably because their website hasn't been updated to list Windows Phone as an option. After that there are two other options to become a League Pass member. Broadband starts at $129.99 and gives you access to NBA games on a variety of devices like your computer, Xbox 360, Roku, and more. Then there's the $189 TV/Broadband/Mobile plan that gives you access from basically any screen on this planet. Learn more about pricing and a free trial on the League Pass info page.
NBA Game Time for Windows Phone also gives users the latest news, box scores, play-by-plays, and more in the app. For example, you can get information on a specific player like their season points, rebounds, etc. by using NBA Game Time. We're also seeing Lockscreen support in the screenshots for the app inside the Store, but can't find them in the app or inside our lock screen settings. If you figure this out, let us know.
So this new NBA app, it's not bad. Although, some users (on Twitter and first reviews in the Store) are having problems with the app crashing. Hopefully bugs will be killed with a quick update now that the app is out the in there Store. I'm also having trouble signing into the app with my NBA account, so your initial impressions of the app may vary. Do voice your opinion below in the comments.
Want NBA Game Time for Windows Phone? It's available for both Windows Phone 7.x and 8 users for free. Again, you'll need to pay for the live games by being a League Pass member. Grab it in the Windows Phone Store, use the QR codes below, or swipe to the right in our app.
P.S. It looks like the Store is slowly updating. It might show as unavailable on your device at the moment. Try later if that's the case. Users in the UK and India have installed it with success, but not in doesn't appear to work in the US yet. Worst case scenario is that this app is region locked and the US won't get it. We've reached out to the NBA and Microsoft and will let you know the details.
Thanks for the tip @wpscoops!
People still watch the NBA ?!?!?! I guess they have to give it away streaming free for people to watch...

Of course, if you were intelligent enoguh to read the article and/or not here to blindly bash things, you'd see that live streams are ap paid subscription thing.

Yes they do. I suggest doing a bit of research before diving into the snark.

I believe it's 3rd, ahead of hockey...so....

And I'm not a moron, im being sarcastic. I have plenty of friends who watch it, I just have no team. I'm a football (NFL) and baseball fan myself. Just joshin you all... Sheesh! And no, I didn't read the article, its not in my interest to pay $130 to watch the games... ANYWHERE for me. Buy I am glad there is a solution for those who are.

Kinda like me and baseball. Actually I probably wouldn't watch baseball even if I was paid $130 to watch it.

No way. I was waiting for this for ages. Was talking about it since NFL app was updated and came up with news here. thought GAME TIME will never come to WP. oh the graceous day.

Lebron BJ is the AT&T of athletes.

Hell yeah the best player ever he don't care about the money or about getting rings he just loves to play

The thing is, Cuban doesn't care either. He'll spend however much he needs to get a winning team again

They're done my friend, but 2011 was a heck of a year. Nowitzki made me a believer. It was a Joy to watch them then.

Done?? The Mavs hit the playoffs every year 11years in a row but last year ...ther not done ther just getting started

Mavs beat Hawks in season opener! I miss you Elton Brand.

Wouldn't sling box be better???

Yes by far. Slingbox is the best.

I'm hoping to see an article about fantasy sports apps coming to wp8.

Yeah, the current Yahoo option (not "options") isn't very good, since the football app doesn't even track IDPs.

ESPN has a decent one for fantasy football.

None are decent really. Barely can keep up with the teams, can any of them even allow you to trade, or pick up wavers? Or even swap benched players!?!!? Fantasy football apps are REALLY lacking on WP.

We have ESPN and NFL. What's left is CBS and Yahoo

Allow me to continue this tangent... If you're looking for a good app to manage your Yahoo FF teams, check out StatGnome. I tried several other apps, but StatGnome won out. It supports transactions, live updates, notes, IDP, and alerts. Not bad for a third-party solution!

You can do all of that with the ESPN & NFL fantasy apps.

Can't find the app in the store. The QR provided links to the WP7 version.

I was not aware of this app...then again, I've been focusing on Futbol Soccer lately. Thanks for the update.

Odd enough, it's showing up in Portugal. But it can always be like "FOX Now". It's available until they realise it and block the damn thing.

Content restrictions are so 20th century.

Not to mention they scream "download me from the internet instead" loudly.

Nice app but I invest in a sling box first before I pay those prices

Not available for me. 1020

Miami Heat
http://www.windowsphone.com/s?appid=5835f6bd-9c3e-4156-abd4-e096f0f3cbaa
LA Lakers
http://www.windowsphone.com/s?appid=b215d115-89c1-4cb6-8d2f-48c124b36dba
Chicago Bulls
http://www.windowsphone.com/s?appid=5447b9c6-07c5-44c3-bbae-5c20a821e6c5

Not available for my device? Lumia 920 at&t gdr3 preview.

The article states that it's not available in the US, either because it hasn't gotten released in the US yet or because it won't be. Time will tell.

I missed that part in the article. However I just changed my region to UK and downloaded it.

I love that you read it. Thanks lol

It's amazing how many people take the time to ask a question in the comments, when the answer is in the article.

Will download as soon as I can! Using basketball live app but its not official.

Strange how English (United States) is a supported language, but the app isn't available in the US

I had to change the region to Canada on the phone to find the app...

Seeing as the app is available on the App Store and Google Play, I don't see why the US wouldn't get it on Windows Phone.

We'll see if it show up, but I imagine it would.

Los Angeles Lakers/Clippers

I've got a Lakers app (Clippers awaiting certification), it's not much more than useful links with video & news feeds, but it's convenient.
I posted the links above.

Yeah! It's available in Thailand!

That's stupid if the app isnt working in the US cuz I searched for it and cant find it...

I wish the NFL would get with the damn program, I'd pay double for an NFL subscription that I could use on my Xbox and phone.

Verizon has that shit on lockdown... :(

Perhaps the app has not been officially released in the US for one reason. The app developer must create two versions, one for Sprint subscribers which includes all gameday audio for every team, and one for all other carriers.

I would think Sprint should have the app, but like you say, maybe there is a different version. Pretty sure Sprint had(has?) exclusive rights to this app in the US as an official NBA partner.

Sam who can download this app?

Just change your region to UK and Install it.

How do you do that exactly?

How do you do that exactly?

Will it be available for the 1520?

Only $50. You know free on tv

Where's my Dub's fan at?!?!

Haha, how bout them sixers though?!!!

Glad the feature is available for those that want it. But id never pay a dime to watch basketball. I'm am NFL guy and still would never shell out much to watch.

Great app. The subscription is expensive but you can just watch a few minutes of free highlights of every game. Also good for keeping track of the live scores.

Where is the NHL Gamecenter app! That's what I want.

Same here, they even got it for BB...

Only NHL left then.........

Why does this app seem to get pulled so much? I have had it on my old Samsung flash since it came out, but when I tried to download it for my 900 it wasn't in the marketplace.

Not available on my device. WTF

Can't see the update here in Australia :(

Also NBA League Pass is on a free trial this week through November 5.
http://www.nba.com/leaguepass/?cid=lpebft_14_ebftmkt Go Cavs!

Not available for my device is what it showed when I tried to download. 920 on at&t US.

Same here, L920 on at&t US. Come on, we need this app in the states!

Not available for wp7.8
good thing my iPad mini can compensate

Anyone getting a content blocked in your territory error when trying to play vids? Based in the UK and have a subscription, was able to play vids last season. L920

Not available in my region :(

Its really disappointing to see this app next to the android version....

No live tile on Game Time, lame.

No live tile on Game Time, lame.

Did the whole "switch region and download" was able to get the app but can't sign in with my league pass account. Am I they only one frustrated with the fact that this is a U.S. Sport app available worldwide but not in the U.S.???!!!

I really want this too. The NBA needs to get their act togeather on a windows phone app in the US.
Windows Central Newsletter
Get the best of Windows Central in in your inbox, every day!
Thank you for signing up to Windows Central. You will receive a verification email shortly.
There was a problem. Please refresh the page and try again.