Water Rings, bringing a classic kid's game to Windows Phone 8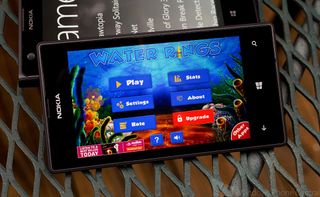 Water Rings is a Windows Phone 8 game that is modeled after the childhood water game, just without the need to fill things up with water. Just like the child's game, the goal with Water Rings is to float a series of rings through water and land them on pegs.
Water Rings adds spiffy graphics and sound effects to an entertaining casual game for your Windows Phone. Water Rings may not appeal to everyone but it's not a bad game to pass short bits of time. It's also a great gaming title to have in the Kid's Corner for our younger audience.
From the main menu of Water Rings you have options to jump into the game, view your playing stats, access the settings, view the about screen, rate the app and upgrade to the ad-free version ($.99). Settings is basically turning on/off the various sound effects of the game and turning on the Kid's Mode (easy mode). You also have a help section and a mute button on the main screen.
Game play is spread out across ten levels with levels progressively adding more rings and pegs to the playing field, ranging from one peg and three rings to three pegs and thirty-three rings. Where the classic toy game has button plungers to generate the bubbles and currents to guide your rings, with Water Rings you tap the screen to generate the bubbles and tilt the Windows Phone to guide the rings on to the pegs.
Water Rings is really a simple game to pick up but you'll be surprised how challenging guiding those rings on to the pegs can be. Especially when your score is based on how fast you can get all the rings on the pegs.
Water Rings Toy
The graphics with Water Rings is really nice and gives the game a nice aquarium feel to it. Sound effects aren't bad either. Water Rings may not appeal to everyone but the developer has done a commendable job of replicating the classic toy water game.
Water Rings is a free, ad-supported game for your Windows Phone 8 device. You can get rid of the ads with a $.99 in-app purchase. Water Rings can be found here (opens in new tab) in the Windows Phone Store.
Windows Central Newsletter
Get the best of Windows Central in in your inbox, every day!
George is the Reviews Editor at Windows Central, concentrating on Windows 10 PC and Mobile apps. He's been a supporter of the platform since the days of Windows CE and uses his current Windows 10 Mobile phone daily to keep up with life and enjoy a game during down time.
This is why Sonnets are no longer written

Oi! I still write them things. Just check my twits. Peace

I was talking about the game

Please developers: make your games available here in Brazil!
You can use PEGI or ESRB certificates do publish in here. I can help.

I feel so bad for you, everytime a game is released I see you in the comments trying to get the developers attention...

True...but he's also got cheap gas in Brazil.

Cheap? Are you sure?? We pay R$ 3,00 (US 1,40) for 1 liter of gasoline! We dont think that is cheap.

Fine...but you have Carnivale !!!

I already contacted more than 200 developers but always have more developers that dont know the process of publishing in here. Is sad because I have to do this one by one... But I will continue... :)

Oh, stop crying, change your location to USA. You have ZERO benefits from choosing Brazil as location.

Man, as I already said to many times, I not doing this for myself, but a WHOLE community of WP users that DONT KNOW they cant do this!! Believe in me: us, geeks that always are reading sites like this, are nealy 1% of the total of users. I am thinking in the 99%...

Yeah, you're right in that case, sorry If I sounded rude. Honestly, is kinda hard, there's a LOT of apps that are not available if your region isn't USA. But I don't think this is going to change in the near future.

Again, sorry If my comment did sound rude, take care.

Good job Guilhermo! Keep it up!!!
I don't get this region c**p anyway. It is supposed to be a _mobile_ phone!
It's also silly in Europe, as I live in Germany, but as I'm finnish have my phone region setup as Finland, and some apps like the one for the local bank aren't available unless I change my region temporarely. In which case updates become a pain.

I'm with you man, it looks like developers are affraid of Brazil haha

Afraid of thongs and beautiful women?!?!?! Nonsense!!!!!! 8)

I'm not sure if I understand what you mean by "thongs", anyway haushau yeah, it's non sense, but they're afraid 'cause of our bureaucracy

Will surely appreciate your help on publishing this to Brazil market, We already have PEGI but for Brazil market we need another specific rating. Can you contact me at CouncilSoft@gmail.com ?

Thanks. Sent you a email right now.

Its now available in Brazil market also. Both Windows Phone version and Windows 8 version. Windows 8 version can be found here http://apps.microsoft.com/windows/en-us/app/69ecf049-6fdf-4ddd-abab-b97ece030144


Man, I remember having one of those as a kid... endless fun!

"Especially when your score is based on how fast you can get all the wings on the pegs." I think he meant rings instead of wings. Although that would be a cool addition to the game :)

Thanks. Distracted by a plate of hot wings while working.

Thanks George for reviewing this game, we are actively working on porting this to the windows 8 store.

Windows 8 version can be found here http://apps.microsoft.com/windows/en-us/app/69ecf049-6fdf-4ddd-abab-b97ece030144
Windows Central Newsletter
Thank you for signing up to Windows Central. You will receive a verification email shortly.
There was a problem. Please refresh the page and try again.