Wave Master is a new professional audio editor app for Windows Phone 8.1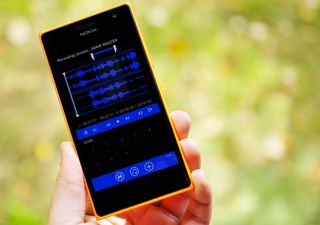 If you have always wanted to use your Windows Phone device to edit audio files, you might be in luck as a recently launched app called Wave Master says it is the first "professional audio editor" created for the platform.
The $1.99 app (there's also a free trial version) only works with Windows Phone 8.1 and has the following features:
Professional waveform
Multitouch timeline
Multitrack editor with preview
Import/export/share your tracks from OneDrive or Music Library
Share your tracks on SoundCloud
Supports multiple formats such as mp3, wav, aac
Create and export custom ringtones
Edit track metadata
Undo/redo actions
Mute/unmute tracks
Tools: cut, copy, paste, delete, crop, split, move
Effects: amplify, reverse, invert, silence, tremolo, wah wah, tempo change, speed change, pitch change, fade, echo, repeat
The app received an update this week that has a number of improvements, bug fixes and UI changes. Anyone here needs a professional editing tool for their Windows Phone, does this pass the muster? Thanks to Chris_Germany for the tip
Windows Central Newsletter
Get the best of Windows Central in your inbox, every day!
Cool.. Gonna check it out

Nice app. Unfortunately I don't edit audio that much.

is this available on pc? i know there are many other great programs available

It will be when Windows 10 is on all devices. ;-)

Perfect. I'll call apple and all the other device makers to get them right on it! ;)

QR-code links to 'Fantasia Painter', Wave Master looks like an interesting app though :)

I tried purchasing but having problems. how did you get yours ​ ​

Hope it was a universal app...

Cool, insta buy. We need more apps like this, and more peripherals to connect the phone and really use it for recording.

Try Lexis Audio Editor. http://www.windowsphone.com/en-in/store/app/lexis-audio-editor/4ee22752-...

Thnx!!! This was so much better. Insta buy again. Something of a black hole for WPC this audio editing and recording / music productivity.

Oh nice, didnt know this one!
I´ll give it a try. Maybe i buy both, just to push the Audio developers a bit more.

Is ms back? Someone is listening

Can it record until all space is used? Can it record under the lock screen or in the background?

Hi, I am the developer of the app, because of the limitations imposed by Windows Phone, it is technically impossible to record under the lock screen, regarding registration limits, are those imposed by the operating system (should be about 3 hours according to documentation).
For any further questions you can contact me at lorenzolorenzroxsoftware.com

It can run under lock screen it suppose, but it can't run in background... But if you classify it as voip app, is there any possiblities for recording it in background?

The app can run in background but no data is captured while recording :(

Yes...i think i read that before. MS wants to avoid apps using your mic (=spying on you) without you knowing about it...

What about lockscreen recording. I hope it runs smoothly?

I don't understand what you mean...

Absolutely awesome app, a must have for any music composer !!!

I'd wish it had a option to make a metronome track and place the recorded sounds on a measure grid instead of a pure time based grid. Not hearing a clicktrack when recording, or being unable to select the tracks that you would like to hear (earphones) when you are recording makes it pretty much impossible to stay in time with the previous recordings. Also, when applying effects on a sound it would be nice if the parameters of the changes were saved instead of immediately applied, because right now it's difficult to undo a change in effect. Of course all of this (except the last one) would be more related to a DAW app instead of an audio editor app.

Cardelius Lorenzo is a fantastic developer (he collaborated on Movie Maker too) just write him and I m sure he will implement all the features users will ask :)

Why are you trying to step on LorenzRox Software's toes? Let hard work be recognised.

Lorenzo is part of the team ;)

Decent app the only thing that lets it down is that your are not able to magnify a certain section via pinch to zoom & there is no dedicated button + scale either.

Something that I was waiting for.

Cannot Record with Lock Screen. Deleted!

I've been wanting this. Buy first, ask questions later. :P

Pretty cool. Still waiting for some professional music production apps like "iMPC", "Thor", "Figure" and "Take"...

http://www.windowsphone.com/s?appid=52bcbc91-99ba-42f9-b40e-b4004b6cbc28

Already have it bro, still not the same thing as iMPC, with iMPC you can import what ever sample you want, but Bear Yo just have 10 samples in each of sets and that's not ao professional,

True. But ill add custom samples later. Each kit has 16 sounds and there's 17 total kits. When you add in the fact you can change pitch that's a lot of sounds! Should be enough to produce some heat :)

I've worked out how to import samples now with the 8.1 API (I think), just need to find the time to do it :)

The interface is pretty good, I wish I could add some more patterns and I could load my own sample

I'll take that feedback on board!

Will have to check this out for editing bpm of songs for running...!

Great,but need a lot more applications like FL studio,garage band,recording studio...

I see u can edit metadata, so can I upload tracks edit metadata and export with album cover and artist changed

HA! My first tip on WPCentral is in the news!
Nice1 :D The App still needs work to do, but im glad i see some Audio Apps evolving. I am a Sound engineer and like to see that stuff. If it´s useful ... i dont know :)

My phone is not starting downloading this! :\ anyone help?

Nice! Please review and highlight more audio capture and editing apps. For the journalists and musicians among us, this is a weak spot in Windows Phone, and an area where there could be a lot of growth.

And now we have to pay for it

Nice app. think it needs more effects as soon as they add more I will purchase. I use it to record voice drops like I used to do on my iphone. Been lookn for an app like this

Can't wait to try this out with some of Nokia's HAAC microphones! C'mon, L830!

The thing that's been bugging me with all audio apps I've seen is that they wouldn't save to the Music hub/XBox Music. Can this app do that (save features are disabled in trial, so I couldn't tell)?

UX looks a mess on 1520. Lots of cut off and wrapped text on brings, for example.

i'm the developer, contact me at lorenzo@lorenzroxsoftware.com

Can't buy because I'm not in the USA..... come on man.... don't you want to sell your app ?

you should be able to buy the app from wherever you are, it's globally available... try with
http://www.windowsphone.com/s?appid=e65b09d2-f6e6-4ff2-8471-7ccbefb0420a

Have a 930 but when I tried to add a track from my phone as a music file, it got to albums and couldn't go any further.

Professional audio editing programs don't exist on mobile platforms, fyi.

This is just what I need to trim/cut my music for easy integration with the Movie Maker. They both work together so seamlessly. If only I can get the full version,

update 1.1.2.0 available with new features and bugfixes