Weather Smiles updated with support for wide tiles, more Lock screen support and a price drop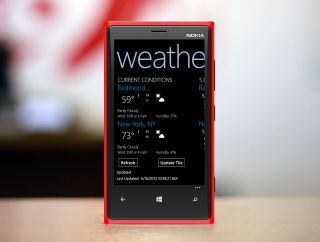 We've covered plenty of weather apps over the years here. Everyone has their favorite and Windows Phone has a handful of great apps to choose from to suit your needs and tastes. We first looked at Weather Smiles a little over a year ago when it launched. A few months later it was updated with all the Windows Phone 8 features you'd want. It's picked up a few updates over the past few months. The most recent a few days ago. Let's check it out.
It's been awhile since we've covered Weather Smiles. Since we last talked about the app it has gained a dark theme, various new tile options, and other under the hood tweaks. Here's what new in the latest v2.5.0 update from a few days ago:
Updated forecast on tile to show next 3 days excluding today when 3 day is used and observation time is afternoon.
New large tile flips and displays full data on each side when dual tile is enabled.
New can now set detailed status on lockscreen to get temperature, location and conditions of current location.
Aesthetic changes to live tile, and enabled phone status bar.
We're always trying out new weather apps on Windows Phone. There are plenty out there and it's one of those situations where you've got different strokes for different folks. Haven't found a weather app you like yet? Give Weather Smiles a try. There's a free trial and the price has recently been dropped to $1.49. Weather Smiles has some nice Lock screen and double wide tile support, which is a must in any weather app.
Have any feedback or suggestions for the developer? Be sure to leave feedback below. Also check out his other app for 500px called My 500px. It's great app for viewing 500px on Windows Phone.
Weather Smiles is available for both Windows Phone 7.x and 8. Grab it in the Windows Phone Store, use the QR code below, or swipe to the right in our app.
It has pretty complete info on its live tile. Unfortunately the font is small to get noticed at a glance. It would be useful if its font at the size of simple calendar uses.

Hi, are you referring to the medium tile? I will experiment with different sizes to see what works. What do you think of the wide tile font size?

I'm no UI expert, maybe bigger smiles or bigger and bold fonts.

nice app. the live tile needs to be improved.

Why can't we have a weather app that has a nice live tile, allow multiple cities or locations, 5 day forcast, as well as weather alerts and live radar? IOS and Android have them.... I really want and need in WP8.

Try using Weathersense. Nice live tile, upto three cities 5day forecast, weather alerts and supports voice commands too! :)
i don't really know what live radar is, but the app does give you the forecast for your current location at all times.

The Weather Channel app has all of the above. The only live tile with live radar as a wide tile.
Windows Central Newsletter
Get the best of Windows Central in in your inbox, every day!
Thank you for signing up to Windows Central. You will receive a verification email shortly.
There was a problem. Please refresh the page and try again.