Weather Smiles for Windows Phone temporarily available for free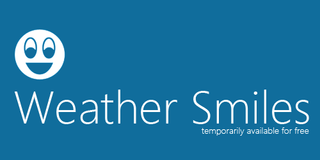 You'll be smiling when it's sunny
The developer of Weather Smiles has made the app available for free for a limited time, according to the Marketplace listing. The app enables Windows Phone owners to keep up-to-date on weather forecasts and has the unique feature of sporting two locations on a single tile - as opposed to one weather reading seen in most weather apps. It's a unique twist with smilies being deployed to add humour to condition reports.
As mentioned above the Live Tile for Weather Smiles is pretty special as it displays both the current and 'home town' location weather reports along with a five-day forecast. A smilie is also present, which varies depending on what conditions are present. The 'home town' can be configured in the settings with city and zip codes supported for added convenience, and temperature can be altered between Celsius and Fahrenheit.
The app sports a well presented interface with a heavy Metro Windows 8 influence and settings for background processes and location can be configured to the user's preference.
You can download Weather Smiles from the Marketplace.
Windows Central Newsletter
Get the best of Windows Central in in your inbox, every day!
Rich Edmonds was formerly a Senior Editor of PC hardware at Windows Central, covering everything related to PC components and NAS. He's been involved in technology for more than a decade and knows a thing or two about the magic inside a PC chassis. You can follow him on Twitter at @RichEdmonds.
Hmm. I like weather flow more.

Weather flow is good. I wish you had a option on the live tile to pick metro or rich look

Amazing weather is really good, it is well designed and nice live tile options

Amazing weather is solid.

I also have the latest Amazing Weather - but it still doesn't show the right time for other timezones - always shows local time but with the other zone letters. You?

Nice design. How do you remove a location and run in the background without location on?

Hi developer of app here. Right now if you disable location, it will not retrieve any weather as this app is meant to display current location weather and a hometown. Will consider suggestions for future updates. Please email any suggstions you have.
You can replace the hometown by searching for a city name or zip.
Thanks

Nobody have beaten WeatherMaster Pro in accuracy for me, and this app doesn't change that.

I have WeatherMaster Pro and it rocks

I'm a Weather Live user myself. Just thought I'd jump in with everyone esle stating what they use rather than commenting on the application being presented. :-)

Two thumbs up for Weather live! At this rate, they should have a pole ;)

I was going to comment on that. Nobody here is talking about the app in question, hahaha!

It's just a pity that it doesn't do Celcius on my phone - Lumia 710. Apparently it is 54 deg C here. Altogether now... OH NO IT ISN'T!

When you set to Celcius, click refresh button to update weather. It should show the correct temperature setting then from that point forward. If you are still having problems, please email me.
Thanks

I've already purchased amazing weather and like it. But then I came across Beweather and like it a little more...cant bring myself to buy it though.

So far, nothing I've installed on my Lumia 900 updates the live tile. I mean it will if I launch it but I want it to do it without my having to launch the app. Paid apps, free apps it doesn't seem to matter. And some I've tried are so wrong with the temperature I'm annoyed I can't get a refund. Specifically Weather Flow and Weather Master. Look all kinds of great but really bad at what it supposed to do. They simply don't get it done. This one looks good and I'll see what it can do.

check your background tasks and see if you hvae too many running. I'm not familiar with those apps you mentioned; I use WeatherLive, which runs on background and live-tile works as long as it's in the background.

I once had that problem where none of the tiles would update and I gave up and hard reset. Try the instructions in this post -> http://www.wpcentral.com/fixing-problems-background-tasks-windows-phone

Check if you have more than 21 (I think) background tasks. And then uninstall some of those apps you don't use so that the number of total tasks become less than 21. Your live tiles should become live again. Its a bug in WP 7.5...

Well I'll be the honest one here. I like the app because it's free!

Shame its showing as 54oC when its really not. Seems to be a bug where it's showing of value even if set to oC in live tiles

After you set it to Celsius, click refresh. Once it updates to Celsius, you can click update tile to update the tile.

I'll try it but, I use another wether app myself. It's free for a limited time, so I'll check it out

Is it just me ? When a paid app, no matter what it is goes free for a limited time, i grab it, if I use it, cool, if not I might want it later so I dont have to pay for it then.... Maybe I'm just cheap.

It's worth a look tho..

I can't trust an app that smiles for triple-digit weather and not rain.
Windows Central Newsletter
Thank you for signing up to Windows Central. You will receive a verification email shortly.
There was a problem. Please refresh the page and try again.