Gorgeous Weave for Windows 8 keeps you on top of latest news on a larger screen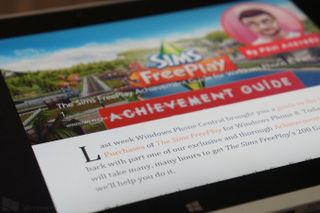 Weave is a popular news reading app for Windows Phone, developed by Seles Games- a well-known and respected developer for the Windows platforms. Development has been well underway for some time for a Windows client. This app has now been released and is available for download on your Windows PC, perfect for tablets owned by those who are active and on the go.
Working with Lazyworm Apps to release Weave for Windows 8, the developer has been able to add the title to the list of Windows 8 apps already available, which includes the likes of Metrotube and Tweetro+. If you're familiar with Weave on Windows Phone, you'll feel right at home with the Windows version, the only difference is you have more screen real estate to enjoy the latest feeds with.
Utilising RSS feeds, you can add sources of information to the app that will help you keep up-to-date with everything that's happening online, in a centralised location. If you're not sure what to add, fear not as Weave comes with numerous sources to choose from out the box. A custom search system also helps you get started, should you wish to further customise your news experience.
Additional features in the Windows 8 version include the ability to customise the main hub, manage articles (favourite, share, mark as read), as well as the ability to log in and synchronise with other Windows 8 installations. Currently, cross-platform synchronisation with Windows Phone is in the works and is reported to be available within the next few weeks.
We've previously praised the mobile version of Weave for being both lightweight and a breeze to use. You can download Weave (opens in new tab) from the Windows Store. The app is currently available for free, but unobtrusive advertising will be implemented in the future with the option to go ad-free.
Windows Central Newsletter
Get the best of Windows Central in your inbox, every day!
Rich Edmonds was formerly a Senior Editor of PC hardware at Windows Central, covering everything related to PC components and NAS. He's been involved in technology for more than a decade and knows a thing or two about the magic inside a PC chassis. You can follow him on Twitter at @RichEdmonds.
Yeah, it's about time you lost your virginity...

I had been waiting for this for awhile now. Been using it for a few days, and it's great! Now I just need that WPCentral Windows 8 app...

+1 to that. Jay , Dan - when are we getting WPCentral on WIndows 8? My surface is not happy without it ;)

Yes is the short answer. The long answer involves time to figure out the design

Good to know. Thanks for responding, appreciate it!

Do you think it'll be ready before the end of this year? If not, at least I can temper my expectations a bit.

In the mean time, install Weave and pin WPCentral to the main hub... BAM! :D

#Amazeballs Sorry I had to

Perhaps I'm mistaken about this, but I thought that Weave for WP was developed by Seles Games and the W8 version was a collaboration between them and Lazyworm (not that it really changes anything).

Correct, Rich reversed them. Article should now be fixed.

Weave on WP is developed by Seles Games, not lazyworm.

Sweet can't wait to download this, been waiting for this App.

Weave is all that I use on my WP. Glad is now on W8 :-)

I've been waiting for this.

My Surface RT and I are truly thankful.

I've been a Weave loyalist since back on WP7 and have been waiting for this. Definitely excited it's finally out! I almost switched to Feedly because I didn't know how much longer it would be until the W8 app came out with syncing between WP8 and W8, but happy I waited. Weave has always been a really high quality app.

I've had this app or an app with this name for months. Is this different?

Maybe you are referrig to the Windows Phone version? That has been out for years in fact :)

No. I have it on my Surface LazywormApps. The version number I have is 0.0.7.11

Uhh, the picture at the top of this article is of the Sims Freeplay Achievement Guide. I think that might be a mistake.

He is looking at WPC from the Weave app and posting a screenshot on WPC and the latest news is...i ponder. :P Hows that for feedback :D

Now switching between Pulse, AppyGeek and Weave... Created a Windows Phone Section in it... Great App... Good for eyes.

Never used this app before but will download and check out since everyone seems to be pretty stoked about it on their phones.



Check it out and tell us what you think!

Windows 8 people. Is it really that hard to read the article? This is talking about the WINDOWS 8 APP.

does weave sync with feedly?


Weave is a Feedly replacement :)

so you can use it from the web too? i use feedly through IE on my desktop, through nextgen on my tablet and phone.
feedly was a convenient replacement for google reader but i'm not in love with it.

It hasn't been rolled out yet but all the infrastructure is in place. Weave will have a web based app in the near future and already has a Windows Phone app (sync feature to be submitted for certification next week).

COOL! going to try it out now.


I love Weave on my WP since pre mango... and was really happy when you guys integrated google reader feed importing. For serious rss readers and people who have lots of feeds and want to use Weave instead, you do need a way for importing from services like feedly though. I can't add all of my feeds everytime with each new phone install....

Is the WP version at least getting an update so we can sync and get the same feeds into the win 8 version?
And you got to support video playback soon... or at least let us open pages in IE. Pretty please? Oh and instapaper but that's asking for too much considering it's still so early

Was excited for this, as the readers out for W8 currently have all been a bit lacking... But this doesn't seem to be much better. But I got really turned off by not being able to quickly manages the sources and have given up on it. Am I blind? Is there an easy way to toggle sources that doesn't involve clicking the little gear that only shows up after clicking on the source?

A fix for this will be included in the next update or two! It's definitely not ideal in its current state.

Excellent! Glad to hear that, as the rest of the app looked quite nice. The actual reading pane was great. Appreciate this and definitely want to support you guys as devs after metrotube. Now if you can add a better way to full screen a video on metrotube for W8..

I have tested on Win 8.1 Preview and i like it very much ,works great and stable .

Just about time..this is my most used app in my wp8 phone

Is there a bug or is it just me? Can't log in to MS account, twitter, google reader/feedly nor facebook. It just doesn't let me.

We don't support syncing with other news aggregation services like Feedly however you definitely should be able to login and sync Weave across your Windows 8 devices (and soon on Windows Phone also).

Yay, finally! I love Weave on my phone. Now I have a desktop AP that brings in all the news to one AP. Well done. My only complaint is the thumbnails scroll vertically instead of horizontally. No big deal though. Now, where is the Windows Phone Central AP for W 8/8.1?

What version did you launch LazywormApps? This one is version 0.0.711.

Hey Jazmac, if you're part of the Trello beta program, you have access to a later version right now (0.0.7.13)

Weave on Windows Phone hasn't been updated for a long time.thought the devs were dead

Well that's... pleasant. ;P

One of the best apps on W8 so far! I'd say it's even better than flipboard on other platforms. Would be even better once it gets updated for 8.1 and support variable resizing.