First look at the next version of Weave and details on how you can join the beta
Here's our first look at the next version of Weave for Windows Phone 8 users, along with details on how you can join the open beta.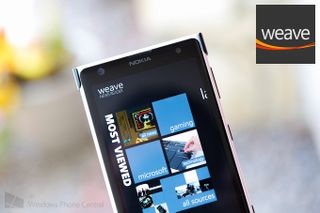 Weave recently made the jump to your Surface and Windows 8. It's one of our favorite news readers on Windows Phone, so we were very happy to see it on our tablets, laptops, and desktops. Don't worry though, Weave on Windows Phone is still getting lots of support and new features. Here's your first look at the latest version of Weave and details on how you can join the beta. Bonus, if you join the beta you're going to get a little treat from the developer. Read on for all the details.
Weave for Windows Phone hasn't seen a big update for quite some time. It hit version 4.0 late last year and picked up a few small updates in early 2013. Version 4.0 was notable for a new design, faster performance, Instapaper support, and much more.
Check the ratings for both the free and paid version of Weave in the Windows Phone Store and you'll see users praising both apps highly. Huge download numbers and high ratings exist for both apps, so what could Seles games, the developer, do to improve Weave for Windows Phone? Here's all that's new with the latest version of Weave:
New Cloud API
Weave for WP8 now uses the "Weave News Reader cloud API" - a set of web services similar to Google Reader/Feedly/Newsblur
The cloud services are powered by Windows Azure, and save a user's feeds, categories, article state, and favorite articles "in the cloud" and synced across any number of devices
Users can login via Microsoft, Facebook, Twitter, or Google accounts
Sync your account and have your news available on Weave for Windows 8
Visual Changes
New streamlined Panoramic homescreen layout.
New article list layout: "Cards". Brings a beautiful new way to browse the news. All the old layouts are still available as well!
"All sources" list. Now you can see how many new articles are available for each category/feed you subscribe to.
The biggest change to Weave for Windows Phone is the addition of the Weave News Reader Cloud API. These web services make Weave act like other popular services like the Feedly, Newsblur, and the now defunct Google Reader. We're big fans of Phonly for Windows Phone, but since it's a Feedly app it requires a Google account – something a lot of you aren't fans of having. This makes Weave the app for you if you're happy living in a Microsoft only ecosystem.
Syncing between Weave for Windows 8 (left) and Windows Phone (right)
Weave will now sync and save your feeds, categories, article state, and favorite articles in the Weave Cloud across a variety of devices. This is helpful if you've got multiple Windows Phone devices. But more importantly, this allows you to finally sync Weave on both your phone and Windows 8. You can sing up and sync Weave with your Microsoft, Facebook, Google or Twitter accounts. Again, the choice is yours.
First impressions of the syncing between Weave for Windows Phone and Windows 8? It freaking rocks. We added a category on Windows Phone and simply refreshed the app on Windows 8. The category, along with the feeds for that category, instantly appear on our Surface. Favorites, article state, and more all sync as well. Not only is syncing working with aplomb, but the apps performance is solid for being in beta.
We're also digging some of the new design changes to Weave on Windows Phone. Tell us what you think of the redesign and performance after you get into the beta. Speaking of which, how do you join?
Join the beta for Weave and get a bonus prize for participating
You want to join the beta of Weave. Trust us. By joining and helping out Seles Games find any bugs you're getting a sweet prize. Not only do you get to be one of the first to try out the new Weave on Windows Phone, but anyone who participates will get an ad-free copy of the release version of Weave after the beat. Winning.
Here's what you need to do to join the open beta of Weave for Windows Phone.
Have a developer-unlocked phone and be able to deploy a XAP file to it (Windows Phone 8 devices only)
Signup for an account at Trello (https://trello.com)
Send Seles Games your Trello.com username so they can add you to the Trello beta board. Either email them at info@selesgames.com with "Weave WP8 beta" in the subject line, or tweet them at @SelesGames.
Boom. That's it. Trello is a pretty cool service that I've seen a few developers use for betas. It's a project management application that is really good at giving developers an easy avenue of feedback, bug logging, etc for betas like this. Don't have an account? Just create one and follow the rest of the instructions above.
Good luck to everyone and be sure to help make Weave a success.
Get the Windows Central Newsletter
All the latest news, reviews, and guides for Windows and Xbox diehards.