First look at the next version of Weave and details on how you can join the beta
Here's our first look at the next version of Weave for Windows Phone 8 users, along with details on how you can join the open beta.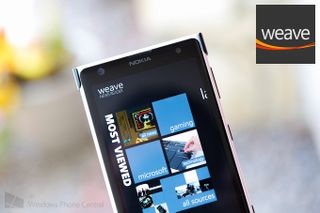 Weave recently made the jump to your Surface and Windows 8. It's one of our favorite news readers on Windows Phone, so we were very happy to see it on our tablets, laptops, and desktops. Don't worry though, Weave on Windows Phone is still getting lots of support and new features. Here's your first look at the latest version of Weave and details on how you can join the beta. Bonus, if you join the beta you're going to get a little treat from the developer. Read on for all the details.
Weave for Windows Phone hasn't seen a big update for quite some time. It hit version 4.0 late last year and picked up a few small updates in early 2013. Version 4.0 was notable for a new design, faster performance, Instapaper support, and much more.
Check the ratings for both the free and paid version of Weave in the Windows Phone Store and you'll see users praising both apps highly. Huge download numbers and high ratings exist for both apps, so what could Seles games, the developer, do to improve Weave for Windows Phone? Here's all that's new with the latest version of Weave:
New Cloud API
Weave for WP8 now uses the "Weave News Reader cloud API" - a set of web services similar to Google Reader/Feedly/Newsblur
The cloud services are powered by Windows Azure, and save a user's feeds, categories, article state, and favorite articles "in the cloud" and synced across any number of devices
Users can login via Microsoft, Facebook, Twitter, or Google accounts
Sync your account and have your news available on Weave for Windows 8
Visual Changes
New streamlined Panoramic homescreen layout.
New article list layout: "Cards". Brings a beautiful new way to browse the news. All the old layouts are still available as well!
"All sources" list. Now you can see how many new articles are available for each category/feed you subscribe to.
The biggest change to Weave for Windows Phone is the addition of the Weave News Reader Cloud API. These web services make Weave act like other popular services like the Feedly, Newsblur, and the now defunct Google Reader. We're big fans of Phonly for Windows Phone, but since it's a Feedly app it requires a Google account – something a lot of you aren't fans of having. This makes Weave the app for you if you're happy living in a Microsoft only ecosystem.
Syncing between Weave for Windows 8 (left) and Windows Phone (right)
Weave will now sync and save your feeds, categories, article state, and favorite articles in the Weave Cloud across a variety of devices. This is helpful if you've got multiple Windows Phone devices. But more importantly, this allows you to finally sync Weave on both your phone and Windows 8. You can sing up and sync Weave with your Microsoft, Facebook, Google or Twitter accounts. Again, the choice is yours.
First impressions of the syncing between Weave for Windows Phone and Windows 8? It freaking rocks. We added a category on Windows Phone and simply refreshed the app on Windows 8. The category, along with the feeds for that category, instantly appear on our Surface. Favorites, article state, and more all sync as well. Not only is syncing working with aplomb, but the apps performance is solid for being in beta.
We're also digging some of the new design changes to Weave on Windows Phone. Tell us what you think of the redesign and performance after you get into the beta. Speaking of which, how do you join?
Join the beta for Weave and get a bonus prize for participating
You want to join the beta of Weave. Trust us. By joining and helping out Seles Games find any bugs you're getting a sweet prize. Not only do you get to be one of the first to try out the new Weave on Windows Phone, but anyone who participates will get an ad-free copy of the release version of Weave after the beat. Winning.
Here's what you need to do to join the open beta of Weave for Windows Phone.
Have a developer-unlocked phone and be able to deploy a XAP file to it (Windows Phone 8 devices only)
Signup for an account at Trello (https://trello.com)
Send Seles Games your Trello.com username so they can add you to the Trello beta board. Either email them at info@selesgames.com with "Weave WP8 beta" in the subject line, or tweet them at @SelesGames.
Boom. That's it. Trello is a pretty cool service that I've seen a few developers use for betas. It's a project management application that is really good at giving developers an easy avenue of feedback, bug logging, etc for betas like this. Don't have an account? Just create one and follow the rest of the instructions above.
Good luck to everyone and be sure to help make Weave a success.
Submitted via email! Can't wait to test this!

Already using it on Windows 8?

Honestly, didn't know they had a Windows 8 client till now! I'm gonna be getting it next time I boot into Windows 8.
I'm between OS X and Windows 8 so much I don't have too many metro apps (though I hope to change that soon with a Surface)

I'm using it on Windows 8 RT tablet and really like it. Two issues:
1. Could not figure out though how favorites work (how can you populate?).
2. Second in portrait mode on Surface tablet the article sides are cut off.
Other than that great reader.

Sounds great! Sign me up! Would rather they publish a private beta app though, but I'll take it any way I can get it.

It certainly would be easier. But by using Trello they're hopefully guaranteeing more feedback vs. people just wanting an app early. Trello makes it super easy for them to manage comments, bug fixes, improvements, ideas, etc. Enjoy either way :)

Indeed. Playing with it now on both WP and Surface Pro.

Have always loved this app. It was my first paid app back on my Samsung Focus. I've participated in their betas before and have been rocking the latest beta since this morning. Already found/reported a couple of bugs but nothing to keep me from continuing to use it as my primary news app. They've always been responsive to user feedback.

There goes NextGen reader for me. Feedly is great but its Google based. I'd rather go Apple than Google. Glad this is using Windows Azure.

I wish I had a developer unlocked phone. I love this app and was so happy it came to windows 8. Oh well I'll wait for the final release.

It costs $19 to sign up for a year...

It's free if you sign up for the App Studio, it is free and let's you Dev unlock 1 device. Same one that allows you to install GDR3 preview on 1 device.

http://apps.windowsstore.com/default.htm

Looking at the Seles twitter feed, it appears you can't load a xap file using the app studio unlock. Not sure how true or not this is.

You can use that account but you still need to use a PC and have the SDK installed... You have to load the xap file via your pc...

I'm running GDR3 but noticed I couldn't sideload by downloading .xap onto wp8. I've never sideloaded from PC, more to learn. :)

How badly do I want an ad free version....

Thank you Sam for the writeup!
If you would like to join the beta, you can post your Trello username in the comments section as a 3rd choice. We will keep checking over the next couple days.
Thank you to everyone emailing us so far, we are happy to have you as part of this beta!
- Seles Games

My Trello username: dropath

Trello username: WinMaverick

Trello Username: LesCrucial

User name: lovingfriendstar

Trello: josephdaym Thanks for the app.

I responded to the invite that I received via email, but I'll give my Trello username here, too: dalydose

Trello username: OctoNabz

My user name is like on here.... DavidinCT...I just sent you guys a email..

Trello Username: ninjagrinch

Trello Username: sarthakgupta

So do they send you a link to download or how does this work?

You'll find it inside the Trello page for the Weave beta. You'll also be able to leave feedback there.

Trello name: thepaulomalley

Why not have a separate app unlisted (name it "Weave Beta") from the store and send beta invites via store link? That way more people could help the beta.

Don't have a dev unlocked phone.
Cant wait for final version.

See my post above about the free App Studio. Lets you dev unlock one device. Same one that lets you download GDR3 preview to 1 device.

I hope this wave of new awesome apps and updates never stops anymore!!! Never!!

"something a lot of you aren't fans of having" You got that right.

Paid for this during the red stripe sale and I'm not even mad. It's the newsreader to beat for me, we'll see how Flipboard does when it's out.

Awesome. I use this app daily.

Btw, completely off topic, but a couple of days ago several articles stating delisted games among which as far as I remember was Assassins Creed. I was browsing the games just now and found it for .79p. Whining is more exciting but I thought you ought to know.

This update is awesome, and the sync via MS account to the Win 8 app rocks!

Glad you're enjoying it. We're fans too.

My Trello username: crise
Thanks!

WPCentral articles are not being loaded in Weave ever since WPCentral started a mobile version of their site. I have to go to the browser every time to read the article.

Me too. I'm also facing this problem and thought it's my connection to blame... Now, it seems like WPC's side that made Weave stopped working.

We are definitely working with the team at WPCentral to get this resolved. It's actually an issue with Readability's service being unable to mobilize the articles, still trying to figure out why / workarounds.

Very glad to know you are working on this.

Love weave news reader; I use it as my primary news source (used to be google news). Very glad they are including cloud syncing as I've lost favorited articled in the past. Question: I just downloaded GDR3 by having an app studio account; does that mean I qualify for the weave beta? :)

Damn, I want this but I don't have a dev-unlocked phone (and I don't want one). Too bad because I'm a long-time Weave user and I'm like really really good at betas.

Why don't you want one? There is litterally no down side.

Oh, I thought I read somewhere that unlocking your phone would void your warranty with your carrier. Not true? Also, don't you have to pay to dev-unlock your phone?

Nope. You may be think of the gdr3 preview. That will temporarily void your warranty. Also you can register for the app studio program for free. That will give you the ability to dev unlock your phone.

My son is on ios, where did I go wrong. He keeps asking me where I get my news feed from. He can't get it on ios.

Off topic but angry birds star wars and star wars 2 are free for now , i don't know why

Saw it in d discussion thread,offtopic but guess we are seeing more support from the devs for windows phone which is great news :)

I'm a long time Weave user. I use it every morning to read updated games news and WP news. I've been using it from WP7 and WP8.

I hope this beta fixes the bugs, a lot of sites are not longer view on it (even WPcentral you can't video them in Weave any more)....

Sent a email as soon as I saw this...

My trelli name is dorkwad!

Will there be Swedish Language support finally?

Trello username: bluetrout
Thanks!

Weave is a good rss feed reader and I use it daily on both my surface pro and windows phone 7.8 device. I like the current use and layout of the 7.8 design. The only thing that bothers me is that now every rss source has a complete rich feed as what wpcentral does. This saves me a lot of short reeds and then having to read more via the website link delaying the reading experience.
I like the initial design of the weave app in windows 8 where they take the dark elements and intial newspaper style reading as the native windows 8 app. But I think weave does itself short by following this line. Why? because there making an inefficient use of the screen realestate on windows 8. The differences between windows phone and windows 8 are very clear on that matter.The current menubar on the left hand screen to me is an obolete feature in the whole experience. I think weave can do better and actually make ik it a more newspaper like design, like you're reading a real newspaper. The current layout is too organized, too sterile and it works a bit couterintuitive on a mobile tablet (pc) device. The left column needs to disappear in the app bar or charms menu and I would advice using the whole screen canvas to show the feeds it diefferent size formats blocks. Let me filter the data on the screen by using the app bar. I don't need the menu on the left and I think other users will like that design experience as well, to just be able to glance the news on the screen and select on sight. I don't want a preorganized menu on the left.
Ik think the upcoming beta is a step in the good direction, improving the back end. But the front end still needs a lot more work to make it a more functional experience.

Good Luck Seles. I love your work.

Thank you for the feedback Wevenhuis, we will consider it for future versions!

Really missed flipboard wen i switched from ios, but weave done fantastic job in filling that hole. Good job. Also, Will we receive a download link via email?

No the info is on the trello.com board you will see once you've been added to it.

Awsome. Might just sign up for the beta. Didn't know the w8 app was out! Searched like a week ago and didn't find anything. Or is it beta on W8 too?

Could never bring myself to pay that much for a reader (even on red stripe deal), NextGen Reader is great enough.

That app is free, use the free app that costs you nothing. Also, you can click on the ads and go ad-free your entire session. Best of both worlds ;)

There is an ad-supported version that is free of cost.

Well this sucks, i don't have a 64-bit Windows 8 PC so i can't unlock my phone. (Windows 8.1 32-bit :'( ) Well, i will just wait until the final.
But NextGen Reader works perfect for the moment. It's a difficult choice between those two.

You and I both, I'm on 32 bit as well and can't sideload the app because SDK won't install on 32bit system. :/. I gotta buy a new PC soon. Stay with weave; its awesome!

Trello username: melvingutierrez

i hope that i can get a beta access too!!! thank!!

Would like to try the app trello username : tomasebia

Iv already done everything now what ?

So this beta version it the update of the paid version ? I ask this cause I going to buy the app

Both the paid version and the free version will be getting this update

Why don't WPCentral articles mobilize in the current version anymore? Need to fix that in the next version.

We are definitely looking into how to resolve this. It's actually Readability's service that can't parse the articles, so either we gotta help them fix it or find a workaround

Is anyone already get invitation for beta via trello?

very good app

I am waiting this app

Signed up and did everything, and then was about to download the SDK and sideload the app, but then I saw it's for Windows 8 only...


I don't keep up with what's going on for a few days and a new Weave beta pops up. Anyway, one of my fav. apps, so if you need another tester, Trello: mgkeath
Sent a request by email too, but that was before I read these comments.

My username is Krishna Krishna54. Haven't got any mail from trello on how to download the XAP.

After you created your Trello account and submitted to to selesgames. They will send you an email cofirming or you will get one from Trello. Log into the Trellow site and you will see the WP8 beta, just click on it and read the directions, it's not very hard.

Funlly, a lot of people who do beta tests lilke this use the store to allow betas, this is a different approach for a beta, only have seen this type of thing when it's a really small dev(one person dev team)...

Cool anyway about it, been waiting for a update on Weave...this is a big deal for me, I use this app every day...

Thanks for your explanation. I have got a mail from trello asking for verfying the mai-id. Which I did. logging into Trello didn't help much. Is there any other mail I have to wait for.
But I don't think I will be able to use this. Though I am on GDR3, at present I dont have Windows 8 system.

Thanks again.

Still doesnt have headline in live tile olny imag.

Love Weave, such a great app and one of my most used. Can't wait to see the new version, keep up the good work! :)

One thing I've noticed the past couple of weeks though is that when I try and read articles from WPCentral I get the message "unable to mobilize the article" so I've got to go to the website instead. Dunno if that's the app or the site that's causing the issue though, anyone else got that?

They addressed that earlier in the comments here. It's a problem with Readability mobilizing the articles and they're trying to work out a solution.

Ah, brilliant! Thanks! I started to look through but there were so many comments already! :S

I replied to the email I received and never got a response so ill post my trello here and hopefully ill get through- danielm9

Can u tell me how to take screenshot of WP's panorama+
Windows Central Newsletter
Thank you for signing up to Windows Central. You will receive a verification email shortly.
There was a problem. Please refresh the page and try again.