Week View 8, your Windows Phone schedule one week at a time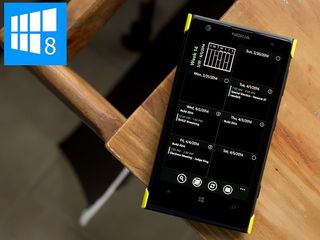 Week View 8 is a calendar alternative for Windows Phone 8 that centers around a weekly view of the calendar. Week View 8 does have monthly and yearly views but the calendar app is focused on approaching things one week at a time.
While the pending Windows Phone 8.1 update will bring plenty of changes to our native Windows Phone calendar, many may still yearn for alternatives. In using Week View 8 for the past few days, it comes across as a capable Windows Phone calendar app and if you prefer a seven-day approach, Week View 8 is an option worth considering.
Week View 8's Features
Week View 8 opens up, as you would guess, to a weekly view of the calendar. You can pull up a detailed view of the events of the day as well as pull up a monthly view with readable appointments. The annual overview lacks readable appointments but dates with scheduled appointments will be highlighted.
Key features for Week View 8 include:
Multiple Live Tile support that will display the next four upcoming appointments, the current date, the week number, appointment duration, or a monthly calendar.
Speech recognition support to display your next appointment when you say, "start week view and show the next appointment".
Direct interface with your Windows Phone native calendar and all your Windows Phone accounts.
From the weekly view, you have four control buttons lining up across the bottom of the screen that will let you search the app, view the month view, return to the current week and go to a specific date.
Up under the three-dot menu on the weekly view you will find options to:
View the year
Access Week View 8's Settings
Access your Windows Live account and load the data (more on this in a second)
Update your Live Tile
View the About Screen
In tapping a specific date from the weekly view you will see the day's schedule. Your first or next appointment will be displayed with a thumbnail view of all your appointments for the day displayed in the upper right corner. The day view has options to delete an appointment, edit an appointment and add an appointment. Week View 8 does have the ability to pin an individual appointment to your Windows Phone Start Screen. The Live Tile will include a countdown to the appointment.
Limitations
While Week View 8 has the ability to add appointments to your calendar, due to platform limitations it lacks the ability to edit or delete appointments. To work around this, you can sign into your Windows Live account and use web requests to edit and delete appointments.
This process is describes as being similar to logging into your Windows Live calendar from a desktop computer and modifying an appointment. Week View 8 shares the same platform limitations similar apps experience and the work around seems to help minimize the impact of these limitations.
Settings
Settings for Week View 8 are extensive, can be saved/backed-up to your OneDrive account and include the following:
Week: This group of settings includes language selection, theme selection, first day of the week, appointment reminders, and font sizes.
Calendar: This is where you select which calendar accounts you want Week View 8 to reflect.
Windows Live: Allows you to use custom colors with your Windows Live account.
Search: Various search parameter settings.
Filters: If you want appointments of a certain nature filtered out, you can set up those parameters. This settings page will also allow you to enable filters to show only one instance of the same appointment that may be repeated in more than one calendar account.
Replacements: Appointment subjects starting with a replacement text will be replaced with an icon in the calendar view and on the Live Tile. For example, the subject with the text 'birthdays of' can be replaced with an icon and all calendar birthdays will be marked with this icon.
Main Live Tile: Week View 8 supports several Live Tiles. The main Live Tile settings cover how many days in advance are displayed and determines what type events are displayed. You can also set the text and background colors, display week number and current day and turn on/off the backside of the main Live Tile.
Live Tile: In addition to the main Live Tile, a secondary tile can be created for the month with options to display appointment durations, current day, current week, current month, and day/week numbers on the front or back of the tile. This settings page also has options for a third Live Tile with similar options to set the Tile's content.
Overall Impression
Week View 8 is billed as the missing week calendar for Windows Phone and I can see the appeal. The weekly view does make offer an easy way to glance at your week ahead or plan for upcoming weeks.
The daily view is also well managed and doesn't clutter the screen with too many appointment details. You get to view the upcoming appointment for that date and the remaining appointments for the day stay tucked away in a thumbnail window. When you need to view a different appointment for that date, just tap on the thumbnail line for that appointment.
While Week View 8 has a clean appearance, easy to use interface and plenty of Live Tile support I couldn't help but feel one thing was missing; the ability to add an appointment from the weekly calendar view. You have to go into the daily view to add an appointment and while that is not a deal killer, it would be convenient to add a new appointment from the week (or even the month) view.
In many respects calendar apps are much like weather apps. There are plenty of quality options to consider and the key is finding one that meets your needs and likes the best. Week View 8 is a quality option to consider if you find working from the weekly calendar view the best.
There is a free trial version of Week View 8 available with the full version running $1.99. The app is available for Windows Phone 8 devices and you can download Week View 8 here in the Windows Phone Store.
George is the Reviews Editor at Windows Central, concentrating on Windows 10 PC and Mobile apps. He's been a supporter of the platform since the days of Windows CE and uses his current Windows 10 Mobile phone daily to keep up with life and enjoy a game during down time.
I'm glad microsoft discovered the concept of "weeks" in 2014. that's progress. Maybe now I can use the stock calendar which to this day has been replaced in my device with 3rd party apps which are week belivers.

Sighs. I just want 8.1 already

i still will prefer 3rd parties until they improve the live tile.. i need more than 1 appt on my live tile.

Same here.if there is only one appointment then it defeats the purpose of having an agenda and knowing and being able to see appointments ahead of time

True... Though Week View 8 was my favourite so far. A nice looking metro-style app.

I have been disappointed with the calendar in WP... and none of the 3rd party solutions have satisfied me. They all are non-functional or to much resources.... I hope WP8.1 lives up to all the hype... especially Cortana ;)

Not another cal app please!!! Especially when 8.1 is coming. Not to say none of the apps is great.

It's available for ages and one of the best.

The best feature about Weekview8 is that you can copy an appointment and past in another day. I can't tell you how indispensable I have found this.

Clicking and changing the date is not all that bad. The only issue I see is that you don't know of conflicts in advance.

Week View also supports voice commands, for example you can tap the windows button on your phone and say "Start week view and show the next appointment" => Week View starts and reads the next appointment to you. :)

I ponder when the actual WP8.1 is launchin!

Hey Ponder.....wot u ponder??

ahh.. today is 10th April.... any news on dev preview??

Aaaaand here also, cant delete/edit O365 appointments due to MS's strange way of suporting their own products?

I Agree..... MS makes better apps for android and IOS and not for their own phones!!! Skype is a good example

This is what MS seems to miss about what Apple is doing. Apple has top notch user experience. If Apple comes out with A365 or whatever, they will 100% support it in their own devices. They want the user experience to be the best. Only way in WP to edit/delete calendar stuff in o365 is through native calendar, which of course is cripled in so many other ways, but at least I am stuck with it...

And Im not only complainin because I like to... I have bought Week View 8, Super Calendar, Appointile and 1-2 more calendar aps in the past year.

Been using this for ages now. Only missing custom backgrounds for the main live tile. Quite a stable app!

Awesome app. I pin two live tiles, 1 is a large tile showing my next 6 appointments and the other is a medium tile with a showing appointment blocks for the week with a month view,on the secondary/flip side. This setup is so handy I never actually,open the app, the benefit,of,live tiles right there!

Its weird all I look for is "8.1" everytime there's a new post.

I still rather chronos calendar app.

This was my first calendar app, now I use super calendar but this is still neat for those that only need week view

LOL, the logo is too much. Way to get creative there. But nice app nonetheless.

This app is great, but Chronos have since long advanced ahead as my nr1. daily cal app.
Windows Central Newsletter
Thank you for signing up to Windows Central. You will receive a verification email shortly.
There was a problem. Please refresh the page and try again.