Weekly photo contest: Sunrise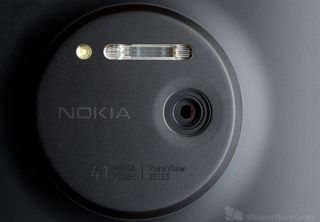 (Image credit: Windows Central)
Let's get out and shoot more. I thought it would be fun if we had a weekly photo contest here on the site. How about every Wednesday we'll pick a theme, and you have until next Tuesday to go out and use your Windows Phone to capture the image. Our first theme? Let's do sunrise.
I thought capturing a sunrise would be a nice way to start. This is after all the dawn of a new weekly series. Get it? Dawn? Sunrise?
We'll tweak the format as we go forward, but for now it's pretty simple. Take a photo of sunrise. You don't have to point your Windows Phone directly at the rising sun. You can if you want, but feel free to get creative with the theme 'sunrise. Maybe it's the light falling onto your coffee first thing in the morning. Maybe it's the reflection of dew on a blade of grass. Maybe you actually do point your camera at the sun. Doesn't matter as long as it feels like 'sunrise.'
Rules
Picture must be taken with a Windows Phone
Picture must be uploaded to the contest thread.
You have to tell us what device you used to take the picture, and any special software or apps you might have used. Editing your pictures is fine, this is art.
Feel free to add a little back story, we want to know how the picture came to be.
You must have used a valid email address to register here at Windows Phone Central, so I know how to contact the winner.
Only one entry per week per person.
Prize
This week we'll pick two winners who will receive a $25 gift card for their Microsoft account. Apply that cash to your Microsoft account, and you can use it towards an app or game in the Windows Phone Store, Windows Store or Xbox store.
We'll pick a winner Tuesday night (August 5) at 11:59 PM ET. Winners will be announced in the blog post for the contest next week.
Windows Central Newsletter
Get the best of Windows Central in in your inbox, every day!
Haha I never get up early enough to see the sunrise, but just for WPCentral, I'll try!

Lol Haven't seen many sunrises since I retired in 07!

Then what do you do during night hours?? O_o

Reading news on wpcentral and wmpoweruser :D

Cool idea! Specially for NBANers ;)

I'll wait for the sunset contest. I ain't gettin up that early for anyone!

Me either especially since my 1020 is having trouble auto focusing. Happens across photo apps. Either innate WP camera software issue or mechanical (?). My 1020 seems to rattle a bit. Just curious if anyone else has this problem

They all rattle. It's supposed to be like that.. there should have been a card in the box with your 1020 that explains it all; the mechanical OIS...

Mmm dunno. Mine seems more lately. I know about the OIS. could it be software?

I've been getting this too - it started when I installed the dev preview. I'm hoping the cyan firmware fixes it.

This! I have so many great sunset photos, but no sunsets. I guess I'm just not a morning person.

I've never seen a sunset in the morning ;)

Oh, Italia! Entro nel club xD

Not with that attitude. (I will win)

Suggestion for next contest: Best fart recorded on their WP

No offense, butt that idea stinks!!

Requirement for that is to use Foundbite ;)

I am going to give this a go. Do people with 1020s get deducted points for having a little bit of an advantage? ;-)

Nope. Give Ansel Adams a Lumia 520 and he'd probably win this contest ;p

hahaha. cool! Anyway, ill wait till next day, its already 9AM here in Philippines. :D Question, the picture must be taken from today till next tuesday? correct me if i am wrong.

Sir, it's a good idea. But i couldn't upload a photo for the contest. I don't see any options to upload a photo in the forums.
Please help.

Try the advanced option and click on the photo icon at the top.

I'll take a photo of sunset and call it sunrise. I can do that right

Sunsets are more beautiful and easy to capture hahaha I was about to comment that xD

Only a schmuck couldn't tell the difference between the two ;)

C'mon Sam, not necessary to incur in sarcastic offenses haha (that's the Daniel's job haha)

Lol, I'll give you a Lumia 15820 with wp9.1 update 14 if u can ;)

:D I vaguely remember from my student days as a photographer that is difficult (impossible) to tell the difference if there arent any visible signs such as mist. Is there a way to do a timestamp? Or we could look at the date and time the file was created? This is an example, can you guess if it was taken in the morning or in the evening?

Thought of the same, but then it occurred to me that shooting a sunrise over the ocean off Los Angeles might cause the judges to smell a rat..

I'm glad this contest has come to wpcentral. I enjoyed looking through the threads over at Android central for their weekly photos. Also will get me to use my camera more

Where to upload the picture? Which is the link?

Click the forums link at the end of the article. Read the rules.

Crap! If only this had been last week! I could have taken an amazing picture of lake Okoboji at sunset.

GREAT! :) IS TIME TO SHOW WHAT MY LUMIA ICON CAN DO.. :P

This weekly contest is an excellent initiative!

Waiting for the Sunset week contest. I have great pics!! :D

And please please please make a Concert Week Theme!! I can win that too ! :P

Oh yeah the Lumia were built for concert pics at night

yeah people I'm excited , with my lumia 1020 ..

Where should we upload our pictures ?

Picture have to be taken this week?

This is a good question! But as long as it was with a Windows phone maybe doesn't matter

Might have an idea ... Sam, can I take a picture with a Windows tablet ? Might have to use my Windows phone as model.

Can we use a photo we took weeks or months ago or does it have to be taken in the contest window?

Sunrise at Angkor Wat Temple is amazing but I have to get up at 5am :). It's raining season now in Cambodia so rarely see a sunrise

Awesome :) This is something I could get into

Great idea! I'll give it a shot. A shot. Get it. Ha. I'm so funny /s

What a great idea Sam! :D

Oh yes! My 1520 has this in the bag!

Where should I upload my sunrise pics

Haha jst woke up to click the sunrise and saw that there are clouds all over the sky...

How do we upload the pictures?

Yup that's the question from me to...

Well played, WPC, well played. They knew most of us are late bloomers. It will be easy for them to pick out the winners because the participation is low ! Haha !

I know right. Wait till they move to Sunset theme. Their forums will erupt lol i know im ready for that sunset picture already!

What about a beer theme? I know we all drink when we see the 4% market share :)

Ah, too bad I don't drink. I'm a Muslim. But sure, I'll take pictures of my non-Muslim friends drinking booze. Haha!

One exception to this contest, you can't use your 1020. Hahaha jk

But Lima is in winter :( no sunrise here :/

Hey everybody, just take a picture, then wpcentral will go deep into your phone .. Haha ..

Great idea for the website!

Loved it....i wanted something like this on wpcentral

How i can upload my photo, can i upload it by Windows Phone?

Awesome, n I was just taking a Sunrise this morning, seems familiar to Nokia contest (#LumiaMacro #petaLove #Lumia520 #WP81 on Instagram anyone?)

Sunrise mmm..what about older pictures taken with WP? I should have few. But most are sunset) aand how many pictures (per person) can we upload?

Soon Windows Phone will be known as the photographers phone. Unfortunately it isn't yet though it has the hardware. I really think Microsoft should ensure music and imaging are top rate on WP for whatever class.

I will try but how could my Lumia 520...
Let's hope for good

About time. Used to participate in android central.

How....haven't seen a sunrise since 21. It's raining here and when rain stops clouds are still there. Can't capture one in my phone.

This theme is no go for lumia phones without HDR...

Great idea for the WP family Sam.

Its so exciting.... I think,it would be fun. My name is Elmer Echavez, from philippines, i really want to join this contest... Taking picture is my passion... Hope i can mske it.. God bless us

If the do beach i got some great ones from Dominican Republic

Nokia 1020 bout' to do work out here in Hawaii!

Is this contest open for everyone or US only?

Good idea.. keep all of us active and distracted instead of sitting around grumbling about the Cyan update :D

Crap...waiting on Nokia on fix for ois lens shaking issue! Out of warranty! So my pics come out bad! Anyone else dealing with this?

I'm definitely participating, it gives me something to do to pass time!!

I'll start shooting in the morning...

Yes! When I was rocking Android I absolutely enjoyed not just the chance to win but seeing everyone else's pictures. There are some extremely talented individuals capable of capturing great shots. Good luck everyone. I look forward to seeing what you've got!

Does it have to be taken this week? Say, one already has an awesome picture of a sunrise, can that be submitted?

For the love?!?!?! How would they know if you took it this week or 5 years ago???

It is possible. Just wanted to make sure.

Why not set up an IG account and a unique hashtag?!?! It is 2014 you know!

I hear ya. We'll have a hashtag for next week.

OMG really, this photo contest going weekly & per week prize
Really Awesome.

LoL there is no sun here... It's rainy season in India... We hardly get to see it...

Challenge accepted, about to beat everyone with my 521

@Sam_Sabri DUDE!! what took you guys so long to start this?!? LoL awesome idea man, will definitely be inspired to take more gorgeous shots with my 1020 now.

TV weatherman here... if your local weatherman says there is dust in the air or smoke from grass/forest fires... you can expect it to enhance the colors of a morning sunrise or sunset. Not good for allergies or respiratory issues but makes for beautiful sunsets/sunrises. -shawn

You're 110% right. Wildfires in California make for some amazing sunset... or maybe that's the smog in LA :)

Where are we supposed to upload the pics

Lets beat those 41mp with this puny 520!

This is perfect! I work in a hospital that's on a hill that looks over the city and by the time I get there, the sun is rising.

Hey, unfair contest for those of us living somewhat north of the equator; the sun rises at about 4:30...! :-D

I live north of the equator too :p

Can sumone please tell where we r supposed to upload our pics

Click the link in the article and select advanced and then click photo icon.

There has been wonderful sunrises few weeks here in Finland, and this morning it's raining... Would have had a perfect place to shoot near the lake in eastern Finland :'(

"near THE lake in eastern Finland"... Lol! Land of a thousand lakes!

Well, I am very sorry for my incorrect article ;)

I feel like this is a great idea, but only people with high end lumias will win. 1020's 1520's 930's and 925's.

As long as we're talking sunrises with plenty of light, I think subject and composition will mean more...

I should start waking up early! Haha

#NokiaLumia1020photograhy

Nice idea, but couldn't we have done sunrise during winter ? That fucker gets up around 6/6:30 around here ...

Great idea! Can't wait to see the entries :)

I have taken a pic yesterday where should I post it?

is this an international contest?

You expect a bunch of nerds and geeks to get up before 8AM? Fat chance!

Can I use old photos? I have a sunrise taken few months ago!

I'm not a good photographer,but I will try my best:)

Where to upload link plz??

It would be nice to have the ability to upload pictures from the wp8.1 app instead of having to use the web version on PC.

Where do we have send images I mean which email address

I'll keep my opinions to myself and just say that I would love to see a future contest where editing is not allowed.

Just took a crack at this with my new 1520. Edited in Fantasia Painter. http://1drv.ms/1qMVsgt No story really. Just love the view from my backyard in the mornings :-)

I have a great pic this morning.
Just give me the link where to upload

Too bad I didn't see this earlier. Just drove back to Orlando from West Palm Beach. Seen the world go from pitch black to bright. Lol

So this is an 'early bird gets the gift card' sort of thing? Posted via the WPC App for Android!

This is a wonderful idea. I just looked through the pictures posted already. It was a trip around the world. Love it.

I think this is a fantastic idea! One cuestion thou, it has to be a photo taken during the week after de theme is announced or it can be one we have taken a while back?

There was no mention of when the photo was taken being part of a rule, other than it has to be entered before the contest ends (obviously). So long as it was taken with a windows phone. One from a year ago is as valid as one from yesterday :-)

This is a great idea and its really interesting to see the many photos from around the world. Have liked a few that stand out to me. I have entered and will continue to for the future competitions, oh fun!

What a happy coincidence. I just came back from a 3 week Canada trip. On the way home we flew over Greenland, right as the sun was rising....and I own a Lumia 1020 ;-)

Hi. Where we can send our photos ?
Windows Central Newsletter
Thank you for signing up to Windows Central. You will receive a verification email shortly.
There was a problem. Please refresh the page and try again.