Weekly Photo Contest: Tilt Shift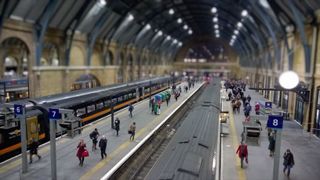 The past couple of weeks our weekly photo contests have taken on some quite broad themes, but this week we're going to try something a little different. We're focusing on one specific effect, and that's Tilt Shift. You may know it best as the effect that can turn city scenes into appearing to be miniature villages.
So, it's going to test your editing as well as your photo taking. The Lumia Creative Studio is one of a number of apps that will help you produce the effect, which I did up top with the image of a train platform taken on my Lumia 830.
But before all that, who won last week's pattern inspired contest? Let's find out!
Winner: rosstek
There really were a lot of great entries once again, but this snap taken by rosstek on his Lumia 1020 was our favorite. All the entries captured the theme brilliantly, but hopefully you agree that this was a pattern image and a half!
If you're curious, it's the roof of a public library in Amersfoort, Netherlands, and was edited in Lightroom. Congratulations!
Rules for this week's contest
Rules are going to be just like last week:
Picture must be taken with a Windows Phone
Picture must be uploaded to the contest thread (linked below)
You have to tell us what device you used to take the picture, and any special software or apps you might have used. Editing your pictures is fine, this is art
Feel free to add a little back story, we want to know how the picture came to be
You must have used a valid email address to register here at Windows Central, so I know how to contact the winner
Only ONE entry per week per person
How to use Tapatalk to post images in the Windows Central forums
We've got a great walkthrough on how to do just that!
Social
Share any pictures you take for the contest on Instagram, Twitter and Fhotoroom using the following hashtags. It's a fun way to at a glance check out your competition and get inspiration. Plus we're building a community of Windows Phone mobile photographers!
Here's how it looks this week.
This doesn't count as your entry; it's just a fun way to track the photos on social media. Your entry still needs to be in the forums!
Prize
One winner will get a $25 gift card to the Windows Phone Store. You can use it to buy apps and games in the Windows Phone Store, Windows Store or Xbox Store.
We'll pick a winner Tuesday night (February 24) at 11:59 PM ET. Winners will be announced in a blog post for the contest next week.
Quick PSA: We've set up dedicated sub-forum in the Windows Central forums to keep the photo contests in one location going forward. You should bookmark this page, so you never miss a contest.
Windows Phone Central – Photo Contests
Good luck and have fun!
Windows Central Newsletter
Get the best of Windows Central in in your inbox, every day!
Richard Devine is an Editor at Windows Central. A former Project Manager and long-term tech addict, he joined Mobile Nations in 2011 and has been found on Android Central and iMore as well as Windows Central. Currently you'll find him covering all manner of PC hardware and gaming, and you can follow him on Twitter and Instagram.
Seems like using my One would be cheating ;)

Lol... I would say I see what you did there, but it's kinda blurry, so I'm not totally sure what I'm looking at..

You're just jealous that my microns are bigger than your microns. Don't worry, it's natural.

Still better than the Samsung Zoooooooom, or whatever that thing is called..

Can any1 pls explain me what tilt shift photography is? .i searched it on wiki but couldn't understand a thing.

It's when you blur out/lessen focus on portions of a photo to place extra focus on another portion. In the example pic, the focus on the roof is lessened, placing more emphasis on the people and train platform. At least, that's my understanding. I could be completely wrong.

Actual tilt-shift requires a camera with removable lenses. There are specific tilt-shift lenses (Lensbaby makes one) that tilt up, down, left or right in relation to the camera, and shift off the lens mount. By combining these two things (tilt and shift), you can get really weird focus effects and distort the perspective of the image in interesting ways. The most popular use for this recently is to make scenes look like miniaturized models, but it's also useful for architectural photography because of how it affects parallel lines, and portraiture since it it allows finer control over what is in or out of focus without having to have a larger sensor or special lens. A tilt-shift effect in software (like Nokia Creative Studio) tries to simulate this effect.

See, I knew someone smarter than me would know.

Who other than cameradork?

Not smarter, just willing to put an obscene amount of time into researching camera gear (and some time shooting with it) ;)

no offense but how did you not manage to find out what tilt shift is? I just literally opened a search engine, typed 'what is tilt shift' and the first result explained it perfectly. https://en.wikipedia.org/wiki/Tilt–shift_photography

You're late..... And, do you want an award❓
Wait. Awards are for people who reply earlier..
Lol.

Yes, I have one...they actually pivot.

Tilt Shift tutorial here: http://allaboutwindowsphone.com/features/item/20399_How_to_tilt_shift_a_.... Quite confusing, as the photo is the same... I kept waiting for WC to credit AAWP? (actually after reviewing the older article again, I see it just looks similar... sorry WC!)

Sam Sabri..... You entering this❓

Exactly............................................

Roof or ceiling? Either way, nice pic!

"it's the roof of a public library in Amersfoort" you must have missed it. It really is a nice photo

I understand the title states "roof" but a roof is exposed to the outside environment and a ceiling is inside a building, located overhead and extending to walls. The winning pic looks like a ceiling, with lighting and ventilation perforations. A perforated roof would be quite leaky when raining.

Ahh yes, I see what you mean. When I first looked at the picture I saw it being indoors, but didn't pay enough attention with the spelling roof or ceiling. Sure it is a ceiling since there seems to be light fixtures.

Definitely a ceiling, you don't have vents like those on a roof.

I really should enter one of these contests sometime. On a side note, I'm not a big fan of this type of photography. It just looks too fake and creepy.

fake yes, creepy perhaps, but the creation process looks like a lot of fun for the photographer. I'll be taking part this time :D

Several things to note, tilt shift photography is done with a tilt shift lens, and not usually through post processing. The tilt shift most people are familiar with is from editing software with special effects, that hardly counts, does it xP Also, in the first Para, it's stated that tilt shift influences the DoF, which isn't true.

Hii..i need a tilt shift effect application for my lumia1020..

Wow. Really excellent winning image from the last contest. Posted via the Windows Phone Central App for Android

I think they should select top three winner entries instead of only just one winner. Because there were so many entries and everyone tries to shows there talent so in my point of view there should be top three entries.

I agree + they should give us the opportunity to vote

So this photo contect needs some third party editing software. I think Lumia Creative Studio (LCS) has tilt-shift feauture.

Thb, the sample pic looks like a train station, nothing more. Maybe I'm looking at it wrong :-\

Congrats, rosstek. That is an epic shot.

Congrats to the winner, that is one an amazing photo!


There's an app to make Tilt Shift effect on Windows Phone, tha App is Diorama is free and you get some cool photos. http://www.windowsphone.com/en-us/store/app/diorama/e9dd1ce4-8731-447b-b...

I just got a Xbox Live card code for free! :D http://xboxlive.freegiftcode.com

I just got a Xbox Live card code for free! :D http://xboxlive.freegiftcode.com
Windows Central Newsletter
Thank you for signing up to Windows Central. You will receive a verification email shortly.
There was a problem. Please refresh the page and try again.