How to use Tapatalk to post images in the Windows Central forums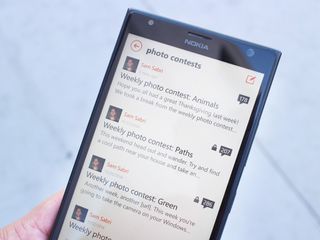 Every week we do a fun photography contest in the Windows Central forums. Each week we go with a different theme and get so many good entries into the contest. But without fail we also have a handful of readers who aren't sure on how to submit their photos from Windows Phone into the forums. Here's how you can use the excellent forum app Tapatalk to enter our weekly photo contests!
Install Tapatalk
Tapatalk is one of the best apps in the Windows Phone and Windows Store for interacting with forums. You can use Tapatalk to navigate and discover over 50,000 new online forums. We're one of those forums that support Tapatalk. Our current Windows Central app is unable to upload photos to the forums, and that's a feature to look forward in the future. For now, Tapatalk is the best way to upload photos to our forums on Windows Phone. So let's download it!
Take a great picture
To enter the contest you're going to want to bring your best photo! We have a new theme each week so that everyone has a chance to shoot a subject they're interested in or passionate about. For example, animals are the theme this week. So snap a great photo of an animal with your Windows Phone. Have your pic? OK great! Let's upload it to the forums!
Using Tapatalk to upload photos to the Windows Central forums
Go to the Windows Central forums in Tapatalk
Click the hamburger menu button in the top left
Tap Forums
Tap Windows Phone Photography
Tap Photo Contests
Go into the most recent thread to find the most recent contest
Tap the plus/+ button next to the quick
In the quick reply box, enter info about your photo (what we're looking, what Windows Phone you shot, how you edited)
Hit the paperclip icon in the bottom app drawer to select your photo
Hit inline image for the photo to show up in your forum post vs. being an attachment
Hit send
Wow. You just put a photo into the Windows Central forums. Congrats!
Have any questions on how to use Tapatalk to place photos into the Windows Central forums? Sound off below, and I'll do my best to help you out. Remember, you can use the steps above to put images anywhere in the Windows Central forums.
Windows Central photography contests
Haha... That photo contest.

Better than using the PC route.

I'd like be able to do it from within the app

Would be really useful, though. Anyway, there's a better way to participate now than using a PC!

I have that app only to post pictures here. Why doesn't WC app support it, you* should add that feature

I don't see a quick reply on my tapatalk

After some app update or WP8.1 Cyan Update(without DP), I'm not sure when, the app stopped showing the option for inline image; only shows option for attachment.
From Lumia 525 with WVGA Display

But consumes too much data. It consumed 30MB for one upload. It disappoints for people who use limited data plans

I've never used tapatalk, is it like disqus?

I am not getting the reply link in tapatalk

Thanks.... This blog Helped me a lot.

I now have a crush on Sam Sabri!

Never works in my Lumia 630

i keep on getting failed to upload inline image

Its not useful it's only open the internet explorer again! Then what's the point of the app!

Using Tapatalk, and following the instructions above, I am only getting "the photography lounge" on the next to final screen. I.e., no options for device, guides, or context.

I have problem using this app when I chose Photography Contests it linked me to Internet Explorer to open the URL of the forum, instead of opening it on Tapatalk

Same here. I cannot see anything but "the photography lounge"

is no "photo contest".. is only "the photography lounge".. there is "photograhy contest" but open IE, dont allow post in Tapatalk...

Yes...I have the same problem...takes me to IE if I go to the contact forum in TapTalk...if I try to post a phot directly in this forum from the desktop IE, it fails to upload...

Hey, I use Nokia Lumia 900 which runs windows 7.8. I downloaded tapatalk app to my phone and registered. But I can't login to my account. It says that I enter invalid username or password. But I am sure that I enter it correctly. I checked it on the web and I succsessfully logged in. Cant't get what the problem is with mobile app.
Windows Central Newsletter
Thank you for signing up to Windows Central. You will receive a verification email shortly.
There was a problem. Please refresh the page and try again.