Weezer to play at Microsoft Store opening in Pentagon City Mall (Arlington, VA)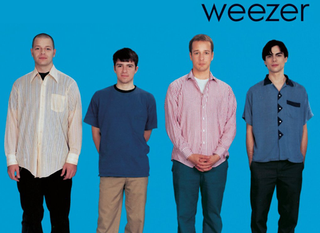 Weezer, an American alternative rock band that was popular in the 1990s, is set to play at a follow-up ceremony at Microsoft's opening of the company's Pentagon City Mall in Arlington, VA store on August 11th, according to a report at ARL. The software giant plans to expand it's brick and mortar empire by opening a number of stores across the US - see previous unofficial list. Inviting Weezer along is adding a cherry to this beautiful ice-cream Sundae.
The store is looking to open at 9:30am on August 9th. Washington Wizards' point guard John Wall will head on down for a Kinect demonstration inside the store on the 11th, the day the band will play their set in the mall (at 2:00pm). Microsoft previously teamed up with Weezer by including the track "Buddy Holly" in Windows 95 on release. It's good to see the fire re-lit, we guess.
But if that wasn't sweet enough, Microsoft is also reported to be donating $1 million in software to local organisations to help build opportunities for the younger generation.
Windows Central Newsletter
Get the best of Windows Central in your inbox, every day!
Rich Edmonds was formerly a Senior Editor of PC hardware at Windows Central, covering everything related to PC components and NAS. He's been involved in technology for more than a decade and knows a thing or two about the magic inside a PC chassis. You can follow him on Twitter at @RichEdmonds.
Lol @ "popular in the 90's". More like "since the 90's". Try getting a ticket to one of their shows

My fiancee just walked by my computer and saw Weezer on the screen, and she said, "Woah, that's Weezer. Are they playing near here?" I then told her they were playing at the opening of a MSFT Store and she said, "Is that free? LET'S GO."

So yeah, still popular. I guess I'll see everyone there!

"was popular in the 90s"?
that's one way to condescend to an entire fanbase of a music group

C'mon, Weezer is not nearly as popular as they were years ago. They have not had much critical succes in the last few years. It's music, not your identity.

Not your identity? Music, movies, games, technology...all interests. I certainly think that is a huge part of someone's identity.

I guess the reason people are surprised by the "popular in the 90s" comment is because they only had 1 highly popular album in the 90s. The other album (Pinkerton) didn't do bad but isn't remembered as well. The rest were in the 2000s.

I don't know any of Weezer's new music. Didn't even know they still made albums. Call me when Iced Earth or Iron Maiden are playing at a Microsoft store opening.

Beverly Hills....that's where I Want to be.....really loved that song from them.

Really? What new kids listen to Weezer nowadays is that the people MS wants to attract nothing wrong with Weezer but MS needs to do something better to get into the mainstream.

I remember buddy holly coming with win95. Loved them ever since.

I'm glad you mentioned the Buddy Holly video on the Win95 disc. I think that video was the first time that I ever saw a video playing on a computer! Truly groundbreaking. Weezer rocks! Microsoft rocks!

Me too. I was so excited to see a music video play full screen, looking and sounding awesome on a computer.

What was the other video on Win95? Edie Brickell or something.
Please, try the fish.

My fav weezer song, "my name is Jonas"

Nothing against Weezer but MS may try to leverage the Xbox and/or Halo brands to get hipper acts.

Somebody at WPCentral don't know 'bout Weezer.

Seriously "was"? Lol, most comments are striking on that one word. Though, "was" was cruel...lol

Personally, I think Weezer was a good choice, it's obvious MS wants to be hip in a more conceptual way, I mean, it would sound/look completely fake and borderline pathetic if the chose Skirillex to go along with a brand like Nokia (don't mean to offend anyone).

Hmmm and here I thought Weezer was another washed up 90's band. There type of music is not my favorite genre but I did like that Buddy Holly song. Let me use my Zune pass to see if they have anything else worth while.

Typical unsatisfied WPCentral commenter

WHY CANT IT BE ARLINGTON,TEXAS :(

I thought Weezer was still fairly popular

They are. Sure not as popular as they were 10 years ago but they still sell out stadiums every year. Their newer stuff is pretty weak though. Im a fan up until the red album. After that? Not so much.

I just found an awesome mix by Surgeon of Thom Yorke's The Clock (wow..., this was random, sorry guys, I shouldn't be left alone with a Pinot Noir).

They made some really great music (first 3 albums and some of the 4th). Their last few albums have been quite bad, sadly.

For those that don't remember, the video "Buddy Holly" was promo'd on Windows 95A edition discs, as a way to show off Windows95's new video techniques in comparison to Windows 3.11.

I guess you didn't read the comments.

long ago i thought Bill Gates was a member of Weezer... lol

Yeah I'd say "popular since 90s" :D

Go Weezer! What has not been mentioned that is even bigger; is that John Wall the former point guard to the University of Kentucky Wildcats and now with the Washington Wizards will also be there.

GO CATS!!!

And everybody is talking about the 90s comment but the "we guess" line towards the end was even more condescending. Just cuz you dont care doesn't mean everybody else won't.