Wells Fargo ending Windows Phone 8.1 app in late June, new Windows 10 app coming soon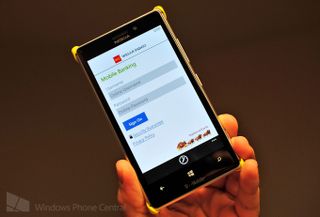 Wells Fargo is sending emails to its customers stating it will end support for its Windows Phone 8.1 online banking app in late June. However, the email adds a redesigned Windows app is in the works.
Here is the text of the email that is being sent to Windows Phone Wells Fargo customers:
You'll notice a new look and feel when you sign on to the Wells Fargo Mobile® Banking App. It has the same robust features you're used to, but common tasks will be easier thanks to improvements that include:
More navigation options
Redesigned search and filter to help find transactions
An enhanced payment calendar
This redesign is just the beginning. We're committed to providing you with tools to help you succeed financially. The redesigned app will make it easier for you to get banking done.
What this means to you
Starting in late June, we will be releasing a redesigned Windows App and no longer be supporting Windows 8.1 or earlier. We regularly update our mobile banking services, and older operating system (OS) versions or devices may not support these new features and enhancements.
What to do
Update your Windows device now to Windows 10 to ensure uninterrupted access to the Wells Fargo Mobile App.For help with updating your OS, please contact your mobile device service provider If you are unable to update to Windows 10, you will still be able to access your accounts from your computer at wellsfargo.com; however, the app and mobile website you are now using will no longer be accessible.
Thank you for being our customer.
There's no word on when the new Wells Fargo Windows 10 app will be released.
Thanks to everyone for the tips!
Windows Central Newsletter
Get the best of Windows Central in your inbox, every day!
Just got that email myself. I'm glad cause the app needs a much needed makeover.

I was seriously just thinking that the other day. Especially when compared to BoA & Amex's apps, WF needs some major UI improvements.

I'm not from the US so no need for this app for me, but I'm really happy to see they are bringing the new app out at the same time as decommissioning the old app, too many other companies decommission the old app before they even start making the new one! Posted from my Lumia 950

Just received this email as a customer. New Windows 10 app is great news. I appreciate their support. Being able to use mobile deposits on Windows feels like a luxury!

Love Mobile deposit, my favorite feature if their mobile app. Can't wait to use it in style!

Chase is only good at chasing their windows phone users out of the door of Chase bank or to another banking institution. Posted via Windows Central app for Windows 10!
Proudly rocking my Lumia 1520!

They Chased me to Wells Fargo last year.

I mean, this kinda sucks for those of us that can't upgrade to windows 10 mobile, but it is good to see WF sticking with windows.

Along with Chase, hopefully Capital One and Discover, too.

I just use their websites, and pin the shortcut to my start screen.

So do I, but I still preferred the app. Plus, no instant check deposit using online.

Yeah, at the moment I'm using App It! to use the Chase mobile website as an app.

Capital one should be next.

I was really happy to hear about this! Ideally it will work in continuum, too!

Seems like BoA has set a very positive tone for Win10. I'm really enjoying the new BoA app, guess Wells Fargo doesn't want to look bad in comparison. Good times for windows!

Agreed. I think the UWA's from Amex & BoA will give other banks the push they need, to improve their apps.

Hopefully its a sign of good things to come!

It's been in development early this year I believe.

Nice! Wells Fargo always has been there from the start. #TrueDeveloper

As has USAA. I'm just hoping Navy Federal CU sees the light.


Hey, congratulations to all wells Fargo users! I'm still waiting on Capital One. Hopefully discover also.

Thought they said that the Windows 10 app will be released in late June? Why does the article state that we don't know? Confused

I opened a Chase account when the launched their app but im so happy I never closed my Well Fargo account! According to the e-mail i received it looks like it may launch in "late June" hopefully it will be WUP!

"Windows is dead" That's why it's still raining apps...

I wouldn't say it's raining apps, but nonetheless...

Yup...the doom and gloomers HATE these articles. It illuminates their "market share" analysis for the FALSE analysis that it is.

Come ooooon PNC, dont be jerks

Just saw the email, I'm so excited! Hopefully they still leave the current app up as an option for older devices, under the condition that it will no longer be updated and is being left as "as-is" software, so our Window Phone 8.1 pals aren't completely left in the dust. But for us Windows 10 users, I'm super excited, that app has long been in-need of an overhaul, and I can't wait! Hopefully they finally make it a native app, and this could be a good sign the UWP is working (Especially if they release a desktop version as well). Very happy, cant wait to see the new app!

There's a good chance the app will be similar to iOS and Android counterpart. Eventually, web also.

We should all tweet them @wellsfargo to show them our thanks and appreciation!

I tweeted them thanks and also included a little dig at Chase and Bank of America ("@chase and @bankofamerica can take notes".) I hope Wells Fargo retweets it to toot their own horn so more people see it. https://twitter.com/msanders81/status/743156438994821121 <----PLEASE RETWEET @chasesupport responded saying they'd forward my tweet to management LOL

Bank of America was first and passed the note to Wells Fargo. :)

Boa uwp app is already available

Oops :) I'm only partially a jerk though. B of A still took the app away completely and left us without before coming out with a UWP.

My email started with:
Get a sneak peek at our redesigned Windows app I am looking for the sneak peak link.

Not good for the millions of WP customers Microsoft stranded on WP8.1 with no viable upgrade path.

Then again, nothing is good for those guys. Abandon ship.

Time to upgrade hardware!!

That's what happens with technology its a give in take sux but what can we do

That's what happens with technology its a give in take sux but what can we do

What about us left with the Samsung Focus on WP7? We get NOTHING. MS should support old hardware forever and ever. I'm not buying a new phone to get new stuff, so I'm jumping ship and buying a new phone on Android. Wait.... Sent from my Win10 computer, but looking at my Lumia 950

A huge majority of current Windows phone users are using WP8.1, the same can't be said about WP7. More Windows phone users have lost functionality with this news than will have gained.

Moving forward, that's how things progress. People eventually have to upgrade if they want the new stuff. Banks are probably hooking into the Wallet and access on tablets/PCs with UWP. They are banking (sorry) on the future. That being said, I'm not sure why they'd cut their customers off from their mobile site. That doesn't make a ton of sense, to me.

Like Dory always says, "Just keep swimming, just keep swimming, just keep swimming." User of annoying Finding Nemo quotes.

Very nice! Good job Wells Fargo! Maybe this will include the recently announced Wells Fargo Wallet that was announced for Android/iOS for the summer

Other companies take note!!! This is how you inform WP users that your stopping support for a WP 8.1 app. By letting us know #1 the app is moving to windows 10 and #2 encourage WP users to upgrade their devices to W10m

I totally agree! Now they just have to advertise it properly by saying Download the new Wells Fargo app for your any device..." Or show the "Get it from the Windows store" on their next advertisement. Or even show it running on a surface!

Hope TD Canada comes up with w10 UWP app

Yes. Their 8.1 app stopped working recently too.

Wanted to try out the beta for the Windows 10 version but I guess they just decided to announce it without a test. I believe it'll look like their iOS and Android apps.

Just sucks for people who can't upgrade to a W10 device yet. I have the HTC One M8 which will never see official W10.

Couldnt you just use the insider program? Posted via the Windows Central App for Android

See, this is how it should have been done by other companies. Not just leave your customers assuming the worse case scenario, even Microsoft should take note. One reason I had a difficult time recommended WP to people was because how do you explain apps leaving, with no future in sight? WF has handled their customers well since they've released it, by keeping the WP8 app going then saying they're going to stop supporting it with W10M covering the loss of the WP8 app.

Another huge one that I don't use but I'm super excited to see it. The more the better.

Been looking at leaving Chase to BoA or WF, so it is getting closer to that time I think.

That's cool. Would the mobile app have been updated if there was no UWP option?

Still waiting on Chase.....grrrrr. I am glad to see BofA and Wells are supporting us!

Dropped BoA when they dropped Windows. Went to Wells Fargo and happy I did.

I did exactly the same after being with them for 33 years!

So this new app is not universal!? I wish it was....
The bank statement doesn't say the wp8.1 app will be disabled. So the app should continue to work but it won't have as many features as w10m version.

I'm not sure if it's universal or not to be honest. They never specifically say Windows phone, but they do call it the mobile app. Wonder if it will be on PCs. Also, they do specifically say you won't be able to use the WP 8.1 app. And that you won't be able to even use the browser on it.

It should be. I doubt they would wait this long to revamp the app if was not going to be universal. Or eventually universal.

I believe it's a universal app.

I wish bank of America made this kind of announcement then. When they said they were cancelling their 8.1 app and no word for win 10, everyone went ape sheiiitt

That's why I tweeted them above. Please retweet me.

You know what pissed me off. When BofA ditched Windows Phone, I switched to Wells Fargo. But then after becoming a wells fargo customer, I couldn't deposit checks with the app because of A, a daily limit and B a monthly limit. So my whole reason for switching (eliminating trips to the bank) was all for nothing. I have yet to find any hardware with windows 10 that is appealing to me so I'm sticking with my lumia 1020. So if the BofA windows 10 UWP lets you deposit checks, I'm most likely going to switch back.

I upgraded from 8.1 to 10. Had to do the roll back. So back on 8.1 and my Wells Fargo app is no longer working. What I did to get around this was I downloaded the Wells Fargo logo. Setup Wells Fargo as a contact. Put in the website address only and the image and pin it to my start screen on my phone. Works just fine. Sure it's not the app but works just as good.