We're not getting a WWE 2K entry this year, but another WWE game is on the way
2K also announced that the next WWE 2K is in development.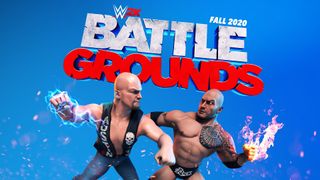 (Image credit: 2K Games)
We may not be getting a new WWE 2K main line title this year, as 2K as confirmed previous reports that it won't be releasing WWE 2K21 in 2020. However, 2K will still be releasing a WWE game. The studio announced Monday in an open letter that Saber Interacive, the company behind NBA 2K Playgrounds, is developing WWE 2K Battlegrounds, which is scheduled to release this fall.
Like NBA 2K Playgrounds, WWE 2K Battlegrounds is set to be an arcade-style experience with "over-the-top Superstar designs, environments and moves," according to 2K. The studio also said the game will include social play and is working to make it easy to use. The two games also share a very similar art style — making the athletes look more cartoonish with giant heads and bright colors.
As for the main WWE 2K franchise, the studio did state that WWE 2K20 won't signal the end. It's just taking extra time for the next entry.
Visual Concepts, who took over the series from longtime developer Yuke's, will still be working on it, but Patrick Gilmore, who's worked on games like Medal of Honor and the upcoming New World from Amazon, has signed on as executive producer.
"We want to ensure the development team at Visual Concepts can create a great game that will entertain grizzled WWE 2K veterans, as well as newcomers who want to climb through the ropes and step into the ring for the very first time," the letter stated.
2K didn't release a new date for the next game, but we're sure to hear more updates on this is the future as well.
In the meantime, 2K says it'll be keeping the 2K19 servers live — "they will be active for the time being," the letter said. The studio also took time to mention that WWE SuperCard will continue to receive updates.
This is good news following the disaster that was WWE 2K20. The game released with a lot of bugs and performance issues. 2K has worked to patch the game and has released multiple updates and expansions. Still, there were concerns as to whether the franchise would continue in its current form. Looks like the studio is continuing, but there will be structural changes and a longer development time before the next entry.
Does the future of the WWE franchise intrigue you, especially after WWE 2K20? Sound off in the comments below..
Carli is the Gaming Editor and Copy Chief across Windows Central, Android Central, and iMore. Her last name also will remind you of a dinosaur. Follow her on Twitter or email her at carli.velocci@futurenet.com.
Could WWE Battlegrounds be considered as a successor WrestleMania: The Arcade Game and its sequels? I'd love to play a wrestling game with the kinds of combos and hilarious moves that were found in WrestleMania The Arcade Game.
Windows Central Newsletter
Thank you for signing up to Windows Central. You will receive a verification email shortly.
There was a problem. Please refresh the page and try again.