WhartonBrooks launches Cerulean Moment crowdfunding campaign for Brazil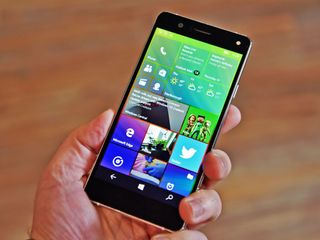 After kicking off a crowdfunding campaign in the U.S. for its Cerulean Moment Windows 10 Mobile phone, WhartonBrooks has now launched a Brazilian campaign as well. Available at Brazilian crowdfunding site Kickante, the campaign is seeking funding totaling R$5,850,000 (nearly $2 million USD).
WhartonBrooks initially fully revealed the Cerulean Moment, its first smartphone, in late March before launching its an initial crowdfunding campaign on Indiegogo. That campaign is still active, though it has only managed to raise around $23,000 of its $1.1 million goal with 19 days left. The Kickante campaign only just launched, but it has so far raised R$14,810 with 39 days left to go.
Everything you need to know about the WhartonBrooks 'Cerulean Moment'
The Cerulean Moment itself is based on the design of the Coship Moly W5, featuring a 5-inch display, a 1.5GHz Snapdragon SoC, 3GB of RAM, and 32GB of storage. The rear camera is a 13MP shooter, while the front-facing camera comes in at 5MP. The reception to the moment has been mixed to say the least, and funding is currently far short of its goal. That said, WhartonBrooks is hopeful its crowdfunding initiatives will get it off the ground and in the hands of backers.
If you want to peruse the crowdfunding campaigns and potentially back the moment, you can find it on Indiegogo and Kickante now.
Windows Central Newsletter
Get the best of Windows Central in your inbox, every day!
Dan Thorp-Lancaster is the former Editor-in-Chief of Windows Central. He began working with Windows Central, Android Central, and iMore as a news writer in 2014 and is obsessed with tech of all sorts. You can follow Dan on Twitter @DthorpL and Instagram @heyitsdtl.
Hope the best with new product.

WHEN IS IT COMING TO CANADA, UK, AND FRANCE?

Biggest joke for WP fans in 2017....

What did we ever do so bad for the universe to hate us so much? Have hope? Want to be different?

You do know that this was a small upstart company with limited resources available. That much was obvious from the get go.

If Nadella has half of passion for WP as the WhartonBrooks CEO's, WP would do whole lot better.

It is not going to reach the go mark. Too pricey compared to similar android phones on the stores.

The Brazil campaign will do very well because more than 30% of older Windows phone users (still stuck on WP8) are in Brazil.
.
Also count Portugal and Argentina :)

Heh, it is nice to dream, but i could bet a years salary that the campain will fail just like in US

Most - me included - have cheaper phones that cost less than R$1000. And most - again, me included - won't pay such a high price in a device with such low specs

Wow. Why would they continue with this after the absolutely terrible performance of the Indiegogo campaign? Isn't Brazil covered in that campaign as well?

The Indiegogo campaign is only for US. I'm in Canada and I cannot contribute. I have to wait until they (WhartonBrooks) makes the campaign available in each country's online campaign service

Wow, $1.1 million is an insane number if the campaign was worldwide. $1.1 million and US only is incredibly stupid. It really makes no sense at all.

I'm in India, and I was able to pay.

not true. on indiegogo everyone can contribute. stop defending that pathetic product because it failed miserably

why do you say that? It says ship to canada.

The last windows mobile smartphone officially launched here in Brazil was lumia 930. Everyone was satisfied with Windows phones until Microsoft, suddenly, shut down all it's stores and abandoned the consumers. It's really disappointing. Now, here in Brazil, the system is only reason to joke and a few still speak to bet on it. It will be very difficult to win the Brazilian consumer confidence again.

WhartonBrooks will need to convey that they will support the Brazil people and try not to mention MSFT anywhere.

The 930 in Brazil had a serious hardware problem, it was a disaster for a lot of customers (including my wife and sister in law)

Will never understand it. India, Brazil, Argentina and Mexico alone could have made Windows Phone a huge success.

100% agree. Europe was ok too. But they seemed fixated on breaking the US, ended up just breaking us.

Interesting...... Brazil's import tariffs are huge. Surprised they're going to take a run at it

They definitely seem to have made a decision to specifically focus on US in general - I'm hoping they start focussing worldwide a little more soon, even regions that used to be on par with the US for features (Like the UK) are waaaay behind when it comes to a number of MS products - Cortana being one of the most important ones.

For some reason the article doesn't convert it, but the amount they're trying to raise is approximately $1.84 million USD .... Yeah...

I was reading about NuAns NEO Reloaded ( Android) and the specs looked good (but unfortunately Snapdragon SoC 625 is not certified by MS) but the sad thing is NuAns dumped Windows phone in favor of Android.

because MSFT made false promises to NuAns that Windows 10 Mobile is a thriving platform with millions of users wanting to upgrade. The bad part is that MSFT only recognizes USA and Japan as countries to sell them in.
.
Most of Windows phone users are in Brazil, Argentina, Canada, UK, France, Spain, Germany, India, Kenya, ...

I remember a report way back showing that in Canada the Windows phone (WP8) marketshare compared to Android, Blackberry, and iOS was closer to 35% and in countries like India and Kenya was closer to 70%..
.
It really I bad for MSFT for blindly ignoring all the places where Windows phones was selling more than any other platform

MS were stupid to ignore the viable market share they had in these countries.

I did not matter, on the world total data the 3% share was way to low for devs to considder the platform, even if they made apps in their own native language. I blame some of this on the media constantly pointin out this fact, forgetting that the Asian markets might not be a target for most EU/US devs anyways, and some on MS for not countering. In EU WP was actually pretty big all over, but MS had no focus on the EU5 as you pointed out. There should have been alot more focus on backing up local developers to strenghten the position they had. Even so, Snap Chat alone could have been enough to bring WP to it's knees in way to many countries.

Windows 10 has more than 3 percent market share. uwp work on console, tablet, desktop and laptop, and get used on all those platforms. hence why the windows store has experienced phenomenal growth in non-mobile application specific (niche chat, GPs based) apps

yo, that's weird. Ms never promised anything of the sort.

MSFT promising OEMs or ODMs

I wish them luck, but who would really buy a W10M unsupported mid level device.

Will it ship with Creators Update? I am sure it won't be elegible for RS 2.5.

I believe the Brazilian people are generally more welcoming than the US

LOL. All I have to say...and I am a Windows Phone fan.

Yep, I remember thinking that Windows Phone could be a success in China and Indian that we would have it made. But Microsoft even bungled that. All they wanted to do was to get their apps on the other platforms.

Nadella's politics... That have destroyed wm/wp ecosystem
Giving all wp/wm exclusives to the counterparts Ok for office mobile/365 services, but they gave all to counterparts, even stuff like hyperlapse, or age of empire That has been a suicide

What? How are they going to raise double the money in a smaller, poorer country?

This man again...I'm baffled.

Looks like Dan Rubino did have a talk with Jason...no more WhartonBrooks articles. It was exactly what we all thought. One guy in the US ordered a rebranded Coship, there was nothing more to it. Their exclusive app looks like an absolute joke that a 10-year old made. Not sure what their strategy is going forward. Watch Win10 Mobile be axed officially. Hah...what sad times for our beloved platform.

Nah, there'll be another one when the indiegogo campaign fails about what's next for whartonbrooks, etc. Then hopefully we'll never have to hear about them again.

Cerulean? "For the fans". Thanks. At this point, nobody cares anymore.

I can't believe they thought that true fans would care about this device.. I mean, are they kidding?... What a (another) disappointment.. This guy should've kept his hype to a minimum.. This phone has absolutely nothing to offer better than my disappointing as it already is Lumia 950..... Does WB understand what a nice phone is?.. All they had to do was admit that their first device would only be a start, and nothing special. They would've gotten more respect for that.

To be fair to them, he did mention that they had to start somewhere. Their original plans had another phone in mind, Lumia 1020 successor or something similar.
They had an article in OnMsft I believe. He also said they have 4 other phones targeting different groups that they plan to release later, but will ask the community with phone they prefer first.

Cerulean is an insult to me. I'm a fan with big expectation. This Greg guy is a big fatten joke!

I should care with 4GB of ram and a 24MP Zeiss pure view fotocamera

RIP Cerulean Moment. 2% of $1,100,000 fixed goal and 18 days left.

At this point, I don't even care if it's in peace.

At least don't be offensive

I cannot believe he's still going with this!! WTF Look at the US numbers, and now he wants almost double that from a smaller economy??? Greg Murphy - wake TF up.

LOL now I'd like Jason Ward to come and say sorry for all the articles (adverts) he made for these nobodys @ WhartonBrooks trying to rebrand low quality chinese phones with crowdfunded campaigns. It will never happen obviously, he'll never admit it was just poor tech journalism.

It is now getting clear that all Jason's articles are just bullshiiiittts.

This site lost my respect and all credibility with all those silly articles gushing over this nobody and his planned phone, when you could see a mile ahead exactly where this was heading (hint: nowhere). Just because we're fans of the platform doesn't mean we have to ignore all the evidence available that tells us that the emperor has no clothes.

Ahahahahahahah these guys just get more and more deluded by the minute ahahahahahahahah

Did Jason Ward get tired of writing about all this?

We need to give Jason Ward a break. Enthusiasm is not a crime. Even foolhardy, unfounded enthusiasm. I don't think even he knew how low spec'd the Moment was going to be. These people aren't seasoned investigative journalists, they're just enthusiasts like us who happen to do journalism for a living. I'd zing WhartonBrooks more than Jason, ~they~ knew what sort of phone was coming and didn't dial back the hype.

Except that several people - me included - pointed out exactly what the phone it would be. If I, with a full time job in a completely unrelated industry can find that out, how come someone who is paid to write tech articles doesn't? How come a simple LinkedIn search showed anyone who cared to look that not one of the people working for this "company" had any skills or experience necessary to bring a phone to market - let alone one to standout in a market where the 950 is almost being given away for free. No, we shouldn't give Jason a break. He lost all credibility and dragged this site's down with him.

lol everyone thinks that way, whoopee It would be a such an interesting world if everyone wrote the same thing, thought the same way, spoke the same rhetoric. You can choose to be just like everyone else and follow, or lead and go your own way. I'm glad @jason ward writes the articles he does especially when it gives a different perspective from all the same old other stuff.

They knew....everyone who read the article knew that this didn't sound like a real thing...how could the person writing it not? They must be friends or potential partners on this or something....the whole thing just doesn't smell right man. I mean, at least make an effort on the logo, the app and be more specific in your buzzwordy funding pitch. It all just sounds, looks, and feels so amateur. Take a look at Eve (eve-tech.com)...they started with just a couple of people too...but put actual work and brains behind it....and now they're growing and able to take on a little more each time.

I guess they didn't learn from their US crowd funding effort that's only reached like 2% of their goal (with a little more than 20 days left). Lol. Take a hint, guys.

WhartonBrooks would have done better to start with fans first, successor to 1020, but with processor that can handle it.
But Nadella's dream phone is iphone, he would never support it. Think somebody fed him to many apples when he was a child. Without support of MS WhartonBrooks might have to create a platform of there own.

Just glad Jason is still out there somewhere writing for the site. They may have removed him from Cerulean articles. But at least he's here somewhere.

Jason also made himself clear after some people were accusing him. He did not do anything wrong.
His articles are some of the most interesting reads along side Dan Rubino.
People just like to bash others or anything, and one after the other they pile up. People follow others usually, unfortunately.

Good luck. WB is like W10M, it never dies. This might just work, Brazil is a huge country with demand for midrange phones.

Unfortunately this device will.never launch if it's relying on crowd funding, that's the fact of it.. I love their passion though, if only Nadella had the same passion.

Their passion is the only good quality they have. The phone is a disappointment!

That smiling fat man is a joke by himself.

:))) lol a midrange 2015 spec device running a dead OS. And he wants money for it...

This is a joke...he's obviously just got a quote from the OEM on the investment for a run of devices that they are already tooled to produce (there's no additional engineering really needed, so he's probably getting a good deal at certain volumes). Who knows how much he's built in to pay himself in "labor" to his funding requests. If he can find a way to fund that initial run...then he will be able to have made himself some cash. This is the only way to pull it off (selling an existing device) without significantly more investment for engineering and the tooling of the OEM's. So yeah...that's why he's trying to sell something that no one wants...it's an idea to try an make a buck off of remaining windows phone fans (and primarily international fans at that)

Not surprised it isn't doing well. It clearly was not made with the wp fans in mind at all. It cannot compete with Android phones​ that are cheaper and have better internals​ than this horrible cerulean moment! Add to the fact how they mislead everyone by hyping up their phone like it was a revolutionary game changer which was bullcrap and was insulting to everyone. From the start they should have been transparent about the specs and they weren't!

They should look at Italy, Australia and Japan where win 10m is popular

Credit Wharton Brooks for having the balls to try and pull this off..., again. It's sad that Windows Mobile is in this position at all but it's the worst possible timing to try and launch a Windows Mobile phone into a negligible consumer market where even some of the faithful "fans" have abandoned ship or are at least moonlighting with other platforms. How in the world is that Indiegogo campaign supposed to gain traction with the only publicity found on a few specialist tech sites, where opinion on the said product ranks somewhere around the junk status? Unless you already knew or were told (and who's really going to share this with friends?!) you're unlikely to stumble upon WB's website, Facebook page or Twitter handle. Even if you did, you'd marvel in utter amazement at the bold yet foolhardy attempt to seed funding for a smartphone product you've never seen, touched or experienced 1st hand, or heard about in any 3rd party phone outlet or mobile carrier or major advertising channels. I don't quite know what to feel for them, it's hard to feel sorry for them since they're doing all this with their eyes wide open and brains engaged - they are clearly committed despite the alarming and overwhelming factual evidence surrounding the state of the Windows Mobile platform. It kind of makes me consider my own position and why I choose to stay with Windows Mobile and so in that sense, I say good luck in Brazil. I hope they get enough exposure and engagement to find the funds they need. But boy, it's some ask. Microsoft couldn't sustain it with all its arsenal of gifted minds and financial clout. What hope at all for WB?

I'm stunned that Windows Central editors continue to allow this hack of a startup space in an article....This is just some guy who's spilling this illogical grand story and got his hands on an aged rebadged phone with windows 10. That's not difficult to do. There's no investment on his part, aside from his wasted time. Either the guy is an absolute idiot, or somewhere in all of this is a scam... I don't know if he's friends with someone on this staff, but publishing these articles continues to legitimize this and it doesn't feel right at all...

Folks I think that Microsoft CEO Nadella not MS VP Myerson or MS VP Panos Panay should tell us at the may 2nd event or at the Microsoft Build Event the following things. 1= Will Microsoft contine to Sopport and improve Windows 10 mobile software, 2= Will Microsoft make again any new Physical Windows 10 mobile smart phones. of their OWN both these questions must be answered NOW ASAP. 3 groups of peole want to know 1= Mobile tech industry, 2=Businesses and and people who now use windows smart phones, 3= Windows smart phones Fans. lets pray we get the answers to these questions

This device sales power will depend upon Microsoft CEO Nadela Pubically stateing that Microsoft will continue to support and improve Windows 10 mobile smart phone software. Microsoft OEM Partners small and large have to know will Microsoft stay by their side to help them or Windows 10 mobile smart phones are truly dead Microsoft OEM Partners want CEO Nadella to step up to the plate and let them know what Microsoft intends to do with it's Windows 10 mobile Operating system soft ware before they take the time and money it reqires to make and sell Windows smart phones.

Hey guys, those who can, please support cerulean moment financially..

why doesn't Microsoft help this company, shovel a couple of Mill' onto his fire to get him going? he's doing them a damned fine service, isn't he? where's Bill? has anyone told this great philanthropist? shame on MS.

So the phones can sit in their offices unsold? If people want them, then the campaign will be successful. Otherwise, what is the point?

Mr.ward is still one of the top writers here, he went to the launch expecting Great things. I just can't imagine what he felt when this 'Great leap forward in mobile technology ' was lovingly place in his hand! Delusion to the extremes! Mind blowing incompetence. Other than that, words fail me!!

We need to support any and all who raise money for the Windows mobile dont let them get away with the evil please

Its an agenda to get windows phone out of the people hands flat out

They want it to fail because they have sold their soul to the devil g o o g l e

At Least 13 Phones Under 200€ have Way too Better Specs than Cerulean Moment Phone. CPU: 8 Cores. RAM: 4GB. Battery: Over 3.000mAh. Please Check them and try to Build something Better or Try to Corporate with one of those Companies to make a Windows 10 Professional Smart Future Phone. 1st Xiaomi Redmi Note 4. 2nd Xiaomi Redmi Note 4X. 3rd Xiaomi Mi Max. 4th Lenovo K5 Note. 5th Xiaomi Redmi Note 4 (MediaTek). 6th Huawei Enjoy 7 Plus. 7th Coolpad Cool1 Dual. 8th Coolpad Note 5. 9th Meizu M5 Note. 10th Panasonic Eluga Ray Max. 11th Micromax Canvas 6 Pro E484. 12th ZTE Blade A2 Plus. 13th BLU Life One X2 Mini. All the Above Information has been gather from GSMarena Phone Finder Section with only 4 Filters. 1st Years: 2016 until Now. 2nd CPU: 8 Cores and Above. 3rd RAM: 4GB and Above. 4th Battery: 3.000mAh and Above.