Everything you need to know about the WhartonBrooks 'Cerulean Moment' Windows phone (exclusive)
The WhartonBrooks story is that of a Windows phone fan who started a company to make phones for other Windows phone fans. After nearly three years of struggle, "the Moment" has arrived.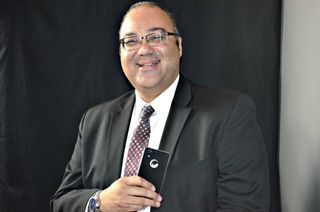 I mean that literally. The Windows phone that has been shrouded in secrecy since this courageous Connecticut-based upstart company made audacious and ambitious claims in a press release last year is called the "Cerulean Moment."
Early this month, I sat down with WhartonBrooks CEO Greg Murphy and spent nearly two hours talking about the Moment, WhartonBrooks and what happens next.
Behind the curtain
This exclusive includes a reveal of WhartonBrooks's smartphone strategy, the latest challenges to its plans, and the official announcement of the Cerulean Moment, the only Windows phone made for Windows phone fans by a Windows phone fan.
Since the company's initial press release, I've provided extensive coverage of its journey to this exclusive reveal. Succeed or fail (though we are rooting for its success), the chronicling of the journey of this self-proclaimed "biggest Windows phone fan" who has built a company dedicated to Windows phone is unique in the industry and worthy of being told.
Like Hewlett-Packard (HP), WhartonBrooks has embraced Windows 10 Mobile, a platform many consider to be dead despite continued development by Microsoft. The difference between WhartonBrooks and HP, however, is that though WhartonBrooks has always had an active business play, its primary focus is consumers.
Windows phone fans, this phone is for you
Murphy, a tall man of about 6' 2" towered over my 5' 10" frame when he walked into the coffee shop where we chose to meet on the evening of March 6. After some small talk, we got down to business. He showed me the Cerulean Moment, a Windows phone targeted at consumers – but not all consumers, only Windows phone fans. This is an important point to remember.
Considering the state of Windows on phone, with apps and fans leaving the platform, this may seem like the wrong direction for any company, much less such a small company like WhartonBrooks. I posed this candid concern to Murphy because not even the biggest fan, which he claims to be, could ignore this sobering reality.
Murphy is undeterred. He is convinced that of the millions of Windows phone users, there is a core who love the platform and who are waiting for a device to fill the void left by Microsoft's withdrawal of Lumias from the market. He has a point. Many fans have jumped ship in part because there were not many accessible options to replace aging devices.
Carving out a niche
Sure, the HP Elite x3 is an excellent phone which virtually any fan would want, but the elite pricing keeps it well out of the reach for many consumers. Then there's the Alcatel Pro 4S which is also an appealing option. Beyond these two devices, however, outside of local OEMs with limited distribution, the options have been limited. Murphy is convinced that he can cater the Moment (and other Cerulean devices) to a target market of fans who are committed to the platform. He is resolved that even if he reaches just 10 percent of the core fan base of millions of Windows phone users, he will succeed.
Of course, a consumer focus, unlike HP's enterprise-focus, lends itself to a greater vulnerability to the impact of the app gap. When I asked Murphy about how he would address this, he stated that he is working with local businesses in the areas where the phone will launch, such as banks, to bring apps to the platform.
Of course, the big-name apps like SnapChat and others would be welcomed by many Windows phone fans, but apps for local businesses also have great value to users.
Is the Cerulean Moment a rebranded Coship smartphone?
The following video is hands-on with the Coship Moly X1.
We've heard the concerns and criticisms about WhartonBrooks's "groundbreaking" device simply being a white-label rebranded Coship smartphone. The company's website has boldly brandished images of Coship phones to represent the coming smartphone for months, after all. I asked Murphy about this as well.
The simple answer is, yes, the original device manufacturer (ODM) is the China-based Coship. Murphy elaborated, however, that that the WhartonBrooks team's vision is more important than what ODM manufactured the phone.
With that in mind, the final device was not simply a matter of slapping a Cerulean logo on the back of a Coship Moly X1. The company went through many samples, fine-tuning specs and design to ensure that the phone would fit the vision of a beautiful, Continuum-enabled Windows phone optimized for work and play and that would be accessible to everyone. This effort was an elaborate balancing act of getting what Murphy has determined are the right specs, while keeping costs low enough to ensure an affordable retail price.
Will his standards meet with what consumers want and are willing to pay?
Taking a moment to take a look at the Moment
I have been provided with an engineering unit (some features don't work but it is otherwise fully operational) of the Cerulean Moment, and I like the look and feel of this phone. The Gorilla Glass 3 front and back feels nice in hand and looks classy. It is quite the fingerprint magnet, however, and images of shattered glass after an inevitable drop come to my mind. Potential damage notwithstanding, the Gorilla Glass front and rear make for an attractive device.
The white Cerulean logo against the black back of the phone is very attractive in its simplicity. I prefer this circular Cerulean Mobile logo over the parent company's WhartonBrooks logo that has come under some criticism.
Additionally, the almost universally recognized Windows branding, also on the rear of the device, effectively communicates that this phone runs Windows. If WhartonBrooks is ultimately successful, the combined Cerulean and Windows branding may help Windows on phone, and Cerulean smartphones gain mindshare as fans use their phones in public.
The Moment has a five-inch, 1280 x 720 resolution display, which feels small compared to my six-inch Nokia 1520, one of my daily drivers. Five inches seems to be the sweet spot for many users, however, many of whom find the 1520 unwieldily. To be honest, after over three years with the 1520 I find that the Moment's narrower form makes it very comfortable for one-handed use.
Murphy shared that at the stated resolution (which may not impress many fans) the phone gets all-day battery life. I inquired what he meant by "all day," because I recalled Apple's claim of all-day battery life in the iPad Pro, which the company clarified as being only 10 hours.
Murphy anecdotally shared that when he gets to work at 8:30 am, the battery is at 100 percent and when he gets home at 6:30 pm, after an hour of listening to his favorite podcasts (like the Windows Central Podcast) the battery is at 40 percent. If this is accurate and represents what users will ultimately experience, I see a positive reception to a phone that expends only 60 percent of its charge after 10 hours. I look forward to testing the battery life with the unit I have.
The Moment is also very light; it's much lighter than my 1520 and even my 4.7-inch Lumia 1020. The aluminum border around the phone gives this smartphone a classy look reminiscent of some previous generation iPhones. The border is also a nice touch that allows this arguably mid-range phone to break away from a simple black-slab aesthetic.
I say midranger, Murphy says best of Windows 10 Mobile
Murphy doesn't categorize the Moment as a midrange phone, though from my perspective it sits above a low-end device but below a high-end device such as the HP Elite x3. Murphy, argues that the company took the best of Windows 10 Mobile and built a phone around those important features.
Unlike the Coship Moly X1 to which it has been compared, the Moment is sporting a Qualcomm 617 (8952) processor rather than the lower-tier 410 processor the Moly X1 had to work with. For the uninitiated, a 617 processor is a minimum requirement for Continuum on phones. As another one-up to the Moly, the Moment has 32GB (expandable by an additional 64GB) of storage, contrasted to the Moly's 16GB of expandable storage.
Murphy expressed that bumping the specs up from the stock Coship specs was crucial to providing the type of smartphone experience he envisioned. For instance, he discovered that 2GB of RAM did not provide an optimal Continuum experience. Thus, the Moment also has 3GB of RAM in contrast to the Moly X1's 2GBs.
Not all specs on the Moment have been bumped up when compared to the Moly X1, however. Both devices have a 5MP front shooter and 13MP rear camera with a dual-LED flash. Unfortunately, there is no dedicated camera button.
Moreover, the camera focusing function is one of the features that is not working on the engineering unit that I have. I'll have to wait for a full review unit to get an idea of the quality of this camera.
Additionally, the Moment, like some other Windows phones, employs on-screen virtual buttons for navigation rather than the usual capacitive buttons. Murphy expressed his initial dislike of this feature, but it has since grown on him.
My wife's Lumia 640 uses virtual buttons, as well, which is a characteristic that didn't appeal to me during my admittedly infrequent use of her phone. During my more frequent use of the Moment, my view is beginning to change. We'll see how I feel after more time with the phone.
Image 1 of 3
A volume rocker and combined dual sim and memory card slot occupy the left side of the device. You'll find the 3.5mm headphone jack at the top. The power button is on the right, and finally, the micro-USB port and speakers round off the base of the device.
Performance goals, perfect for every moment
Murphy shared that the goal for the Moment is to fit into every moment, work or play, of a user's life. As one of the measures for this parameter he determined that the device should be able to handle, without stuttering, streaming a video via Continuum while also playing one of his favorite games such as Dodo Pop, Disney's Magic Kingdom or Asphalt.
Using a Stream Beam Continuum Edition on his television, he tested this and found that within an approximate 10-foot radius the Moment performed as desired. He admits that when moving beyond that range, the streaming content begins to degrade, while the activity on the device remains unchanged. Murphy also owns a 950 XL and an Alcatel Windows phone (among many others). He stated that he hadn't used the 950 XL under those conditions in a while but feels that it performed similarly when he did.
Image 1 of 2
He admits that benchmark comparisons (using benchmark apps) between the devices shows that the 950 XL outperforms the Moment. He adds, however, that he doesn't "see" the difference when using the device.
When using Continuum via the Moment in a traditional desktop setting, Murphy reports that performance is optimal.
Once I, as a Windows phone fan and a member of WhartonBrooks's target market, have an opportunity to review a fully functional unit I will share my opinion regarding the Moments ability in that regard.
Can a Moment replace your aging Lumia?
You simply may not want to replace your older high-end device with what I see as a mid-ranger. Though some of its specs, like 3GB versus 2GB of RAM and Gorilla Glass 3 rather than Gorilla Glass 2, admittedly surpass even those of my "high-end" 1520. Then again, if your device is beginning to show its age, or like my 1520 doesn't support Continuum, the Moment will stand out as a possible option among an admittedly small pool of choices.
When I asked Murphy this question, he responded that when you buy a Cerulean Mobile phone, you are buying from a company that won't abandon you. He states that "other companies only have a toe in the water," meaning they have other investments such as making Android phones, laptops or other devices. The differentiator that WhartonBrooks brings to the table is that it is all-in with Windows phones, he says.
If users are inclined to accept the testimony of this fan that has made tremendous investments in Windows phones, his commitment may echo as a counterpoint to the feelings of abandonment some users endured when Microsoft stopped making Lumias.
It is also an antithesis to the change of direction former Windows phone manufacturer Nuans recently committed to, because it is now making Android-based smartphones.
WhartonBrooks's vision is to remain connected to the fans and to offer continued support post-purchase, according to Murphy. He even shared a vision of wanting to build a device based on fan input. These things reflect the company's commitment both to the platform and users. Of course, dedication and passion alone, which Murphy has no shortage of, are not enough to sustain a business. A company needs customers.
Combined with an affordable retail price, Murphy's stated commitment may be just enough for Windows phone fans to take a chance with the Moment,
What about those 'ground-breaking, disruptive technologies' claims?
WhartonBrooks received a lot of attention. and more than a little criticism, in response to the "ground-breaking and disruptive technologies" it boasted it would bring to the industry in its initial press release. For those who don't remember these ire-inducing claims, an excerpt from that press release follows:
Like many readers, I was skeptical about these claims, so I asked Murphy to shed some light on what he meant.
Many of the above claims seem to be WhartonBrooks expressing the merits of a Continuum-enabled smartphone running Windows 10 Mobile as part of the Universal Windows Platform (UWP).
The Moment, as such a device, Murphy would argue would be consistent with the claim that it is "the one device that takes care of all [our] needs." In line with Microsoft's UWP and Continuum vision, the Moment, running Windows 10 Mobile would be "a PC, a tablet, and [would] even make phone calls." That, I believe, answers part of those bold claims. The other part is not so easy.
That's a doozy considering that the smartphone has changed the personal computing landscape. How could WhartonBrooks differentiate the Windows phone experience to such a degree that it would produce an impact consistent with that claim? Given the inability to modify Windows 10 Mobile differentiation is difficult for OEMs invested in the platform.
Nuans used unique hardware to stand out from the pack, but once you picked up and used the phone, there was little to make the experience with a Nuans Neo any different from any other Windows phone.
Nokia addressed the same challenge with exclusive software and hardware features, such as state-of-the-art camera technology.
Murphy shared that WhartonBrooks is investing in four different areas to differentiate Cerulean smartphones from other Windows phones. He shared with me that it is a portion of these investments that is the foundation for his "most disruptive" claims.
An events tracker
The Moment will launch with what Murphy states will be an exclusive app. When I asked if this app will be available in the Store for other devices he seemed to infer it may be at some point. This app which has yet to receive an official name will allow users to save important moments or daily activity to one location. For instance, photos, notes, places visited, a life event and more, all relevant to that day, can be saved to this hub for easy reflection.
Tapping the app's Live Tile launches it, and it presents a tiled interface that fills the screen. Each tile represents a different category which can be launched to view or save new data.
Unfortunately, no parts of the app are automated, unlike the Photos app that automatically makes an album of pictures for a certain time period. Thus, any information users want to save to the hub must be manually entered. Some level of automation where the app saves certain information, such as notes and photos that it detects occurred at the same location within a certain time frame, would be a nice update.
I also found that the font size of some of the text in the app a bit small, which Murphy said could be changed. I asked about Cortana integration, which Murphy confirmed is in the app's future.
Additionally, Murphy added that this app could also be used in a work context. In a business environment where teams may be working together, it provides a centralized hub for users to save data.
I have the app on my engineering unit. I'll reserve presenting an opinion until I'm comfortable giving a more informed assessment, however. What I will say is, it seems like a good idea.
A tool for public safety and first responders
Though the company's focus is consumers via its Cerulean Mobile division, business and commercial applications for the phone have always been part of the company's vision through the parent company WhartonBrooks. Murphy shared that he is in a partnership where Cerulean Mobile phones will be used, on a large scale, by first responders. He states that the company he is collaborating with has technology for the phone that will provide location awareness that will help first responders in emergency situations.
He described a scenario where the phones would be used by firefighters to help them remain aware of one another's positions during a crisis. He confirmed this same concept could be used in other scenarios like crowd control, or with police officers in certain situations.
As a commercial tool for public safety, Cerulean Mobile phones may slowly gain respect in the industry if this partnership works out. We'll have to wait to see if this strategy to establish a foothold in such a critical capacity will contribute to the phone's success.
A partnership for emissions monitoring
Murphy shared that in certain municipalities around the world, monitoring of emissions has become mandatory.
He informed me that he is in a partnership where WhartonBrooks will be an exclusive Windows provider for the monitoring of emissions. He explained that monitoring begins with an IoT device, and Cerulean smartphones will be the information center for the vehicles. This news may not excite consumers, but per Murphy, emissions is an important issue in places like Brazil where this will be implemented. Furthermore, the country was also one of the more successful markets for Windows phones in the past.
If successful, such a partnership may initiate growth for WhartonBrooks in other commercial and business sectors, as well as the consumer market. We will have to wait to see how this plays out, but partnerships such as these along with exclusive software is a differentiation strategy that may help WhartonBrooks succeed.
I know more, but I can't say it ... yet
There is a fourth category, which is more consumer-focused and is specific to a particular industry, which I am not at liberty to divulge at this time. It is this category that seems to most excite Murphy, and from his perspective, best reflects his "most disruptive" claims. If WhartonBrooks can pull it off, it will be a unique application of the phone that consumers would likely enjoy. With this partnership being the foundation for his boldest claims, this partial disclosure will probably not satisfy most fans and critics' curiosity.
As you can see, WhartonBrooks is bringing more than just another phone to the fight. Through software and partnerships, the company is hoping to bring a larger infrastructure to the fore in which the phone will exist. The question is, are these innovations "the most disruptive since the advent of the smartphone in 2000?" Even with what I know but cannot disclose of the final partnership mentioned, I don't know.
If nothing else the company's boasts have certainly got our attention.
An eleventh-hour obstacle
I began working on this story nearly four weeks ago. During that first week, Murphy felt that the phone's announcement was imminent. Unfortunately, a problem with the phone prevented the company from moving forward, and consequently, both the announcement and this story were delayed.
As Murphy pressed forward, he hit another roadblock the following week. His intent was to make the phone available for preorder and begin distribution through online retailers after the initial shipment arrived in a few months. A key investor informed him that he wants to see more traction. This shift necessitated a change in Murphy's plans. Without this investor, WhartonBrooks is unable to begin production of the first run of phones.
As a result, Murphy was disappointed to share that WhartonBrooks will be crowdfunding the initial order to cover production costs as well as the expenses associated with acquiring this first shipment. He is very cognizant of the failure of other crowdfunding efforts and shared that he did not want to have to go this route. As a fan, an industry watcher and someone close to the Windows phone fan community, I shared my own reservations and doubts about crowdfunding a Windows phone.
Last year Coship, the ODM for the Moment, initiated a crowdfunding effort for a moderately refreshed version of its 2015 Moly X1. After three weeks, 30 backers, and a mere $2,569 toward a $100,000 goal, this effort ended in failure. The reasons for this failure could be chalked up to consumers lack of awareness of the campaign, an unappealing device, Coship's poor social media presence and even a lack of support from Microsoft in promoting Coship's efforts.
Japan-based Nuan's also sponsored a crowdfunding effort that after six weeks, 489 backers and approximately $145,000 toward a $725,000 goal also ended in failure.
Just something else to overcome
Murphy is encouraged, however. He says the difference between his efforts and those of other companies is that WhartonBrooks will have the support of Microsoft PR in promoting his company's efforts.
He, however, did not know the full extent of that support beyond social media. Will that support combined with the company's differentiation efforts via unique software, strategic partnerships and a highly-focused commitment to fans be enough?
For fans that have been eagerly waiting for what WhartonBrooks would bring to the table, this information may be disappointing.
Where, when and how much?
That's the $64,000-dollar question. Per Murphy, the Cerulean Moment can be purchased for $299 which includes a free Actiontec StreamBeam streaming stick. Will fans deem $299 for a mid-range, Continuum-enabled phone with 3GB RAM, 32GB of expandable storage, a 5MP front-facing camera, 13MP rear shooter, a reported all-day battery life and a streaming stick, a win or a loss?
I think it's a good price point, but I'm just one person. Candidly speaking, given the state of the platform anything more than $300 would likely be balked at. The free Actiontec streaming stick is a nice bonus. I think.
As an extra perk, everyone that preorders a device will get it for $280. Moreover, the first 750 people to order will get the Moment for $290. Those who order two will pay $580, and an order of four will go for $1,140. A bulk order of 20 will be discounted to $5,600.
I asked Murphy about the timetable for release, and he confirmed that from the date of this post the clock starts ticking. May 15 is the deadline to reach the $1.1 million target. This goal is admittedly much larger than both Coship's and Nuans's failed crowdfunding attempts. On the other hand, WhartonBrooks seems to be bringing a more comprehensive approach to the table than either of those companies did. If true, it may draw consumer interest in a way those other two companies could not. We'll see.
Per Murphy, orders can be made at the company's website. Murphy stated that orders should arrive by the last week of August. Consumers who wish to wait will be able to order the Moment from either Amazon, the company's website or potentially another retailer with whom WhartonBrooks is currently in negotiations after inventory arrives.
The phone will have GSM bands allowing it to work on the more globally pervasive GSM networks. Thus, consumers who use GSM-based companies, like AT&T and T-Mobile, can look forward to purchasing a Moment. Murphy was disappointed to share that unfortunately at launch, the Moment will not have the less-popular CDMA bands, such as those Verizon Wireless uses.
Why not Verizon?
The simple answer to why the Moment will not initially be offered on Verizon is cost. From a technological perspective, Murphy shared that the phone's modem does not have enough memory for both the desired GSM bands and the required Verizon CDMA bands. To build a device that has the necessary capacity exceeds the capital the company is currently able to invest.
Murphy has not given up on trying to bring the Moment to Verizon users, however. He shared ideas on how to gauge the interest from Verizon users to support a strategy to build a device for that network. Since connections with consumers are central to the company's vision, he is open to feedback from the community of Windows phone fans on Verizon who are interested in the device.
Finally, the phone will be launching in the U.S., Canada and Brazil, according to Murphy. The Brazil operations are headed up by Paulo Ridgeford, President of WhartonBrooks in Brazil.
We're happy to announce officially we are going to operate in BrazilWe're happy to announce officially we are going to operate in Brazil— Cerulean Mobile (@ceruleanmobile) March 23, 2017March 23, 2017
Users who want the device outside of these regions will still be able to order it, however. Murphy expressed the downside to this is that currently there is no local support in non-launch regions. Consequently, if the device breaks it will need to be shipped to one of two North American locations (Canada or Rochester, NY) for repairs.
Is there a market for a new Windows phone?
Many people have given up on Windows phones. They feel that the commitment of fans is misplaced and the investments by companies are wasted. Will the Cerulean Moment cure cancer, promote world peace, resolve the race conflicts in America? No, it won't. Like all smartphones, it's just a phone and excitement as well as criticisms should be tempered with realistic expectations.
Like the iPhone and Android phones do for fans of those devices, and as Windows phones have done for its fans, the Moment may meet the needs of a core group of users who are the targeted audience for the smartphone.
It may also fit within the strategies of commercial and business entities that see value in the device and its approach to market through key partnerships WhartonBrooks is making part of the Cerulean Mobile experience.
One thing to remember about the Cerulean mobile phones is that they are targeted at a very specific audience: Windows phone fans. I don't dismiss that many fans patience concerning the app gap (and departing apps) is waning. We all want more apps and developer support. Still, it is reasonable to conclude that there is a core segment of Windows phone users who are more or less content, such as myself with the apps to which we have access.
Combined with WhartonBrooks's efforts to bring more apps to the platform, one can only hope that the core market is large enough to sustain the company's investment. Like any business, if WhartonBrooks can serve a particular market well, despite the size of that market, while keeping costs lower than revenue, the company just may succeed.
The initial order of 5,000 phones is small (Murphy shared there is a plan for a cadence of follow-up orders) and fits a strategy of a small company keeping inventory costs low. An ideal scenario for WhartonBrooks would be phone-hungry Windows phone fans devouring this shipment in no time. Given the dearth of options, and the time since many fans bought a new device, that may be a possibility.
This is the Moment
The Windows phone community is difficult to gauge, however. Nuans, which was unable to generate interest in its phone outside of Japan, turned to Android for instance. Moreover, Coship's uncertainty about the platform was also reflected in a failed crowdfunding attempt. Murphy and WhartonBrooks are undeterred. Ultimately, we are here, and both Coship and Microsoft are supporting WhartonBrooks and this, the Cerulean Moment.
This is not a Microsoft, first-party, category-defining device akin to what we may be envisioning for a Surface phone of course. It is a new device that WhartonBrooks reports implements the best of Windows 10 Mobile including Continuum. It is directed at the fans and is arguably, at $299, set at an affordable price.
We've finally seen and have had many of our questions answered about WhartonBrooks's elusive Windows phone, the Cerulean Moment. We've also seen the company's strategy for differentiation through exclusive apps and partnerships. How long the Moment lasts, and if it succeeds, depends on if fans are willing to take a chance on an affordable crowdfunded Windows phone brought to the fans by a fan who is taking a chance on them.
If you're looking for an affordable, attractive, Continuum-enabled Windows phone, this may be your Moment.
Does a shift to crowdfunding change your intent to purchase a phone or are you moving full steam ahead? Sound off in comments with your thoughts about the Cerulean Moment and WhartonBrooks's smartphone strategy!
Also, be sure to follow me on Twitter @JLTechWord. As a Windows phone fan, I am a member of WhartonBrooks's target market after all. The Moment is not the type of smartphone that will make your iPhone and Android phone carrying friends green with envy, nor is it meant to. So ask your questions on Twitter, and I will share my impressions of the phone, the company and more.
Follow the journey:
Get the Windows Central Newsletter
All the latest news, reviews, and guides for Windows and Xbox diehards.
Jason L Ward is a columnist at Windows Central. He provides unique big picture analysis of the complex world of Microsoft. Jason takes the small clues and gives you an insightful big picture perspective through storytelling that you won't find *anywhere* else. Seriously, this dude thinks outside the box. Follow him on Twitter at @JLTechWord. He's doing the "write" thing!