WhartonBrooks Part III: Can Cerulean be the next Lumia?
Microsoft is ending its Lumia line of smartphones and WhartonBrooks is planning to pick up where they leave off.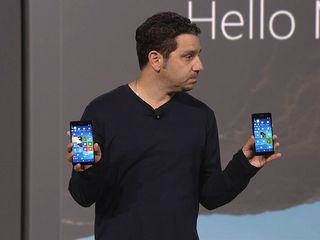 In our exclusive interview with Greg Murphy, the CEO of WhartonBrooks hinted at the pricing and investor challenges his young Windows Phone startup faces and their ambitions within the Windows 10 Mobile market. He wants his Cerulean phones to succeed the now-cancelled Lumia line — but is WhartonBrooks up to the challenge?
Investors believe in Window 10 Mobile, at least for the fans
Like any company setting off on a massive endeavor, funding — and thus investors — is a must. In my discussions with Greg, I learned about his ups and downs with potential investors. Few investors want to invest in a smartphone company that is strictly about hardware. There needs to be some type of product or software advantage that is part of the package.
This reservation applies to the popular and saturated Android market and even more so for the market underdog: Windows phone. Investors needed to be convinced that Murphy was offering something unique. He had to communicate the advantages the combination Windows 10 Mobile and some as yet undisclosed WhartonBrooks product solution brings to the table. He also had to be very deliberate in who he chose as a target audience and how he communicated that to investors as well.
This may not come as a surprise to some, but Murphy learned that investors were not keen on hearing that his goal might be to convert iPhone and Android users to Windows phone. Murphy's statements of his target audience — existing Windows Phone fans — turned off some investors:
There is good news and bad news in that statement. The bad news is that investors see the entrenched nature of users on rival platforms as so deep that attempting to convert them to Windows phone was not worth the financial risk. This view is consistent with Microsoft's admission that they've lost the consumer market for at least the next two years.
The good news is that at least some investors acknowledge that Murphy's target audience of committed Windows phone users is a sufficient population to validate their investment in this fledgling company.
Though not a guarantee of success, it is a validation of Microsoft's vision for and Windows phone fans commitment to Window 10 Mobile, the UWP and Continuum. As a matter of fact, it was Continuum that helped Murphy make the sale to investors.
Is "high growth" code for mid-range affordable flagship?
Murphy's assertion that the company is focused on high growth and that Cerulean phones will be accessible is reassuring. Hopefully, "accessible" translates to more than just a slight discount from that $800 price — it was the sub-$400 Windows Phones that saw the most adoption in years past. Unfortunately, non-disclosure agreements prevented Murphy from sharing the phone specs and price.
He does, however, confirm that he is aiming for an attractive device that is capable of effectively using the unique features of Windows 10 Mobile at the most accessible price possible. This goal admittedly necessitates a delicate balancing act that will likely require certain tradeoffs.
An example of the level of performance targeted is the ability to engage in several hours of seamless streaming (no buffering or stuttering) via Continuum while playing a game and triaging emails. This strategy reminds me of Microsoft's "affordable flagship" strategy where the Lumia 830 was deemed overpriced for its specs and thus was poorly received.
Will Murphy arrive at a midrange price point that has close to high-end specs and the elegant, beautiful and modern looking design to which he aspires? We will see. Certainly, it's an area that several upstart Android manufacturers like OnePlus have seen some success.
That said, a large portion of Windows phone users are not enthusiasts. They are, rather, buyers of affordable low-end devices. Statistically low-end buyers, on any platform, are not inherently loyal to that platform. They are more price-sensitive than they are platform-centric, and they aren't typically inclined to upgrade to a higher-end, more expensive phone within the ecosystem — even if one were available. If Murphy's devices don't fall within the price range of this cost sensitive population, his target audience of all Windows phone users may be smaller than anticipated.
If he succeeds in building an accessible and attractive phone, the dedicated Windows phone fans and other Windows phone users may fuel his high growth strategy.
Here's the question: What is the most affordable price a user should expect to pay for the full range of Windows 10 Mobile features, performance and design?
Carry me
I am hopeful that carrier support will be ubiquitous, but this quote doesn't inspire confidence. Windows phones have had a very spotty carrier support history. Moreover, Murphy's language — "pushing very hard", "We must solve this problem" — communicates an acknowledgment of barriers rather than solutions in this area.
Still, it is early, and anything can happen. But given the limited target audience and Microsoft's admission of a lost consumer space, carriers may be concerned that the devices will not sell in sufficient numbers. Let's wait and see.
The next "Lumia?"
I found Murphy's explicit embrace of the mantle traditionally held by Microsoft and Lumia first-party devices interesting:
Most Window phone users have Lumias. WhartonBrooks is positioning themselves to embrace the Lumia users that will be looking for a new Windows phone given that there will be no more Lumias and the Surface phone is at least a year away.
It will be interesting to see if Microsoft will aggressively support this and other Window phone partners. Given the firm's goals and budding relationship with Redmond, perhaps WhartonBrooks will be a strong OEM partner for the niche consumer market. I believe that yes, they should.
Certainly not to compete with iOS and Android at this stage, but to promote awareness of the mobile OS, maintain mindshare and support partners who are championing the platform while Microsoft's long-term first-party mobile strategy unfolds. Which if successful, will position Microsoft as a leader in an industry shift away from the idea of a smartphone to that of an ultra-mobile PC or 3-in-1.
Whatever the outcome, Greg is all in. He even carries a Cerulean prototype as a daily driver. If all goes well, millions of Windows phone fans will be what he amusingly referred to as Ceruleanites.
Cerulean phones as a consumer product
It is likely beneficial for Microsoft to have a consumer-facing partner to help keep Windows 10 Mobile "visible" outside of the enterprise. Murphy stated, "People on other platforms don't know about Window 10 Mobile and the disruptions that it brings." If Microsoft's mobile platform is "forgotten" in the consumer space, re-establishing a position within that segment from a blank slate, "after the shift" will be incredibly difficult.
This is true even if Microsoft introduces an impressive device and software combination that changes the game. In a space that will have "forgotten" about Microsoft's mobile operating system, Redmond will be a "new" player competing against the only mobile platforms the industry and consumers will have known while Microsoft focused on the enterprise. They will have lost the little mindshare they now posses.
The competition is already entrenched and will be even more so in the coming years. Microsoft can't afford to be silent during that time. WhartonBrooks may be a player that helps keep Windows 10 Mobile part of the consumer-facing conversation.
Wait a minute what about that name?
If there's one thing that has people scratching their heads, its the name WhartonBrooks. Murphy said it came from a local inspiration:
The name Cerulean for the company's smartphones is a result of seeking a name that looked to the future and was unique. They liked the idea of a color and went with Cerulean. Derek Egerman, the company's Chief Strategy and Planning Officer, married it with the Cerulean Warbler, which Murphy dubbed Homer.
Why might they succeed?
Like any company, WhartonBrook's has the potential for both success or failure. This Connecticut-based firm may succeed because they are contending in a niche space with relatively few competitors. Even other OEMs such as Alcatel aren't entirely focused on their demographic (millennials), or Windows phone for that matter. Murphy stresses that is all he does. With Lumia's exit from the space, WhartonBrooks is potentially positioned to reap the fruit of the pent-up demand of a passionate, if small, platform userbase.
Furthermore, as a company that is basing future product development on the requests of the customer base, customer satisfaction has the potential of garnering high ratings. This model is also a strong basis for customer retention if successful.
Moreover, Murphy's choice to introduce his story and his company through podcasts and Meet & Greets is a potentially powerful marketing strategy. Rather than leading with a faceless inanimate device, this strategy has the potential of imbuing an intangible value to the product if consumers like the personality and character Murphy exudes. Though there are no guarantees for WhartonBrooks and Murphy, it worked for Steve Jobs and Apple.
Finally, times currently do seem bad for Windows phone fans given recent news that Microsoft has conceded the consumer space (for now) to rivals. These events are an excellent backdrop for WhartonBrooks to debut an appealing Cerulean phone within the next few months.
If they fail to deliver, because sometimes things just don't go as planned, we always have the Windows phone fan mantra: "Wait until next year." And of course, we will do so as we look longingly toward the Surface Phone, and a presumably more mature Windows 10 Mobile and UWP. I hope we don't have to wait that long to see something exciting on the Windows phone front.
If WhartonBrooks, the Windows phone OEM founded by a Windows phone fan for Windows phone fans has their way, we will see something exciting before Christmas.
So what are your thoughts? Are you looking forward to a powerful Windows phone that won't break the bank? Does Windows phone need at least one manufacturer to carry the fans? What are the company's chances of success if they don't get broad carrier support? There's a lot to talk about! Sound off in comments, forums and on Twitter!
Windows Central Newsletter
Get the best of Windows Central in in your inbox, every day!
Jason L Ward is a columnist at Windows Central. He provides unique big picture analysis of the complex world of Microsoft. Jason takes the small clues and gives you an insightful big picture perspective through storytelling that you won't find *anywhere* else. Seriously, this dude thinks outside the box. Follow him on Twitter at @JLTechWord. He's doing the "write" thing!
It will be interesting to watch the development of this OEM that has the passion of a fan fueling its strategy and growth and acting as its foundation. There are many supporters and some critics as well, but it is refreshing that the fan base has such an interesting story to follow. We certainly hope has a happy ending. Will Ceruleans phones be the next Lumias? Will this firm (using Microsoft's Window 10 Mobile OS) with their overtly stated consumer focus earn the passionate support from an overtly enterprise focused Microsoft? Let's talk!!!

Great insight into the mind of the people leading WhartonBrooks :) Is there any chance they read the comments here? I really hope them the best of luck! They should check out Xiaomi's phone strategy - except for their cameras I really like their phones. I think they have one capable of running Continuum for 11.k INR - that's basically the ideal mid range phone! If the cost is right for the continuum running phones there can be growth beyond the loyal user base. That and marketing - problem with Windows 10 Mobile is that no one knows what it is and can do. People literally think Win10Mobile is less user friendly than android - like WTF

Yes, on the last article I believe they commented back to someone who had a question about the phones. They are definitely reading these articles. As a Windows Phone fan I would imagine they would want to appeal to the fans of Windows Phone and WC is one of the only places around dedicated to WP

Glad to know! :) I really wish I could participate in some way to help them, though my capabilities would be limited to user feedback :P

They want your feedback through their website or even social media. :-)

Thank you both, @Summer_Moon and @Jason. I will look them up right away :)
Btw, I know its not the right place, but @Jason do you think MS is getting Cortana into the smart home assistant field?

I hope they do, Cortana should try to be the Personal Assistant equivalent of Plex (It's EVERYWHERE) - Amazon already have a £50(!!!) piece of hardware you can buy, which for many is an impulse purchase just to try it out. You can also run Alexa on a Raspberry Pi DIY if you want to.

I am looking forward to so much of what Microsoft has planned, yet I don't see signs of them getting into home automation? Apple/Google/Amazon and are making their way there - having Cortana in my home would be so good

Our whole plan is based on your feedback. We want to listen and adapt. So, keep the comments coming.

@mistagreg so much I would like to share! I'm looking to email you guys :)

Gesture based menu please. Bring back the windows phone 7 style. Posted via the Windows Central App for Android

I just used WP8.1 and WP7.8 recently, I do agree :)

Yeah, I have a WP7.5 backup phone (just in case), man that thing is so smooth and wonderful to use. I really really miss it. Oh and it has a slide out keyboard ftw!! Miss slide out keyboards :(

Well I love my Windows Lumia phones, just wouldn't change from Windows os. I have 610, 520, 530, 625, 735, 640, tried the 950 but didn't enjoy the experience, but more than happy with my 650 W10M it's reliable does everything I ask, well it won't run a bath, but seriously I'm more than happy to run with these people and there direction with Windows phone, count me in.

I agree with your comment. Windows phone is one of the best operating systems even better than the very hyped ios and the over praised android. Just hope that this platform finds its way to success. The problem that we had before was no apps in the store but my basic requirements were easily met (but not appealing to Android users). Now there is a new problem that no brand wants to make a Windows phone and with rumors of Microsoft ending lumia makes things even complicated. My lumia 1520 has got some problem because of which it cannot be repaired but still I can use it like a tablet over WiFi (no sim card detected). Unable to find a suitable replacement on the windows platform I had to switch and bought a z5 premium (out of choice) but as soon as I am home I am with my lumia. This platform needs people who believe in Windows os to produce devices. It needs true fans. Hope to see something good coming soon.

No matter how Good and sturdy the Horse is, A dead horse is a dead horse... WP is dead and MS killed it... Its on ventilator and will be kept alive only for enterprise...

they always think windows phone for is for genius only.

To tell the truth, it's fascinating that a Windows (Phone) fan now becomes the CEO of Cerulean (Windows) phones. While it's getting hard to be against most big companies, if WB can brought Cerulean phones that can make Windows phone fans fall in love with it, then it's the next Lumia. But seriously, now it's time for Windows phones to be made like Android phones, *but* with Windows OS in it (which is much better -- and I'm jumping back in again as I missed it, a lot).

This NEEDS to land on Verizon. Go Big, or Go Home rings so loud right now for Wharton Brooks. I will surely be looking at one of these as the lonely Lumia 735 sits alone on the page of Windows Phones currently available at Verizon. If not, then I pray I don't have to jump ship. Verizon is my ONLY option in my geographic location.

Take my money if they can get on with Verizon. I love my icon but would love to get current with the camera tech. Icon is showing its age there even though it runs 10 great.

@Charles Brown8 and @OldMillXxX, I'm also in a Verizon-only area. I love my Icon with Windows 10 -- fantastic phone and OS -- but I want to get Continuum and I hope for getting Glance back, which is what I miss most from my prior Lumia 928.

Sadly, Verizon is not the most accommodating. MS walked past VZ entirely with the 950, and I'm sure there was a reason.

Pixel and Droid Z exclusives say a lot about where Verizon hordes it's chips. I wouldn't bet against Googlebet blowing on the dice either.... Posted via the Windows Central App for Android

Off topic, but I looked at the pricing of the Pixel/XL and it costs about the same as the HP Elite X3 in the UK....Which a lot of people here moaned about (I don't have a problem with it based on the specs etc. even though I'm not buying one right now) and it does show the Elite X3 is not overpriced when the Pixel XL is quite similar in specs

To be honest,windows 10 Mobile is so good but windows phone is dying..and there is nothing that Can change the situation.
The path Microsoft chose is not good.it is similar to Blackberry.
Not even OEMs will help it. Disappointed Windows phone Fan

No matter what. I will buy an iPhone. MS has disappointed me so much.

Am getting an android,though will keep my Lumia .

After the 830 died and used an Android for the first time (HTC 8) I am getting a Lumia 950. What a horrific experience with Android...

I had a horific experience too, there was nothing I loved about the Samsung s5 I bought as a test drive.

This guy has kahunas bigger than watermelons.
Microsoft with their never ending cash flow and deep pockets couldn't make consumer phones work and have abandoned the market, and he now thinks he can?!
God speed.

I don't think that's their mission, they just want to replace the lumias so that die hard fans like me who don't find other platforms attractive will have samtin to buy.

They can make devices with many of the features but is the software side of the Lumia stuff that Microsoft licensed part of the OS and built-in camera app in W10M? Obviously the hardware isn't open to all, but do all W10M handsets use the same post-processing algorithms? i.e they have access to the stuff Nokia did rather than a cut down version

Hey folks don't forget about our WhartonBrooks forum where you can read the RAW Q & A and continue this conversation! Raw Q & A between Jason Ward and Greg Murphy and forum discussion!
http://forums.windowscentral.com/cerulean-mobile/441579-whartonbrooks-ra...

If they can get ubiquitous, or near ubiquitous carrier compatibility on their unlocked devices then I might be in. The accessible "flagship" idea reminds me of the Nexus line to an extent....

Did the Nexus line work out well? (I have no idea whether it sold well or not, but the Pixel Is priced at HP Elite X3 prices so have Google moved away from that idea of an accessible/affordable flagship because it didn't work for them?)

Is this version of the article any different than the one that I already read? If I'm not mistaken, not only is this the first time a Windows fan is making a fan focused device, it's the first time in general for a tech fan to create a device focused on fans (probably not, but I just wanna know the other instances... :D) HYPED!!!

Jolla Sailfish, though in fairness that was ex-Nokia engineers keeping the MeeGo flame alight.

Fan = someone who likes something. I think this is kinda common, every startup usually uses what the founders like to use. This is why there is nothing interesting in this story since it's all made up by the writer.

They are showing too much confidence.... I am really worried about their success! It's a kind of proud - scared combo....

They sound like magic leap. Another hoax..

Let's hope they'll make 6" phones. Those of us with large hands need options too!

Oh look, a Turing phone 2.0 this time promised to a dead OS... Posted via the Windows Central App for Android

Many popular apps like Spotify, Netflix, Facebook, Whatsapp, LinkedIn are updated in Windows Mobile OS at similar periods than iOS or Android apps. Do you know how many apps in average people use 90% of world smartphone users in their phones? Its probably less than 5. Windows Mobile is not dead yet, it still doesn't support all the apps that iOS and Android do, but that doesn't mean its dead OS.

Don't bother. Trolls like these don't care. They're just trying to seek attention while annoying the fans (and open-minded people) of the OS

We've talked about this before, Gabriel. If you still think WP isn't dead you're just delusional. No one supports it. And what you claim isn't actually true. Facebook on WP is still way behind Android and iOS, Spotify too, and WhatsApp albeit not a lot behind its still behind.
Meanwhile everyone's leaving. Amazon, eBay, Paypal, etc etc. Consumers are leaving (market share is now way below 1%), developers are leaving, even Microsoft is leaving. It's dead, Jimmy. Just let it go. Posted via the Windows Central App for Android

The problem with you is that you're spending too much time on a, "Dead OS" as you label it! I thought lawyers don't waste time on things that don't pay? Thanks for keeping this, "Dead OS" alive by constantly talking about it. Keep spreading the word, it might make people inquire.

There is something seriously wrong with this DJ guy.. He hates WM but he can't stay away from here to make comments over and over. Please move on and let the rest of us dream of what might be. How does that hurt you? Please just leave.

I have seen him since forever, maybe right from the beginning of Windows "Phone" Central. All this time he has come to comments to see if he can pi$$ people off or not. Maybe this is the only place where people actually respond to him. Who knows. I think he keeps the comments section busy. I have never responded to him but saw your comment and thought, maybe others see him the same way but he wants to just win the "comments battle" every time. Like a kid. This is his playground.

Well at least not as bad as MS bullies when anyone on internet complains about Windows 10. Posted via the Windows Central App for Android

He can't it's the only site he can get on to have a rant, it's a shame really, nevermind poor dear.

You hit the nail right on the head, you always make valid points and make a lot of sense, but YOU ARE YOU STILL HERE!! If I were this dissatisfied with something, I would've long gone. Why stay with a ship that has a breached hull? Unless you are the ships captain? It seems you are happy with your android device of some sort judging from your signature, but you just cannot leave this platform, something lures you back here. Like your style.

Obvious troll is obvious. The OS isn't dead until Microsoft say so and stop developing it. Right now it's very much alive.

Keep echoing that "wp is dead" it's been said since wp7. Microsoft is making tons of money from xbox, office, windows OS, and patents used by google and apple. That's what's funding windows mobile. Giving up mobile is suicide. And they're not stupid enough to let go of this market. Well see windows 11 before microsoft killing anything. Posted via the Windows Central App for Android

You've been saying the same thing for over a year, yet it's still here.

Sporify app is junk actually. It has not the features that it has on other platforms and it lags as hell. I am planning to leave for Deezer, especially now that they ended their cooperation with my provider (Cosmote Greece) which included their Premium subscription in my data plan.

LinkedIn app is pathetic and is not updated on Windows Mobile anymore. It would be considered disfunctional even by 2010 standards.

I agree with most of those Gabriel but....LinkedIn is updated on Windows 10 Mobile? I'm not so sure about that - It's just the same old crappy WP 8.1 app that doesn't get updated.

Troll Alert! "Pay no attention to the man behind the curtain"

It's DJCBS... he's kind of a legend around here. He's our permanent resident devil's advocate for the downfall of Window Phone. I like reading his comments cuz every once in a while there is a really good one with lots of details that show he's not entirely trolling (just pissed at Microsoft et al)

He is a Nokia fan. He is isn't a troll.

I know, forgot to include the Nokia part in there. Besides I said I like reading his comments and I don't think I've ever actually accused him of a troll (although I could see how that could be read from my previous post, although certainly not meant to label him a troll). The worst I've done is suggest he take a break and go to a zoo for a change and enjoy looking at the animals. Anyways, trust me WC wouldn't be the same without DJCBS on here.

I'm no fool dj win mobile is floundering no doubt but I like the os and ui and I'll enjoy using it long as it lasts. Could be worse, ms could have pulled the carpet out from all our feet. They didn't though and hopefully there will be alot of i told you so this time next year and a selection or 2 of decent winphones. Everyone deserves to be able to use the platform of their choice.

You have real problems my "friend"...

Become a dead brand? Really. Lumia is dead. Nice try for Wharton Brooks in becoming a dead brand

I read this after posting below, agree that this articls slant has set them up for a fail. Seems they are in desperate need of PR, The picture used in part 2 of the CEO is not exactly flattering.

Definitely looking forward to what WhartonBrooks is bringing to the table. Each time I listen to an episode of their podcast, I'm re-excited. The biggest thing for me is that it's being driven by someone who "is" fascinated with the platform and it's strengths and capabilities. Not simply a company that is looking to "get in on" Windows 10 Mobile. He actually "believes" in the OS and is doing what can be done to highlight it and invigorate it. From what I got from the podcast, it will be handsets, proprietary software/apps to accompany it, accessories, etc. They really seem to be all in and I'm excited for what they can do, as I too believe that this can truly be the best OS. #hopeful

@MAUXIIS We agree. It is not only the smartphone. The products and software around the smartphone that push the envelope of our market.

Looking forward to the unveiling as well as the meet and greet that was postponed! I was definitely set to attend (from Baltimore). Thanks for your inspiring story from enthusiast to President and CEO! #CeruleanitesUnite

It's a little far for me to cruise into a meet and greet from Missouri. Hope you make it to the next one MAUXIIS. #colormeCerulean

I'm curious, how are you going to appeal to DJCBS? He's a long-time supporter of Nokia, but got soured by the buyout by Microsoft. So if you are looking to be the next Lumia line, do you intend on using Nokia-esque design? This might tempt some who used to be fans of Windows Phone to look more closely at Cerulean Posted on behalf of DJCBS :)

Too funny...posted on his behalf. Until I see physical eveidence of said devices I am in the MASSIVELY sceptical department. As mentioned before...I have seen things like this before and it was a grab! Please Greg, some photos of a mockup, specs, timeline etc?

I'm skeptical too, but I will wait until it is actually shown and specs are laid out. I'm not betting on it being anything amazing, but I am prepared to be blown away if I'm proven wrong. Right now it's looking like the Moly X1 is being shown on their page (link further down in German that compared the photos), if that's really what they are going to release as Cerulean then I'm all back in for the Surface Phone basket (and we have no evidence of that one either). I really want Wharton Brooks to succeed. Everything is there for them to succeed, but they have to play it right

Where do you listen to their podcast?

https://soundcloud.com/whartonbrooks

Third article in yet still no sign of any hardware? Ultimately thats whats going to determine their success or failure, not the manufactured hype being pushed here.

They've only just started as a OEM. How fast do you seriously think Hardware is made?
Also there is no signs at all of any hardware?
Maybe you missed the part in the article saying "He also carries a Cerulean prototype as his daily driver"

And not a single pic of this "daily driver"? Come on, give us something...

"Unfortunately, non-disclosure agreements' prevents Murphy from sharing phone specs and price" I think its safe to assume that also means pictures sadly. Hopefully we get to see something soon though.

The last article was with the CEO of the company though, and still no information. Safe to say he wouldn't be under an NDA from anyone (seeing as he's the top dog). And if the phone is being released by the end of the year, it would have to be fairly far along by now, wouldn't it?

Not necessarily if is a rebranded model of an existing phone (one of those Chinese/Japanese exclusives)

@Ryan Smith23 Oh, stop confusing us with your facts and logic!

Actually, he could very well have NDAs from several sources. The ODM, software teams making firmware packages and apps, Microsoft itself... 6 guys at WhartonBrooks are not in this alone. Their partners have to coordinate and when it is time... THEN we see. I like it. I'm fine with the suspense.Look how many more people are sitting up and taking notice. Great stuff this.

He is under NDAs with Microsoft.

With Microsoft? Hmmmmm now that just made this a lot more interesting Still skeptical though, but eagerly awaiting the unveiling!

There are some shots of phones I don't recognize on their homepage, might be parts of the Cerulean phone

There are some shots of phones

You can find some information on the phones on those pictures here You'll have to use google bing translate, but should be enough to give you the gist.

Thank you! Just reviewed it and it seems to indicate that it is just a rebranding of the Moly X1. I really hope that is not the case :( if it is I will not be picking one up. FWIW that picture that they first show is the same picture from WhartonBrooks home page.

No. You don't have to use Google Translate. Bing Translates the page just fine. ;)

They've only just started as a OEM.

We are told that "the journey started in 2014".

[Snip] in the article saying "He also carries a Cerulean prototype as his daily driver"

And yet, none is showed.

They started their business in 2014. That didn't mean they became a OEM then. To become an OEM they need to do a lot of paperwork etc and contract with MS. It's not as simple as just calling yourself an OEM. This was explained in the first article.
This article also claims that the non-disclosure prevents them from revealing nearly anything about the phone so far.
Even if that wasn't the case, except for the McLaren which was in late-stages prototype, when have you ever seen a company release images of a prototype so early on? Prototypes are prone to changes. It's a test model. There is no point right now giving images of a phone that could change appearances at a later date if they so decided to.
People here seem to expect things handed to them at a seconds notice, or it means something is wrong. Patience.

As long as the handset is affordable, or affordable on contract (if there's something so cool about it that i'm willing to pay more to go contract and not stay on Cricket), and has incredible Imaging and Audio recording, then I'm in!

Making handset affordable is not a good strategy, do you know why Google is selling the Pixel for same price than an iPhone 7 or a Galaxy S7 Edge? Answer is simple, if you don't want your customers think you're selling cheap garbage, then don't price it like cheap garbage.

No... Google are pricing it higher because they already have the huge market share to do so.
Also, reconsider what you said... "making handset affordable is not a good strategy". So making hardware no-one can afford is a better? I don't think so. What they are going to want to aim for first is to gain customers from the current Lumia line. As with no lumias now available, the last thing they want is for them to jump to android/iPhone due to there being no more affordable Win10mobiles. So at least for the upcoming year or two, making good spec (I'm not talking high-end, just good performance) mid-end phones is a much better strategy than making them extremely expensive. If people wanted a high-end costly win10m phones, there are already phones like the HP Elite x3

Problem is people here still "moan" or troll about the specs of phones like the X3 - It's a very well spec'd phone for example, but I've seen multiple comments where people keep saying "we're stuck with old hardware at the same price as Androids with the lastest specs". Don't forget there's no sense in the world anymore....Apparently an X3 is too expensive but a Google Pixel XL costs the same as it. I get that Google has the market share but if it's about people affording it then how will anybody afford the Pixel

I'm not slating the x3 or its price in any way. I'm just saying *not everyone* can afford it, as its a high end phone. I'm not talking about if the x6 is worth the money. I haven't tried the phone so I can't give my opinion on that. I'm just explaining that it makes much more sense to create "more affordable" phones for the larger audience, so they can keep current windows fans. If they succeed in this (hopefully they do), they and give try making more high end phones too. Please don't just assuming I'm hating on a phone, when I'm just stating facts that the phone is still expensive. (if I was saying it was overpriced and slating it, i would have used words like "overpriced" which I didn't) :P

Same price as the Elite X3 too, another high end phone with great build quality on par with the iPhone and S7 Edge

What is your opinion of Cricket? Also, what would qualify for cool enough to leave Cricket for a contract? I'm curious :)

I've been on Cricket for 18 months and I'm still super happy. Last fall my wife and I drove all over the western US and had coverage. Great prices and great service. Check them out...

If they work on Verizon, I would seriously consider one. Not sure about the "Cerulean" name though.

I was never keen on the "Lumia" name when it was first announced :-)

Neither did I. For me, it reminded me too much of Lumina and I'm not a fan of GM.

I hope they don't have the WB logo on the device anywhere - This probably won't be something I buy (I am happy with my 950 until up to Jan 2018, and by then we would have new hardware from both MS and hopefully HP, even if it's not cheap I'll pay for it if it's worth it) - there will be some people looking more in the mid-range and I hope they sell a lot of phones to these people but I don't think the WB logo will look good on the back of the phone, I'm assuming and hoping that Cerulean will have it's own branding, even though it sounds a bit like a yoghurt or cereal product ;)

Is their devices just going to be rebranded Coship as has been rumored? Being a small start-up, will they be able to properly support their device with the updates that Lumia users would expect? Even HP and Acer are having a tough time keeping their flagship W10m phones updated to the newest version. Posted via the Windows Central App for Android

@bleached What should we call our updates? We were thinking about famous cities around the world... We need some feedback on this question.

Nokia already did the "colour" thing, so cities would be good.

Reach for the stars and name the phone as such. Posted via the Windows Central App for Android

Cities is a good idea although I think Constellations would be awesome too Can't wait for that Sagittarius update :)

Keep it simple. 1.0 2.0 3.0 Would do.

Depends if you are talking Firmware, or not...The Win 10 updates already have a name.

What should we call our updates?

You could have asked your potential customers any question and feedback, and that is what you come up with???? You are obviously in touch with what your customers want.

You didn't get their hint, right? ;)

Name the updates after Gems?

Montreal, Paris, London, Sydney, or, name them after small towns....much more intereesting! ha ha ha.

Do you need to call your updates anything? Lumia users are going to expect fast updates that mirror Microsoft's releases. Ideally, you should get Microsoft to name their final releases something interesting. Build 10.0556 doesn't exactly roll off the tongue and isn't easy to remember! That being said, I like the cities idea. Stars is cool too, they could really sound futuristic. Android going in alphabetical order was a good idea. Something similar to denote the release order would be nice. Posted via the Windows Central App for Android

At this point in time (late 2016) Android and iOS are doomed for enterprise market, no iPad Pro or Pixel tablet have been announced, so it means they will keep powering consumer side only. After checking what Google did with the Pixel phone of 2016 where they removed custom ROMs /rooting capabilities for Android, the future of Android 2 in 1 looks more far away than ever, so this is the time for Whartonbrooks to take advantage of what both Android and iOS don't do well (Productivity). I think consumers will purchase Whartonbrooks Windows Mobile, if this device offers a true 3 in 1 modality, that would be great for students and business workers that want to have all the power in a phone. Is good to see Intel is coming back to mobile chip business

How does Windows Mobile do productivity better when it doesn't have the required apps available? It most certainly isn't as productive as Android or iOS, otherwise the enterprise would already be using it. Just the app gap itself makes Windows Mobile less productive. Posted via the Windows Central App for Android

Enterprises build their own apps internally.

So, if they already have an iOS app they have been using for a few years, what is going to compel them to scrap it and make a Windows Mobile app? What about the local bank app they use or any of the travel apps that aren't available on Windows? Are they going to make those too? Posted via the Windows Central App for Android

Ok you're right about these..

I wouldn't necessarily say iOS and Android are DEFINITELY better for productivity, but I think all three operating systems have good versions of the major productivity apps so this isn't somewhere Microsoft can capitalise right now - Like bleached says why would anybody decide to switch (Let's see how good Continuum gets, but right now there isn't a productivity advantage to W10M). I can't really see Wharton Brooks releasing something with Elite X3 specs (this and better could become essential for continuum with new features on the way) at a mid-range price along with a ton of quality accessories like HP have been able to do. I think they'll do a device that supports Continuum but right now if you want Continuum just get a 950 w/ DisplayDock for £249, it's a bargain and I'd be surprised to see any W10M phone come out with the same specs for less anytime soon

Yes Gabriel, thats why 90 percent of people I see in corporte settings are running around with windows phones...ha ha ha...I have NEVER seen a windows phone in the wild in any busiess...its always iphones or samsungs. I visit montreal quite frequently and spend time talking to people in the underground city going to and from work, and NONE of them have a windows phone, or even surface devices. NONE.....

I love the idea of a passionate, enthusiast run company building a WP but simple realism makes me question if we'll ever see a product and doubt it will be that compelling... I mean they 6 employees and the device (ready to buy at Christmas allegedly) hasn't been spotted going through FCC testing. I really WANT them to succeed as a fan but if I was an investor I very much doubt I'd touch it with a 10ft pole... I mean Samsung and Apple don't have hundreds of thousands of employees for fun... It's because they need them to make product. I understand the idea of outsourcing, etc but I'm still not buying it... Apple outsources their manufacturing but still has a huge number of employees. Even factoring in differences of scale, overhead, some support from MS, and any other conceivable advantage they could muster does anyone truely believe they will be able to deliver a decent product with roughly ten thousand times fewer employees than other companies in the same industry?

Samsung and Apple have "hundreds of thousands" of employees working on their phones? Where did you get those figures from?

comparing them to Microsoft and other windows phone companys it seems like it....since, MS has NONE, and WB has a reported 6.

I think FCC already tested moly n atleast the first phone could be a rebadged phone.

They aren't creating their own OS, so in a way you can add all of the Microsoft employees as being on the same team. Add those together, you have a comparable number.

True, all they are really doing is co-ordinating things like the manufacturing etc. and by the sounds of it building some custom software features to try and differentiate their phones (Which could be done using outside resources tbh)

6 employees

Ok, they might not be many, but it's not about the numbers but rather the quality and caliber of their people. For example, I present to you Derek. Who is he, you ask? As the article points out, Derek is WhartonBrooks' Chief Strategy and Planning Officer - a mouthful, but what does such as pompous title mean? When not coming up with clever names for the company's products, Derek, according to the company,'s website, is "responsible for the logistics of getting our smart devices and products from our manufacturing partners to our warehousing facilities". Ok, that sounds suspiciously like what a truck driver does, which is probably why Derek is keeping his DJ job on the side.

You might want to factor the number of non-phone projects Apple and Google have cooking. I bet the actual number of people working on phones only is a tiny fraction of the total.

I hope they do well! I'm interested to see their design choices.

I cheer the initiative. But at the same time its pretty sad that we need such an initiative while MS dumps 26 billion on LinkedIn. I don't see how they will ever make a return on that investment. Maybe dump a few billion on your mobile os also, rather than having a bookseller pick up your slack MS. My guess is MS will do something soon to discourage these guys, after all that's what MS is good at.

Its ok to be excited, but with no hardware in sight and no new information, does it warrant a 3 series article? I think its an overkill


Yes it does. If you don't want to read the story, skip it. Simple.

No it does not.....Not until there is products to show etc...right now it's a pipe dream.

when can we expect the complete review of elite x3 from windows central ??

Once the Display Dock is available hopefully, I really really want a complete and long review covering everything in one go

Great article :D hope we get em here in greece sometime when the dream comes true :D

W10M has a really tough road ahead if it has to rely on a start up HW company

I look forward to seeing an actual product...

without Verizon support don't even bother. Really it's that basic. PS - WPC check your website you can't even comment using Edge with AdBlock off on a core i7 PC.

Except that, in my experience, VZW doesn't want Windows phones. I can't tell you the number of times I've been told by VZW employees that there is no such thing as a Windows-based phone while they're trying to push me to an Android.

I hate verizon after having been a customer for a decade with the original best phone (startac). They are just brutal to "customers" in every way. That said they tend to spend $$$ based on likely bets... investing in "droid" for example as microsoft neglected WM5/6 and toyed with "Kin". Many businesses in the USA are locked into Verizon and if "enterprise" is the WM play (for the next 2-3 years to stay afloat with UWP) lets be real no Verizon is a non-starter. As much as i despise Verizon and would never use them for mobile service, i must recognize that they offer what the public generally wants as long as they control it. If people wanted windows phones (wm10) they'd sell & support them. But people don't :-(

@glenc, I'm with Verizon because they are the only carrier with coverage here. I'd jump to AT&T in a heartbeat for the Windows Phone selection, but it's just not an option. So for me, it literally has to be on Verizon for me to use it, and if it's a good phone with flagship specs (must be better than my Icon, which I love, but it's a couple of years old now), I'll grab a few in a heartbeat, one for me, one for my wife, one for my mother... especially if it's really out in time for Christmas.

OOT:
"ComingSoon" is now deprecated. Now here comes: "Wait until next year."

I guess the logic is if you have not already left the platform by now no matter how incompetent or ****** the treatment from Microsoft or the handset manufacturer is you will never leave. Solid plan there!

Believe it or not there is still plenty of people who use Windows Phone. And focusing on only that sliver and not caring about converting others is a pretty solid plan. If done correctly it could definitely have some of the most loyal users of any phone.

But even they will slowly leave as support from developers and even Microsoft fades. The current ~.3% market share is not sufficient to support the platform at all. Posted via the Windows Central App for Android

Right now I have a number of reasons I'm still using Windows 10 Mobile, but I always assess my options when I look at new hardware (Been here since WP7 UK launch btw). One of the big things for me is Cortana, I rely heavily on reminders and the overall integration with my PC for example. I'd really need MS to hurry up with Cortana on Android if I was to go to another platform, but it needs to be in a production ready and production available state in the UK for me, they kind of have me by the balls on that for now. I don't estimate I'll need a new phone until around Jan 2018 to be honest, so there's time for either new W10M hardware (maybe a follow up to the Elite X3, or new MS phone) to come out, or for Cortana to see a proper UK release on other platforms. I'm worried about how much Cortana has stalled (especially UK-wise) but there was some promising stuff shown at Ignite. Only problem is they have stopped mentioning WHERE features will be available. Outside the US there are NO Cortana insights in the sticky notes app, but they brush over the fact every single time they show off Sticky Notes to an international audience. Amazon have already started to move their assistant into UK homes with the very cheap Echo Dot (£50 is an impulse purchase for many tech lovers), I think Amazons assistant would be much more of a threat if they were a strong force in the mobile world, and hopefully for MS, Apple would stick to their usual and not release a Siri equivalent at that price. You can even get Alexa running from a Raspberry Pi, there's open source code on GitHub for it etc. These are things MS are missing out on a bit. They keep talking about the future of bots etc. but I thought Cortana was going to be core to that and would interact with bots but just not seeing much progress. I hope they deliver on their Cortana demos from Ignite and we aren't seeing the same things being shown at Build next year still yet to be released. If the features are coming in RS2 as well they are risking falling behind further because it doesn't really count until it's out there to the public W10 users.

@Gunbust3r
You mean... Kinda like when a kid pees the bed?

My biggest thing will be the camera. PureView devices have always had some impressive shooters (Except for maybe the much-lamented Lumia 830), will WhartonBrooks be able to compete with them?

This. It has to at least match 950XL in terms of camera. Otherwise I will not get it. If it is of same quality as 1020 camera plus faster, I'll order 500 and hand them out to everyone I know (Ok, I'll actually only order 2, but still :) )

My concern is that I am very budget conscious. I usually exercise a lot of patience and wait for the best deal on a flagship phone that I'm only compelled to replace when its showing It's age. So now I JUST bought a 950XL (to replace my 1020, to give you an idea how long my purchase cycle is) and don't plan to replace it any time soon. There has to be a compelling reason for me to drop another $500+ and my 950XL has the specs to last me quite a while. I really want to see what Cerulean phones can offer, but if it's not going to change the way I use my phone or deliver "game changing" features, I won't be able to support this effort for a few years. I love the ideas I'm hearing so far but will they still be around in 2-3 years when I'm ready to buy again...? *crosses fingers!*

This is a MUCH better approach to buying phones tbh, rather than people running out and getting credit every 12 months to get their hands on the latest model. If I was buying a phone right now I'd get the Lumia 950 for £249 w/ Display Dock. It's a huge bargain and if you go to cashback site you'll get around another £40 back from the purchase - Insane value

I might get shot down for this, however, Im going to say it like I see it as I want this to succeeed. This Article name is terrible...your saying thay want to aspire to be like a dead range of moniles? Nokia is now a very toxic name with a lot of people (especially from Finland) upset as to what has happened. Warton Brooks desperatly needs someone to help them brand themselves as something new and fresh, Nokia/Lumia is over, dead, leave it buried. I want this to work, they certainly are not shining the way with names like WhartonBrooks, Cerulean and Jason, help them by breaking any sort of reference to the dead Lumia brand.

I think the cerulian name is OK, BUT, as I say in my post, Warton Brooks sounds like a no win, no fee, ambulance chasing law firm!

The reason it is terrible is its soo easy to spell incorrectly, anything the consumer has to think about is BAD branding, its basics here. You yourself spelt it incorrectly, what does that tell you?...nest step I bet is to go 'google' it, which plants another subconcious pain point. Ive just googled both names, the correct spelling brings up a tech support company, the incorrect spelling brings up a USB hub device....Lumia Brings up Smartphone, iPhone brings up iPhones...

Even though I know differently, I can't help but read it as Wharton Books.

In answer to the articles question the answer is YES!!! they can certainly be the next dead brand not that I want them to be.

@madcabie
Bagem & Tagem Undertaker Services.

I agree on the branding handicap they have given themselves. Hard to say, hard to spell, hard to communicate. Branding is extremely important. The brand name dictates the marketing and if WhartonBrooks hopes to capture any Millenials, the brand needs to more easily be identifiable with the generation.

@Great Deal The word association with Lumia reflects WhartonBrooks desire to move Windows users (over 90% use Lumia) to Cerulean. The title and theme is is a simple reference to the dominance Lumia had/has on the Windows phone platform and simply reflects, with Lumia's exit, Murphy's desire to have Cerulean become that dominant presence. It is not an association with Lumia as a brand, but a clear reference to its dominant position. :-) Thanks for the input!

In a few ways the Lumia brand and phones negatively affected Windows Phone, even though we got some great devices there was a very long period where there was no point even considering a Windows Phone that wasn't a Lumia - I'm sure Samsung or Sony had other reasons not to make devices running Windows but if they did would they really want to put in time and money to writing apps to compete with Here Drive+ and others from Nokia? Before HERE apps went to other manufacturers there was no Sat Nav solution that was any good - It's different in W10M where the core app is as good as Here Drive was (IMO) but back then there were big holes the OEM would have to fill with custom software rather than just taking their Android devices and flashing Windows Phone 8.1 onto them

I hope that there will be a small device in there. Like under 5".

If the device will be 'allegedly' be available in this quarter, has anyone seen any FCC literature? Has it been put forward for testing yet? Whilst the enthusiasm is most welcome, I'm a little bothered by the 'coming soon'. There doesn't seem to be anything tangible with regards to the first device. Most OEM's are more than happy to release specs of upcoming devices, but these guys are a little more than guarded. It's not as if they have any direct competition is it. I've read all of the items Jason has posted, but I get the uneasy feeling that a lot of spin is coming across. It's like listening to a politician. If you took the phone out of the equation, you would be convinced that it was a politician. I wish them every success, and who knows, I might grab one, but for the moment its all promises, or pledges, as politicians put it. When you read it through again, all the right buttons are being pressed. 'I'm a Windows Mobile fan', 'these phones are for Windows Mobile fans', 'Windows fans can suggest specs for the next one' etcetera. It sounds like we are being played, and then the Lumia withdrawal gets thrown in..... Let's see what happens. Hopefully it will happen, but in my eyes, they are overselling it. As a last thought, the name. Cerulian is OK, in fact it sounds great. As for Wharton Brooks.....sounds like a no win, no fee law firm!

I guess that there are many windows mobile owners, with aging handsets who are looking for a new affordable replacement phone, which normally would have been the next iteration of the relevant Lumia model. With Lumia line now dead, those owners will start to migrate away from the platform probably never to return. Not everyone can afford or wish to spend money on a high end flagship handset. It's funny how the 830 was mention in the article. A prime example of the many mistakes MS have made which has led to the situation we have now. I really hope this start-up can make their vision work. We need and want windows mobile handsets in the consumer space. Just hope they give some re-thought on the name Cerulean. Hell why don't MS license the Lumia brand and some money to this startup. You never know being free from the shackles of the MS decision making process and being more adaptable.

Isn't cerulean a shade of blue? Hmmm... Bold Like Us Evolution (heh heh)
I hope they succeed. If they can promote Windows 10 Mobile as a much easier and more straight-forward alternative to Android or iOS, people will take notice. As long as the operating system works. It simply has to work.... And work well.
So many people with loaded Android or iOS phone and all they do is texting, chatting on Viber or WhatsApp, or wasting their lives away on Facebook (oops, I digress). However, they have no clue what all the features on their phones do nor do they have any idea about all the stuff running in the background.
Windows Phones are easy to learn and easy to operate and you are always fully aware of what the phone is doing.
So, get yourself a Windows Phone...
Because, life is complicated enough. Your phone shouldn't be.
(feel free to use that one)

Haha I really like your comment!

seems legit, fill in the vacuum left by lumias, lumia users will have no choice right? well they are very exigent guys, so his phone better delivers, that means microsoft giving access to things like glance and pureview tech for that to happen, at the very least

I think if people want high end its the X3 and wait and see for Surface Phone, for anything less we can get amazing deals on 950's - I love thier story and the passion of a fan taking on the mantle. They have terrible branding, logo and articles comparing them to Lumia are going to make them DOA. They desperatly need to take the bull by the horns, get a great PR company and start pushing out literature and start making it look and feel desirable.

"amazing deals on 950's..." likely won't be lasting much past the holiday season. Whom do you suppose is making more 950's at this point?

Not all of us can afford a flagship phone but I'd be happy if they can release a solid affordable phone like the 640/650.

My advice to those people is to buy a Lumia 950 w/ Display Dock for £249, you can find cashback deals for £40 too bringing the real cost to £209. I can't find any better deal than that for a W10M fan right now. Get years of use from a new 950 if bought now.

According to the article, Murphy is currently using a prototype. So, clearly, they've gotten past the "works on paper" step. Ultimately, Microsoft has NEVER marketed to people like me. Nokia did. And, just as I feared, once Microsoft got a hold of it they ruined it. My favorite device remains the Lumia 1020, hands down. If Murphy and his company come out with a device that truly is a successor to the 1020, he'll have me as a solid customer, even in spite of the fact that Windows 10 mobile is horrible compared to WP8...at least it's better than Android or iOS. As far as cost, I think $500 is a sweet spot. I feel like I got taken with the Lumia 950. It's no where near worth what my wife and I paid for ourse at AT&T.

@ScubaDog, the 1020 was such an epic device. I tried to switch to AT&T just to get that phone, but sadly the coverage in my area was so bad with miles of roads with zero signal vs. good signal on Verizon, I had to come back to Verizon. I suspect that Murphy's phone is not a game changer like the 1020, or these articles wouldn't have been able to contain Jason's or Greg's excitement over the upcoming hardware announcement. But if they can start with a solid enthusiast flagship, and then expand the line with breakthrough devices like the 1020, that would be a fine strategy and certainly win my business for multiple phones. By the way, obviously different tastes on these things -- I much prefer Windows 10 to 8.1 overall, albeit with a few specific negatives compared with its predecessor.


I can't see them taking a risk on a 1020-like device. I still think the 1020 took better photos than my 950 does, shame it was so under spec'd apart from the camera sensor (the OS didn't support anything better at the time unfortunately). Doing something niche and a bit mad like a 1020 with it's camera sensor just seems to risk for a small startup.

I sympathize with their plans. However, and I know it's a cliché, but when there are no app developers backing them up, they will not succeed. No apps means no Windows 10 mobile, as simple as that. People, especially consumers don't care about Continuum, they want apps. The popular ones that are on iOS and Android and the local ones like the ones from their local stores. I don't see that happening any time soon. That ship has sailed unfortunately. I'm a die hard Windows Phone fan, but my trust in the survial of the platform is the lowest ever. Whartonbrooks isn't going to change that I'm afraid. But, I hope they prove me wrong though.

Well, there's a vacuum right now, so the opportunity is there... And with the recent Apple and Samsung flubs, I wouldn't say that getting people to switch OS's is exactly hopeless... but I'd still take a wait and see approach. They don't have a product yet, after all, and you always have to be careful when people are telling you what you want to hear. Fingers crossed, tho!

What is the latest Apple flub? Do you mean the removal of the headphone jack? Only sensible people can see why that's stupid and the general purchasing public are mostly not sensible....When their contract comes up for renewal they'll dump their iPhone 6 jump straight onto the iPhone 7 regardless

I worry that even if they deliver a decent device at a reasonable price, they will be savaged by an angry mob of people who want an elite device at a value price. I really hope these guys have done their homework about their target audience and can clearly articulate exactly why they made the choices they did- from industrial design to component selection to software and services. I also recommend that they be much more transparent than the typical OEM; talk explicitly about the challenges and the tough choices, and do it proactively. If you want to successfully serve a niche market, it's not enough to be open to feedback; you have to be willing to engage in a dialogue.

It's hard for a small start-up to great something good with a low price. Small start ups dont have legions of engineers to push forward camera technology etc. so they can only realy what they can order. 2.nd hurdle: small size of the company = small total budject. Niche os = small sales numbers. Those but to gether will mean that there will be no discounts from part manufactures, so the phone will end up costing more than android phones with same specs.

To be quick and blunt. I really wish him the very best of luck, his enthusiastic attitude will take him far, but, if I was asked to invest and heard he was trying to hook up with Microsofts Windows 10, I like many others would walk away. In terms of public perception it's too tainted, and has a very uncertain future in the mobile division. I think after hearing his 'pitch' I'd say "I'm out".

Fortunately for him, someone saw value in his presentation and as noted Continuum. Let's see what happens next. :-)

Meh Part III. Wake me when a flagship sails.

I think it will be harder the longer it take. The world not waiting for Microsoft to catch up in mobile. Google released their Pixel phones. The "real" Nokia coming back to the mobile space soon to. And previous partners that have sort of promised to release a Windows phone have backed out like Lenovo. They having doubts that Microsoft will support Windows 10 Mobile in a long term. I want to be positive, but are Wharton Brooks a player that can make a impact?

I'm waiting for Nokia Android phone! And happy with my Lumia (primary driver)

There are plenty of beautiful, well made Android phones at the $200-300 price range. This I hope is the target price for this. Putting out the best effort possible is more important than trying to make a dent in the market. If this is your niche then garnering praise for a device that punches above It's price range is the goal. Honor, OnePlus and others have done this and it's worked well. Best of luck.

I think the interest generated out of the meet and greet will help them get the funding thhey are looking for. Remember that they were missing an important partner.

Interesting part about the carrier support, I hope I they work w/ T-Mobile to get B12 certified (for VOLTE) and wi-fi calling. That's been the problem for T-Mobile customers is that unless you got a T-Mobile branded phone (640, etc.) you were left with not being able to fully utilize their service (Lumia 950, 650, etc. missing the T-Mobile B12 and wi-fi calling). Timing will be important also as it looks like the Alcatel Idol Pro 4 will be coming out soon for T-Mobile (US) to compete for T-Mobile Win mobile customers.

i dont thing....ms doesnt want/know what to do about win10 mobile....windows fans are already frustated with this attitude so they just moved on to android or ios...now this company which build on windows 10 dooming or looming mobile...they have many tasks. 1) great product/great features with correct price point with great specs including camera which i doubth this company will pull off as great hp which worked very hard on elite still in trouble even before release properly. 2) they cant compete with great oems on high price point because they depened on odm..i doubth they have any r&d. 3) one thing they can do is to follow chinese android oems strategy as none oem done on windows mobile... 4) grow users/bring back users who shiftted to android and ios/grow developers interest/ bring ms exclusive apps back from ios and android..keep fast pace with slow pace MS..Nokia failed because of MS slow pace. good luck hope you get buyer's that said i'm not going to buy 3rd party devices for premiuim price i would love to have samsung or apple in my hand in fact i'm not going to buy any windows mobile surface or whatever...i got enought of betrayal from MS.....L1020,L730,L535,L640,L930,L950xl with display dock those are Lumias i used...i still have L1020(souvenir)....L730 using by my mom....L535 and L930(special edition sold)...L640 gave to friend's sister.....L950xl my primary mobile for now...guess what because of L950XL lack of volte feature,removal of amazon/ebay app...unusable flipkart app i'm still using My S3 which i bought in 2012...i will love to see windows mobile dead, it aint gonna happen as MS will release builds and develop software slowly...where windows become irrelevant...

The next Lumia? You mean the product line that failed? I've been rocking a Windows phone since my HTC HD 7, but I think my last WP purchase was my last WP purchase. Dead is dead, time to move on.

Im with you here Bub. I was on since the HD7 as well, and held on as long as I could, which was about a month ago. I really wish windows mobile would have caught on but it hasn't. Unless something amazing comes out and they get more apps its done. Its been a great ride everyone, it was fun, but its over.

Did you go with android or iPhone? I ordered a cheap android model yesterday to play around with and see if I like. I was going to hold out until the "Surface phone" but I don't think it'll actually be released, so I'm thinking android flagships eventually.

I got an iphone 6splus. Its okay, I do miss windows mobile though. I've had a couple of android tablets so I just thought I'd give the iphone a shot. My kids don't even really want my old windows phone, because they can't play pokemon go, and a bunch of other games their friends are playing. It sucks I just wish MS got it together.

I got my kids a couple Honor 5X . It was time to retire their Lumia 1520s. The Honor line are super solid phones. They couldn't be happier. The phones are gorgeous. And prices at $199. You can even reskin it to look like Windows phone plus all your Microsoft apps are there and you can make Cortana your fault AI and even enable Hey Cortana. I'm probably going to pick up an Honor Note 8 and just reskin it with WP live tiles.

Sounds worth checking out, thanks for the info!

Jason's next article should be about the volume of "I told you so" and hate emails he gets when WhartonBrooks doesn't deliver anything by the end of the year.

I've too often been disappointed by lofty goals for smart phone releases. In this case I think I've built up what I want too much in my mind and I'm worried about being disappointed even of it proves to be a pretty good phone. Hopefully they do read this stuff because I need/want a beautiful phone... Well constructed... Stellar camera with active pen input... That takes full advantage of Windows 10. I don't think that is too much to ask is it? What I don't want is just some meager bump in specs like Google barfed out this week.

I really like Wharton's strategic positioning with the fall of Lumia and potential ascent of the cloud based platform model. They can potentially capture users that Lumia is no longer around to capture, and in a platform that at least believes it is poised to be at the helm of the next turn in mobile phone/platform technology. If the latter assumption holds true, Wharton can see extreme growth. My only concern is that throughout the articles and information I've seen about them so far, they seem to be a long ways away from any sort of production run. If their first breed of devices is ready almost a year from now, when the Surface phone is also slated to come out, then they will have to compete with Microsoft for the loyalty of WP fans. Whereas I am sure that they would be able to gain the loyalty of current and what would have been future Lumia users if they were able to fill the absence right now. If they do a good job providing users with the devices they want early enough, then they might even prevent loyal users from choosing the Surface phone.

I left WP almost 2 years ago. I think around January of last year I started messing with android, then in September got an iPhone. I read about the many promises of UWP, which I had also read before WP 8. UWP this time around seems to be taking off, but Windows Mobile is getting left behind(apps are coming to windows 10 and Xbox, but not WM).So, I honestly don't know what to make of it. But good luck to this company.

Mark my words, Nokia will eventually become synonymous with MS and Windows phones again !

Bro... Nokia+WM is dead. Let it go.

lol Posted via the Windows Central App for Android

atul, I think that ship has sailed, with holes, and lead, and no bucket!

To Jason, can you at least let me know if it come with camera button?

Stupid question: With the small team they have, how can they ever compete with the giants like Samsung etc.. They don't have a research department that brings the newest technology.... So it will just be normal hardware... Or do I see something wrong?

This company is for the Windows fans. Read the article's spots again :)

Every time I hear about enterprise target it just reminds me which group? Old 80s or next gen? Next gen users are more advanced and used various technology of high end user experience. Many of them grown with androids. So be consumer centric not just old enterprise nerds. LOL. And seriously Windows 10 Mobile User experience is poor. Features come with bug and features go without bug.

since its being made by a windows fan then MS should give them access to all the feedback from other windows fans. i am sure he sent in a few himself, he will not only know what he wants but a more depth into what other windows fans like him want in a phone.

If this OEM wants to have success with Windows Phone users, design should be more like "colorful Lumia", not like boring business phone (x50 line)... But, we'll see.

While I don't like the hype that these series of articles provide, I do wish them success. Having said that, now you've blown that hype up to explosive proportions, if they don't sell something by Christmas, maybe January at the latest, there will be no "wait until next year". Do you see the comments here? Patience and hope for the OS is running thin.

1. Continuum
2. Cutting edge camera
3. Sexy display
4. At least 5.7" screen
5. USB C These 5 things are literally all I desire in a phone these days. And of course running Windows 10 Mobile. Give me a phone with these (admittedly vague) specs and I'll buy it on day one. Even better if you somehow finagle Verizon into supporting it.

@Zachary Wilmes, great list. For me, I prefer a slightly smaller screen so it fits in my pocket (love my 5" Icon), but if the bezel is tiny, I could probably manage up to 5.5" or maybe even your 5.7". Verizon is a requirement for me. I'd also add Glance support with double-tap to wake, if that's possible for non Lumia phones. That's what I missed most when I upgraded from the Lumia 928 to Icon.

I forgot Glance, thanks for mentioning that. I went from a 521 to an Icon, so I never had Glance until I got my 950XL, now I don't know if I could live without it. I know DTTW works on other phones because the HP Elite x3 has it, so that would be appreciated as well.

Cerulean Cerulean, also spelled caerulean, is a color term that may be applied to certain colors with the hue ranging roughly between blue and cyan, overlapping with both. It also largely overlaps with azure and sky blue, although cerulean is dimmer.

It;s nice to hear that an OEM still believes in Windows Mobile. Still have my Lumia 930 and used sparingly. If Wharton Brooks really commit and make a Windows Phone, They should include with a startup like NUANS. It would be really benificial if Nuans and Wharton Brooks create nice cases for Windows Phone. Good Cases attrack buyers and other take notice of Windows Phone. If they find it difficult to get a really appealing cases for windows phone , they eventually shift to other platform.

I am happy to hear this. But I will believe it when I see it (more apps) Mr. V

Honestly Jason, I don't know why you bother, this is vaporware, another blog appears to have already outed this phone as a ho hum midrange ODM rebrand: https://mspoweruser.com/hyped-ground-breaking-whartonbrooks-windows-phon... Of course, I'd -LOVE- to be proven wrong and eat my words at Christmas but if Microsoft, Nokia and Sony barely made a dent, and this ODM is talking mid range price point, it is economically impossible for them to make a 'Wow' phone.

That was not an 'outing' the whole article was based on a couple of images on their homepage. If there are NDAs on design this could well be just a generic placeholder image and nothing like the actual hardware that is going to be released. Or they may well have used the coship as the reference device but them amped up the internals etc. Until someone sees actual hardware it is all speculation. As for that article itself, the last word I would take is from enthusiastic Windows Phone hater Surur on MSPowerUser. The guy is a worthless stain of a reporter who hypes any old crap from any old source just to create click bait for his sorry ass career.

Oh, ok. I didn't know the writer had an agenda. Still, how a wow phone could be built at mid price point...it would have to be designed from the ground up, not using an existing form factor, and that is some heavy duty R&D money right there.

If they can make something like Huawei P9 lite, they may succeed. Plenty of good features and very afordable. I sport 1520 and 950, but kids P9 lite makes me scratching my head...

Many Indians still here. Good to see fellas

Make it affordable as Xiami . Specs that i suggest is 1.5 or 2 gb RAM & Snapdragon 625 or something (for continuum support), 10MP Carl zeiss optics rear cam and 5MP front cam, 16gb internal, memory card slot, 2 SIM, 1 day long Battery may be 3800 or 4000mah and an appealing design (Like how Nokia designed Lumias and N9, N8, N701, Xpress music,5233 etc...). Price range 12000 to 14000 rupee @ maximum

Further to my post yesterday, I held off until I could fully check out another scenario this fledgling company will have to jump through. Last week I bought myself a Samsung Galaxy s7 edge plus after having 'played with it for some time in a store, (one of the reasons why was the big screen) I took it home and set it up and when time allowed I settled into it and updated all various bits and bobs until I had it the way I wanted. It really is an amazing phone, however, that's not the point here.
I then went into the play store and looked for windows 10 launchers. A plethora of them, so found one called 'square home' which is as near to windows 10 as the real thing. The developer is currently developing a live tile system, the only thing lacking in this particular app. I downloaded it and found everything similar or the same in set up, behaviour etc, only slightly quicker and more fluid, the animations are very clever once you figure everything out.
There are possibly 10/12 contenders on android who are currently developing windows 10 launchers, I tried quite a few until I found one that is good.
Now, the next thing I looked for was Microsoft apps.
This is the interesting bit and I apologise for this being rather long, but I feel that this is important to know, especially for this up and coming mobile Phone maker.
In android you have currently all these apps made by and sanctioned by Microsoft, here is a list;
I will list them side by side other than in bullet points,
word, excel, outlook, powerpoint, onedrive, Microsoft authenticator, Microsoft apps, one note, translator, office lens, remote desktop, office mobile, xbox, Microsoft groove, skype for business, keyboard for excel, Microsoft flow, Microsoft band, office remote for android, Microsoft Hyperlapse, hub keyboard, share point, bing search, intune company portal, my apps for Microsoft, msn news, wordament, Microsoft classroom, msn weather, outlook groups, office 365 admin, msn money, dropbox, Microsoft oms, and another feature is a launcher made by Microsoft called arrow launcher which is unbelievably good. I'm certain I have missed others.
So, now I have an android handset with everything Microsoft on it, all in their place on the home screen, all working perfectly, opening with blistering speed, rendering the way they should and a Microsoft experience which I have never experienced on either my 950xl or 1520.
If there are any out there who have an up to date android handset I would recommend that you go and see for yourself what's actually available on that platform.
So, when Microsoft are so 'generous'? to port all these apps to another platform it surely begs the question why is there any need for windows phones per se?
In my experience over the last couple of days the answer to that is a resounding NO.
I would be very surprised if there isn't someone in the very near future who sits with Greg Murphy and points this out in which case his dream is rather shaded by what is fast becoming Microsoft/android.
I'll let you come to your own conclusions!!
Again, apologies for the length of this narrative/essay/rant, whatever you want to call it.

I have also used the Windows 7 Launcher long ago before on an Android Phone. https://www.neowin.net/news/coship-uncertain-over-future-windows-10-mobi... "The upcoming Windows 10 Mobile device from WhartonBrooks seems to use a Coship design as well." So i think hope is not in WB. Better to wait for a MS Surface Phone - whatever it will be.

Thanks for sharing but for me this raises two questions 1 does this have all the native security issues as stock android? 2 if there is no appetite for windows mobile why all the simulators?
A third cheeky question can I remove all google things from the device?
I guess for myself I want the choice of the os on the device.

I think the answer to that would be there is no such thing as secure digital anything, while it's so hard to get used to its a fact we have to accept. A lot of our work is still written, that way we know its 'reasonably safe' The next generation will never experience a thing called privacy, awful but true. I think Microsoft are as bad at data harvesting, maybe worse, who knows. But, I know where your coming from.
I suppose there is a certain degree of satisfaction that at the push of a virtual button of the home screen, google/android becomes windows. (best of both worlds)
It does beg the question why would google followers want windows aps on their phones, I think the first one would be the distinct lack of good looking phones serving that platform, and most importantly a huge gap in the apps department. Therefore better with the devil you know with a few very convenient add ons.

But at the end of the day it is still Google making a sh*t tonne of money by delving in to all your personal stuff and selling it on to anyone out there. Case in point, I have a Google email I created a couple of years ago purely because they did not let me use my own outlook email address for signing up for APIs to use in wmy Windows Apps. I have NEVER used this email address for anything other than signing in. So when I actually got a cheap ass Android phone just a few weeks ago as I was interedsted in creating Xamarin projects to target multiple OS's and I signed in to it with this never used email address. I was absolutely astounded that there was over 2000 emails in there, some were from Google themselves but the rest was pure SPAM and Phishing emails. Exactly how does an email address I have never used outside of the Google ecosystem get so much SPAM? Because Google will sell your soul while you aren't looking is why...!!!

Great point, and I take it, but, what's safe digital? Zilch.

Microsoft is doing this more than google thepyrobri....trust me....why would they give their new data miner away for free when you had to purchase all other versions of Windows?

https://www.eff.org/deeplinks/2016/08/windows-10-microsoft-blatantly-dis... Microsoft is even worse if you don't want to share information. They don't even allow you to easily opt out of data mining and do not explain what they do with the data. Posted via the Windows Central App for Android

I really like these guys drive and attitude the 1% stat keeps rolling round but in the UK and parts of Europe WP reached 9% or more, for a small business that could be a decent profit margin. Anyway if you release these in the UK, I'll definitely take at least 3 otherwise I'm looking at three 950s

With Google and Samsung currently falling out bigtime over Pixel. It may be that we see Samsung and other OEMs run to Windows 10 mobile. As Google are closing their market up like Apple. Interesting times. Google may just have killed their own Android fanbase.

Isn't that what everyone said about Surface? Samsung has nothing to worry about with Pixel. Google will not sell very many at that price. Posted via the Windows Central App for Android

Samsung just bought out VIV, the creators of Siri. I doubt they're thinking about WM at the moment. They got their own ecosystem to worry about and will probably have their own Personal Assistant by the end of next year.

"With Google and Samsung currently falling out bigtime over Pixel. It may be that we see Samsung and other OEMs run to Windows 10 mobile." If Samsung goes anywhere, it will be with their own Tizen operating system, not Win10. The whole point is to own the phone from top to bottom - like Apple and its iPhone and Google and its Pixel.

thats not happening richard....

a sub $300 would be great, the best sellers lumia where the 5xx line selling as low as $50, as for sale strategy I think that direct to consumers is the way to go, carriers didnt have the conminment to sell Windows phone in the past, another question I have is their international plans.

I'm in...bring me the phone :)

WhartonBrooks Part III: Can Cerulean be the next Lumia?

As Lumia devices were always exercises in futility, Cerulean can absolutely be "the next Lumia."

Any OEM that's so passionate about Windows 10 mobile deserves our full support.

I wholeheartedly agree :)

One thing Im hoping for when these third party vendors do release their variant of the windows phone they will include a physical camara button ...

Greg's passion for windows phone is contagious. How I wish he's the CEO of Microsoft. What MS should need right now are PASSION, FOCUS, PUSH to increase market share. Orherwise, if no PASSION, they will lose FOCUS and it will PUSH Win10M to oblivion.