WhartonBrooks Part I: How a Windows phone fan started making Windows phones
If you haven't heard, there's a new Windows phone manufacturer in town.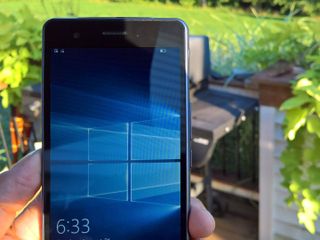 That's not just a figure of speech. There is actually a new Windows phone manufacturer right here in my home state of Connecticut. (Go Huskies!) Tidbits have been dripping in about WhartonBrooks, a new Windows phone manufacturer most of us never heard of before last month.
Clandestine though it may have been — CEO Greg Murphy has been laying the foundations over the past two years — WhartonBrook's initial press release pulled no punches. They came out swinging and excited many fans with bold claims seasoned with words such as "revolutionary," "innovations" and "emerging mobile technologies that create high growth opportunities."
Other fans, fearful of getting too excited after feeling burned by the ups and downs associated with being a Windows phone fan, greeted these claims with understandable skepticism.
Postponing Saturday Meet & Greet event @MicrosoftStore. Supporting partners want to join in-we need time to align schedules-our apologiesPostponing Saturday Meet & Greet event @MicrosoftStore. Supporting partners want to join in-we need time to align schedules-our apologies— whartonbrooks (@whartonbrooks) September 8, 2016September 8, 2016
The information that has been periodically "dripped" to us from the company's Twitter accounts and website has still left many information-parched fans thirsty for more. Though WhartonBrooks is dedicated to honoring its non-disclosure agreements, they've publicly shared some information about its vision and origins in an attempt to build a reciprocal relationship with potential customers. Building a two-way relationship with consumers is an important part of this unique OEM's mission.
First things first
Unique is a term that is appropriately applied to WhartonBrooks. Unlike other Microsoft OEM partners such as HP, Acer, Alcatel and others, WhartonBrooks is not a big PC or phone manufacturer known for their other investments in technology that's simply adding Windows Mobile to their portfolio.
WhartonBrook's Cerulean Windows phones are at their foundation and are core to the business's mission. In fact, WhartonBrooks is the only Windows phone maker that was founded by a Windows phone fan.
Moreover, akin to HP with the Elite X3, but with a focus on Windows fans, the company is based on the goal of developing a Windows phone and a range of accompanying accessories and services purposed to enhance the Windows Mobile platform. Murphy explains:
What that all entails is still unclear, however. Though as far as accessories go, a Continuum-supporting wireless adapter is mentioned in their press release. Still, if you're a Windows phone fan who has wished for an OEM that understands the platform from a fans perspective and claims to be positioned to bring certain requested features to a Windows phone, WhartonBrooks seems to be the one to follow. As a matter of fact, they want to hear from you.
If you're a critic who can't reconcile why an OEM or consumers would invest in Windows Mobile, WhartonBrooks' story just may intrigue, enlighten or at the very least entertain you. Everyone loves a story after all. Whoever you are, this is the first in a series of pieces that I will bring you as this incredible story of the only Windows phone OEM birthed by a Windows phone fan unfolds.
Who is Greg Murphy?
The first question is just who is Greg Murphy, the WhartonBrooks CEO? He is a University of Connecticut graduate (like yours truly and our own Daniel Rubino) with degrees in economics and public health. His experience in tech reaches back to the early stages of his career where he worked as a programmer analyst at an HMO startup in the early 90s. Furthermore, the various leadership roles he has served in at Yale University over the past 18 years served as a training ground for this budding CEO.
The combination of education, IT experience, leadership roles, plus the unique qualities of discipline and focus he brings to the table as a six-sigma black belt may position Murphy for a "Cinderella" success story.
Candidly speaking, Murphy is facing a daunting challenge. The smartphone industry is fiercely competitive, saturated and ruled by the iPhone and Android phones which combined dominate nearly the entire market. Even Microsoft, a multi-billion global firm has temporarily retrenched from a consumer space that WhartonBrooks is venturing into with their enterprise and explicitly expressed consumer-focused phones:
No guts no glory
A Windows phone fan, becoming a Microsoft OEM partner to build phones for a platform that has plummeted from a dismal 3% market share to an abysmal 1% share reeks of both courage and confidence in the platform.
Like Microsoft's CEO Satya Nadella, Murphy sees a shift in the current personal computing paradigm where the platform into which he has invested will be positioned for future success. He puts it this way:
In this current smartphone climate, many people are skeptical of any OEM that invests in Windows Mobile. Some OEMs are motivated by a desire to diversify their portfolios in an effort to profit beyond the thin margins Android provides. Others, like Murphy, see a shift in personal computing where Microsoft's unified platform and innovations like Continuum will present an advantage where Windows "phones" will be positioned more like PCs.
Few, if any other than Murphy and WhartonBrooks, are motivated by both the latter and a love for the platform and desire to make it better. That sentiment likely resonates with the fan base. The question is, will it be enough?
Can't fake the funk
The ambivalence some fans have toward OEMs who bring Windows phones to market seems to be rooted in part in a perception that most manufacturers don't seem passionate about Windows.
Greg Murphy, however, has loved even the "pocketable" versions of Windows since his 2004 HP iPAQ.
He continued using the Windows Mobile platform until he ventured from Windows Mobile 6.5 to Android (I'll admit, I pondered switching then too).
Murphy took the plunge into Android, an experience he described as cloudy. He noted that it was not fluid, nor intuitive and was not a joy to use. When Microsoft launched Windows Phone 7 in 2010, Murphy said:
Murphy is a Windows guy. He runs a team of developers at his "other" job. So Windows is both a professional and personal interest for him. As he put it, "I have a lot of background in that field."
So how did this lover of Windows go from working in healthcare IT to leading the first fan-founded Windows phone OEM? Well, it wasn't easy.
Murphy's Law
Greg looks at life and sees three types of people:
So what problem was Greg trying to solve when he began his journey to bring Cerulean phones to life?
It all started with his love for music. He had a very large vinyl music collection that he wanted to manage and he also wanted broader music capabilities on his smartphone. Since the app that he wanted didn't exist, he began building one himself. As the app's development progressed more "cool and exciting" ideas came to his mind. He also began entertaining other ideas that he wanted to bring to the Windows platform. This is the point where this Windows lover had an epiphany, "I'm only doing this one brick — or app — at a time."
He concluded that he could have a greater impact on the platform if he made a phone around which he could build an ecosystem of accessories and services. Embracing Microsoft's $0 licensing fee for devices under seven inches Murphy decided to make Windows phones. "Why own the basketball team when I can own the stadium and then charge everybody?" he said.
Defying Gravity
Derek Egerman, WhartonBrooks Chief Strategy and Planning Officer, mused that Murphy's motivation was to make Windows the focus not just produce things Windows can run on.
As a Windows fan, Murphy acknowledged that there was no company focused on Windows as a fan. He conceded that Nokia was "doing some cool things" but he felt that his team could do something that was elegant, and beautiful and more modern looking.
En route toward that goal, Murphy had to press through many barriers. A great deal of research, forceful emails to Microsoft, unending questions, persistent phone calls, the memorization 3GB of documentation — and the convincing of a Microsoft rep that he was serious about making Windows phones — were all part of Murphy's journey.
Many Windows phone fans have yearned for an aesthetically pleasing and well-built Windows phone that is comparable to what Apple brings to the table. If WhartonBrooks ultimately delivers on their goals, the increasingly disenchanted fan base may, at least in part, be somewhat revitalized. If they fail, given the hype they've generated, the opposite most certainly is likely to occur.
It takes a village; a collaborative mission
Core to WhartonBrook's mission is to work with users to build the devices they will love. Feedback and collaboration are an essential part of their philosophy.
Egerman said it this way as he spoke to Murphy:
For those who believe that Windows phone is dead and that there is no interest in the platform, Murphy shared that after their announcement they received inquiries from around the globe. He states that they have a presence in the US, Brazil, Russia, Germany, Switzerland, Italy, Australia and Jamaica. Murphy said:
WhartonBrooks is reaching out to users in an effort to build a community of support around the company and its collaborative business model. Now I'd be remiss if I failed to address another vital player in this effort: Microsoft.
Ideally, as WhartonBrooks is building relationships with users, Microsoft will be aggressively supporting this and other OEM partners. Simply put, without Redmond's diligent support OEM partners will not be able to thrive.
OEMs to the rescue; but not without Microsoft
WhartonBrooks' Window-phone-fan-based-origins and collaborative business model make it a unique OEM indeed. Will they succeed in the highly competitive smartphone space? We hope so.
As a small OEM championing an underdog platform, they will need all of the support that Microsoft, a multi-billion dollar company with an innovative, pioneering universal platform, can offer. Even then there are no guarantees.
Candidly speaking, Microsoft's smartphone marketing and distribution strategy, even when they were "all in" in the consumer space, seemed to lack the aggressive commitment that Apple and Samsung consistently bring to the table.
Lumias, long all-but-synonymous with Windows phones, are leaving shelves — will WhartonBrooks and other OEMs get the support they need? Will OEMs receive more aggressive marketing and promotional support now that they will be the only representatives of the Windows Mobile platform on the shelves until the anticipated Surface Phone?
It has been rumored that OEMs will be a highlight of Microsoft's October event. Perhaps we will see an introduction of a new level of investment in support of OEMs like WhartonBrooks at this event. Let's hope so.
Like the old African proverb says, "It takes a village of Microsoft and consumer support to help an OEM succeed." Well, it doesn't go exactly like that, but you get the point.
So what are your thoughts? Are you excited or skeptical about the phone WhartonBrooks will unveil this Fall? Do you think Greg Murphy has what it takes to bring a phone to market that pleases the fans? Sound off in comments, forums and on Twitter!
A future of partnerships and a possible Surface Phone
Connect with WhartonBrooks on Soundcloud, Twitter @CeruleanMobile, @WhartonBrooks and on Facebook!
Windows Central Newsletter
Get the best of Windows Central in in your inbox, every day!
Jason L Ward is a columnist at Windows Central. He provides unique big picture analysis of the complex world of Microsoft. Jason takes the small clues and gives you an insightful big picture perspective through storytelling that you won't find *anywhere* else. Seriously, this dude thinks outside the box. Follow him on Twitter at @JLTechWord. He's doing the "write" thing!
Hey folks thanks again for reading!!! So what are your thoughts or expectations regarding WhartonBrooks and their Cerulean phones. Are you looking forward to what the company will unveil? Are you skeptical. Or are you just at the point of welcoming any OEM to the party? :-) Well lets talk!

Need information about the products, not the people. I'm not an investor. Looking forward to product launches!

Why not also hear about the people? As a consumer I think it's an interesting story and helps make this more than just another faceless oem. I think if they knew details about the product and could release that info then it would've been done by now.

@real0395 Absolutely! When I can tell more, I'll tell more. But now, following the story of a Windows phone fan turned OEM I think is an intriguing story that is really unique in the industry. It's worth highlighting.:-)

I think it was a great article. At least you can put some meat on the bones with regards to the company. They may be facing an uphill struggle, but at least they are 'saying' the right things. Fingers Crossed....

WhartonBrooks, thanks for your commitments, and we will make this happen together. Failure is not an option.... Please read this!
...
Best part of reading this article:
"Candidly speaking, Microsoft's smartphone marketing and distribution strategy, even when they were "all in" in the consumer space, seemed to lack the aggressive commitment that Apple and Samsung consistently bring to the table.""
........
Please, WhartonBrooks, do not make this mistake! That is, and always will determine success, or failure.. MARKETING!. As I've said without relent for years,,,
.
NO MATTER HOW TERRIFIC YOUR HARDWARE IS YOU WILL NOT SUCCEED WITHOUT TERRIFIC MARKETING!
.
NO MATTER HOW TERRIFIC YOUR SOFTWARE IS YOU WILL NOT SUCCEED WITHOUT TERRIFIC MARKETING!
.
AND, NO MATTER HOW MANY APPS YOUR PLATFORM HAS YOU WILL NOT SUCCEED WITHOUT TERRIFIC MARKETING!
.
AND, I WAS 100% CORRECT... The fact is that no matter how good you are it will never matter if nobody knows. I'm begging you, WhartonBrooks, please don't make this mistake. You can succeed, but the world has to know what you're doing, and they have to be reminded all day, everyday. Do, what MS has failed at with WP. Please do great marketing. Everything else will fall into place. There is still tons of hope, and US FANS WILL SUPPORT YOU IF WE SEE WORTH. Please make this worth while. Please bring the excitement back to not just fans, but the teams at MS. Be the OEM to finally make this happen. Retire billionaires!

If they have a way of contact, you should email them this. They need to make sure they market this as much as they can (once they have something to market). I feel this could be promising for them, and maybe the platform, if they play everything correctly. We need more OEM's to do the same.

Yes. If they do a good job others, including MS, Samsung, HTC, and possibly even Sony, might gain interest.

A good job of rebranding Chinese handsets? Posted via the Windows Central App for Android

What do you expect? These are a brand new OEM, and you're treating them like they've been around as a OEM for years.

They are competing with OEMs who have been around and are not hampered by a sub par operating system. They need more than a rebranded Chinese device if they want to have any chance. Their product is not going to be unique at all. It has already been released and has already failed. Posted via the Windows Central App for Android

Ha! As you can see, I am using Android too. And it pails in comparison to Windows 10 Mobile. As this OS matures, it will be without question the finest, most secure, user experience on the planet. Posted via the Windows Central App for Android

Maybe, if it ever does mature and people start buying them and developers take notice. Right now it is a terrible experience and changing people's perception is going to be near impossible. Posted via the Windows Central App for Android

The experience is surprisingly good on my cheap-ass Lumia 640. I have no idea what you're talking about.

You hand a Windows phone to the average consumer and they are going to be frustrated. Just the lack of apps alone make it a terrible experience for most people. There is no getting around that. It doesn't matter that you like the UI and Microsoft's services. It might work for you fanboys, but for everyone else, Windows phones have nothing to offer. You cannot see outside your own experience. Posted via the Windows Central App for Android

You speak of the "lack of apps" as if there are only a dozen apps on the store. Sure, some devs come and some go. But the amount of apps the platform has, seems to be a reoccurring argument you keep using. It's a vicious cycle, devs will come to large market, but consumers will come to an OS with a lot of apps. Each needs the other. We all know this. Hence why UWP was made. And honestly, you seem to have only gave UWP a maximum of 2 months before you deemed it a failure.
So let's just forget about apps for a moment, since you're delusional if you think they'll just suddenly flood in, (and if they don't its a failure). I have personally used all 3 platforms, Apple I hated from the beginning of using it, it just wasn't for me. Android, sure, is a good OS. I have nothing against it except for its infamous security issues, (caused by nearly every phone manufacturer using a different Kernel, and rooted phones using even more random kernels', making it impossible for Google to even try making the OS secure), as well as the complete unpredictability with app installation. Countless times I've suffered issues of the phone not having the storage to install even FB, even after uninstalling all apps on both SD card and internal, and this issue I know a good amount are suffering, even now. However, then I went to WP. Yeah sure, 8.1 was not that great and had a lot of issues that needed addressing, but honestly I still preferred it. Win10m, despite your blind hatred for it, is a huge improvement of the OS. Apps are slowly being updates to 10m due to UWP, and old 8.1 apps are losing support (and most soon after becoming UWP.) there are the small hitches in the OS at times, but you're kidding yourself if you think Android doesn't have its own huge issues. The lack of new customers for 10m is due to the non-existent marketing for it. MS don't have any intention of bringing in new market until mid-2017 when RS2/3 is complete, so again, your predicable argument on "The markets have deemed it a failure" is a petty excuse of an argument.
Now to address your other predictable failsafe argument, the "Fanboy" card. Hence why I mentioned my past history with other platforms. I don't hate Android, however I can blatantly see its issues. Which is exactly the same for Win10m. So let's not go accusing random people you don't know of being a fan boy, ok?
(Also, please don't start reply with "Android doesn't have issues" as some people predictably say, as we all know it has plenty.)

Ok, we understand your point. No matter what WM will inevitably fail. Noted. No need to counter anything, and everything, everyone says anymore... You've got a pre convinced notion that's got a negative outcome for everything, and you have them lined up, locked, and loaded, for when anyone says anything positive, or hopeful, about WM... You by default say anything, and everything will fail no matter what.. That alone destroys your credibility... Give credit when due, and criticize constructively... Nobody is saying this will most definitely save WM. People are just enthusiastic about this dudes enthusiasm for WP/WM. We have no idea what ole boy will be able to pull off; only the future will tell. But, we hope he has some tricks up his sleeves..... Is there something wrong with that?

Marketing only works if you have a good product. Once people buy your product, marketing cannot mask a poor user experience and your future sales will be effected. The market has spoken. Posted via the Windows Central App for Android

No, the market had spoken for WinPhone8.1 the market for win10m doesn't even exist yet, as MS aren't aiming for new customers yet. So please tell us more about how the market has spoken for an OS most of the market has no proper knowledge of, and no experience with.

They are basically the same thing and neither one is a good experience for consumers. Your grandmother isn't going to tell a difference between W10m and WP8.1, I know first hand mine doesn't. A grid of colored square icons and randomly changing widgets that are not interactive. You swipe left to enter a single column app drawer that fits a minimal number of items on screen at one time. The app store is barren and the apps it does have are low quality. It is locked down and even the phone manufacturer cannot change the UI or add any high level features at all. There really isn't much difference between Windows Phone and Windows 10 Mobile. Certainly none that would make a difference for consumers. Marketing would be a waste of money and obviously Microsoft knows this as they haven't spent any. Posted via the Windows Central App for Android

Lol. You're obviously clueless. Posted via the Windows Central App for Android

WP and WM are effectively the same. They have the same hardware/software limitations. Microsoft again rebooted the platform as if the issue with WP was behind the scenes. Performance wasn't the issue. It was the hardware, UI and software limitations that caused OEMs and consumers to reject Windows phone. None of those things were addressed with W10m. Microsoft didn't change their approach at all. Posted via the Windows Central App for Android

He is not an OEM yet. As of today it's just a quickly put toghether site iwth no love and no real information. The photos are chinese phones with a photoshopped "Cerulean" on it. As it is now this guy is an OEM as much as me. If I was him I would like this kind of advertisment when I've achieved more than just a few lines on a poorly done site.

You have to start somewhere and he is literally starting from the ground up. Why are you treating him like he is some big company like HP.

I wish him best of luck and I'm not against him, obsiously. I'm against this article. I've always liked Jason articles but this one is about nothing.

Actually @Paolo unless you have : 1. Applied to the Microsoft OEM portal and 2. Have been accepted as an OEM by Microsoft, and 3. Have received the documentation and signed the contracts with Microsoft nescsessary to register as an OEM and 4: Received the appropriate documentation from Microsoft ( 3GB worth) that show you how to "be" and OEM partner n 5. Have been working with manufactures to produce the phone, With all due respect, you are not as much of an OEM as WhartonBrooks is. :-) Yes he does have a lot to live up to and a lot of challenges, but WhrtonBrooks is more than a website.

I guess you and the guy below can understand what I meant. It's obvious that he is trying to become an OEM while I'm not so let's stop the comments like "he is more OEM than you!!" duh....

The difference between you and Jason is that he can understand what an hyperbole is ;)

@Paolo thx for the reply. :-) My point by itemizing those steps that Greg and WhartonBrooks have actually accomplished was more to highlight the fact that he is indeed an officially recognized OEM. I placed that information within the same framework of the cynical comparison you drew between himself and yourself, hoping that that fact wouldn't be lost in the comparison. More directly and simply stated, WhartonBrooks is indeed an OEM. :-)

I really hope they are successful in this effort, but I trust you actually reached out to MSFT for confirmation on all of this -- to make certain their story check out? I'm hoping this isn't some attempt at a giant con on their part. Posted via the Windows Central App for Android

Sure - an OEM as much as you. Please tell me when you get to have meetings with Microsoft reps and get their corporate support.

Exactly. I feel like, knowing about the people behind the OEM, is much better than just knowing the OEM. It shows the dedication the company has. OEM's like HP and acer, sure, are great, but we all know they can easily survive without Win10m. We need more OEM's like WhartonBrooks, where they show just how dedicated they are to the Platform, who also show just how much faith they have in a platform that their whole ambition evolves round it. Gives us more faith that they can achieve something big, and will do their best for the platform, hopefully as long as they continue to play their cards right (and for MS to also play their cards right)

We will always know about products... When did you get the chance to learn about the people behind the products? This is excellent.

Thanks Giddora. I thought seeing the people being this unique Windows Phone fan company would be something that might resonate with the fans who frequent this site. It's not everyday (actually its never, until now) we see a smartphone company that was started by a Windows phone fan.

Can you please tell us how we can contribute to the OEM in terms of suggestions and feedback?

For now they are just releasing rebranded chinese phones, maybe in the future they'll need some inputs).

Can you please tell us the specs of this amazing device??

http://www.molypcphone.com/spec.html

Please read the ENTIRE article

@Unkijc Sure, you can use thier contact form on thier website: www.WhartonBrooks.com or the Twitter, Soundcloud and Facebook links at the end of the article. Go for it!

Maybe we would like to hear about the people behind a product when the product is there. We are judging a book by the cover with this article (don't tell me this article was supposed to be neutral, it was just a full wall of advertising, I hope they paid well or they are good friends with this site owners/writers).

Don't you just sound like an angry little keyboard commando!.

LOL anger? In a comment section talking about phones?

More like in need of a life!

Its like putting the cart before the horse. Hi, I am a guy who is making amazing...if not the best windows phone right now......where is it?.........In my head!.....thats about what whartonbrooks is right now.

@Steve I find that disappoints are often the result of unmet expectations. Perhaps your assessment that that this piece should not have been written until we had the phone to assess is because you missed the title. "How a Windows phone started started making Windows phones" That titled hopefully communicated to most that the focus of the content would be on the "subject" of the sentence - the Windows phone fan (Greg Murphy). And his path to making Windows phones. It seems that some readers felt that, despite that title a focus on the device should have been the highlight. Have a good night!

Nope Jason the fact is that we read the article too and not only the title :P it read like a big fawing (is that the word?)

What are you aiming for? What's the downside of sharing a story about someone's dream? We all want to see Windows phones succeed. I'm a firm believer in pointing forward and upward, not back and down. My approach... if I were your boss and you approached me with a complaint and no solutions, you'll be reversing direction out of my office quite quickly.

We all want to see Microsoft succeed. Windows phones are the opposite of that. They can be nothing but a failure at this point. Posted via the Windows Central App for Android

No, you don't. Don't hide behind that hollow comment. WP and W10m are both great products, denying that proves that you either have no clue or you are here on somebody elses agenda.

They are not great products. For the average consumer they are terrible products when compared to the competition. There is a reason no one buys them. If it was a good product, then Microsoft's marketing blitz for WP7 and WP8 along with word of mouth would have made them relevent by now. instead, even the people who bought Windows phones in the past, didn't turn into repeat buyers. They were not impressed. Sales prove that.

Really? I used to have Android devices. Hated 'em. Had one for work, hated it. Have an iPhone 7 plus now and a Lumia 950, and... I love both of the latter phones, but I love Windows 10 far more as an operating system.

I have a 640, 1320 and a few Android devices. Hate the Windows phones. It feels like you are pushing around molasses while using them. Everything is fairly smooth, but really slow and you feel limited. You just can't do as much as you can with Android especially since the apps are all garbage. If you only use Microsoft services, it might be ok, but even then Android and iOS are more capable. We have a $30 Galaxy Prime and it runs circles around the 640. Our teen son won't even look at the Lumia. Given the sales of Windows phones throughout the years, it seems my view is very widely held. Even the people who had bought Windows phones in the past didn't continue buying them. It might work for some people who are all-in with Microsoft, but for everyone else it is almost useless. Until Microsoft truly goes back to the drawing board, they will not get anywhere in mobile. If the experience was even a fraction as good as the people on this site make it out to be, then it would have grown and become relevant after 6 years. The truth is, it sucks and sales data proves it. You have to take the Microsoft blinders off to realize how bad the experience is in comparison. Posted via the Windows Central App for Android

Apps wise, yes you can do more. You also need 4,231 anti-virus programmes minimum. My 950 is fast and reliable. It is intuitive and easy to navigate and ability to organise is excellent, with no bloatware. Enjoy Android. I can appreciate how it will make you an expert in anti-virus programmes.

Actually, you need information about the people too. The who and why of a company are just as important as the what and when. Microsoft would not give time just to a product, they give time to a company. Anyway, you're all treating this article like it was a product showcase that failed to showcase the product. This article is a showcase of the company and, as 'Part 1' of a (presumable) series, it did a great job!

They are doing something for sure and are very enthusiastic about it too. :) What REALLY worries me is this - HP being such a huge and known company has got really poor support on the OS side from Microsoft (they still haven't finalized RS1 production for he general public !!) What can be expected in this case then? In the end, MSFT is just not doing what its supposed to do! I'm a fan of W10, W10M but MSFT let's us down over and over again.

Surely theese folks at least don't look so unpleasant like tim cook, i wish them all the luck and hope to see their devices Hope something revolutionary into digital imaging like a modern 1020

You should rethink your use of the word 'reeks'.

I am so on board with the WhartonBrooks philosophy and truly geeked to see what they can do. I want to be in the vanguard of cheerleaders. I'm equally geeked to see Jason Ward start an expose on this new initiative. I agree 100% with the tempered optimism you present in Part 1. Fans owe it to themselves and the platform they love to look for new players to support and help build up. If they stumble it will be at least in part due to the fans... Don't forget we have a Forum Section dedicated to Cerulean: http://forums.windowscentral.com/cerulean-mobile/ I hope I see more users drop in and help spread the excitement of discovery.

Skeptical. If it doesn't come out with Verizon compatibility, I'm out of the platform. My Icon is a dinosaur and I don't have any options left.

well actually verison is the dinosaur.

Sadly, we are looking more and more BYOD for this platform and that just doesn't fit the Verizon mold.

This is the first time in about a year that i read one of your exaggeratedly sunny pieces.
I hope that WhartonBrooks' success mirrors their presumable dedication.
You say, Microsoft's support will be key for the OEMs to thrive. But this will the predetermined breaking point.
Satya Nadella always gave a duck about Windows on phones.
And there's absolutely no evidence that this is going to change... So sadly they are destined to fail.

@WindowsPhoenix Glad you decided to join us! :-)

I don't get the "Nadella doesn't care". He friggin merged the small wp-team with the main Windows branch which means they now share a codebase and budget. That is more focus than mobile has gotten since 2001 when windows mobile was targeted.

You can not be serious about this:
a) To reach the goal of a shared codebase there was no other possibility but to merge both Windows teams.
b) The merger being a sign of greater focus for Windows Mobile? Self-deception much?! The merger was a means to get rid of a dedicated Windows Mobile division in Microsoft, they literally drowned in the general Windows team. How is that a statement of a stronger focus on Windows Mobile? It's quite the opposite: Being submerged in the Windows team is a lot less focus than being an independent division. Evidence of the reduced focus: Why is Windows Mobile always lagging behind the desktop Windows if it's a shared codebase? Because there aren't literally not enough people working on it anymore.

You don't seem to even know the pros of having a combined codebase or the work that has gone in to that. Since you don't, I can understand why you don't appreciate the work they are doing.

He's doing something wonderful and I will do what I can to support him

When will this october event take place?

Well, firstly, well written!!! Your account and presentation were very engaging!! Thank you!! Secondly, I am not convinced these guys will be able to pull off what they are claiming. Yes, of course, they could get devices contract-manufactured from China, but still the critical issue surrounding W10M - the question of apps - remains. Moreover, catering to Windows Phone fans (like most of us here) isnt going to help the composite W10M project. That is something that only MS can do with their massive cash war-chest. Lastly, there is something rather interesting that appears in the narrative. I am referring to this: "Derek Egerman, WhartonBrooks Chief Strategy and Planning Officer, mused that Murphy's motivation was to make Windows the focus not just produce things Windows can run on.​" This is very interesting though I can suggest an even more foundational point of view. I contend that the core design principle that should drive Windows is this: Windows unlocks the potential of the hardware like no other OS does. In the same way as Windows enables users to do more, it also enables hardware to do more.

Thanks for this article. Greg Murphy's enthusiasm, experience and entrepreneurial spirit is inspiring and a much needed antidote to the shortcomings of Microsoft leadership in the consumer mobile space.

I would have loved to see something about the actual devices they are building

Indeed. For all we know, their promises might just end up vaporware. Show us a product and we'll get excited accordingly.

According to some leaks, their phones are just rebranded Coship phones.

Who know what they do around the phone...

They put a Cerulean logo on them (see the site) and MAYBE they release some preinstalled apps on them.

Well, you do know absolutely nothing. Are you satisfied with that?

This is what we know till now. Go to thier site they show Coship phones with a Cerulean logo. Listen to the webtalk on sound cloud and they talk about adding some firmware and apps to the product. This is what we know so far all the rest is speculation, try to stick to the facts and don't try to look smart if you are clueless. We all hope for them to succeed, but we should stick to facts like grownups do.

We know they are showing coship as an ODM. That is all. Saying that is the phone they are releasing is pure speculation.

Ahahahah so you don't consider this article speculation but consider the only facts we have so far speculation

Have you tried a Coship? I did. Great Build Quality. Very tight phones. Also they use ClearBlack, great display. They are an experienced maker. I have more respect for them after one phone than BLU earned from me with 2 phones. I'm impressed and think it is a smart choice in partner for WhartonBrooks. I'm still excited for the Cerulean release even if it is "just" a rebadged Coship.

They look like solid phones, this doesn't mean they are revolutionary etcetc. They are solid midrange phones that could move some thousands of units if marketed well. If they can't differentiate and have the money to buy incredible marketing campaigns they are just losing their time.

Your cup is half empty, I get it. Mine is half full. I'd rather support than tear down. We need to get something going on this platform. Have a great day and a better tomorrow.

No you don't get it :) you should know I'd rather support too. I've been on windows for years I use MS products as a developer (industrial automation as work and store apps as a hobby) and as a customer. It's just that at the moment it's just a story about nothing, it is premature and naive, at the moment, to support this.

It's all a matter of perception. My research shows me this phone exists (since thoughtful observers place a high amount of probability that it will be a rebadged Coship Moly PcPhone): it has been manufactured and distributed in select regions with other badgings. Look at Mouse Computer's Madosma Q601 or the Funker W6.0... I still believe we will see a Continuum enabled device labeled Cerulean this fall in the US. Everything I've researched shows me it is in the pipeline. If they are waiting for optimization, I believe that is wise rather than rush to put something out that is not yet baked fully. I look at Alcatel Idol 4 Pro the same way - waiting for software maturation and testing before release. Certainly Alcatel knows how to build and deliver a phone. NuAns Neo should have made the leap out of Japan, but lack of commitment from those who call themselves "loyal" killed that. Call me naive if you like, I think I'm informed and well researched. Disbelieve if you want, but I'm going with what I've found in my research, not the comments section of a blog - even the WC blog.

Ok so they'll import some midrange Chinese phone. It's ok and believable. What is naive is believing their marketing BS about the revolution or even this article hinting at something special.

Well iPhone is "magical" and filled with "courage." What's your point? I'm happy and excited. You aren't. Good luck with that. My mind is as made up as yours is. You can have the last word if you must. I'm done here.

The point is that they actually innovate here and there even if I dont like them.

I still think microsoft missed a big opportunity by messing up rollout of HP elite x3. I met people who wanted this phone but drop the idea just bcoz of the messed up mismanagement regarding the sale of the phone. If the product is ready for sale then it's ready, if needs an update then hold on. How hard is that?

Its a business phone not a consumer phone. Business world is different than consumer world :)

Then the sales strategy should have been EVEN MORE streamlined.

I met people who wanted this phone

​If those are just a few consumers, no biggie, they would always prioritize bulk enterprise buyers anyway.

HP is the one that messed up by not having the drivers ready.

WSheep spotted, MS was not rready for Snapdragon 820,

Oh really? Why does the anniversary update have support for it then?

MS doesn't seem to be ready for anything these days...every update breaks something....they have become the delivery center of a mediocre service and products. Congrats Nutella on your terrific bug plagued windows 10.

I haven't had anything break on my computer or my other phone from the official releases. And besides... When did Apple and Google release an update that didn't break anything last?

I looked into it but it just wasn't feasible for me financially and not to mention my "friends" ran for the hills when I mentioned Windows Phone lol. But as the news broke of Hubs making way for the app centric launcher model, everything went on the back burner. So I say good luck to WhartonBrooks! Looking forward to what they unveil.

You should have mentioned Windows 10 Mobile instead of Windows Phone as I even run for the hills when I mention Windows Phone. Your friends need to know that Windows 10 Mobile is not Windows Phone and there are different apps and experiences via UWP and more that Windows Phone doesn't have. Windows Phone is dead, Windows 10 Mobile is just as alive as Android and iOS. I tell all people that are interested in Windows to avoid Windows Phone but to embrace Windows 10 Mobile or a Windows phone with Windows 10 Mobile, preferably a higher end device if they can afford it. I don't recommend low-end computers or low-end Android phones either so the only time I recommend the bottom range is just for cost. Other than that, it is a recommendation for a Lumia 950/950XL for anyone that wants to try Windows 10 on a phone and I make it extremely clear that the OS is not Windows Phone.

I liked Windows Phone :D But I love W10M. :D

I loved Windows Phone but after using Windows 10 Mobile, I can't stand using it anymore, I don't even like it anymore. Windows 10 Mobile is a far more advanced and feature packed. I am typing this message on a 3rd monitor at work, via the Action Center, via the Windows Central UWP app, via Continuum, with a hardware keyboard, mouse, via Ethernet, via the Microsoft Display Dock connected to a Lumia 950XL. Windows Phone simply cannot provide the same experiences and that's why I make a clear distinction between Windows Phone and Windows 10 Mobile.

Yeah, I understand it. I don't have a 950 or XL yet (I'll get one in November if everything works out well :D ) so I'm swiping this comment on my 535 running W10M, but I feel the difference as well :D WP feels old now, but I still get a feeling of nostalgia when I see or use it somewhere :D

I liked it too.. The simplicity made it a great phone OS. I used to laugh at people who couldn't find their WiFi settings on on their iPhones. WP made it so easy to do anything with just two or three steps.

"I tell all people that are interested in Windows to avoid Windows Phone but to embrace Windows 10 Mobile or a Windows phone with Windows 10 Mobile, preferably a higher end device if they can afford it." Because no ordinary person would ever notice OR be fazed by the barely discernable distinction between the two EXTREMELY similarly named (renamed) variants of the homogenised, mis-managed MESS that is Microsoft naming and marketing's "stratgegies". </sarcasm>

@Deaconclgi this was when Microsoft and Qualcomm announced the Qualcomm Reference design programme. So long before Windows Mobile 10 and the Zero Dollar license. My appologies I should have mentioned that :).

Oh it's ok, thank you for your insight and comments. :)

So true. Only a few days ago, phones were brought up in conversation among friends, and a good amount had all agreed they would jump from Android to WP (They had no proper knowledge of Win10M due to lack of marketing MS have done) (I bet that's a shocker to the die-hard Android fans who plague these articles), but the only thing stopping them was the lack of support in apps they use. For example "I cant use a phone with no Starbucks app, and I heard MS don't support skype at all on WP". After simply showing them both the recent Skype and Starbucks (alongside a few other apps they use), they were surprised at how wrong they were due to very old information they heard from others. They didn't care for the less amount of popular games compared to android and apple. Nor the amount of apps on the store compared to competitors. Just that the apps they need or use are there and updated. Really, despite how much Android/Apple trolls here will deny... The reason Win10m is not as known in the market, is due to the biased info you find on other tech sites, alongside the non-existent marketing of the the OS or devices. If MS or OEM's had started advertising UWP's, and explained the advantages compared to the outdated WP app structures, more Developers and consumers will more likely give the OS ago. MS just need to get the ball rolling. (alongside completing Win10M as, as we've heard before, RS2/3 is supposed to be the updates that "complete" the OS (before they then just start adding new features)).

I agree completely and know people that share the same outdated knowledge and biased opinions from the general media.

Yep. Hopefully some day this situation will change. The power to do so is in MS's hands. They just need to do so correctly.

Hopefully he knows it can't succeed in the US unless its offered on all major carriers...

You don't start on all carriers. You start with one carrier exclusive (if you are lucky, they will have a hard time even getting that) and you prove yourself before you get more carriers. That is how everyone else did it. Windows phone hasn't been able to prove itself worthy. Posted via the Windows Central App for Android

This. I like how caliborn forgot about the story of the iPhone.

Also the Galaxy S, Galaxy Note, LG G and HTC One phones all proved they can sell sufficiently. Stuff like the Lumia and Moto X proved they could not. Posted via the Windows Central App for Android

No you cut out there carries completely and sell you devices unlocked and able to work on all carriers.

That might work if you are making $30 phones, but not when you get to the $500+ range. Just ask NuAns how their unlocked phone sold. They barely sold 400 even with a huge discount to $270. Forget about Verizon or Sprint compatibility, that certainly won't happen with an unlocked phone. Posted via the Windows Central App for Android

It depends if you´re building a Low-Mid-Hi range phone. for low-mid you can go the rute of Blu and sell unlocked phones direct to the consumers as you state. for Hi range I would go for a carrier exclusivity but thats a risky move you have to have a strong comitment of the carrier. my bet is he's going for a low-mid range, just remember that the best wp seller was the L5XX serie mostly sell direct to consumer at $50

They really need to change the logo and probably the name, too. It sounds like a store where you can buy cheap polo shirts and ugly shoes.

Presumably the mobile will be marketed under the Cerulean name.
But yeah, sounds like the name of a bookstore.

That's what I keep thinking it is when see these articles.

Oooo... Cerulean would be a nice name for them to use!

Yes Cerulean is the name they've chosen and their latest podcast goes into detail on how they got there.

Don't like the name, too difficult

Cerulean is difficult? LOL

Ceruface would be fitting for this long waited revolutionary all changing device.

Totally agree that a rebranding needs to be done before launch. Even "Cerulean" is a bit difficult to say. Otherwise, if this phone materializes on Verizon I am all in no matter what it's called.

It sounds like a brand out of GTA V

Lol! It does! Brand and model name. I can hear the ad now on the talk radio station.

Any actual info on this 'OEM'? Feels like a kickstarter that sources the wares where cheapest. Hope I'm wrong.

Did you not read the article before re-posting your comment. And no, you're not "hoping you're wrong", quite the opposite.

I read the article and it was a ton of fluff. Words are cheap. Posted via the Windows Central App for Android

I would have to agree. Who's going to make better decisions, a massive company like Samsung, or some bloke making phones in his shed? I think since all the big companies have stayed away, that tells you more.

Yep, Samsung made a real good decision with their last Note...:P

And yet, even though it was Samsung's own batteries that failed, they will sell more Note 7 than all Windows phones combined this quarter. Just the pre-order was bigger than all Windows phones! Posted via the Windows Central App for Android

Not only that, samsung had replacements in the hands of affected users in 3 wks. Your lucky to get an actual windows phone 3 wks after release date let alone a replacement. MS is a JOKE.

Well, obviously you don't have to release quality to sell a tonne of phones if you have an online search and advertisement monopoly.

Do you understand the term monopoly? Nobody stopped MS from advertizing, they chose not to.

What I would like to see is not a a light feature article but an actual investigative news article about this new company and phone with actual facts. How about an interview with the head of the company, asking not only questions about why he started the company but also what their real plans are, details on the phones, plans for release; carrier support, what happened to their press event they had scheduled but got cancelled. This is my beef with much of the tech blogging/writing these days; lots of words but very little information that isn't available on someone elses website or press release.

Could be bots doing the writing.

Dont expect actual facts from Jason

Patience. This is the first of a multi-part series.

I'm looking forward to what the company will bring. If he's this passionate then hopefully it will be a great advice.

I'm intrigued. Signed up for the podcast subscription on Pocket Casts.

very interested in new hardware. good writeup also by the way:)

The story really sounds like a success story. It sure won't be easy climbing up the ladder. But I wish them d best of luck and hope they succeed bcos I personally I'm excited abt this. Btw d name is weird for a phone company tho. From Blarney's NL830 windows 10 windows central UWA

I'm waiting to see what the company is offering , in mean time rocking 950 with no regrets, best windows phone there is 950 / XL

I'm sure Greg Murphy can bring a phone to market, but whether or not the market pays attention, that's a whole other question. The smaller the market gets for Windows 10 Mobile, the higher the shock value any new device will need to have to get anyones attention. And I fear that relationship is exponential. Any little thing Apple or Samsung does is well reported by the industry. Microsoft/whartonBrooks could make a phone that literally makes you breakfast every morning and the only folks who would care already have a Windows device and are looking to upgrade. As good as the device WhartonBrooks puts out will be, only a few of us will ever really take note.

Yep, it is unfortunate, but true. Then 5 years later when Apple puts it on the iCrap 10, everyone will think "Apple is the greatest, look at the awesome idea THEY came up with!"

Seems to work considering their sales records does'nt it? they sell more iphone 7s in pre sales than all windows 10 devices sold put togther....hell maybe all windows phone 8 and windows 10 mobile devices.

I would pick a flamming Samsung Galaxy Note 7 before buying any hardware from this OEM. Sorry but where are the top-tier OEMs ?

Because you have insider knowledge to build quality of the WhartonBrooks device?

So you rather have an exploding phone from a "top-tier" OEM than go with anyone else?

this is a collaborative work it needs team work for any potential success and the biggest problem is Microsoft it self espcially the part were they release apps for android and ios only.

This whole article is about things people alreay discussed. No wasting time chatting here. We need to see the phone. The WhartonBrook's Cerulean Windows phones.

A phone made by a company that is passionate about and wants to showcase the power and potential of Windows Phone? I'm interested. Wishing them great success!

I'm super excited after reading this article. I will be following this company very closely!

Intrigued, but very skeptical that anything they bring will change the market in a significant way. If it doesnt run Snapchat or Pokemon Go, or work with the latest Kickstarters phone controlled toaster/coffee maker/suitcase, the mass market wont care. I suspect it will involve continuum and some desktop app vitualization capabilities, which will be nice for some users, but not revolutionary.

Go for it! If you have enthusiastic staff it should be a breeze to come up with a phone that is better than what the iPhone-wielding ms staff come up with.

Hoping its a really nice phone!

I want a phone running Windows 10 in tablet mode....thankyou very much :)

One of your subtitles is "Defying Gravity". That is what you call a company that is flying high on vaporware but supported by nothing else, which is all this company has produced so far...hot vapor. I believe these series of articles are a little premature. I would like to know what it takes to get, not only a long article, but a SERIES of articles written about a company that has yet to produce anything. If it takes only grandiose claims by someone who used to worked for a hollowed out company (HP), then heck, I used to work for CompUSA (remember them?). Can I get an article or 2 written about me? If it takes money to get an article written about me...OK, I got nothing there... Posted via the Windows Central App for Android

Thanks for the question coolj40041!
No, Greg's past employment isn't what inspired me to write this series. So no your work history, though I'm sure it is relevant to your present and future (as mine is to me) would not move me to write a series of articles on a Microsoft focused site about you. I'm sure you're cool and all and have a lot of interesting things to share. :-) If, however, you invested the time and energy to found a smartphone company that embraces Windows 10 Mobile, an underdog platform in a very competitive space, and began to promote your story via social media, a press release and a podcast; as a Windows Phone fan and a writer I'd be very interested in following, and chronicling your story to whatever end it leads, success or failure. As the only fan based Windows phone OEM, created by one man and not a large company, this is an interesting story to follow, at least to me(and I'm sure to some others) wherever it leads. Of course I'm hoping that it will lead to success. I'm sure others do as well. Thanks for participating! PS.
The subtitle Defying Gravity actually references a portion of the story I edited out of the piece. Greg was inspired, to move on the OEM application while at a "Wicked" musical during the song "Defying Gravity." :-)

You have my full attention on this one Jason. :) In fact, I'm kind of the opposite of sceptical. I just don't see you REACHING as far as some might accuse. Instead, I gotta believe you KNOW something......or at least enough to invest in this series. (Yea, I just tightened the pressure-screws on you brother. LOL ) Also, there's something fresh about these guys, even before this article. I don't know exactly what they are up to, but they already had me rooting for them. Maybe I'm a niche-lover? I suspect I am. I'm very likely to be an early adopter of almost anything they make available, just for that feeling of participation.

Nothing related to the scifi tv series?

I only speak for me, but I would put up with a realitivly heavy phone if it had a super long battery and a pico projector embedded in it. I also think a dual screen phone, one side being a standard phone and the other side being some sort of E-ink display with extra battery and simple notifactions would be great. I think someone has to build a translucent phone, even though it means people standing in front of you would see your screen - there are still those who would love to have that. those a just a few of the ideas you could use for your next gen phone....

So it's possible to build a translucent phone?

I would also like to add that transparent aluminum is now possible too. It would be nice to have the first phone with an shatterproof screen to be a windows phone.... http://www.ubergizmo.com/2015/11/transparent-aluminum/

Transparent battery, motherboard, chips, cards?
The only part you would be replacing is the case.

yes, translucent LCD's are available (as are bendable). Any device using this would have a metal bottom that would keep all the inernal parts (cameras, processor, battery etc. but the screen itself would be a piece of glass coming out from the base. You can youtube translucent LCD to see more. http://www.youtube.com/watch?v=ta-Fu3Eqf_0

I have one of these: http://images.fonearena.com/blog/wp-content/uploads/2014/12/LG-Fx0.jpg

Translucent phone would be great but due to components like the motherboard, battery etc. you wouldn't be able to see right through - though a transparent shell showing the inner workings might be cool.

It would be, but I think with phones everything is so tightly packed, you really wouldn't see much.

yes, translucent LCD's are available (as are bendable). Any device using this would have a metal bottom that would keep all the inernal parts (cameras, processor, battery etc. but the screen itself would be a piece of glass coming out from the base. You can youtube translucent LCD to see more. http://www.youtube.com/watch?v=ta-Fu3Eqf_0

Also, I would like to see Lithium/graphite batteries usend first in a windows phone. They hold 6 times the charge of a Lithium Ion battery in the same amount of space. http://phys.org/news/2016-08-lithium-ion-batteries-capacity.html

I would take any range of new W10M phones right now. The gap left by Nokia/Lumia is like the Grand Canyon and I would eventually like to replace my 930 with a new high-end model.

I am actually curious here.

This is getting ridiculous. All this hype about a vapor ware????. We didn't even get any design sketches of their "elegant" phones (you don't need a press conference for that). They didn't even set when they announce the phones (after cancelling the first date).
I hate to be negative, but this article should be released, after and if (and that's a big if) we see something out of this company. Posted via the Windows Central App for Android

Hope this company gets some traction.
BTW, I didn't know Daniel also went to UConn. Awesome! I am going to go there tonight for my favorite Masala chai at Wing Express.

@sholokov Now you got me wanting wings!

Very enlightening and inspiring, I hope they will succeed and will be keeping a closer eye on them from now on. You mentioned they want to engage the fans and build the phone that will delight the fans. How and where are they gathering the feedback from?

Hi @skinnypig118 (Interesting name by the way) :-) You can reach them at their website which has contact forms to send them emails directly. www.WhartonBrooks.com They are also receiving responses at their Twitter accounts @whartonbrooks and @ceruleanmobile. You can also subscribe to thier podcast on sound cloud. The link is above at the end of the piece. Very, interesting story. Hope it succeeds! Thanks for joining the discussion!

It is such a positive news to hear about such windows phone fans. I just hope they do not over promise and under deliver. All the best to them!

I am willing to support OEM phones if they make a good product. They definitely need to go to other markets out of US to succeed. Russia, India, Europe etc. US might to too difficult with the carriers and saturated iphone/droid.

I'm thinking they need to team up with MS for the camera; that's not something that a small company can handle on top of all the rest...

We've already seen Coship license ClearBlack in their displays (which is very nice). My thought is that it would be very beneficial if WhartonBrooks could license Lumia Camera Classic. That would be a definite bonus.

Well, good on him. As a small OEM they won't need to shift loads of devices to cover costs (though I imagine they'll be high, absolutely nowhere near as high as someone like HTC's, of course), so W10M may actually be practical in this case. Also, good on Windows Central for running this article - brings it into the spotlight a little and it's interesting to hear how fans are quite literally carrying W10M in all aspects now.

I thought several tech news sites had already confirmed that their upcoming phone was just a Moly PC Phone rebranded. Wasn't this the case already, that this is more hype than anything else?

Excited every time I see something on them. If the render of the phone on WinBeta or wherever is the real thing, it looks nice. And I like the Cerulean name. Its no harder than Huawei or Xiaomi to pronounce.

I wish them the best and are glad they have fans at the top, but equally they are a business and will need to make money from this. If they release phones I suggest they poll the expected buyers (fans?) well to build products that will sell. As that Japanese company who tried to croud source (kickstarter) development showed, it's not easy to get buy in. The product has to be right. For me that means a great camera and fast performance is top of the list. For others, there will be a different list. Perhaps a budget and high end model is appropriate. And perhaps licensing Microsoft's camera tech is possible. I still think Microsoft have to bring more features to the table too: Network browsing/drive access. Split screen apps. ARM optimized Edge. But Windows Mobile is great for security and UWP is starting to work out. Looking forward to seeing what they do!

This may sound weird but I m more excited about the launch of Nokia 216 than this or even HP Elite X3 !

Hi Jason, your comment about Apple and Samsung being aggressive. I dont think they are being aggressive. They are masters at promising you a lifestyle better than your current station. They portray happiness and acceptance by your peers. Unfortunately, a large proportion of their purchasers are gullible, and fall for the hype. Many on here have enjoyed MS's pop at Apple over the ads for surface. Some say Apple are misleading calling the iPad a computer. It is. Just not a full blown one, although I bet they sell more of them than MS do the surface. MS need to hire in some decent ad executives, instead of showing themselves as for 'grown ups' only.

May this be successful we need to keep Windows phones out there best phones ever

Interested to see if a WP made by WP fan come with a camera button, and what music related NEW features they can come up with.

How did he get his start up financed?

Definitely check out the podcasts where they are laying out much of the process: https://soundcloud.com/whartonbrooks They haven't gotten to finance yet, but I believe that is coming up in the next episode or so.

Very interesting. Make it unlocked for any carrier worldwide. Decent camera, 4k @60hz. Lab on a chip support. Powerful antennas. Choices for metal bodies or ceramic or polycarbonate. As a bonus, transforms into an Autobot and fetches a beer.

Awesome! I am on my 950 for atleast another year. After that I might have to re-evaluate if I am sticking with the platform or not. The big thing right now for me is my works MDM app. We are testing GOOD for BYOD, and I am hoping it works on my device (950) enough for me to do my job, otherwise I will have to get a second device. If I do, that will probably drive me to go with Android next November when its time to upgrade. Depending on the specs, this could be a great option!

If they are chasing fan based design, the should check out Local Motors Rally Fighter and many lessons learned from crowd sourced

Honestly, I think I should have speak about this earlier, but with such a high competition on Android marketplace, OEMs like Microsoft and Sony had same opportunities to grow 2 years ago, but looks like Sony won. Sony Xperia phones have matured, they've got some of the best camera in the market, they have the best Hi-Res sound on mobile device with support for SACD sound, they also have some of the most wide # of accessories that support NFC, Ant+ and other protocols that build a huge ecosystem of hardware components that make the Xperia platform, I can even say more than Samsung and Apple together. Microsoft purchased Nokia, Nokia 2,3 years ago sold headphones, wireless chargers, speakers, etc, but Satya Nadella didn't took advantage of Nokia hardware and made bad business decisions and today Lumia is dead, Sony despite having everything against them (high competition with Android phones) has made a loyal fan base of users (I'm included) and is one of the few OEMs that make money through selling hardware. The history will prove Satya Nadella made terrible decisions and terrible management to avoid cloning Android and having a good customer experience with green numbers on hardware sales as Sony Mobile does today. Good for Sony and Bad for Microsoft. This is just my opinion.

Until that phone installs a Rootkit on your computer.

Sony software on top of Android is pretty solid on my Xperia M4 Aqua phone, never had a glitch or virus or anything similar. Android was insecure about 3 or 4 years ago but today Android is as secure as iOS or Windows Mobile.

That's absolutely not true, have you not heard about some of the crazy exploits that have been discovered? Even apps in the playstore. Androids biggest problem is what Microsoft is trying to solve. MS wants to focus on premium like Apple with their surface line. And then let Oems focus on whatever they want. They also want to allow that software to be used by oems allowing them to add drivers and whatever, as well as have it be secure and control the updates so that the oems don't have to and you always have your bugs/exploits patched no matter what oem/carrier. Google may be going towards a similar solution with their newest hybrid os. It will take time though. Google has the advantage of an already existing app ecosystem while MS has been focusing on building theirs out.

I'm still waiting on a real successor to my Lumia 1020. I wasted my money on a 950. That was NOT the successor, in any way. I'm hoping WhartonBrooks truly comes out with something special. I'm not interested in another boring, industrial look like every Android and iPhone. I LOVED the earlier Lumia devices...the 900, 920, the 1020. And the camera on the 1020! 40mp goodness that the 950 can't best. I'm itching to see a camera that truly is better...it should be so obvious that the camera is better than the competition that it's not even a contest.

I don't think that we'll see one. The oems like advancing things slowly in order, obviously, to max the $$$$ from people's pockets. The 1020 featured something that still isn't available today and I don't think that we'll see it again. I still own a white 1020 for quick camera duty.

Microsoft does not care about your 1020. Get that through your head. Buy an iPhone 7, there's your successor.

Awesome article. Looking forward to Part 2..

Thanks! I'm looking forward to bringing part 2!!!

I'm really excited. I too use pocket PCs back even before iPhones were thought of existing (Samsung i730). It was more like a pc than a smartphone. I prefer that truer, more robust, PC mobile experience to that of the iPhone/Android phone that's "smart." That's the reason I stick.with Windows 10.

any word if they are on the stock market yet! seem like a very promising company.

Basically this will fail as will all Windows mobiles. Why? The standard consumer doesn't care, the U.K. store staff divert people towards Android/Samsung or Apple. Pokemon Go is a prime example of how the platform is dead. I simply do not wish this to be true, especially as I have a 1020 and 950 but, no matter what I think, the sales speak for themselves. MS should have grasped Minecraft and made it something spectacular. Lots and lots of juicy stuff but, yep, it didn't happen. Capture the youngsters and the adults follow like sheep. ANy hope? Yes. One. A Surface phone is the last, best hope for Windows kind (B5). If that doesn't work then I have to decide between the locked Apple system of the absolute mess of Android. Oh well.

The MS store employees in the US also gear customers to Android and iOS. I practically had to beg them to sell me a 950 about 3 months ago. they had plenty in stock and were telling me invalid reasons as to why I could not buy one (my carrier, I'd have to get one that was unlocked, etc). I flat out had to demand they get me the phone so I could purchase it and go.

hope they don't make accessories exclusive to their phones and make it work for any phone with capable hardware. Would make entry easier if you know the accessories you bought don't die when you stop using their phone...... or use their accessories first with your old phone and then buy their phone next.

I love this story and I can totally see his point of view. I really am looking forward to see what they do and hope the best for the company and Windows.

This sounds like the brainchild of Brendan and Dale.

I was pretty psyched, but then things went dark. WhartonBrooks was so excited to announce that they had an announcement, they forgot to announce anything. Now they cancelled their event and the wind was taken out of their sails, not even some fluff. They temporarily disappeared until the most recent podcast, which still doesn't say anything new. But, being a Nutmegger, I REALLY want to see a business in CT succeed. Especially with a platform I have supported so aggressively for years. I really want this to work out. Badly. And I almost want to jump up and down and try to help any way I can to make this happen. It feels like this is what Windows Phone fans need, and I would hate to see it stumble and lose any chance it has to become something. I'm just passionate, like us all. I want things to go well. I am hopeful. I look forward to hearing more. If anything, the podcasts have certainly helped reassure me that these are definitely the right people I want to see making a Windows Phone from their dedication to the platform, alone. Other OEMs don't have any love for Windows Phone. No skin in the game. I want WhartonBrooks to have the best chance possible. Although I think their branding, website, and social presence could use some work, that's stuff that could be improved once they have something to actually talk about (call me!). ​At least the name is cool ;)

It's very encouraging to hear of a brand new fan driven OEM in the Windows 10 Mobile space. Looking forward to seeing what they bring to the party. They will win me over if the camera is near to the quality of the Lumia 1020 and this means it must definitely be better than the Lumia 950! The thing that drives me crazy about the Lumia 950 is that it often freezes when waking up which is very annoying and something that never once happened to me on WP8.1. Good luck and best wishes to the newcomer!

Don't you have to actually make Windows phones to be called a Windows phone manufacturer? I'm as much of a WP manufacturer as they are, at this point. Am I missing something? Has anyone actually seen thier alleged Windows phone? Where are the pics? Specs?

Love it that a home boy from the great state of Connecticut is pumping out the Windows Mobile dream. May it exceed our desire to have a true business phone for the last generation!
Kidblast in North Carolina

I'm supportive of what they are trying to do and I wish then well, but I'm afraid to say I'm skeptical. Currently I don't think they have the credibility to sell to enterprise, and they don't seem to be going for the cool factor needed to sell to consumers or kids. They are making some sweeping claims and promises, suggesting they will achieve what MS, HP and other companies have so far not managed to do (though I think those blue chips are now close). It's hard to see how this startup will manage to succeed unless they have a budget which exceeds that of MS and HP (i.e. Is more like Apple's). To some extent genius might be able to substitute for some of that budget, but so far I've seen no sign that anyone involved is of that level (or even has a solid track record in this field). Finally what activities they have undertaken to date don't strike me as reaching even first-in-class bootstrapping start up level, i.e. Quality of website, quality of marketing materials, quality of PR or meeting deadlines. This would make a great narrative if it ends in success, but unless they have a backer with deep pockets and determination to see it through (I think it would take 3 generations of incredibly successful/sensational phones to get traction) as well as some genius level ideas for potential USP/Killer apps I think it will fizzle. Amazon fire phones had a team of experienced top execs, major financial backing and a crack team of engineers, it didn't end well, then again they didn't have Windows 10 Mobile, and I do have some solid faith in that, so there is a chance for these guys if they play their cards exceptionally smartly.

I got to admit the company name sounds like a Lawyer firm. Part of the Apple brand is simplicity and the association of an existing common item everyone knows. This allows the logo to be associated easily without any text because everyone knows what an apple looks like. Microsoft's logo is boring because it's just the name. The windows brand however is easy and that's why everyone knows what it is and it's popular. The issue is spawning different items from the windows name confuses people. Much like the Wii U did. Not everyone is a smarty pants. You ask an average user if they know windows mobile and they will be confused. They see windows as a desktop os with a number. Windows 10.... the rest they don't care about. Professional/home.. whatever. Windows phone? They picture what is on the desktop right on the phone. Ms knows this and is why they need to make it as similar as possible with the tiles. They need to make people remove that association of windows only on pc's. So if someone was to see a windows 10 mobile phone but has never seen windows 10 start menu, they would be confused to what it is. But if they have a windows 10 start menu and see the windows phone, they will know exactly what it is. "hey that looks like windows 10". So being able to associate a phone with something you already use and are used to is important. Putting it in the surface brand is the same move. What do you associate Surface with? Definitely a product running windows. Not to mention a premium product with a lot of exposure. Ok I'm yapping too much. Wow I just wanted to leave it at that lawyer firm part.

You're totally right about the name, haha.

As long as Nadella in the house windows10 mobile won't take off high. Get rid the real cause of the problem.

I wish you launch it worldwide too.! People like us need it. We are Windows phone fans too. But please market your production. I wish you success.!

Good to hear the news as I am a massive Windows Phone fan myself. With Widows 10 mobile ever improving, this looks positive. Wish you all the best. Eager to see the new phone.

I can't take them seriously with a logo like that (That actually looked like Comic Sans at first glance). Not using good design for their company branding, shows that they don't care all that much. And what is up with the name anyway? It's not a freaking law firm.

I am looking at dipping my toes into the WP market again 'soon' (probably early next year) after spending the last year and a half on Android... and I am not really sure what to expect. As far as the OS itself goes, I am still not a huge fan of Android. I find things to be confusing and haphazard on the UI side of things, and needlessly complicated in order to support things like widgets that (so far as I can tell) nobody uses. That said; Once you move into a phone and get things set up the way you like, you pretty much never need to poke around in the actual Android UI. I have a very simple version of Arrow running to launch and organize my apps, and just a few apps that I use on a regular basis. This is completely different from WP8.1 (and the early bits of WP10 before I jumped ship) where so many features and advantages of the platform were in the OS itself rather than the 3rd party applications... because there were very few useful applications, and even fewer that would jump from version to version of the OS. But my point is; From an outsider's perspective the big question to coming back to the platform is: Why? What feature or workflow is it on the WP platform that would make me want to come back?
I loved the camera on my old Lumia phones... but my Note 5 has an equal or better camera than what WP has to offer today
I loved the battery life that I owed to WP8 and 8.1's great lightweight nature on the hardware... but Android has improved much on this in the past few years, and newer larger batteries make it very much a moot point.
I loved the 'hub' nature of the OS, but I understand that largely died with WP8.1, and even more so with WP10.
I loved that I had full-on office on WP... and now I have office on Android and it works pretty well
I loved that all my stuff would sync seamlessly between my phone and desktop using OneDrive... and now I have that same workflow on Android.
I like the idea of having a phone that can replace my laptop with continuum, but am afraid that for what I am doing currently with x86 applications (such a LabTech and VSphere) would not be easily implemented or emulated on a phone.
While I don't run many apps on my phone I do play 2 games somewhat religiously... and neither is available on WP yet I still have good memories of using WP, but even I (someone who was a big fan) am having a rough time justifying moving back to WP. This is a huge step that any manufacturer is going to get past. 4 years ago when I first chose WP it was because it filled some huge gaps that Android had, but WP has since dropped some of those advantages and Android has done a good job at closing the gap. It isn't that I love Android like I loved WP... it is just at Android has become 'good enough' while WP is still just OK, but with a much less certain future.

@Jason, I hope Greg Murphy doesnt read your smartphones is dead series, or may be he has already, hence cancelled the release of their phones :P

I've been with Windows since 3.0 and if I were a betting man, I wouldn't put my money on Microssoft's WAAD - Windows As A Disservice! The Lumia Icon is the last Windows device that I'll spend my hard earned dollars on!

Is nice to have enthusiasts like this join the Microsoft family to help its Windows platform keep growing. What I don't like about other hardware makers joining the Windows platform is the personal touch they try to put to its devices, bringing too much bloatware or crapware that sooner or later will affect the user experience with compatibility issues. That's why I prefer to buy Microsoft devices, to asure better experience.

yet another new unknown OEM. Sorry but I will not trust my cash in this device...never! in fact I won't trust my money in any windows mobile device until MS get's it's heads together, hires a proper CEO and starts to pay more attention to the quality they deliver. So far windows 10 did not deliver on either PC or mobile! both have tons of bugs and horrible design...cheap made products tested by insiders (amateurs in the most part), so Nutella, sorry but I ain't gonna be a guinea pig for MS, testing your failed products, not anymore...I've been enough with WP7, WinRT...

October event? When is that? Could explain why Microsoft is trying get all of their mobile offerings out of the market in short order.

I'm looking forward to the release of their product to purchase one. Hopefully they find a niche with their hardware offering. I'm sure we all want them to do well.

we are deep into fall, where is the phone?
Windows Central Newsletter
Thank you for signing up to Windows Central. You will receive a verification email shortly.
There was a problem. Please refresh the page and try again.