WhartonBrooks Part I: How a Windows phone fan started making Windows phones
If you haven't heard, there's a new Windows phone manufacturer in town.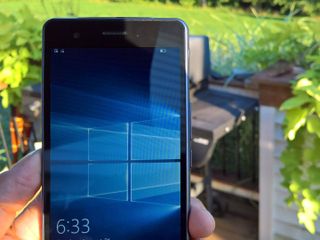 That's not just a figure of speech. There is actually a new Windows phone manufacturer right here in my home state of Connecticut. (Go Huskies!) Tidbits have been dripping in about WhartonBrooks, a new Windows phone manufacturer most of us never heard of before last month.
Clandestine though it may have been — CEO Greg Murphy has been laying the foundations over the past two years — WhartonBrook's initial press release pulled no punches. They came out swinging and excited many fans with bold claims seasoned with words such as "revolutionary," "innovations" and "emerging mobile technologies that create high growth opportunities."
Other fans, fearful of getting too excited after feeling burned by the ups and downs associated with being a Windows phone fan, greeted these claims with understandable skepticism.
Postponing Saturday Meet & Greet event @MicrosoftStore. Supporting partners want to join in-we need time to align schedules-our apologiesPostponing Saturday Meet & Greet event @MicrosoftStore. Supporting partners want to join in-we need time to align schedules-our apologies— whartonbrooks (@whartonbrooks) September 8, 2016September 8, 2016
The information that has been periodically "dripped" to us from the company's Twitter accounts and website has still left many information-parched fans thirsty for more. Though WhartonBrooks is dedicated to honoring its non-disclosure agreements, they've publicly shared some information about its vision and origins in an attempt to build a reciprocal relationship with potential customers. Building a two-way relationship with consumers is an important part of this unique OEM's mission.
First things first
Unique is a term that is appropriately applied to WhartonBrooks. Unlike other Microsoft OEM partners such as HP, Acer, Alcatel and others, WhartonBrooks is not a big PC or phone manufacturer known for their other investments in technology that's simply adding Windows Mobile to their portfolio.
WhartonBrook's Cerulean Windows phones are at their foundation and are core to the business's mission. In fact, WhartonBrooks is the only Windows phone maker that was founded by a Windows phone fan.
Moreover, akin to HP with the Elite X3, but with a focus on Windows fans, the company is based on the goal of developing a Windows phone and a range of accompanying accessories and services purposed to enhance the Windows Mobile platform. Murphy explains:
What that all entails is still unclear, however. Though as far as accessories go, a Continuum-supporting wireless adapter is mentioned in their press release. Still, if you're a Windows phone fan who has wished for an OEM that understands the platform from a fans perspective and claims to be positioned to bring certain requested features to a Windows phone, WhartonBrooks seems to be the one to follow. As a matter of fact, they want to hear from you.
If you're a critic who can't reconcile why an OEM or consumers would invest in Windows Mobile, WhartonBrooks' story just may intrigue, enlighten or at the very least entertain you. Everyone loves a story after all. Whoever you are, this is the first in a series of pieces that I will bring you as this incredible story of the only Windows phone OEM birthed by a Windows phone fan unfolds.
Who is Greg Murphy?
The first question is just who is Greg Murphy, the WhartonBrooks CEO? He is a University of Connecticut graduate (like yours truly and our own Daniel Rubino) with degrees in economics and public health. His experience in tech reaches back to the early stages of his career where he worked as a programmer analyst at an HMO startup in the early 90s. Furthermore, the various leadership roles he has served in at Yale University over the past 18 years served as a training ground for this budding CEO.
The combination of education, IT experience, leadership roles, plus the unique qualities of discipline and focus he brings to the table as a six-sigma black belt may position Murphy for a "Cinderella" success story.
Candidly speaking, Murphy is facing a daunting challenge. The smartphone industry is fiercely competitive, saturated and ruled by the iPhone and Android phones which combined dominate nearly the entire market. Even Microsoft, a multi-billion global firm has temporarily retrenched from a consumer space that WhartonBrooks is venturing into with their enterprise and explicitly expressed consumer-focused phones:
No guts no glory
A Windows phone fan, becoming a Microsoft OEM partner to build phones for a platform that has plummeted from a dismal 3% market share to an abysmal 1% share reeks of both courage and confidence in the platform.
Like Microsoft's CEO Satya Nadella, Murphy sees a shift in the current personal computing paradigm where the platform into which he has invested will be positioned for future success. He puts it this way:
In this current smartphone climate, many people are skeptical of any OEM that invests in Windows Mobile. Some OEMs are motivated by a desire to diversify their portfolios in an effort to profit beyond the thin margins Android provides. Others, like Murphy, see a shift in personal computing where Microsoft's unified platform and innovations like Continuum will present an advantage where Windows "phones" will be positioned more like PCs.
Few, if any other than Murphy and WhartonBrooks, are motivated by both the latter and a love for the platform and desire to make it better. That sentiment likely resonates with the fan base. The question is, will it be enough?
Can't fake the funk
The ambivalence some fans have toward OEMs who bring Windows phones to market seems to be rooted in part in a perception that most manufacturers don't seem passionate about Windows.
Greg Murphy, however, has loved even the "pocketable" versions of Windows since his 2004 HP iPAQ.
He continued using the Windows Mobile platform until he ventured from Windows Mobile 6.5 to Android (I'll admit, I pondered switching then too).
Murphy took the plunge into Android, an experience he described as cloudy. He noted that it was not fluid, nor intuitive and was not a joy to use. When Microsoft launched Windows Phone 7 in 2010, Murphy said:
Murphy is a Windows guy. He runs a team of developers at his "other" job. So Windows is both a professional and personal interest for him. As he put it, "I have a lot of background in that field."
So how did this lover of Windows go from working in healthcare IT to leading the first fan-founded Windows phone OEM? Well, it wasn't easy.
Murphy's Law
Greg looks at life and sees three types of people:
So what problem was Greg trying to solve when he began his journey to bring Cerulean phones to life?
It all started with his love for music. He had a very large vinyl music collection that he wanted to manage and he also wanted broader music capabilities on his smartphone. Since the app that he wanted didn't exist, he began building one himself. As the app's development progressed more "cool and exciting" ideas came to his mind. He also began entertaining other ideas that he wanted to bring to the Windows platform. This is the point where this Windows lover had an epiphany, "I'm only doing this one brick — or app — at a time."
He concluded that he could have a greater impact on the platform if he made a phone around which he could build an ecosystem of accessories and services. Embracing Microsoft's $0 licensing fee for devices under seven inches Murphy decided to make Windows phones. "Why own the basketball team when I can own the stadium and then charge everybody?" he said.
Defying Gravity
Derek Egerman, WhartonBrooks Chief Strategy and Planning Officer, mused that Murphy's motivation was to make Windows the focus not just produce things Windows can run on.
As a Windows fan, Murphy acknowledged that there was no company focused on Windows as a fan. He conceded that Nokia was "doing some cool things" but he felt that his team could do something that was elegant, and beautiful and more modern looking.
En route toward that goal, Murphy had to press through many barriers. A great deal of research, forceful emails to Microsoft, unending questions, persistent phone calls, the memorization 3GB of documentation — and the convincing of a Microsoft rep that he was serious about making Windows phones — were all part of Murphy's journey.
Many Windows phone fans have yearned for an aesthetically pleasing and well-built Windows phone that is comparable to what Apple brings to the table. If WhartonBrooks ultimately delivers on their goals, the increasingly disenchanted fan base may, at least in part, be somewhat revitalized. If they fail, given the hype they've generated, the opposite most certainly is likely to occur.
It takes a village; a collaborative mission
Core to WhartonBrook's mission is to work with users to build the devices they will love. Feedback and collaboration are an essential part of their philosophy.
Egerman said it this way as he spoke to Murphy:
For those who believe that Windows phone is dead and that there is no interest in the platform, Murphy shared that after their announcement they received inquiries from around the globe. He states that they have a presence in the US, Brazil, Russia, Germany, Switzerland, Italy, Australia and Jamaica. Murphy said:
WhartonBrooks is reaching out to users in an effort to build a community of support around the company and its collaborative business model. Now I'd be remiss if I failed to address another vital player in this effort: Microsoft.
Ideally, as WhartonBrooks is building relationships with users, Microsoft will be aggressively supporting this and other OEM partners. Simply put, without Redmond's diligent support OEM partners will not be able to thrive.
OEMs to the rescue; but not without Microsoft
WhartonBrooks' Window-phone-fan-based-origins and collaborative business model make it a unique OEM indeed. Will they succeed in the highly competitive smartphone space? We hope so.
As a small OEM championing an underdog platform, they will need all of the support that Microsoft, a multi-billion dollar company with an innovative, pioneering universal platform, can offer. Even then there are no guarantees.
Candidly speaking, Microsoft's smartphone marketing and distribution strategy, even when they were "all in" in the consumer space, seemed to lack the aggressive commitment that Apple and Samsung consistently bring to the table.
Lumias, long all-but-synonymous with Windows phones, are leaving shelves — will WhartonBrooks and other OEMs get the support they need? Will OEMs receive more aggressive marketing and promotional support now that they will be the only representatives of the Windows Mobile platform on the shelves until the anticipated Surface Phone?
It has been rumored that OEMs will be a highlight of Microsoft's October event. Perhaps we will see an introduction of a new level of investment in support of OEMs like WhartonBrooks at this event. Let's hope so.
Like the old African proverb says, "It takes a village of Microsoft and consumer support to help an OEM succeed." Well, it doesn't go exactly like that, but you get the point.
So what are your thoughts? Are you excited or skeptical about the phone WhartonBrooks will unveil this Fall? Do you think Greg Murphy has what it takes to bring a phone to market that pleases the fans? Sound off in comments, forums and on Twitter!
A future of partnerships and a possible Surface Phone
Connect with WhartonBrooks on Soundcloud, Twitter @CeruleanMobile, @WhartonBrooks and on Facebook!
Get the Windows Central Newsletter
All the latest news, reviews, and guides for Windows and Xbox diehards.
Jason L Ward is a columnist at Windows Central. He provides unique big picture analysis of the complex world of Microsoft. Jason takes the small clues and gives you an insightful big picture perspective through storytelling that you won't find *anywhere* else. Seriously, this dude thinks outside the box. Follow him on Twitter at @JLTechWord. He's doing the "write" thing!