Should Microsoft begin marketing Windows Mobile to the masses?
Fans of Microsoft's evolving mobile platform have been through the wringer since 2010.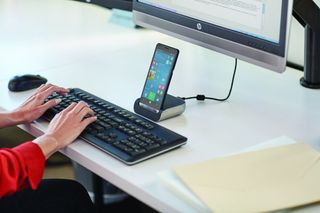 Since the introduction of Window Phone 7, fans have vicariously struggled with Microsoft to reach 5% global market share. A tiny number indeed, but a threshold that somehow declares a level of relevance our long-standing 3% and even more dismal current sub-1% simply does not achieve.
Recent "news" that Microsoft would be ending the Lumia line, while continuing development of Windows Mobile, sent many writers and fans into a tailspin. Of course, we knew that Microsoft's first-party Lumia's would be ending, but when over 90% of Windows phones are Lumias there is an undeniable market and emotional impact.
In the wake of these events we are expecting the anticipated Surface Phone to fill the first-party void sometime in 2017. If the latest reports hold true, however, that can take nearly a year to occur. That's a lifetime in tech as competing devices routinely receive an annual refresh. As such, iOS and Android will continue their evolution on fresh devices in the hands of users throughout this year and into the next.
During that same period and going forward Microsoft needs a mobile presence. Many would say we have the answer to that: Microsoft is all business in the enterprise. That conclusion, however, does not adequately address Microsoft's partnership with Windows phone manufacturers whose devices are not enterprise focused.
So what exactly is Microsoft's focus for Window 10 Mobile? It is, after all, the platform that will be running manufacturing partner Windows phones which will be the primary representatives of the platform going forward?
Does Microsoft's duo user philosophy apply to Windows Mobile?
Windows phone partners, though not joining the ranks in droves as Redmond (and fans) desire, are slowly picking up the Windows phone banner according to plan.
Joining the ranks of the manufacturing partners we've previously identified is Connecticut-based WhartonBrooks. Like Alcatel, this Window phone fan-founded Microsoft OEM partner and possibly future and some current partners are representative of an interesting quandary in which Microsoft may have placed themselves.
Consider this: Microsoft has temporarily retrenched from the consumer smartphone space but manufacturing partners are in no way restricted to the enterprise Microsoft is (or was) targeting with their own hardware. The problem?
Despite Microsoft's duo user — professional and personal — ideology for its range of products and services, many assert that the mobile iteration of the Universal Windows Platform is strictly enterprise-focused. If this is true how do we, or more importantly, how does Microsoft, reconcile the fact that Windows Mobile is a part of the enterprise- and consumer-focused Universal Windows Platform?
Furthermore, how does Microsoft reconcile that notion, with partners like WhartonBrooks and Alcatel that are planning consumer-focused Windows 10 Mobile devices?
What we know
Before we dive into the nitty-gritty of this topic lets revisit Microsoft's philosophy as a company and who they envision their customers to be.
In Satya Nadella's Bold Ambition and Our Core memo he identified every user as a duo – personal and professional- user:
It is telling that that Nadella identifies developers and partners as entities that would help facilitate their duo user vision. This is an important point that clearly foreshadows Microsoft's appeal to developers and manufacturing partners to embrace the UWP which serves both consumers and enterprise.
Nadella reiterated Microsoft's duo consumer and enterprise focus two years after that initial address in an interview with Business Insider in April of this year:
Looking forward
[In a specific appeal to partners](http:// /microsoft-memo-reveals-shifting-mobile-strategy) Microsoft shared the following in May of this year:
Of note is the company's continued reference to consumers in this appeal to manufacturing partners. Moreover, though productivity for consumers is mentioned Nadella has clarified that, "Productivity for us goes well beyond documents, spreadsheets and slides. "
In a nutshell, it speaks of getting things done with technology. The memo continues with Microsoft's commitment to the universal platform, developers, support of Lumias, partners and development of future phones.
This commitment was reiterated during Microsoft's 2016 Ignite conference where a diversified first-party device portfolio was also confirmed. Microsoft directs its products and services on a broad scale to the professional and personal user in most of us. What is specifically seen is that Windows on mobile devices is seen as part of that duo user strategy.
Windows phone partners have consumers in view
If Windows Mobile were indeed strictly enterprise-focused Windows phone partners with a heavy consumer focus, like WhartonBrooks, have a dilemma. Derek Egerman, WhartonBrooks Chief Strategy and Planning Officer said the following of the company's mission to CEO Greg Murphy:
Moreover the company's press release further supports this duo-user focus: "We have the one device that takes care of all your needs. It changes with you throughout the day to meet your office and personal needs in every moment." Consumers are clearly a focus for this Windows phone partner. Alcatel who is targeting Millennials is another.
Of the twelve other partners identified there may be others who are targeting their Windows Mobile phones at consumers. This fact is important for Microsoft, fans and industry watchers to recognize. Would Redmond push for and enter into partnerships with manufacturers who are targeting consumers while strategically positioning the platform strictly for the enterprise? That would be illogical.
Microsoft needs to push Windows Mobile out of the shadows
After Microsoft retrenched from the consumer space last year, it was logical for them not to advertise Lumias to the masses. Windows Mobile was also a far less mature platform at the time. But here's the question. Since manufacturing partners have embraced Windows 10 Mobile and some are targeting consumers, would it benefit the platform and the ecosystem for Microsoft to advertise the existence and benefits of the now much more mature Windows Mobile to the masses?
Now might be an ideal time to market the mobile iteration of the platform; highlighting features like Continuum and Live Tiles, particularly as part of the current Windows 10 push. Doing so during Windows 10's early stages shows the uniformity of the platform. To make efforts to proactively "introduce" Windows Mobile at some point in the future would make this integral part of the UWP appear tacked on.
Window phones are vanishing from the collective consciousness of consumers. Sporadic promotions and limited marketing by local Window phones partners won't put the Windows Mobile component of the UWP in the minds of the masses. If manufacturing partners and the anticipated Surface Phone are to succeed Windows Mobile needs to be as much a part of public awareness as Windows on PC.
Microsoft is aggressively pushing Windows 10 features on PC through television ads. Since Windows Mobile is a part of this universal platform and is being continually developed it would make since to promote the entirety of the platform that partners have embraced and consumers use. Both PC and phone partners need Microsoft's marketing and promotion support.
Simply put, since Redmond has partners like Alcatel and WhartonBrooks with current and coming consumer-facing smartphones they have to publicly push their mobile platform if they expect their partners to succeed. If Windows Mobile has no mindshare, then the promise of the UWP falters.
Of course, aggressive ads showing the benefits of Windows Mobile and Continuum may generate some consumer demand for difficult to acquire high-end devices like the Elite x3. Given the scarcity of Windows phones in the market, the pickings are admittedly thin. Microsoft's marketing team could create an "elite" air around the devices — could that begin to lead to a beneficial luxury elitist branding akin to what our own Daniel Rubino has mused for the platform?
Microsoft can't leave manufacturing partners hanging
It is imperative that Microsoft put their full marketing weight and support behind the partners that have embraced and will champion their platform, particularly since they're ending their own Lumia line. If a manufacturing partner is targeting consumers, in line with Microsoft's duo user philosophy, Redmond cannot leave them "hanging" as it were. There needs to be a consumer-facing emphasis, from Microsoft, on the consumer benefits of Windows Mobile.
It is important that Microsoft aligns its messaging around its mobile strategy and duo user ideology. There needs to be strong, unambiguous language expressing support for the enterprise and consumers for the mobile personal computing platform just as we see with the desktop. If Windows is a duo user platform, Windows Mobile as Windows is both consumer and enterprise focused. If this is not the case the Universal Windows Platform is inherently divided.
If Microsoft is reluctant to promote Windows 10 Mobile alongside Window 10 for PC, manufacturing partners like Whartonbrooks, Alcatel and others, will be left unsupported trying to sell a platform that will be growing increasingly obscure.
The majority of the current 1% of Windows phone users own low-end devices. Most users in that segment of the population are statistically unlikely to upgrade to a higher end Windows phone even if one were available. Thus, though the enthusiast market is a worthy target winning users to the platform is important.
Working together
Ideally, the phasing out of Lumia has positioned Redmond to phase in a marketing strategy that promotes Windows 10 Mobile in a way that makes it as visible to the masses as Windows on PC. If not, small manufacturing partners may find that their resources may be woefully insufficient to push both the platform and their devices out of the shadows where consumers can see them.
An ideal synergy would be Microsoft bearing the weight of promoting the mobile platform to the masses (alongside Windows on PC), while partners promote their devices to their target audiences. This would allow partners to focus on marketing the merits of their devices without the burden of fully "educating" the masses about the platform.
What are your thoughts? Should Microsoft begin actively marketing Windows 10 Mobile along with Windows 10 on PC in support of both PC and phone manufacturing partners?
Sound off in comments, in forums and on Twitter!
Get the Windows Central Newsletter
All the latest news, reviews, and guides for Windows and Xbox diehards.
Jason L Ward is a columnist at Windows Central. He provides unique big picture analysis of the complex world of Microsoft. Jason takes the small clues and gives you an insightful big picture perspective through storytelling that you won't find *anywhere* else. Seriously, this dude thinks outside the box. Follow him on Twitter at @JLTechWord. He's doing the "write" thing!