A Microsoft Surface Phone may come in three versions but not until early 2017
By Daniel Rubino last updated
Microsoft's plans for a Surface phone still appear to be happening, but it may be pushed back until early 2017 with their other new Windows 10 devices. There could also be up to three models of the premium flagship.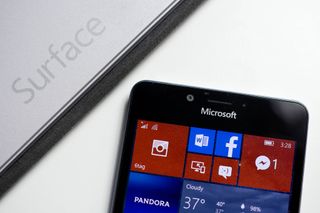 (Image credit: Windows Central)
With Microsoft's Windows 10 Mobile OS continuing to be developed with new builds nearly every two weeks it seems like a good time to wonder what Microsoft's hardware intentions are going forward.
Sources close to Microsoft's plans have told me that any 'Surface phone' by Microsoft (see my previous article for more context) won't see the light of day until sometime in 2017. The good news is there could be up to three variants for different pricing tiers and markets.
No more Lumias
The current Microsoft strategy when it comes to mobile is still one of retrenchment. Microsoft has pulled back development of the Lumia line, including product cancellations, for presumably a few reasons, including:
Windows 10 Mobile is still being developed and improved
Let OEM partners have some breathing room to create new hardware
Give Microsoft time to come back with a strong product and something to disrupt the market
While Windows 10 Mobile has significantly improved with the latest 10586.164 release aka 'production build' the OS still has a way to go before it can be truly competitive in the consumer market. Two major updates – Redstone 1 for summer 2016 (now called the Anniversary Edition) and Redstone 2 for spring 2017 – will bring a lot of polish to the OS as well as new features including deeper integration with Windows 10 for PC.
Microsoft is also encouraging its OEM partners to get on board with Windows 10 Mobile, and Microsoft's retrenching means the company does not have to compete with those same manufacturers. As it is, the Lumia line still dominates the Windows Phone market with around 97 percent share (AdDuplex, March 2016). Microsoft needs to diversify that market if they want the ecosystem to grow and not be completely propped up by Redmond.
As it is now, there are no new Lumias slated for release by Microsoft to my knowledge. In effect, it looks like the Lumia line is being phased out indefinitely.
Instead, Microsoft appears to want to start its hardware line over again in 2017 when it has a more robust mobile OS and the right, groundbreaking hardware to make a splash. Presumably, that also means ditching Lumia for an all-new brand. However, Microsoft's exact plans here are currently not known.
New Microsoft devices in 2017
If I hazard a guess, it sounds like Microsoft is planning to re-enter the phone space with new hardware at the same time as Windows 10 'Redstone 2.'
None of this is particularly new or shocking as Mary Jo Foley over at ZDNet recently reported that Redstone 2 has been pushed back to spring 2017 to line up with new Windows 10 devices being launched by the company. That pushback is reportedly due to new hardware being readied and not the OS being behind in development.
Mary Jo Foley notes in the same article that Intel's next-gen processor family dubbed 'Kaby Lake' won't be available until the end of 2016 and Microsoft may want to take their time this round of devices to avoid the issues they had with the Skylake family. That means we may not get a Surface Pro 5 or Surface Book 2 until early 2017 as well. A non-pro Surface 4, however, could still happen this year.
If my sourcing is correct, we can now add 'Surface phone' in that spring 2017 timeframe as well.
From a planning perspective, all of this would bring together one high-profile hardware and software announcement from Microsoft similar to the Windows 10 Devices event in late 2015. That could be fascinating.
Three versions?
In an interesting twist and tying in with the no new Lumias news Microsoft seems to be doubling-down on the concept of a Surface phone. Sources familiar with some of the early plans being discussed for Surface phone have told me that there could be three models planned:
Consumer
Business
Prosumer / Enthusiast
No details about what exactly will separate those categories, but they will likely focus on features and various price points. Indeed, variations in processors, internal storage, and other features could be part of the differentiation.
If accurate, this is a modification or, at least, a reinterpretation of Microsoft CEO Satya Nadella's letter outlining their hardware plans for Windows Phone back in July of 2015:
The one substitution is Microsoft appears to be vacating the low-end for a general consumer device. The Surface line has never been about budget-conscious products but instead premium ones, so it makes more sense to realign the phone category too. Adding to that shift is Android, which has surged in the low-end market in 2015 with releases from Huawei and Xiaomi. Those devices have flooded Chinese and emerging markets making competition perhaps too fierce for Microsoft's ambitions.
Going back to that letter from July 2015, Nadella talks about the long-term of which these Surface Phones appear to be now a part:
Microsoft giving up on the low-end and budget phone market may not be a bad thing at all. There are plenty of OEMs to pick up the slack including BLU and Alcatel, who have better infrastructure to compete at those price points. It also makes a lot of sense that Microsoft would want to follow the Surface plan to reinvigorate phones just like it did for two-in-one PCs.
What is a Surface phone?
Assuming any such Surface phone – or line of Surface phones – goes through as planned there is still the question of what it will bring to the table this different from the HP Elite x3.
Microsoft will likely bring its Microsoft Pen technology to the line especially with their recent announcements at Build with 'smart inking' being open to all developers and their deal with Wacom to create a Universal Pen Framework (UPF). I would say a pen-focused device is almost a guarantee at this point.
Continuum will also be a major feature as Satya Nadella recently reaffirmed his company's vision for mobile centering around that technology. The question is will Continuum differ enough from the current Lumia 950 and XL version and really push the 'phone as a PC' experience to a new level.
While we have heard Microsoft is working with Intel, it is not clear at all if an actual 'Intel-based' phone is in the works or if it would be ready in time. Pushing back a Surface phone to spring 2017 could buy Microsoft more time on that front and may be related to the later release date.
An alternative vision may have Microsoft creating some Intel-powered dock that boosts Continuum when connected but lets the phone operate in pure Mobile mode when not needed. However, this is pure speculation on my part.
So, what happens between now and then? Fans of Windows 10 Mobile will have high-end devices from HP with the Elite x3, Alcatel's Idol 4 Pro, and Acer Jade Primo to keep the market going while releases from BLU and others could drive the budget market. There could also be releases from other manufacturers coming this year that are not yet ready for announcement.
Assuming the news here is accurate any Surface phone will come just before the 18-month mark since the release of the Lumia 950 and Lumia 950 XL. While that is far from ideal Microsoft will only have one chance to get a Surface phone launch right so it may be best to take their time instead of rushing the process.
Daniel Rubino is the Executive Editor of Windows Central, head reviewer, podcast co-host, and analyst. He has been covering Microsoft here since 2007, back when this site was called WMExperts (and later Windows Phone Central). His interests include Windows, Microsoft Surface, laptops, next-gen computing, and arguing with people on the internet.
the article clearly says at some point "none of this actually news"

lol Posted from Crappy Old Laptop

As a hardware maker taking a year and a half off is never a good idea. But you know how Microsoft roll. They're much more an enterprise company than consumer these days.

No flagship for 1.5 years..sounds familiar. Posted from PornHub

Even funnier that you recognize that site, lol.

Last time WP platform without flagship. Now MS without flagship for next 12-18 month. Posted via the Windows Central App for Android

Well based on the article, we won't have flagship for 2016. It doesn't make sense either to release flagship for this year when they gonna release early 2017. So the gap make sense since we know have better idea of the roadmap. Unlike the past where Microsoft/Nokia kept silent and never release any flagship for x40 series with huge gap in between the last flagship 930 and now 950 series. We didn't even have 1520 successor as a 1530/1540, only now we got 950 XL as its successor which have even bigger gap in between. Even though not having a flagship this year is still not that a good news, at least they're pushing something better for early next year and we have at least some idea about it. So this bet better be really paid off by next year if this is a case. Also I think it's better Microsoft officially announced or give more obvious hint to customers that flagship will definitely come but not this year. If they can, at least one last Lumia mid-range will be a filler alongside with Surface 4. Also 3 Surface phones (or whatever they will call it) is a great idea but are they actually all considered equally a flagship with one "super-flagship", or will it be similar to what we have now with x50 family. For me, I wish to still have an entry-level Surface phone that serving as a reference device for entry-level devices, showcasing the best of W10M platform even for entry-level category that OEM can reference on, but still deviate it if they want even cheaper one. The point is that, having entry-level reference device showcase the platform that you can still have good quality phone for a low price. W10M can at least avoid the perception that it's bad on low-end hardware if OEM(s) didn't deliver consistent good experience for those phones, a reference phone can at least protect the perception to the platform. Android suffered with the perception that it's bad on low-end devices which still is, which is to blame mostly to the OEM who didn't make good optimizations to it, thanks to the bloatwares. This is why like Motorola phones with nearly stock Android have better performance even with more affordable price, based on the reviews and to my friend's phone. But anyways, it's great idea still to just focus on premium devices and let OEM fills up the rest, including the lower-price-point devices. Microsoft already have amount of control with W10M, so they can make optimizations to it on the base level. Sent from Turing Machine

HP, Acer, and Alcatel are coming up with flagships, and they're happening in a space of months, not years. It doesn't matter that they're coming from OEMs other than Microsoft, they're still W10 Mobile flagships. Google is also not coming out with any android flagship in probably forever and nobody's complaining.

Google has an Android flagship every fall. This year it might even be late summer. Posted via the Windows Central App for Android

Microsoft is a software and cloud company, not a hardware maker ;)

Well, not purely so, MS makes the flagship stuff like the surface seres.

I truly hope that these are just Rumors. Take note that MS devices VP Panos wants their work to be secret. I think a September 1st model Surface smart phone could happen so Microsoft could have a Christmas gift for the Windows smart phone fans and test the Surface brand sale potentual

Yeah, that is not happening, no Windows devices this year, till spring 2017. Source: article above

I'm a big fan of Windows smartphones, but UWP really has to evolve more as an ecosystem, so the Surface Phone will have all the needed apps (or at least almost all). And it needs time. Posted with the Windows Central app for Windows 10 on HP 250 G1 notebook. It is a scary old monster, I think :D

Posted via UWP app for Windows 10 on HP Elitebook running Windows 7 and Windows 10 with a weak core i5 cpu and Bose speakers

My 950xl is cool for now. That's good timing since I just got my phone 2 months ago.

You mean to say that you'd buy another flagship phone about a year after you bought your current one? What's wrong with you people?

I think the issue is more to do with how half baked the 950/XL were in the first place.

The Surface smart phones that use ARMS CPU's may still have an apps gap but the The Surface Smart phones that use Intel Mobile CPU's will have millions of desktop PC programs, games and ect it can run in contimuum mode plus be able to run all MS Windows 10 store apps plus Run all MS Universal apps which are now coming to the Windows 10 store. Microsoft is making Windows smart phones transform into smart phone / Pocket PC's hybrids. that is their big smart phone goal

Most x86 programmes only work with either a mouse or a track pad, whereas native mobile and UWP apps will function happily with touchscreen only. Unless you're planning on carrying a mouse around with you, few of these millions of apps will actually function on a phone.

I think the goal is to have two chips onboard. X64 and arm. But who knows how they will do it. X64 would make sense for continuum mode. Maybe she's born with it, maybe it's Lumia 950xl

You obviously have no idea of what you are talking about. buy a surface pro and get back to us when you are proven how wrong you are.

You do have a point however a laptop like dock is already created that Windows 10 mobile Continuum class smart phones connect up to for People to use who want a bigger screen. also you forgot the Windows Continuum class ARMS CPU and Intel CPU Windows smart phones are not for everyone but enough of them will be sold to make them worth Microsoft's time and money to create and sell. Folks the Smart phone / Pocket PC hybrid device is coming and Microsoft is leeading the way to it's creation come Hell or High water

Things are working pretty well, I'm really satisfied with Microsoft and Windows 10. Only downside is..it's working too slow. I expect Surface phone to have something new that will standout from others, like LED notifications, some cool design, something really NEW! Damn Microsoft, use your imagination!

"LED notifications" and "something really NEW" in the same phrase...

Can you name me a Lumia that has LED notifications? Yeah, new!

I think he was referring to the Blackberry feature you're proclaiming as new.

Ah, that addicting red light. It's such a small feature, but would be good for selling me on Windows Mobile replacing my BlackBerry Passport once it dies (it's currently the front-runner anyway, with my only real concern being support for my Pebble Time).

I've also got a Pebble Time!
​Works almost flawlessly with my Lumia 830 running W10M. :)

Windows phones / w10m support a "glance screen". When the phone screen is "off", the screen still displays time and notifications in a very low power mode. There is no need for a notification LED, because your windows phone will always tell you how many SMS, fb messenger, emails, calls or whatever you missed even when the screen is off. Its pretty sweet, especially when compared to my work phone (galaxy s6). Oh, samsung's blue light is blinking, i wonder what i missed? theres no wondering with my L950, i always know exactly what came in while i wasn't looking.

Or assorted HTC Windows phones

What's LED good for when Lumia has glance screen, which is better... ;)

a dedicated LED is more effective for notifying from a distance, or grabbing attention while focusing on something else without awakening the baby

And for good reason there aren't any. Those notification lights are a HORRIBLE nuisance.

Apple has that camera light flashing everytime there is a notification. I agree that they are a horrible idea and wouldn't want that. Even with Android having those multi-coloured lights is a problem because you have to turn on the phone to see what it is (or just remember what each color is for) Posted via Universal Windows App on W10

I had an app called BerryBuzz when I used BlackBerry. I could customize my LED to blink differently for various notifications. I really liked that app. Posted from my Moto X Pure Edition via the Windows Central App for Android

I'm sure there was talk of LED notifications coming with W10......in particular for the 930 as that's what I have. I would love this to be made available as it would save checking the phone as Glance is missing.

Notifications LED is a hardware. So it can't come with a software update, like W10M. Or did I miss something? Posted with the Windows Central app for Windows 10 on HP 250 G1 notebook. It is a scary old monster, I think :D

The notification LEDs are already built into the following phones: Lumia 830, Lumia 930, Lumia 1520, Lumia 950/950XL, and HTC One M8. It's sad that even with the hardware already present in the high-end phones, W10M doesn't use it at all. not even a setting to turn it on. Posted via Universal Windows App on W10

A software update could enable the hardware that is already there :) The 930 and 735 have LEDs hidden under the screen, the 735 in the top left bezel. I managed to get it to blink on boot with my model, but a new insider build stopped all that. http://answers.microsoft.com/en-us/insider/forum/insider_wintp-insider_c...

I've mentioned this many times. Let me also tell you that there will be tech to borrow computing cycles from other windows 10 devices you have to speed up your gaming experiences.

Personal cloud cpu/computing? Naaa gonna be too laggy! :) though for other applications besides games hmmmmmm

Will rock my 930 until Surface Phone is released.
Hope OS will get more polished and optimized. Current mobile version is still 'work in process'.

you mean .164? It's working better than 8.1 every did for me.

Haha, didn't see this one coming :p

I'm fine with waiting by then my upgrade will be ready perfect timing

Lol...this is the exact reason why I got my 950xl day one...ill get to enjoy the upgrade over my icon for well over a year AND enjoy the next cutting edge windows phone when it comes out....

yeah same, but now I have to find a way to pay off my credit card bill from buying the Lumia 950XL (in Canada it is $800) Posted via Universal Windows App on W10

Would love to see these 3 variants as-
1. 'Surface Phone' [the cheaper variant of all(just like surface 3)]
2. 'Surface Phone Pro' [the bigger variant(like surface pro 3)]
3. 'Surface phone C'(Camera)[same specs like Surface Phone Pro except the camera, will be like Lumia 1020](this would be 1020's successor)

Amen, what have we got to do to get a decent camera in a phone again. All I wanted was a faster 1020 with all the features. 950XL went back still using the 1020 w/8.1.

Yes this is what I would call news too.

why do u have so much dislikes :P its funny :P posted from here.

For the trillionth time? It isn't... Especially under an article like this. Posted with the Windows Central app for Windows 10 on HP 250 G1 notebook. It is a scary old monster, I think :D

Oh fúck the fúck off back to Fúckingtonshire.

A year and a half between new devices? Seems slower.

LOL you win! Posted via the Windows Central App for Android

So when the contract on my current phone runs out in fall of 2017, maybe, just maybe, the Surface Phone will be just around the corner with a rumored early 2018 date.

I was just thinking this same thing but on Verizon as well. I had to switch from a broken 928 to a Galaxy S6 some time back, because they wouldn't let me replace it with one of the three low end Windows Phones they have and I can't switch carriers. I may just hold on to it until 2017 and see how this plays out. I love my Surface Book and love the idea of a Surface Phone as well.

When I broke my 928, I bought this icon refurbished on Amazon for$100. Much better than switching to a galaxy...

I would've just bought another 928 off of eBay. I still use one. They make me use an S6 for work and I think it sucks. If that's the best that Android has to offer, I think I remember why I bailed on Android for WP three years ago.

Not at all the best Android has to offer ;)
Depending who you talk to of course. Posted via the Windows Central App for Android

well, compared to the 928, which came out years earlier, the S6 is up there with the best of android.

I wish I had. I went through the process of replacement and by the time I got where I needed to be with their support, they offered me either that or an iPhone. I've been using Windows Phones since the HTC HD7. I'm using the Microsoft Launchers, keyboards, and lock screens and it's improved over the default, but I still don't love it. I guess I just kind of figured I'd enjoy the newer hardware but I miss the OS and screwing around with fast ring updates.

Anything is better than lagwiz. HTC's, LG's, Sony's, Motorola's and the Nexus' vanilla UX are much much better when it comes to performance. Samsung just knows how to market. Their last good device was the Galaxy Note II. It's too early to tell for the S7. Let's give it a couple months. Posted via the Windows Central App for Android

I don't understand, why wouldn't they let you switch? And how could they stop you? I replaced my 928 with a 735 in December. No problems, no question asked, no one stopping me. I've also picked up several used 928s on craigslist and a used LG Lancet and used them all with a SIM switch on my own.

They wouldn't let me switch because they didn't consider those devices comparable. I argued with them because in reality it really doesn't make sense but they really, really try hard to keep folks away from Windows Phone. I don't have an explanation. They said what they said, right or wrong, however crappy and stupid. I would have loved to jump to AT&T as well but I've got a family of people on this account and forcing them all too switch would be slightly dickish and making the move solo would have been more costly to me on a monthly basis.

I think Microsoft at least learned from the mistake they made with the Lumia 1020. I stand by my hindsight opinion that they released it too early and essentially made their own once in a generation product obsolete as soon as they announced the more capable Lumia 1520 and soon 930. I'm still holding out hope that all that awesome tech will be reimagined in a proper future proof hardware package complete with all the things missing in the original 1020 like microsd expansion and removable back. Anyway, this timeline is very promising since Microsoft does have other OEMs bringing some nice devices to the market and I will have had my V10 for at least a year(presumably) making any upgrade opportunity immediately available through my carrier. I like what Microsoft is doing these days. One picture at a time -- LG V10

they should release at least another phone this year, one high end and one low. but, what do I know right?

To what end? For the sake of a release for a few people? Seems like a poor allocation of resources.

we are only a few people, you are right...but we still want new phones...sell it online, limited production... what about a better 650 with continuum?

In my opinion, Microsoft does not want to make phones. They want to make the OS and a premium 'model' phone. Just like Surface/PC business. Leave phones, models, innovation, and marketing to the OEMs. That is what they do. So it is up to those partners to make the phones you hopefully want. Regarding "a lumia 650 with Continuum" it's about cost. As soon as the tech for Continuum comes down, it will be driven into budget phones too. It's not a question of will, just economics.

We need OEMs like Samsung, Sony, and LG which can make good devices! The windows phones released in MWC by OEMs were having good processor and RAM, we need everything to be good. I want the f1.7 sensor for the camera or dual camera.

But do they follow up with update?

After what just happened with HTC on the 10 upgrade they are going to be hard pressed to get another major vendor on board.

By P Daniel, you said that it depends on when Continuum tech becomes cheap. Then how do companies like Xiaomi or OnePlus manage to cram in insane hardware at an insane price without compromising on build quality? The new Redmi Note 3 with the Snapdragon 650 can easily power Continuum and it costs just $200. Why can't Microsoft make such a phone? I mean Continuum was supposed to be for developing markets.

it isn't yet and uncertain if it really will. plus others will evolve and become cheaper by the day. Posted via the Windows Central App for Android

MS would probably offer W10M ROM for OEMs instead of making its own models

You should not compare a Chinese company which use a whole other kind of business economics than Microsoft. Microsoft should compete with other things than price, because those companies just do not have the same business model. If you look at Samsung (which is South Korean-originated), they offer premium price points and people buy their products. Microsoft does have the same recognition in their name and logo. They just need to become more popular among consumers again, like how people always used Windows in every situation, on every PC, in the 1990s. I do not want to see one manufacturer get the whole market world wide for themselves, though. It proved to be a bad idea with antitrust issues for Microsoft and if Samsung becomes #1 in market share, like 90 percent, then they will have governments complaining about that too. So, yes, I am saying that competition is good and Microsoft's presence is helping to push mobile and PCs despite their third place in the mobile space.

Continuum works with SD652 as well

the low-cost option is the SD617 Posted via Universal Windows App on W10

They're selling at cost and hoping to make money on services. A completely different sales model.

Again, economics. If your selling millions of units, you can afford to bring the price down aka keep your profit margins thin. But a Microsoft phone with thin margins and thin customer base is simply bad economics.

I would buy literally any Windows 10 phone that was released on Verizon.

I am in the same boat as you, though I wouldn't buy just any phone. I am almost 18 months past my upgrade date and bought a used Icon just to tide me over until Microsoft released something new on Verizon. That was over a year ago. And before someone says 'just change carriers'; AT&T service in our area is spotty and in the building I work in, non-existant.

Switch to T-Mobile and buy an Unlocked 950 on Amazon! If you like Windows Phone/Mobile, Verizon is NOT the place to be. I just left them in January and loving the 6GB for everyone on my plan and Binge On.

T-Mobile is worse than AT&T here. Even Sprint has better coverage. Verizon or US CEllular are really the only two good choices here in the middle of nowhere.

They publically speak of "only premium" phones... Then release a 350 the following week....

OEMs ??? Which OEMs ??? Do MS have backing of good main stream OEMs ?? The current OEMs have no good reachability in many countries. And pricing, oh gosh. How do you think Xiaomi can put SD 650, 3GB ram, 32 GB storage, 4000mAmp battery, Full HD screen, finger print scanner,etc in 200$ package ?? The price MS is throwing is totally overpriced underwhelming device in the form of 650.

Lenovo: Microsoft has made it easier to sell our Android phones with Windows PCs http://www.windowscentral.com/lenovo-microsoft-has-made-it-easier-sell-o... LOL!!

good idea, but too early. Posted via the Windows Central App for Android

They don't even want to make the phone OS. I fully expect the notion of having a mobile OS going away, when they manage to bring complete W10 to ARM. Which they absolutely need to do, if they want to stay competitive. Btw, where are the 13 or so hardware partners in mobile announced last build? They are fully aware, that they will continue to fight uphill against Android and its maker community. I hereby bet, we will see a fully fledged Continuum-equivalent next MWC, running almost any Android and Linux app.

If Microsoft does not want to make phones, why did they purchase Nokia's Mobile division? Hmm, another deal went bad?! Posted from Windows Central for Windows 10

That was done under the Balmer/Elop regime. Both are long gone now. Nadella did not want to buy Nokia's phone business.

In an ideal world yes.
But, it Hasn't worked out very well for them so far though, the OEMs keep letting then down and what was the point than of buying Nokia if that's the plan??

And many of us don't want hardware from OEMs

I miss when you were spicier around here. Posted from PornHub

Microsoft could've put the Qualcomm SD617 to support Continuum. :( Posted via Universal Windows App on W10

Last time I checked, Nokia was an OEM that was bought by Microsoft. I doubt that any OEM other than Apple can compete Nokia. I am a fan of Nokia but this is a FACT. This is in reply to Dan's comment - "They want to make the OS and a premium 'model' phone. Just like Surface/PC business. Leave phones, models, innovation, and marketing to the OEMs."

I still don't find any OEMs with good mid range devices. Throw in a Xiaomi, lg or something respectable, people will get one but OEMs like Alcatel,BLU or Vaio are not available worldwide so......
I'll stick with my Lumias then.

Alcatel Fierce and Alcatel OT pro 4 are both great devices still unavailable in India. But BLU win HD is. Its called Micromax W121. Xolo Windows devices were very good too. Of course all these Indian products are dual core drvices and now old. Only quad core devices avlbl in India are Lumias.

So they can avoid comparisons to IBM who gave up on all consumer products.

Will Microsoft only made high end mobiles from 2017

They'll probably make a midrange, phone for businesses (x86 based), a midrange ARM-based phone for consumers and a flagship, x86-based phone for enthusiasts. All of the will support continuum, and all of them will be pricy. The ARM-based device can be expected at $300, and the flagship will probably go for $550, with the business device somewhere around $400. All will support Continuum, for the sake of surface name. And all of them will cost 30% extra when they come to India, because of Modi's MakeInIndia(TM)

If and when they believe the OEM are doing a decent job at providing decently performing windows phones at affordable prices.

A mid range phone this year could tell all people that Microsoft has not given up.

they have not. But that is what people believe and in business scenarios perception is reality

An 850 would be a nice upgrade from my 830

but have atleast S6xx and support continuum

Microsoft is jeopardizing Mobile. They can't let other OEM's "breathe" because other OEMs are dead already. Microsoft was the only one keeping WP / WinMobile alive. Sorry my company can't afford to have to change the Mobile platform every year because MS releases incompatible OS versions. You might be right, that MS wants to make OS and not hardware, but I am really wondering how they are planning on repairing the trust of customers and manufacturers. They do seem to be working on their communications tho. Since the OneDrive Gate I haven't heard a lot of backpadelling.

Bingo. Posted via the Windows Central App for Android

since when do enterprices complain about not being able to update? they're more worried about having to update. that, and the devices we have now will serve well will the surface phones come. I mean, so many of us are still using x20 devices, most of us don't appear to want to buy new devices (don't look at me, I bought 2 from every generation from lumia 900 until the 950.

for the few people that used to make up the 10% market shares in several markets. Posted via the Windows Central App for Android

If only MS still had the resources. If they'd not simply sacked the majority of their phone division within months of buying Nokia, they might have kept the momentum going that Wp8.1 was seeing. Instead they have spent the past two years rewriting the OS pretty much from the ground up (for the third time in five years) and concentrating on niche functions such as continuum. Whilst all this is happening Apple continue to make inroads into the enterprise market, and Android continues to evolve into a platform that is as attractive to the average consumer than the fruity firm's offerings. I still love Windows Phone as a platform but the half hearted release of the 950 for me shows that Microsoft under Nadella would rather be rid of the entire division.

Todays windows phone dead, leave it be. No need to waste $$ on creating another dying lumia device.

I'd rather wonder why you waste your time posting about something that will be coming. Can't do anything about it ;)

HP is releasing a phone and the article clearly days letting OEM's have some breathing room to bring phones to market. There will be other phones, just by others until the surface phone appears. Posted via Windows Central app for Windows 10!
Proudly rocking my Lumia 1520!

Right, with Windows 10, Lumia has no unique features anymore anyway; let others make phones that are just as high end; cameras are mostly good these days, and I haven't had the best experience with the OIS on Lumia's anyhow; wish the HP phone came out with the 950 XL, probably would have gone with that... Posted from Windows Central on Windows 46 Interstellar Edition

Lumias stil have the best cameras on the market. It's Nokia's legacy, which I don't know how much time will be with us. Unfortunately, every other manufacturer takes the "impress the ignorants" approach, with too much sharpening and post-processing.

It's just legacy. Lumia's cameras were good for two reasons: ZIESS Optics and the software. Now, every other company and their grandmother are using optics from ZIESS' competitor sony, and W10M integrates all of Lumia Camera's features unto itself. Any Windows OEM can make a quality camera now, no trouble.

You still need fine tuning for the particular sensor and lens. If you really want to make a great camera and not a mediocre one.


Leaving breathing room for extinct dinosaurs? Sorry, noone wants an HP phone and Samsung, HTC, LG, etc. who were the OEMs which could have saved the platform are gone. And I can't even be mad at them.

Can you please stop speaking for everyone? There are plenty of people who are excited for the HP phone.

Literally dozens. Posted via the Windows Central App for Android

Yeah they're all gone. Hope some Chinese company starts manufacturing windows phones.... Xiaomi or something

HP - limited availability
Acer - big...umm.. tiny in Japan
Alcatel - somewhere, some day. Posted via the Windows Central App for Android

We live in the digital age. You can buy almost everything from the internet from almost anywhere. So your argument is pointless. Posted with the Windows Central app for Windows 10 on HP 250 G1 notebook. It is a scary old monster, I think :D

Sorry, I am afraid your point is pointless. Vast majority of phones even in the US, where online retails more prevalent than anywhere probably. I can promise you in most other countries even more of the phones are bought in physical stores. I am not talking about people like you and I. I am talking aobut the masses that matter for a consumer product. And the support and services and marketing etc. that go with it.

Yeah, there are people that walk into a store, and don't know which phone will they walk out with. But the number of them is shrinking, as information is brought to more and more people by the internet. Or am I just naive and people really don't care about what they buy, and are all "impulse buyers"? :D Posted with the Windows Central app for Windows 10 on HP 250 G1 notebook. It is a scary old monster, I think :D

pushing back to 2017 might give more time for microoft, yes surely for digging its own grave. !!! only lumia 650 for 2016 !!! RIP

I thought Windows Phone was already dead. Now we're saying it going to get deader? I fail to follow. What's there to lose when you already have 2 just 2% market? Tell me the risk there.

i'm pretty sure Blackberry's (RIM) and Microsoft's financial position and how they make money is very different.

No, I won't. BlackBerry and Microsoft are polar opposites. You cannot even begin to compare the two. BlackBerry has no "other" business model. Microsoft's phone business is minimal, but their PC end is massive. When BlackBerry's mobile dies, the company goes with it. Windows Phone dies? It can come back at anytime because Microsoft is still there with billions to invest.

Dan, I really like and appreciate for you replying to comments on your posts. Reassuaring the faith in MSFT to all the consumers positive or negative. I wish if you could get on to debate with the media & writers dubbing the end of Windows Phone. IT will blow a fresh breath in the market. :)

Doesn't Blackberry make infotainment systems? I don't think their only income is the mobile division.

BlackBerry is basically 4 divisions now: Hardware: losing money and sales falling off a cliff Enterprise management software: making money and growing subscriber base, probably what we should really consider the core of the business now BBM: flat-lined user base but still making money Internet of Things/embedded: lots in early stages of development still, but they are present in a lot of cars and other embedded systems It's exaggerating to say that BlackBerry's only income is hardware or that the company dies when the mobile division dies. BlackBerry the company is not dead and probably won't be any time soon. BlackBerry 10 the operating system is dead, and maybe even BlackBerry phones running Android won't last much longer, but that's not enough to sink the whole company. I think Daniel is partly right, just exaggerating. Microsoft can afford to lose money on a mobile OS and phone hardware for another 5 years if they have to since it's a dent from what they make off of other products. BlackBerry will need to cut their losses soon if the Android experiment isn't working for them.

EMS and BBM are closely linked with their phones and will die (almost) with the phones. IoT has only come up when they realised that they just can't survive in the phone business. Microsoft on the other hand never really relied on its phone business to bring in the revenue. That has alwasy come from other divisions. And the current plant to build those other divisions that lead the charge for the company (tip of the spear) and let windows mobile develop in the background for now. Dan has rightly said that the two companies are as different as they can be

Yes sir
You are doing Really Great job here Dan.
Thanks for the article sir, this is journalism, and you sir are doing it amazingly Great
Thank You

& i feel, windows phone will come back with a boom !!
uwa will solve the app gap issue & the day to day features will also come as MS is working on it !!
but, i feel sad for those developers who dont make UWP now.....or make apps only for desktop windows or mobile windows despite of UWP.
UWP IS surely going to add to their consumer reach & not harm it anyhow

W10 pc market got big enough for devs to make apps. If the app is good and popular enough, they will make money from it and spend some on the mobile version as well

There is a risk of losing everybody who has been with you over the past 5+ years. That 2% is going to be a 0% here in the states soon. India seems like the only region where people buy Windows Phones nowadays.


That's exactly my concern. I've given up hope new users will come aboard. It's not being saved by universal apps, the OS is obscure to casual users, and most of the third party OEMs are even more obscure to them. So the only thing holding onto the 2% until next year is those of us that have stuck with it. If we're hesitant to pull the trigger on a 950 and our x2x devices can't get a supported upgrade, it just builds up more acceptance that it's probably time to move on. Once moved on, a Surface Phone might not bring many back from the app-filled world they'll discover elsewhere. I can't hate on them for focusing on building the ecosystem to wow us with hardware next year, but the number of people waiting for that wow is dwindling.

Finland, Italy, Great Britain?
AND
current "fans" need to be discarded
MS Mobile gets a new customer base, a "lady" instead of a "*****" - or should I say the "witch"
Buy!!

"fans need to be discarded"
What, again! How many times has this happened, so many it's embarrassing. MS have ditched their loyal fan base too often, not again ffs

Finland, Italy, Great Britain Its marketshare has tanked in those places as well. Of course win central users still claim its still 2013 and everything is looking peachy.

you are mistaken my friend. Market share in India is not even 2% for windows phones. It is more than 80% android, followed by Apple and negligible share is with windows or Blackberry. Microsoft (even if we include feature phones) is not even in the list of top 5 mobile handset companies in India.

Absolutely, Microsoft has nothing to loose but it has great potential to gain, especially with UWP which will become stronger automatically even without a new windows phone device (the beauty of UWP). And if Microsoft comes with a robust product (very likely), the wait is worth.

You think Windows Phone is dead now? So much for the SIX articles that have been posted on this website over the past few months titled "Windows Phone isn't dead"

since 6 months waiting for a mid range windows phone in india....and now no more lumias this year. and surface phone until 2017.
oh god....how will I survive with my L720.

What's the point of uwp if there are no phones to put them on?

as you very well know, WP _had_ much more reasonable market share in several (pretty important) markets though.:) Posted via the Windows Central App for Android

Several tiny markets because the phones are so cheap. Definitely not markets that support a platform. Posted via the Windows Central App for Android

You're forgetting the 950 and 950 XL

Err...why? Isn't their point to make OEM make phones windows windows? There might not even exist any other lumia, this year or ever. I guess they would only not realease any phones if they knew there would be offers from OEMs...

And when the Super Surface Phone acctually comes, it will fail, and than everyone will say that Surface need at least 3 versions to get good enough... So 2020 is the year for Windows "Phone"/10 Mobile :D

@youknowho Please remember that Microsoft's OEM partners, as noted in this piece by Daniel, several pieces by our news and parts 4 and 5 of the "Windows phone is not dead" series', will be releasing devices in 2016. As OEM partners become a more "tangible" part of Microsoft's strategy we have to change our view (spoiled by 97% of Windows phones being Lumia's) to a from a Windows Phone = Microsoft made devices view, to one that accepts and acknowledges OEM made devices as valid representatives of the platform, just as we do in the PC space. More OEM partners and the diversity they bring is an great thing. So "only 650 in 2016" is not a fair assessment of the ecosystem that Microsoft is building and supporting.:-)

sure. fine. ok. let's do a tally at the end of 2016 how many really came and how many actually sold any mentionable numbers, and how many will continue into 2017 and beyond. :) hope it works. not sure it will. Posted via the Windows Central App for Android

Here's my position. Microsoft has a plan and they're executing against that plan. They're consistently developing the OS, working with insiders(releasing updates and getting feedback), and working with OEM partners. No I do understand the impatience of many fans who what things now, particularly given Microsoft's underdog position in mobile and some misteps in the past that disappointed, but as we have labored here at WC to lay out what we see as their mobile strategy a fairly clear picture has emerged from many of our articles of where MS is going and how they are getting here. So, what do we have now. We have several OEMs committing millions as part of thier mobile strategy to position Windows Phones as part of thier portfolio. MS has given the indication that in addition to those that have announced devices there are more I'm the wings. I can't nor will I dare demand anyones optimisms. That's an individual choice. But I can envision how cynical the remarks would be if Microsoft had NO OEM partners on board. I can imagine snarky dialogue like "They couldn't get at least ONE!", or "Without ANY OEM support, not even smaller manufacturers, this is a clear indictment that the platform is DEAD!" or "The lack of ANY OEM support is a clear indication that the industry has NO confidence in Windows on phone!" Yeah:-) that's the type of commentary we'd likely be reading if MS had NO OEM partners. But instead we have several pouring millions into the platform. And not JUST low-end devices. HP, Acer and Alcatel (the super phone planned for later this year) have such confidence im the platform that they've jumped al in with resources to bring higher end devices. I sat all this to say, lets try to look at the big picture here. Positive things are happening. Let try to temper our negative feelings with some of this actual data, real investments that OEMs are making in Windows. Are these OEM the Samsungs of the world, no. But any progress is better than no progress. Any support is better than no support. And the millions of devices these OEM put into the market, increase the visibility of WP a magnitude above what would be there if they were not participating. Will they sale. We'll see. But thier chances of selling is 100% greater as devices being offered, than they would be if these OEM were not on board at all.

I am looking at the big picture. You are explaining the strategy in a very positive way which is fine and good, and appreciated and understood. Explaining and understaning - you would see me use that term back in say 2004 when I was commenting on Symbian. :) (although I must admit I did not read all of what you write..6 parts telling us how WP is not dead :) - dude, edit down a litle. ;) ). However, it would be good to also constructively critique the strategy, try to see if there are things it that may need improving, or that may be outright wrong. In short, a little more balance would not hurt. I too like to see the glasses half full. But doesn't mean I can't also see there are ways that could make it even more full. Or that would make it more certain that it won't be only 1/4 full. I maintain my position, for example, that MS withdrew too quickly, in too many ways, too completely, and from too many places before W10M was ready and before other OEMs are on board. The market is not like a servo motor. ps. I am not sure it's that many millions yet. ;)

I wouldn't trust HP. Remember what they did to webOS? Posted from my Moto X Pure Edition via the Windows Central App for Android

None of the OEMs have any stake in Windows. When the phones don't sell, and they definitely won't sell, then what makes them come back next year. You don't see HTC, Samsung or LG making Windows phones because they already see what happens. If Microsoft wanted this OEM thing to work out, they needed to start it when they were ready to focus on the platform. All this year is going to do is sour the few crummy OEMs they do have. Posted via the Windows Central App for Android

As usual, Daniel at his rhetoric best... But I do respect Jason Ward's articles a lot in terms of tangible research and analysis. Daniel saying what is there for Microsoft to lose. He thinks United States is there only country in this planet. Seriously, this myopic view needs to change. I'm waiting for that Surface Phone though. One last chance to MS I'm giving.

This sounds awesome,Daniel. I hope it works out that way.

Waiting. Might b released in 2020 tho lol. U already know how Microsoft works. MicroSnail. Posted from Windows Central for Windows 10

Curious as to what innovation you have created today ;) I get it, everyone wants everything now. Too bad technology does not actually work like that.

I'm all in for releasing no phone so that they can focus on software side of the things but maan.. I doubt even after the anniversary release for windows 10 mobile, it'll be as good as android and iOS counter parts. :/ that's the real trouble here. Posted via the Windows Central App for Android

I'm still laughing at MicroSnail
:'D Posted via the Windows Central App for Android

Main reason I'm getting a budget Lumia 650 to replace my 920 now and save hard for a Surface Phone :) BioResearch & Games.

Any information on new OEMs? Posted via the Windows Central App for Android

Should have intel or equivalent processors. Should be capable of the full windows 10 experience not just the mobile version.We're all eagerly waiting for it here in India.

No one really disagrees with that, the question is is it technically feasible and able to be mass produced at cost. We literally have zero answers to those questions right now.

Particularly with a turnover in leadership in Intel's mobile division... Posted via the Windows Central App for Android

I literally couldn't care less if my phone ran full windows or not. My 950XL is a phone, not a computer. I have computers to be computers, I don't need a phone to be my computer.

If there is a mass production, it will definitely be cost effective. I think one of the reason MS is not selling phones at lower price points is becuase they just dont have the economies of scale (and they don't want to take a hit on margins, which is strange given that they are willing to write off billions of dollars in write-offs)

We can have a new Intel Atom for W10M. Intel Atom is already been used by some Android devices already and it's x86 CPU of course, though I don't remember the model of the CPU. I'm not so sure about the actual Windows 10 OS used by PCs for mobile devices though, which I find it unnecessary and bloated for a smartphone used mostly as a phone. It's also need to drastically optimized and redesigning not just UI but the structural aspects of OS to be well suited for phone, it's only technically possible but there is a question of how is optimized enough. We just need the W10M just to achieve desktop-like environment with its existing Continuum mode, not the whole PC OS. If we want the x86 apps to be run on W10M, maybe we just need necessary components from the PC version of Windows 10 if that's technically possible on time, without even to resort porting the Explorer shell which it might just have a lot of dependencies from unknown legacy components bloating the OS.

A possible spring 2017 release, eh? I could find a nice used 1520 on ebay to hold me over until then. :D

That is truly one hell of a phone. Launched so far back and still gives tough fight to some of the flagship phones around

Problem is: MS has pissed off so many customers that I really wonder whether there will be anyone still interested in some "Surface Phone" in 2017. To speak for myself, I probably won't, hoping for a successful Nokia's comeback.

Like Daniel said. 2%, still 98% new people too come. Greetings from The Netherlands.

"pissed off so many customers"

I think this is greatly overstated and most people don't' think much about their phones.

Its extremely overstated but you can't escape the negative press that has haunted Microsoft from a quality and consumer expectation standpoint. Google has security issues, and idk what Apple has.

Mmm, just yesterday another Apple security risk. Apple is getting a lot of negative press lately. iPhone SE has lowest new phone penetration of all iphones. Differentiation does not work. Apple is doomed when the fanboys stop making excuses about their iphones.

Their "negative press" has absolutely nothing to do the quality of what they put out.

And the majority of consumers don't read articles about phones.

All they need to see is the title "Microsoft back tracks on update promise"

This is good for your health.
Click Here

New news will be coming soon.
Bathmate Hydro Pump Review

Apple has sales. Apple has apps. Apple has a mobile eco-system second to none. That's what Apple has.

Apple have mobile carrier employees that recommend Apple products. And push Apple products. Just like they do with Android phones. No matter how GREAT a Surface phone is or any other Windows Mobile device is, sales will continue to be low until the carrier employees start recommending them and pushing them. And hopefully more businesses provide their employees with WP devices and that might help with the love for WP. The general public can't love what they can't get. And most won't purchase a device that's not recommended to them. It's that simple.

I'm expecting the push through businesses is what will initially get WM10 started. The companies will buy them for their employees. If the phones are good, then the general public will slowly catch on. I expect at least two years to see any serious growth to start.

Truth, my aunt went in to the Verizon store and asked for a Windows Phone (Lumia 822 since she wanted the free one) and the store said they don't sell them. They pushed an iPhone 4 on her. It's a bit hard to gain ground when the deck is stacked against you.

It is hard to get phone store employees behind you when your product is so far behind. Why would they risk recommending Windows phone when iPhone and Galaxy phones are a safe bet? Windows phone has too many issues for them to consider it. Posted via the Windows Central App for Android

The apple eco system is smaller than the microsoft eco system. I think it comes second to google and microsoft when considering its easier to move accross other eco systems. Your apple stuff works gerat with other apple stuff, good luck makign it work with anything other than that.Even if most of the world WANTS all apple products the fact is most of the world cant AFFORD to do that sooooo...

yup, I am more angry with Snapchat than with Microsoft... so yeah XD

Perfect victim in the process of unification of Windows is Windows Phone (users) ! Period.

"Pissed off"...How? I am not.

Problem is: You speak mainly for yourself ;)

Surface Phone will now launch in Mid of 2017.
My Webpage

2016 now pushed back to 2017... 2015 was pushed back to 2016,... 2014 was pushed back to 2015.... 2013 was pushed back to 2014.... and so it goes. Meanwhile... ios/android..

Ermm, eh?? This isn't some little exercise in peeing people off. Wouldn't you rather everything was spot on after the fiasco that has gone before? Meanwhile on Android? Really? What 'game changing' idea have they bought to the table? Every new release is just an update of the previous one, fixing issues and introducing some different ones. Apple? iOS 9.3, but then according to the world and his wife, apple don't have issues? Again, just updates to previous versions. W10 is a different kettle of fish. It's a complete rewrite, not an update. It is planned for it to be fully integrated. Any announcement from Android / Apple on that?

It doesn't need to be "game changing" it just needs to be ON POINT.

Yeah, W10M is a complete rewrite... so was WP8... so was WP7... and where did it get us?

Ever heard about ReactOS?

And what did the complete rewrite achieve though?
Android updates may not be "game changing" for you but at least it works without bugs and have features of 2016. Posted via the Windows Central App for Android

Well, they either rush it or try to get it right. Can't have both. Either way, I fail to see the rush now that everyone thinks the OS is dead anyway.

What's it like to be a full-time troll, up there in your ivory tower?

This I can wait if it's gonna be that perfect phone we all are hoping for but 2017, ain't that too far?

So sounds like they're gonna go over a year again with no new flagship phone.

And? If it's what people want, then they need it to be right along with the OS. This is nothing different to what has been said before. Mr Meyerson springs to mind...

The (big) difference is we have at least three mid to high-end phones hitting the market instead. You need to get away from the 'Microsoft = Windows Phone devices' model as it's gone.

Correct. The problem is no one reads anymore and this headline will only cause a ton of clickbait negativity.

So, nothing new then, right?

give me some leaks of surface phone atleast.
how will I survive with my L720 uptil 2017, with no mid range windows phone in india right now.

Microsoft = Windows Phone devices in some countries. Stop to look to US only... Posted from Windows Central for Windows 10

That is very true. Up here in Canada, BLU used to offer Windows Phones, I don't see them in stores anymore. So now the only way to get a Windows phone is to go with Microsoft Lumia.

Which markets, which carriers, when, where? :) Posted via the Windows Central App for Android

Why should we? 97% windows phone are Microsoft so it does equal the platform. Many of us have little interest in OEMs

It is important to have a phone with great support especially with Windows 10 since Windows 10 gets lots of updates and every update solves a lot of significant problems. At this point I wouldn't buy any Windows Phone except Microsoft's because OEMs are not as successfull at providing support for their devices as Microsoft. In a way, what I liked about Microsoft devices is that I get -almost- Apple like support and care but there are more choice which are cheaper (for example I can get Lumia 730 or Lumia 830 instead of 930). But Microsoft is changing this, appearently, they will only provide premium phones. I would support the decision to provide fewer phones, but I would prefer they release phones for 3 segments: Lower segment like 6xx, mid segment like 7xx (or 8xx) and high segment like 9xx. So maybe 3 focused phones for 3 segments? In short I don't want a non-Microsoft Windows phone anymore now that I see Microsoft quality. I don't have money to buy 950, and 650 lacks too much features. I need a Microsoft phone in between 650 and 950.

He literally just listed three flagship phones that are coming out. It just isn't Microsoft that is making them. You act like there are no other OEMs in existence.

I literally said they (Microsoft) are not going to release another flagship for over a year again. I said nothing about OEMs. I'm not in the market for a new phone any time soon, I have a 950.

Sorry but the way you worded it could go either way. To me it sounded like you were implying that there weren't going to be any flagships at all for Windows Mobile not just from Microsoft.

It's just an observation. It's like if Samsung didn't release a new Galaxy in over a year, even though there are other Android phones. It may be necessary if they want to kill Lumia in favor of Surface.

Yeah and they will end like fellow HTC users :D lol ... wake up m8, other OEMs can make great HW but microsoft isnt interested this year in massive support of WP

There is always the HP Elite X3. I for once will probably give it a try... Posted from Windows Central for Windows 10

There is a flagship and it's awesome. It is called 950/XL.

Bring on the doom mongers! An interesting article and does, for those who can see past their 'anti interesting' points of view, give some idea as to what is potentially around the corner. I think that getting all Win 10 devices sorted and announced together will attract attention. Although sad, the passing of the Lumia had to happen at some point to allow space for new devices and OEM's to develop their own line of devices. Good article, but alas, it will, as always, be shot down by small-mindedness.

Microsoft doesn't need to make low-end devices no more than Apple does. ​Hopefully by 2017, the app gap has narrowed to the point where I can leave Android.

Definitely, I'm sure that the app gap will close in less than a year. I'm sure tens of thousands of developers are suddenly going to start making Windows Phone apps when they didn't before. Sure, it's going to happen. And in 2017, Microsoft is going to be competitive as hell and Google and Apple are going to go out of business and then there will only be Windows Phones and the world will be a better place. Sure. That's the ticket.

I can wait..... 930 still going strong. Greetings from The Netherlands.

Then what exactly did they get from the Nokia sale? Almost nothing it seems. I think they should refresh the 950 line with the 820 proc or something in the mean time.

I do wish HP made a 5" elite x3. Then this news wouldn't bother me so much.

They bought out Nokia's devices division because they were making the vast majority of WP devices and were in serious risk. It gave them more time, essentially, to get this kind of approach started.

There was a reason why many, including Nadella, we reportedly against the acquisition.

Wonder where W10M would be now if the acquisition had not happened though? Posted via the Windows Central App for Android

Probably not much different. Microsoft made the OS all the along, not Nokia. The only important people from Nokia is the camera folks.

Umm.. Nokia had a lot more than just camera folks. If MS had not bought Nokia, Nokia would probably have switched to Androind mostly or completely. Imagine no one making WP phones for the last two three years. W10M would be in even less of a position now, or might never even have come to existence.

They got exactly what they needed. Windows on a mobile device to stick around. If they didn't purchase Nokia, there would have been nobody making Windows Phones. Most Nokia shareholders were looking to the company to switch to making Android phones. Microsoft either had to buy a phone company they didn't really want, or watch their OS sink into the dark abyss. Sure, Steve Ballmer might have thought something would happen with the purchase, but Satya Nadella knew the whole time that nothing immediate was going to come from a Nokia aquisition, if at all.

Guess I'll go ahead and pick up a Lumia 950 XL to hold me until 2017.

The 950xl is a pretty solid device. Got two of them, although at present, they do seem slightly 'under optimised'. Nice size though.

Almost the perfect phone for me. If I could get 2mm off the top and 1mm off the bottom it would be sweet. Oh, and a front facing speaker.

This is great news indeed :-)

Tbf they did this with surface, and it's really helped in the PC market, with windows 2in1's set to dominate the tablet market this year :)

So we'll also get to witness market share drop like a rock for Windows Phone for the next 18 months. Just keep hitting the reboot button and hope for the best.

How can it drop any further. They have said they expect that to happen whilst stepping back from consumer space

Windows on a phone has already been relegated to a niche device. Business focus only makes it even more so. This is the mythical device that started all the way back to Juggernaut Alpha. I'm just not cleared in what their strategy is. I certainly hope all their hopes are not on Continuum. It just seems like another idea that will get no love after a year. They have a lot of great ideas that nobody is actually wanting and then they just float in limbo with no continued momentum. In the end it really all comes down to having the apps people want available. It sounds like they really can't release anything until that happens, and they believe 2017 is their internal target date.i wish them luck, I love Microsoft but I also hate waiting for something that may never come. This may be a good time to grab an Android and give it a test drive while MS figures out their game plan. At least it's an opportunity to see what I'm missing out better yet what I should expect from Microsoft and a Surface Phone in 2017.

Contiunum sounds all good but what is its utility if there are hardly any windows mobiles? The first and foremost objective should be to promote windows mobiles aggressively. If I were Nadella, I will put a dedicated team whose only focus would have been to increase the market shares. Even if it comes at the cost of low margins or even negative margins then so be it. But for mobile first cloud first to succeed, you need mobiles: windows mobiles.

"So we'll also get to witness market share drop like a rock for Windows Phone"

It's at 2% worldwide. How far of a drop is it to less than that? That's like saying "Watch me drop this egg...from 2 inches" Not really impressive ;)

An egg can be bronken even if it falls from 2 inches above the ground. It all depends on the Surface it's gonna fall on.

Boom roasted!! Posted via the Windows Central App for Android

No, unless the egg is all ready defective

I'm sure there will be headlines regarding your dropping off the egg.
Film it and see how many hits you get. Never underestimate impressive.

Just prepare the high-speed camera and record while you drop the egg to the ground. That can be really dramatic. XD

I can wait. My Lumia 640 is serving me well. Might pick up a 950 l8r to hold me over till next spring. Haters should move on to iOS and Android.

For example, I am not hater, but I was bashing WP/MS lately quite often that is true. I am just hugely disappointed from MS approach to WM. So hell yeah Ill switch to android phone, or dumbphone + tablet

Dude, nobody cares. Go cry in a corner, or whatever... just go away with that. You're unimportant, and insignificant.

Your comment says you do care ..you're hurt ....

Lol you are right m8 :D As Daniel R. said I am gonna quote him "I thought Windows Phone was already dead. Now we're saying it going to get deader? I fail to follow. What's there to lose when you already have 2 just 2% market? Tell me the risk there." I am so unimportant, and insignificant for Microsoft, fine, but I will never ever step in WP wagon ever. Also one last word for you m8, have a nice day.

That was sarcastic. Anyway, see you in 18 months.

You're hopeless Posted via the Windows Central App for Android (that works)

People who are pissed aren't haters. Most of them, ,me included, loved Windows Phone. Were pissed because MS has, to us, have let WP progress at a snails pace (2 ******* years for a flagship?), while they are making the same apps for ios and Android that they make for w10m, only the ios and Android apps are superior to there WP counterparts. That is frustrating.

Ok so the 2% left will grab an iphone and come back in 2017 for the surface ? I dont think they'll come back after the witnessed it smoothness...and I'm not trying to funny here ..if microsoft has plans with w10m they better keep it alive till 2017

A budget Surface phone has a terrible ring to it

Don't be too sure of that. iOS is not that magical outside of the app store and I know a few Windows Phone users who have used it and can't stand it. My sister is one, she was forced to fall back on her work iPhone 6 Plus after she broke her 1520 and she can't wait for the HP Elite to come out because she hates her iPhone.

Trust me i used it too...its magical ..the only thing that brought me back is the look of w10m ,its not smooth,it has no apps,no premium phones ..nothing just the looks

I'd argue that iPhones aren't particularly premium (their frailty is legendary) and there are things that W10m can do that iPhones can't, like actually let you properly browse your files, turn your phone into a desktop, or let you use SD cards. You are right that there are plenty of apps but please don't act like WM10 has no good points outside of live tiles as that is untrue. iOS has nice things too but it's pretty stagnant from a design and feature point of view.

I agree it has potential but nobody seems to care ...cuz developers could do great things on WM10 ...yeah yeah after this years build every developer will come running to microsoft ...but to keep it real...if they turn to microsoft ,the consumer will not notice until late 2017 ...and im being very optimistic

The iphone design has never changed and never will. its blunt and ugly. Posted via the Windows Central App for Android

Using android ,bashing apple on a windows ...yeah you must be really happy with your android

Trust me it's not. Who are you kidding? Are you a bot?

Hmmm... calling a phone "magical", let alone an iphone... dude, stop. Seek rehab, disappear.

Oh im sorry did my opinion hurt your little girly feelings about microsoft??...Get out of here fanboy

Ok, so you making things up? Makes no sense at all.

I plan to. Got a 6s+ 3 months ago, plan to sell it and use the profit for downpay on a Surface Phone. One thing about an iPhone... those bastards hold their value.

Buy a 950/XL now. Much better choice than any iPhone.

If I had to leave WM it would be for Android and not Apple's walled garden.

Good luck with updates unless you buy nexus and then good luck with shotty cameras and hardware.

Most Android flagships have gotten more major updates than WP flagships(1)

wonder what ditching the Lumia brand means with regards to camera performance. Does this mean they'll let Samsung, Google and Apple fight for the best camera phone and instead focus on business features?

They have a year to figure that part out. Though the dance will continue without them.

if only the enthusiast phone will have a more than decent camera, but I assume priorities have shifted a while ago and this race will continue without MS... would really hate it if I will to switch the OS for the camera since W10M is really growing on me, great performance on the 930

How, when they have phones on the market now that perform great? Are you assuming this article means they are stopping production of what they are selling right now?

All the Surfaces have beautiful cameras, even better than most Lumias. I'm pretty sure they will combine the camera efforts.

I sometimes wish MS wouldn't say anything about a product until til it's ready or just surprise us. It's like they preview a damn good movie but it's 6 months away before it his the theaters, I hate that. Understand there are delays but a lot of ppl even when rumored with no concrete were drooling for it. Last I heard it was supposed to be around there next update (correct me if am wrong) but now its next year, DAMN!!!! I would love to see this phone sooner than later but for those who are depending on this phone to be there next phone will disappointed. I hope when it does come out it's all what was expected and more, I will mark the first 3 months of my calendar for 2017

I think Microsoft should release mid-range phone this year with continuum support and be the latest lumia

The intel dock is an interesting thought, Daniel. It's like the Surface Book leaving behind it's full power when detaching from it's base, it's got precedent. I always try to be upbeat, but I don't think this Surface Phone is going to be the miracle, do-everything all-in-one device people want it to be. It'll be a nice bit of hardware, sure, but the higher people build their hopes up about what this will do, the further they may fall.

"The intel dock is an interesting thought, Daniel. It's like the Surface Book leaving behind it's full power when detaching from it's base, it's got precedent."

Exactly where I got the idea. Also, Kangaroo and Razer all show 'modular' computing is now a thing. Taking that precedent I wondered how an 'Intel phone' could work despite some of the perceived setbacks e.g. battery. We'll see!

Probably, Microsoft will bring Surface Phone with Intel chips. So, more time is needed for both parties. My 2 cents. Cheers

"Pushing back a Surface phone to spring 2017" So Christmas 2017 or Q1 2018. Still good news though.

Nah, because Surface Book 2 and Surface Pro 5 would be in that bunch too. Those all came out within 6 weeks of being announced. Microsoft really is not doing the 'announce now, release in three months+' thing anymore. Exception: HoloLens, cause...holograms, yo

Now that i have my 950 XL,
Surface phone really seems coming faster.. ;/

Well, that is the final nail in the coffin for Windows Phone. RIP. Also, since no phones are available for purchase from any carrier in Canada at this moment, I can offically say that Microsoft's marketing team must be dead as well.Will send flowers.

Windows phone is dead anyway. Windows 10 device is the tag now or windows 10 mobile.

"Well, that is the final nail in the coffin for Windows Phone. RIP."

I've heard this so many times since 2012 it literally has no meaning anymore. So many nails, so many final nails. All nonsense.

Daniel, I'm a big fan of Windows Phone. I just get upset that Microsoft hasn't even had a phone (flagship or otherwise) available to buy in Canada at Rogers, Telus or Bell, for two years now - other than the 830. For the last two years, we couldn't buy the phones if they're not selling their phones - other than through thier online store. If they have the same "marketing" scope for the surface phone they are already dead in the water.

I mean, I agree with you and understand 100%. But let's just say mistakes were made, strategies were tried (and failed) and this is where they are at. In this situation, the only thing that would satisfy everyone is if I said Microsoft has gone back in time and released a Surface Phone in 2014.

In any case, if a surface phone is released, I'm buying it. Hope springs eternal... For now, my Lumia 650 and I willbe on our merry way

Ya know, I always se something about their "marketing" or lack there of (as if any of you know or can do better). Now, I won't say they have burned through as much money as Samsung or apple when it comes to marketing, but there has been a metric ****-ton or marketing for WP and Surface. It doesn't matter if every time you go to a carrier store (at least in the US) they are trying to steer people away from WP. Don't believe what I'm saying, see the Band/2. Don't know actual numbers, but it has never had an issue with sales. It has also never had much of an issue with people actively trying to steer people away from it. That makes more of a difference than "marketing".

I would be willing to bet the sales numbers of Bands are miniscule even compared to the Lumias. :) Posted via the Windows Central App for Android

It was suppsedly dead the moment WP7 came out. Yet, here we are in 2016...

And, just like WP7 back in 2010, its still dead.

I was just about to write exactly the same thing, then I saw your post. As in, how many nails is a coffin supposed to have? To, me it's just like the meme that "This is the year of Linux." I've been hearing that for going on 20 years now, and somehow it never happens. Just like "Windows Phone is finally dead."

"I've heard this so many times since 2012" It was true then and it is true now. Mention Windows smartphones outside your little hugboxes and see if you can survive the thundrous laughter.

"Mention Windows smartphones outside your little hugboxes and see if you can survive the thundrous laughter."

Right, so your argument is folly then. Can I go out and still buy a Windows Phone? Check. Are there still new apps coming every day to the platform both major and indie? Check. Is my OS being updated now every two weeks? Check. New hardware coming out still? Yup. Yet, you're going to convince me that this platform is dead? You're out of touch with reality. Mind you, literally no one is saying it is thriving, but it there is a lot of activity around it despite your failed attempts at humor and insults. Hm, after re-reading what I just wrote I think you'll need a "hugbox".

"You're out of touch with reality." This coming from a Windows phone advocate. Just.. wow. Off to get stiches in my sides now.

You need to have a couple things to be successful with any product; a good product (in this case phone and OS) and a good marketing plan/distribution model. I don't see either of these right now or in the near future. While there are a limited number of people interested in buying Windows phones right now, Microsoft is making decisions that actualy reduce that number. I would buy a 950Xl in a hearbeat if I could use it on Verizon and I am sure there are others in the same boat. Sounds like Canada is in even worse shape as you can't buy a WP from your carrier regardless of which one you use.

Certainly PureView imaging technology will be implemented in SP, yes?
But I want to know something, if Nokia ever come back with the new Android device, can't they use PV tech in their devices?


Nokia only licensed some of its patents to MS. Nokia still owns all patents and can use & lisence them as it sees fit. PV trademark was sold to MS I think but its just a sticker. Nokia is also busy developing new imaging tech.

I see, thanks for the clearance.
If SP failed too I am thinking to jump to Nokia, if they come with the better imaging tech.


Nokia has all the ability to be the comeback story of the century.

I severely disagree. They need capital, a lot of it. Also, many of the members of the imaging team now work at Microsoft. Old patents mean little if you don't have the talent to do something with it and more. Also, Android is crazy competitive. Low-end is all Chinese firms, high-end is all Samsung and you have HTC and LG trying to get whatever they can. No room for a tiny company like Nokia who lost all of their mobile talent (some now work at HP, ironically).

You're just a buzz kill today. :\

They do seems to have some pretty good camera and imiging dudes and dudettes still though (Ozo). :) Posted via the Windows Central App for Android

Nokia has 10 billion in the bank and Nokia is profitable huge player on Mobile (infrastructure side). They are not going to spent that on phones though. But to say they lack talent on imaging front is simply not true. Take a look at Ozo for example. And Nokias phone comeback plan is to design & lisence, not spend money on supply chain & manufacturing etc. which do require ample amount of capital.

Yup, agree with vhyr there - they do not need huge amounts of capital to re-enter as a brand to the phone market. They plan to design, licence and quality control. In any event, as far as I know (including from some inside sources), they are mostly planning to do it in order to maintain (and exploit) brand awareness among consumers.

The team behind PureView aka Juha etc. who designed the cameras all work at Microsoft now. I would say the a SP would certainly have PureView.

guess the important question would then be, will that team have the resources to be able to try to be innovative in that area or will their assignment just be to 'deliver an ok camera experience' so that Surface Phones will be high end models, but only in other categories... really hope they will deliver cameras that at least come close to the competition

The Surface Phone is virtually certain not to be a camera sentric, spezialized niche camera model. So it is, IMO, almost certain be closer to the latter.

Nokia can use the tech because it's their patents. MS licenses the tech from Nokia.

Sorry Microsoft, but this is WAY too late to wait for a proper flagship Windows Phone. You had 2 years and gave us the 950's which pale in comparison too other flagships. w10m is a wreck when compared to 8.1. Microsofts mobile OS went from my favorite to least favorite since they since they waited 2 years to bring a flagship to market, did nothing with the Nokia acquisition, and started releasing underpowered cheap Lumia's. I'm done. My 640 XL is serving me fine right now, but I'm fed up. Nothing like supporting a product for over 5 years only to see little to no progress. I am now saving up for an high end Android. If these Surface do exist and are what we all think they are going to be, I may come back.

The 950's are as good as any phone hardware related except for design.

And design is a huge part of a smartphone. Build quality is also not the best on the 950's.

You're right, I feel that my 930 is better looking and made better as well.

As if you 'know'... right?

Rofl, pale to what? 950 is awesome. Your sick in the head

Taking everything into consideration. Build quality, features, price, and OS. The hardware inside is awesome as is the camera. I agree. Build quality is bad. Iv'e seen wat too many reviewers complain about the build quality. The speaker sucks on the 950's. Very low brightness, hard to see outside. OS still sucks, I know it does. I use it. Way too much money for the materials and build quality. Phanes as good as for the same or less money: Galaxy S7 or S6 is a better phone all around for about the same price. Nexus 6P, Moto X Pure, LG V10, and OnePlus, Oh, and lets not forget the Lumia 929 and 1520.

It's sad that W10 won't come to Lumia 520, but I still hope WP10 OS becomes better by the time Surface Phone appears. Although, I would definitely want Sony Xperia series to release models with Windows OS in it, I hope Surface Phone gives me something that I would crave. For some reason, I love the simplicity of Windows OS that I don't find in Andriod or iOS.

My contract is about to expire. Thinking about picking up a 950, but that would renew it and I'd need to wait another 18 months to upgrade and I don't know if I want to wait that much if the new device indeed hits around build next year.

Just ask mozo to make a magnesium alloy case for the 950 XL.. That'd just work for me :)

So you are alright with giving up wireless charging?

Yep.. If it gets me in the surface groove. We have the option for wall mounted charging which is pretty fast too, thanks to the usb-c.

Another report says 3 years. http://www.bidnessetc.com/66660-microsofts-surface-phone-appear-three-ye...

Sooooo... what makes that "report" any more legit than what's being said here?

I stand by what I write. I broke McLaren being cancelled, I gave you all the details on the 950/XL back in July, told you that a 750/850 were cancelled in July, that there is no Lumia 1030 ever, provided renders and release information (including the announcement day!) for the Lumia 650. I put all of that against a no-name blog any day.

just to add that far too many people trust you more than that no-name blogger. So please continue the good work

New update added music search to Cortana but smashed the rest of the OS...

Music search was always there, just hidden. You had to long press search to bring up Cortana and it would show up where it is now.

Ok. Mobile is then officially dead.

The problem with this plan is they lose the low end market. BLU & Alcatel are not well known in India and China. These are the growth and volume market. Lumia was selling because of good name of Nokia in India. Microsoft took over and produced some excellent additions like 640 and 640xl. These were well designed and priced correctly for Indian market. Now there is no alternative available to consumers. They are going for Xiaomi, Asus which offer high specs for low prices with Android. I think Mocrosoft bringing Xiaomi on board would be great at this time.

I thought they were tinkering with W10, and if enough interest, the devices could come with it.. Sure I read that somewhere on here

same thing in Brazil, there is no new phone at all. they did not release the 950 or the 650. killing brazilian market that once was good

But but, it's less than 2% globally, so who cares about the strong markets? or so seems the logic go. Posted via the Windows Central App for Android

I still contend that there are few enough people who know about Windows Phone to begin with that you could easily disappear from market and start advertising in 2017 and it would seem like a totally new OS to most people... most of my friends / coworkers don't even know Windows Phone ever existed... maybe once W10 is in full swing and has a bunch of universal apps the conversation can start over.

Shhhhh... you can't make sensible posts like this lol;-)

Yup, most people I speak to have no clue that Windows Mobile is a thing but that logic won't fly here.

Good point but then what about developer interest. I know windows is universal platform now and had an amazing //build but with no new devices are they gonna develop for mobile?

There are new devices coming from Blu, Acer, HP, etc... just no lumias...

My bad, hp elite is looking awesome. But what about low end and markets like India and China?

2017, a good time to come back for microsoft with innovative mobile devices decked in 3 categories.
Great timing to release it with W10 RS2. I hope to see an OS that utilises full capability of the phone, until then let the W10 mobile grow...
Competition will be massive when (IF) Google's Project Ara/Nexus and Apple's iRevolution comes up with something new.

Don't let Lumia 930, im not satisfy with this device I dont care what they doing in new line but I want to send anap with this device. Posted on Lumia 930 with
Windows 10 Mobile

I know the industry is fluid, and especially with how fast things travel these days. A path chosen one moment can be irrelevant the next. That said, I think the part of this artcle where Dan more or less eludes to us that Microsoft abandoning the low end market is a "good thing" is an example of one of my gripes with some of the articles on here: changing the narrative to fit and putting a positive spin on things - in other words, being a Microsoft Homer. For the longest time, Dan kept writing about how the smart strategy was to go after the low end market. When folks on here complained about how MS was neglecting the flagship market, Dan kept defending MS and kept on writing about how the low end market was where MS should focus on - it only made sense. Of course, now MS, it seems, is redefining their efforts and now focusing away from the low end budget device market, Dan writes about how "that's a good thing" which is contradictory to so much of his writings in the past. Again, I do realize that things flip and change on a dime in this industry...This is just another clear example of flip flopping and changing narratives to fit with whatever MS is doing.

In an ideal world I dare say MS would chose both markets. Unfortunately, if the Lumia brand is phased out, there is no real presence within the budget sector, and to be honest, cheap nasty Chinese droid phones fill that space. I still think that the whole ecosystem is biased towards 'professional' users and enterprise. As for Dan's writings, I have always found them to be balanced, but obviously with the Lumia line in decline, the budget sector is not attractive, so maybe that's why the, perceived, difference is highlighted

Exactly, whenever MS whispers something in Dan's ear he gladly gets on a soapbox to declare to the world how it's a "good thing" and the seemingly only sensible course of action. And anyone who dares to question it ever a little bit gets a prompt spanking in the comments. This site is going downhill fast. Back on topic: that this surface phone won't release in 2016 is in no way a suprise. Anyone who tought that the pushback of Redstone 2 would not apply to phones was horribly naive and clearly hasn't been paying attention to the amount of time it took MS to get a workable version of Windows 10 mobile out. Of course there's no guarantee that this Surface phone will even be included in the Redstone 2 wave. And it's by no means certain that it will ever see the light of day. Remember that MS has never announced anything with regards to this device. The only thing we know for certain is that they are retrenching in 2016 and all the rest is up in the air.

It will be very surprising if they do ever release the Surface phone. By that point they still will not have developers on board, the OEMs will have given up since their devices flopped and Microsoft will not have a revolutionary product ready. They will kill Windows phones at that point. If they do have something new and revolutionary, then current devices will be abandoned again. Posted via the Windows Central App for Android

Yup. Posted via the Windows Central App for Android

Two questions come to mind: 1. When is the Band 3 to be expected? Also in early 2017? (Trying to make up my mind whether or not it is worth picking one up now.) 2. Do we even know what 'Redstone 2' is, and is it appropriate to rename it the Anniversary Update 2 at this point?

Redstone lag in minecraft.
Ha... they named something from minecraft Posted via the Windows Central App for Android

the thing is, by the time MS finally makes its revival comeback to mobile in 2017 the remaining WP users still left today, you know those hard core die hard fans that have been since day one, will have probably moved on to the other greener side, completely shrinking whatever little marketshare WP has left. by that time in Spring 2017 MS will be forced to basically start from zero and build up from scratch

That's probably the idea. Start again. Also, what is meant by greener side? All OS's have issues, and all devices have 'oddities'. I have a phone. I can call, text, email and surf the web, therefore my grass is green ;-)

you said it right, 'your' grass is greener. but everybody else who uses a smartphone for more than just phone calls and texts and emails knows that W10M is at least a few steps behind what you get on Android and iOS, not to mention the app deficit that seems to be getting bigger

so they're not releasing anything at all in 2016? - but it isn't exactly raining devices either. all we got was a few flagships, a crappy low-end alcatel fierce and no good midranges at all. I don't even know if the HP elite x3 will be released world wide? my Lumia 925 won't get no more updates, official or insider. what am I supposed to do? and no I don't want to switch platforms I like W10 too much already, but 2017 isn't a week away.

Get a $50 Lumia 640 until then, I had to do that when my 925 bricked; a few different features on the 640 that are not on the 925 held me over until the 950 release... Posted from Windows Central on Windows 46 Interstellar Edition

Not available here in my country, we only have 640 XL, which costs about $190 (greedy retailers and that, I don't remember its price actually dropping since it was released) Thing is I upgrade once every 1.5 years at least, so if I get a 640 xl for $190 now I'll have to stick with it till late 2017, maybe 2018.

to be precise, afaik, we got announcements of 2 flagships (or were they even announced yet?) limited availability or unknown availability. Posted via the Windows Central App for Android

yea. all this talk of "microsoft is backing up from the market to give some space for other OEMs to jump in" sounds like a really good idea, until OEMs don't. I know annoucements might be made by any company about new midrangers, especially that midrangers don't need huge events to launch. but there isn't even a single leak about any of this, nothing. so it seems less likely everyday and that really pisses me off.

"yea. all this talk of "microsoft is backing up from the market to give some space for other OEMs to jump in" sounds like a really good idea, until OEMs don't."

It will take time for sure. And it's not like W10m is super hot right now, but some firms will dabble. Remember, Nadella said they will build the phones if no one else does. But first, they have to let the market try by stepping back. Once again, we need to look beyond next three months and think longer term.

The only thing I want to see in life, is a Sony Xperia phone running W10M. Those phones are soooo beautiful! :3 I'd ditch my Lumia for that.
But the Elite x3 looks promising too. Posted with the Windows Central app for Windows 10 on HP 250 G1 notebook. It is a scary old monster, I think :D

any additions to the market are welcome at this point, really.

I am. But the market is not a servo motor. You cannot just exit, stop marketing, not have flagships for several year, and then expect to re-enter the next day "if no one else does". By the way, wonder if they will they keep a pipeline ready to go at all times, in case they need to try to do that? I suspect they won't, and ramping the pipeline up again would also take some time. Also, rising tide (even if a tiny one), can raise all boats. I suspect some of those other OEMs would actually appreciate MS being on their side with some phones. It is awfully lonely in the open sea for say Alcatel. In short, my view is that MS should pulled out and scaled down much more gradually. But perhaps the Surface phone(s) and universal apps will work out and they can start building back up. Here's to hoping.

They will dabble, the phones won't sell and then they will forget it ever existed. Getting OEMs on board when Microsoft is not focusing on the platform is a mistake. They need to be all in to make sure the OEMs stay on board otherwise they will not stick around long. Posted via the Windows Central App for Android

Surface team should work with vehicle manufacturers, tv manufacturers, table/desk manufacturers, appliance manufacturers and others on continuum... Posted from Windows Central on Surface Pro 12 Signature Edition

Not surface but other teams at Microsoft will already be doing that. They even have roles like the head of Autmobile Technology etc.

I think its a great strategy, the butterfly emerges from the cocoon next year after a year of incubation & feature enhancements. They honestly have nothing to lose. I do hope that the OEM's at least do well enough to want to continue building them. Enterprise sales will be the key for HP. I'm happy to keep my foot in the door with my Blu phone, but I am using an Android as my daily driver for the time being.

Planning on jumping on the Alcatel flagship phone when it comes to TMO... I'll be good with that until the Surface Phone line... In the mean time will also be watching how "One Windows" progress. What other phone would you be using beside the L640? I'm just sayin.... *One Windows*

Keep in mind that if rumored move to Intel architecture happens it's another restart and all old phones, the few still around, will be left behind.

Thanks for the heads up and that's okay with me. If it's not supported anymore I have no problems letting go of the old and going with the new. Understanding that this maybe hard to do with some people but in this case I'm not some people. What other phone would you be using beside the L640? I'm just sayin.... *One Windows*

"Keep in mind that if rumored move to Intel architecture happens it's another restart and all old phones, the few still around, will be left behind."

I see no evidence that will be the case and seems like FUD at this stage.

How many times have we heard this now? It is very real possibility this will be the case. Posted via the Windows Central App for Android

Won't be compatible with Verizon. Already prepared for disappointment.

If it really is a game changer (big 'if') Verizon will be on board. They're not now with 950 and XL, because frankly it's nothing amazing. Good? Yup. Good for fans? Yup. But something that will cause a stir? Not really. The onus is on Microsoft here to really make a compelling, disruptive device. Can they do it? I think they can. See Surface. Will they? Fingers crossed.

I think the days of hardware disrupting anything are gone. We are in the age of software now and MS knows this. Even a revolutioanry device won't disrupt the status quo in mobile. Those days are done imo.


HoloLens and Surface weren't disruptive?

I am speaking about hardware and I dont see Hololens as a hardware play as the software is what make it what it is. The surface debuted 4-5 years ago. I still believe the days of consumers buying hardware for hardware sakes are done. No matter how innovative the SP is, it will not attract more consumers. Business folks yes however which is why i think Nadella was chosen for CEO. He is the perfect man to turn MS into the next IBM. They are already halway there now.

Then that woudl apply even to the phone. In terms of pure OS (if you can somehow keep the apps apart, which is hard to even imagine), Windows 10 is a pretty good OS. I for one really struggle with Android if I use it for even an hour. Those who have moved from iOS or Android, and those who have gone back, still say that windows is the best. It is primarily the app gap that is hurting windows mobiles most

Surface and Hololens are disruptive? Surface has done OK, but I do not see what it disrupted. It is too early to tell if Hololens will even go anywhere. Posted via the Windows Central App for Android

see Surface also in the sense that it took them 3 iterations to get it right. so would not bet much on a really disruptive phone in 2017, yet. Posted via the Windows Central App for Android

True on Surface, but look at Surface Book in terms of design for v1.0. It's nearly flawless (the only issues with the device were on Intel's chipset).

True, the Book is much better, and was able to build on the Surfaces. And phones can be more simple in physical external design. However, if they want to something more disruptive on desing, it may take a couple of tries. As will continuum. As will Intel based phones. Etc. So, in short, I doubt the first Surface Phone will be completely flawless and perfect "out of the park". But then again, very few things are of course. Here is to hoping, again. :) By the way, I don't think the Book is quite flawless either - there have been a fair number of reports of the screen separation mechanism/lock not working flawlessly - in fact saw one for the first time today on a plane, and the guy using it was in vain trying to get the screen light up and then yanked the screen off to use it as a tablet instead. Or the hinge - as impressive "proof of concept and look we can design" as it is - I am not sure it has much function beyond the wow factor and does make the device thicker than it possibly could be. And overall the device does seem a little bulkier than it would ideally be. So there is, IMO, some room for refinement even in the book

They would have to be truly stupid to keep repeating those mistakes. They have seen what works and what not, at least in the harware space. even on the OS side, they must have anticipated issues and that is why such a big 'insiders' program who are testing virtually each and every little thing for MS. I trust them to come out with a winning product. My worry is more like 'too niche to be sucessful'. I dread it when they say 'budget, business and flagship' because budget is generally tad expensive for kind of specifications (e.g. 640 and 640XL), Business is often a confused mid-ranger (830) and Flagships turn out to be pretty expensive. I would rather have them build one great device and price it very aggressively. They just don't have any OEM to worry right now. First create a market and when the OEMs do arrive then worry about their weel being.

Makes my decision easier. Was going to wait for a surface phone or the or the hp elite x3. Unsure of how the hp camera will be and prob be super expensive. Guess I'll get the 950 and wait. Posted via the Windows Central App for Android

where can you buy it and when? Posted via the Windows Central App for Android

Well maybe there will be some app support by then..............

Man, what good was that Nokia acquisition? The Nokia name is off the hardware. The Lumia name has been run into the ground and is being abandoned. The Surface team has taken over hardware design. What is left of that nearly $8 billion purchase, patents?

No patents. Only limited time non transitory non exclusive lisence to them.

W10M being stil, barely, alive. without the Nokia acquisition we might not even be having this conversation. :) Posted via the Windows Central App for Android

There are a lot of wishes, and over the years, those wishes sounded more like excuses. Essentially, we are looking for excuses to justify why we should stay with WP platform. That said, I will be hang as long as I could for sentimental reasons, That and I hate to admit I was wrong to invest in WP from the beginning.

Have a feeling the Alcatel phone is going to end up mid range. Posted via the Windows Central App for Android

Ill be happy as long as it aids in the advancement of UWA and not cave to win32 which begs the question, does an intel chip guarantee win32 apps.

Fine by me… I mean it feels like I only just bought my 950.

So, no new phones for India then?? Because Blu or whatever small manufactures don't actually sell anything here..And 80% of Indians won't buy a super expensive Windows Phone..way to go Microsoft..Cheers..

With all this news I keep thinking if I should get a L950XL or not. Confusing times Posted from Windows Central App
Windows 10/Mobile, L830

Still one year so life in a moment.

Haha, true. 950XL it is then!

I was thinking of the 950 XL as well but bought some time with the 640 XL. It might be worth it to wait for the new HP

True that. Actually I'm sort of waiting for a drop in the 950XL price, and I am majorly getting it for the camera. The HP phone might not be available for me right away (in India). I'm impressed with the recent builds on the L830, upgrading doesn't seem to worrisome now :)

I would almost go with 3 different specs for the phone, like the Surface line. First will have 32 GB of storage with 2GB ram. Second will have 64 GB of storage with 2 (maybe 4)GB of ram. Third will have 128 GB of storage with 4 GB of ram. It's an idea, but kind of goes along with a bit of the "Surface" model.

It seems impossible to be a MS fan and a tech fan at the same time. smh

It's totally possible to be both, just don't feel tied down to one OS. As much as I want WM to win, I needed to try my options, and maybe even stick with them for a bit, while keeping an eye on WM.

The problem with that for me is integration. I don't even have/use a gmail email and have no intentions of having one so Android won't work too well for me. The Outlook app is hit or miss depending on version of Android and OEM and so is the auto upload to OneDrive in the background. All of which just work on WM. All of which i depend on. For me personally, i would have to make a clean break to fully "get" another platform. Another feature is Driving mode which I'll have to sift through thousands of apps just to find one that works like the native one in WM. Same for Groove Music which is abysmal on Android and iOS. Again i would have to make a clean break to Google Music or something else. smh

Well my Lumias will last longer than 2017 but who knows. Hope they look at least sleek or colorful.

hopefully w10m will be ready by then, but that wont matter if it cant offer clear advantages over android, so we're essentially counting on panos to make some book level badassery that "revolutionizes" the market somehow, if it can happen to a category as old as the pc-laptop why not the phones now right? lets be positive now

"...come back with a strong product and something to disrupt the market." Sounds familiar! Posted via the Windows Central App for Android Still in the market for a wp or whatever it will be dubbed.

What makes anyone of you think Microsoft will not cancel these phones? After all, it's one whole year before they are released.

Not cancelled but delayed indefinitely.

Coincidence that my 18 month ATT NEXT plan I have with my Lumia 950 will cycle as the Surface Phone readies for release? I think not. Great timing.

I want the pen to work with phone! And good sketching app! Screen should be something like 5'5" - 6.0".

That sketching app will be released on iOS and Android first, with W10M version to be released later with fewer features and more bugs.

lol, App don't need to be Msft app, whatever good sketch app would be nice! of course if msft include pre-installed drawing app in this "Surface phone" it would be nice too. But I get your joke.

You know you're describing the Samsung Galaxy Note to a tee.

Verizon will be pushing users to buy the s9

Given that the majority of Windows phones sold so far have been low-end, I'm not sure abandoning the low end is such a good idea. Who knows, maybe it is, but they will be abandoning me, so I guess I'll have to go to Android.

Microsoft need to make ASAP real "Surface" Phone ... They have option bud for any reason doesn't wan to use 6th generation Intel® Core™ M series vPro™ processor-based mobile devices just 4.5 watt consumer with a full power procesing 3076 PassMark benchmark 3 time more fast that iphone 6s A9 ... Just need to push to design a beutifull phone like 1520. With 100% windows 10 compatibility in a phone... That it!

This news will probably keep me from moving over to a different platform. My 1520 has at least another year left in it. And Daniel, thanks for your level headed responses in this thread.

Obviously the lines between handheld extensible devices (converged phones) and traditional PC's will continue to be blurred on the evolutionary progression past PC and past SmartPhone. However #UWP loses a considerable amount of significance if mobility is not prioritized. Microsoft must have mobility, portability, and content to infuse value for their ecosystem. #OneCore and the resulting development target of #UWP will benefit all devices in the ecosystem. Microsoft must not damage the Surface Brand by rushing untested and malfunctioning devices. SB, SP4, were not ready and still need some issues to be resolved. A converged Surface Phone must be awesome, it must be timed to coincide with ecosystem derived value and it must be flawless out the door.

So MS's phone department[hardware] is officially put on induced coma till 2017? hope they don't kill it.

Coming soon. Maybe. If anyone still cares.

My L640 and Alcatel will be good until surface phone comes out and it gives me time to save.

add those features you have removed - gestures etc, and we want editable labels not stuck with mobile 1, work 1 ect, we may have phones with best hardware but if the OS is not feature rich with features that makes our life easier, it won't be good. they must have carrired over all features that were or are on wp8.1 to W10M, as for me the much talked about app gap doesn't affect me at all as some apps have alternatives.

The problem with this plan is that it will just further widen the app gap. Developers don't want to spend resources on Windows Phone now because of it's already miniscule maret share. Less Windows Phones out there will just perpetuate their rejection of the platform. And as far as UWP, that hasn't helped yet either. There are supposedly 270 million devices running Windows 10 out there. Where are the apps? Seems like there's very little interest in developing for Windows 10 at all (desktops, laptops, 2 in 1's), let alone phones even though the customer base is already massive. Nadella just hasn't shown much interest in the consumer market, aside from X-Box, which is a marginally successful legacy product. He says that he wants people to "love Windows 10", but it's not working. Seems to me that most users buy a Windows device because that's what they use at work. The techie types upgrade 'cause it's free. For entertainment and fun, people buy iOS or Android, and "fun" is what drives consumer sales. Sad situation.

My conract on my Lumia 830 is nearly up. I'm thinking of something to hold me over till next year. So either the HP Elite X3 or (hopefully) a discounted 950 XL. When is the Elite supposed to come out?