Leaked render of cancelled 'Honjo' Lumia 850 shows what might have been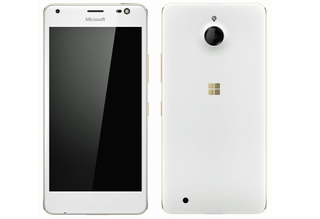 Late last night, the infamous Evan Blass (aka @evleaks) posted a render of a Microsoft branded phone in white with a gold frame. The text simply read 'Honjo' and said nothing more. No details about the model number, release dates, its status, or even specs.
Of course, the blogosphere went crazy as some have been building up a "Lumia 750" and "Lumia 850" as coming even though we know Microsoft cut back on their Lumia line many months ago.
Unfortunately, as I have noted back in July this 'Honjo' phone, which was supposed to be an 8xx series, was cancelled.
Some history
Honjo (8xx) got the axe with Saana (6xx) and Guilin (7xx) in July. All of those codenames (plus Saimaa for 5xx) first came to light back in June when @evleaks first revealed them.
The cancellation of the phones in mid-July suitably follows Nadella's letter to employees one week earlier where Nadella mentions the restructuring of their phone business. Those changes resulted in more layoffs, the ouster of Stephen Elop, and a reduction in the Lumia line. Quoting Nadella:
Of course, Nadella is referencing the then unannounced Lumia 950 (Talkman), Lumia 950 XL (Cityman), and Lumia 550 (Saimaa). Nadella's next remarks about the phone division are very compelling in hindsight:
Now that we know a 'Panos Surface phone' is in the works the line about 'create new categories' starts to make sense with whatever a Surface phone may bring. It won't be just a metal Lumia.
Saana (6xx) un-cancelled
Just one week after we heard those phones had been cancelled, however, and we got word that Saana, which is now known as the Lumia 650, was brought back to life.
Indeed, that phone is still happening and my sources tell this phone will be announced in mid-January (likely following CES so as not to overshadow partner announcements of their new phones). I also hear Cricket in the U.S. is slated to pick up the Lumia 650 in early April (that does not rule out other carriers, however).
Here is what I know about the Lumia 650 so far:
Lumia 650 (Saana)
Qualcomm 410
5-inch AMOLED display
5MP front-facing camera; 8MP rear (likely, newer camera design) with LED flash
1GB RAM
No wireless charging
New design language
The new design language is interesting. As I have personally seen some internal documents regarding the final branding I can say it looks a lot like the 'Honjo' device including:
Flat chrome band around the top and sides
White and black variants including white or black for bezels
Glossy in the front (glass covered); matte backs
In fact, the Lumia 650 looks very similar a white iPhone 5S and I have a feeling once others see it, they will concur. Although people will tease the design, frankly I think it looks really nice and not dissimilar to how the Lumia 950 picks up some appeal when you throw on a Mozo case. In short, I think for a 'budget' phone it is going to look really premium.
Unlike the 'Honjo,' the Lumia 650 will only have a chrome metallic band and not a gold one. After all, this is a budget phone.
The site WinBeta had posted an early render of Saana although the front-on angle does nothing for this device, which looks very different with a white front bezel. Nor can you see the flat metallic band that goes around the edge or its thin profile.
Why cancel 8xx and 7xx?
So, everyone is likely wondering why did Microsoft cancel those phones. Well, besides the fact that Nadella flat our said they were going to "run a more effective phone portfolio" to "massively" retrench my guess is the Lumia 7xx and 8xx series never really sold well.
Going back to the Lumia 810, Lumia 820, and Lumia 830, all of those phones while compelling and interesting just never found a home. Indeed, every time I used one I often found myself saying "They would be great if…" because they felt close to being perfect. For instance, the Lumia 830 was perfect...if it had a faster processor and higher resolution display. Of course, making such a change would have made it a "Lumia 935" or something. In all the AdDuplex numbers and anecdotal traffic in our forums and carrier pick up the 8xx series was always an odd family member.
If you are making a business decision about portfolio reduction and you had 6xx, 7xx, or 8xx it is the 6xx series that always did the best and saw the most interest from carriers. That latter part may have also played a role. Microsoft likely shopped these phones around to carriers and saw little interest. Considering how poorly the Lumia 830 did on AT&T, I would not find that surprising.
Why now?
The other question is why now? Why all of a sudden are we seeing various leakers make renders of what is essentially a device that is DOA? Part of it goes back to a weird riff between @onleaks and @evleaks who like to compete on render quality and accuracy and I think the other is just information – even outdated – coming forward.
I find it interesting that Evan Blass simply tweeted "Honjo" with no further details. It's a convenient move as you certainly cannot accuse him of being wrong. He made no claims about the device, specs, release, etc. just the render, which is accurate.
However, I can say with fairly high confidence that 'Honjo' or what would be the Lumia 850 is not happening. I'd kind of like to be wrong on this, frankly, as I think the phone looks great. Then again, like all 8xx series it'd be perfect if…it had a dedicated camera button. New device, same old problem.
For now, we'll just have to wait for the Lumia 650 (Saana), which sources tell me is likely the last Nokia-Lumia design from the portfolio. Nothing else I hear is in the works except for whatever Panos and co are working on for fall 2016.
While a Lumia 650 is hard to get excited about I am rather intrigued by its design and hope it can continue to sustain that low-end MVNO market, a market that Windows Phone does seemingly well in.
Daniel Rubino is the Executive Editor of Windows Central, head reviewer, podcast co-host, and analyst. He has been covering Microsoft here since 2007, back when this site was called WMExperts (and later Windows Phone Central). His interests include Windows, Microsoft Surface, laptops, next-gen computing, and arguing with people on the internet.
Well sure, but it's generic for the line and they're all looking the same. No wow factor for certain, all generic Lumia styling which hasn't taken the world by storm. Maybe time for a new direction in the design department?

Agree, I miss that "Sharp corners" type of style. It really fits with Windows OS (Live tiles).

I really like the corners on my L735 and the overall design. Now all Lumias will look the same from the front. It's a shame that MS chooses to release both 550 and 650 for the affordable phones when "retrenching" and not having a mid range as well. The 6xx and the 7xx should have been the ones to keep besides the flagships if the 830 did really poor. Now they will have to work even harder to convince people to buy the 950s because iphone/samsung fans and LG G4 is already much cheaper, while there is a sea of models in the affordable range all the way to midrange

830 would have done better if the hardware inside of it was impressive. It was pricey for that configuration.

Yeah, I always imagine that what if Lumia 830 got 950 specs. That would be a great device which is a combination of looks, features and specs. It's kind of waste that they almost nailed it on 830 except for the specs. Lumia 930 was good but got major compromises like lack of glance, non-exapandable storage, and being too thick for a flagship. It still bothers me why they suddenly decided to choose that looks of current Lumia 950 series. It was really just the looks that is issue of it (yes there are people who do like it, but the reaction from other people and even from several reviews pointed that its looks is underwhelming for a flagship).

Have you actually hold 950 in your hand? I have received mine yesterday and I can tell you that it looks so premium. Yes, it's plastic, but it feels so good in a hand, such a great quality. So, I'm selling my Nokia 830 Gold without even thinking about it. Microsoft 950 is a great device, so don't listen those stupid reviewers and try it yourself first. They are always unhappy about something... If someone would offere me the latest iPhone 6s or even 6s plus, I definitely would choose 950, it's a good quality device. If you want it even more premium, get a back panel with leather/alluminium, what's a problem? I have LED TV at work with wireless Microsoft miracast, Microsoft portable keyboard and Microsoft Titanium Edition Arc mouse and Apple fans looking at me with a mouth open, because they can't do anything like that. That's a true innovation, I'm not talking about IRIS, it's a mind blowing innovation and it works! People are asking questions, that's what make it different from anything else! Touch it, feel it, smell it, test it yourself, then write comments like that.... :)

I must admit.. I saw it today.. Its seriously awesome. Although rounded corners dont look good.. But that feeling of holding it quality.. Its awesomeeee...
People really say iPhone is good.. But look wise i dont feel it good ... Nor that best.. To hold.. Moreoever i would vote Nexus 5x better than iPhone..

The problem isn't the plastic, like come on! I've been using Lumia since 2013 and they're all plastic and I'm don't have a problem with that, never really. I've been glad that they retain the premium feel and build quality of it. The issue is how it actually presents itselft, how it looks, the aesthetic qualities of it. I don't really care that much if it's made of full metal or full plastic (as long as not cheap plastic). Even its made of metal and looks undesirable, the metal material won't save it. I know that you love what you purchased, it really shows. It's fine. I'm still waiting for my new Lumia to arrive in my country since I'm also considering to have one despite I personally didn't the looks of it. The new Lumia is my only choice for W10M flagship at the moment anyways, there is no options yet. Yes, there is Acer Jade Primo, but I have to see their track record to actively support and service these devices hardware-wise. Not to mention I even dislike more about its looks, reminds me of Galaxy S3 with those fake brushed metal on a cheap-feeling glossy texture. A contradictory about how it presents itself and how it actually feels, it doesn't feel like brushed texture at all. I'm talking about Galaxy S3 here. Also the stupid reviews you talk about, even here in Windows Central they talk about its looks are underwhelming. The feel and build are still great together with specs and features. Still it pointed out that:

And let's be honest, the overall design of the phone is bland and generic. It is by no meansbad, just not inspiring.

Still that doesn't mean the functionality of the design is bad. Though even we have removable backs, that doesn't mean the look have to be that way. Several Lumia in the past have removable backs too but they look more iconic or simply it stand-out, having distinct visual identity. The looks issue is been pointed out consistently from several respectable reviews who reviewed Lumias in the past fairly, heck some of them even personally own one. I'm not totally against with these phones, it's just that I'm rather disappointed on why they have to look that way as if they're not trying (they do). All I can think about to make it more sense is that this phone is rushed to be released on the target launch, the design department didn't get much time to really give thought about it, also the restructuring and maybe because of lay-offs it somehow affects the development of these devices and the line-up. Who knows, it's not like they will tell us what exactly anyways and the real reason about it. This is the way it is and it's there. This is many are now excited with this rumored "Panos Phone" for next year. This might be the first real answer to the market to try win-back from the consumers. More users interested with it, the better for us and for the ecosystem. Well see how the story develops for next year.

Lumia 950 with Mozo Leather Flip replacement cover looks just amazing and really make it a premium phone with its steel frame and premium leather.

They dont care about selling the 950's, they are phones for fans, just a phone to keep their loyal fanbase happy until the panos phone is ready, the panos phone is what they plan to relaunch windows mobile with

sure. the Unicorn. 5th relaunch. new chipset. high price. team in charge with no previous cell phone design experience. what could possibly go wrong. ;) I hope they at least market 950/xl in Europe. Posted via the Windows Central App for Android

What a **** are you talking about? Have you actually seen this phone yourself? It's super premium and plastic feels amazing in a hand... I've got it and I love it !!!

You're saying this phone is to keep the loyal fan base happy??....
.....
Well, it's not working.

I know right ?? Basically the reason why i stick with my 1520. The sharp corners is what made it look different, of higher value and special. All the other phones are round, why now the high end windows phones ???

830 isn't round and I think its the best Lumia so far till 950 arrived.

The sharp corners!! Exactly.. Older Lumia's looked, and felt great... I love those corners.. Looks so tuff compared to this soft cushy BS.. Reminds me of some of these soft ,cushy, skinny jeans wearing, so called fans, around here... Us adult MEN want something tuff!

That's were people differ, apart from the look, which arguably fits the tiles, the sharp corners are a major flaw economically and after the 1020, great device, I will never go sharp cornered again. Actually love the integrated cover that the snap covers of 640,950 provide. Those are sturdy and replaceable. The only thing that could make me move the coming years is potential functionality of an intel phone, will see...

I have to disagree with you... The 1520's corners are perfection.... And, my opinion is the best,, because I'm always right about everything,,,, all the time... Yep.

I love my windows 10 mobile predictive text.

Agree.. Doesn't look "Lumia"... Looks "Samsung"
.....
Fail.... A lot of people said that MS would ruin Lumia, and they were right.. Either that, or Nokias design team list enthusiasm once they realized they were working towards nothing... Sad. Hopefully Panos can save the situation.

@It Wasnt Me:
It is a sad and unprecedented slide of ,if people not only describe the cheap plastic disasters that are the Lumia 950 and XL as "premium" but continue to regard this catastrophe as the new "premium standard" by which to judge further devices...

I think we should consider this is a phone. It's ok if it is a design disaster so long as it works. It really is. A disaster is akin to the thrashing I gave your mom's Hyman.

How can his mom have an intact hymen...? Posted from my Note 5

I really like the feel of that late black 950xl, far from "cheap plastic disaster" that these "people" talk about

just because it isnt metal doenst mean it isnt premium, plastic is better for functionality in so many ways, it obsorbs more impact than metal, so more resilient, it allows for wireless charging, it improves wireless signal as metal blocks more reception. you people need to stfu about these **** metal phones, if thats all you want, then go buy an htc, they have nice metal phones..

There are in fact "premium" looking plastics. Lot of expensive cars use it, while their buyers think it isn't plastic. But, "absorbing impact"... Well, if you have an aluminum laptop, its corners absorb impact better than if it were plastic. While aluminum would get marks by absorbing impact, the hard drive would be safer than if it were an impact on a plastic body, which would either look ok -ish or broken after impact.

Exactly.... Why should we lower our standards?

Honestly most smartphones look pretty generic, and the rest are obscured behind cases anyway. It's what's on the screen that matters.

Yes Posted via the Windows Central App for Android

I agree
Posted via No One Cares

There are a lot of beautiful phones out right now, stop making excuses for the boring design of the 950 series Lumia's. The "Most people put cases on anyways" mindset only has become prevelent here since Microsoft made these new phones. Nobody used to say that when Lumia's were beautiful.

Very true. In fact I used to carry my 720 and 925 naked because they were premium and beautiful. Nokia new how to make colourful aesthetically pleasing phones. MS, not so much. Posted from my Note 5

yea, because the 950 and every other phone wasnt a nokia design?

I think he also means the colors.

Excuses? From where I work I see people and their phones all the time, and very few of them stand out. I certainly wouldn't be able to identify them any better than "Oh, a Samsung/iPhone" any better than others would say "Oh, a Nokia/Lumia". This is an industry issue, not a Microsoft one.

Indeed that alot of smartphones nowadays tend to look generic, its not surprising especially for brands that actually don't make hardware. That doesn't mean that its an excuse for not trying to be more unique or iconic on their own. Car industry at least manage to make cars have distinct and identity to a certain extent to specific brand. The problem is Microsoft manage to make Lumia looks like those generic phones in the marketplace, they stopped trying. During x30 series, Lumia have its own distinct aesthetics and it doesn't look like some chinese generic android phones from unknown brands. Even some Lumia x40 series retain those qualities. Though it is mentioned that Lumia 950 series and 550 are Nokia designs, it doesn't even feel like it and if they're indeed are, they seem like rejected designs shelved for a reason.

I Agree. I am glad this new Samsung looking phone is cancelled. And no camera button? That's the worst possible thing I can imagine of. Suddenly my 830's value has increased alot now.

you need glasses if you think this looks anything like a samsung. do you even know what a samsung phone looks like? google S6, S6 Edge, or Note 5. Not even close.

Eventually people will understand that almost no one from the Nokia design team moved to Microsoft and that the only thing that moved were the design portfolios that Nokia had already in stock (from where the 950's designs came). If Microsoft failed to attract talent to Microsoft Mobile as they did to the Surface team, that's another problem. One that'll hopefully be resolved now that Microsoft Mobile is almost gone and the Surface team is taking charge. Posted via the Windows Central App for Android

Is that the plan? Yes I understand the rumors that Panos' team will be designing the "surface phone". Are you stating that Microsoft Mobile name is going away?

Exactly, the only Nokia Lumia that had a white bezel was Lumia 710 (as far as I remember)

The design team from Nokia never came over to Microsoft apparently.

Aren't these all the last Nokia style phone anyway, I thought I heard that they won't be making any new designed phones till Q1-Q2 2016

It looks better than 950 imho. Hope 650 will address the midrange need.

Other sites claim the 850 and 750 will be released the 750 in jan2016

Daniel has spoken lol i dont take anyone else's word on microsoft over his lolol

Stop roaming in WMPowerUser :D

Yeah, that's obviously not going to happen. Terrible time of year to release phones in the first place, and Microsoft would have announced something by now if they had any intention to actually sell them.

They don't need to crowd things up. 550, 650, and 950. Wonder if they'll decide to do a phablet version of the 650 like they did with the 640? That could be cool.

L650 would address mid-range with its SD410 processor. It was kind of strange that L640, L730 and L830 all use the same SD400 processor. No wonder that L830 couldn't go anywhere even it got a pretty case. L650 should do well. But I there is room for an upper mid-range with SD617 and 1080MP as rumored. If it supports Continuum with a price around $400, It would have great appeal to the old L730-L830 and business crowd. There is just such a big gap between L650 and L950. The huge 40% drop in 3Q sales has sent chills to the back of all the WP developers and consumers alike. Streamlining strategy is OK but the back breaking is not. MS has to be very careful not to be biased toward any market sectors. You have to fire all cylinders from top to bottom, consumers and business alke. Instead, MS has casted doubts in many minds in the last couple years. Hopefully, Nandella's new strategies won't turn into new mistakes.

I think you mean 1080p =)

Exactly..the gap between 650 and 950 is actually very huge..650 will cost around 13000 INR ($190) and 950 costs 44000 INR ($650)..If they plan on making three phones a year, one should be around $150-$200, middle tier should be $250-$300 and highest tier should be $400+..

$100, $300 and $450 should be the price points. The 950 needs to be cheaper if they want to make any headway into the market. You can buy a 128GB Nexus 6p for the price of the base 950XL. There is nothing the 950 does better than the Nexus. Nothing, including Continuum. Posted via the Windows Central App for Android

Toooo much bezel - looks like a dated Samsung and is not appealing in any way - Nokia curved screens, colours and uni-body designs were so much more appealing, attractive and unique.

To be fair its not a flagship so that bezel thickness is not surprising. This is also why I don't think having white bezel is a good idea since it just amplify how big the bezels are and it just expose the ugly holes for the sensors. Black front is always better in terms of looks.

Some people like white, it's a good option to provide.

could have done well in the markets that like gaudy gold (China, India, Middle-East etc.). Posted via the Windows Central App for Android

Looks like a rehash of the L925.

Look like something huawei would make.

Yea my first reaction as well.

It says 650 is the last Lumia to be made. So windows phone has finally kicked the bucket. What a waste of time and money

Last Lumia-designed Lumia. Not last Lumia. Windows phone is here to stay. Microsoft simply cannot give up on Windows phone as the third largest tech company. It's the way of the future and they have plenty of innovation so... We'll see what panos has in store for us.

Apart from it looks nothing like the Honor 7, the Mate S, the P8 or the Nexus 6P...

**** that actually looks nice. Although most likely I'd still go for the high end flagship aka. 950XL but it would've been nice for ppl that like mid range phones

Glad they cancelled those bezels...wow

Huge bezels and still no capacitive buttons? Yeah, can't say I'm impressed with the design. It's not terrible, but not good either.

Ni, it's terrible. Looks so un Modern Windows and has nothing unique, stylish or attractive going for it.

Chinese factory and BLU, this is your chance to steal it!

830 over 640 anytime if you want style, feel,design,camera. If price, 640. 650 is yet unknown and if announced when Dan says it'll probably be wide available at March.

So the 830, while a previous generation, is still superior. Thanks

If you are a selfie lover.. 830 is not for you.. Trust me..

Yeah 0.9mp front. I'm not a selfie guy though. So that's ok

I have been using 830 for 10 months now, and I did compare it with 640, and I'm happy with my 830.

640/50 basically the same to better specs than that device
And significantly more cheaper and more bang for your buck Posted via the Windows Central App for Android

I just got a L830 coming from a L930 and i don't think will ever go back. Wonder why making Selfies is even considered a feature, what's wrong with this society?

I'm actually looking forward to that style of 6XX series phone. It will do well on the MVNO carriers and its an area I felt Microsoft should've leveraged to build up market share. Android basically owns the MVNO market to themselves. A good price and nice style plus continued push to bring Windows 10 closer together.

Shes sexy. maybe i could afford her. I dont have over 800 redaly availible for a phone at this time. Now a 2 year contract yes! Hey Telus do you hear me 2 year contract!!

Ok, so how does reports of a device similar to 850 spec with a 617 soc show up recently if its been cancelled for months. That doesnt make sense.

Online benchmarks are easily faked. Also, at least what I write is reliable. Remember when I squashed rumors of a cyan Lumia 950? Or go read my July write up on cityman/talkman and see how they held up. Hey, I could be wrong on this. I'm not Microsoft, but my sources have been accurate in the past and I have no reason to not believe. them. Plus, I have seen recent documents on the 650. I have not for the 850.

So what about a mid ranger Daniel? Now there is a empty spot in the line-up. No mid ranger, no affordable phablet like the 640xl. I understand they are preparing something new for q4 2016 but untill then they could have released something to cover the gap. They are repeating the Mclaren mistake. Cancelling something even tough they are left with nothing to show. Why can't MS synchronize themselves so they can have yearly releases across the line-up with a clear potofolio of devices? Instead of letting 18-24 months betwenn model refreshes? 820->830, 620->640, 1520->950xl, 930->850, 720->730. You can't build brand awareness and a following with this release schedule, while your competitors are consistent with their releases

Microsoft announced they are not competing with iOS or Android any more ... they said they are going to have just a hand full of devices instead of an entire line up. The phablet we are going to get is the 950 xl they just released. the 550 and 650 are your midrangers ... 950, 550, and 650 is the whole line up ... if they keep Windows 10 for phones going forward it will probably just get a once a year hardware refresh ... you do realize they loose money on their Windows 10 for phone business don't you? slimming down to a small line up is to curtail the loss.

I guess they have to change the name of the new 650 to 750 then. It is not logic that the three lines are 5XX, 6XX & 9XX.
5XX, 7XX & 9XX makes much more sense :)

Did you read the article? Daniel answers that question.

Yes, I did read his article, did you read my reply? All Daniel was talking about in his article was about renders, leakers and speculation. I was actually talking about recent sightings in benchmark testing of new devices.which shows a new Lumia device running a 617soc. This doesn't make sense to see a deivice being tested if it was canceled months ago. Daniel has now explained my query. In this case I would say that Daniel's report is more likely true as it doesn' make sense to bring out a 7xx/8xx for 2 teasons 1) A device like this won't compete on pricing against mid tier Android devices 2) If it did compete on price then it would harm sales for the 950/950XL

I prefer the black front so the bezels aren't so obvious.

For me the 735 hit the spot. I currently sport one, and so does my wife, for whom it's the perfect size, with a sexy design. My only complaint? The processor. Always found it odd that Nokia wouldn't release it with a snapdragon 600 series Soc. 400 series was overused between low range and midrange devices, it killed the midrange because people were getting the same stuff for less in the low range.
.
I think after the 950 fiasco, a 750 or 850 would actually sell well if they had at least mid range internals.
.
Midrange internals being: 900p/1080p displays, SD610/617 processors, 1/3" camera sensor.
.
A guy can hope.

Like you say, a 900p screen + SD 610 + (AM)OLED, yes this is important + 1GB + 8-16GB + a midrange camera would be awesome! :)

I agree! The 735 is an awesome midrange phone that offers so much from an AMOLED display to a very nice form factor. It could have been a big seller for Microsoft if they were clever enough not to advertise it only as "The Selfie Phone". Duh. ​

Agree. My best friend got one on my recommendation and he became a WP advocate to his friends even though he is not a geek at all. We now got a 640 for another friend and having seen it in person I am kind of sorry I did not push for the 735. It looks waaay better. In specs, looks and features the 735 absolutely hit the sweetspot and if MS could not make it sell, well, shame on them. The 810-20-30 never made sense to me (with that pricing) and the re-baged Nokia Fakedroids, a.k.a the 400 series look tacky and truly horrific (with pretty bad specs). And don't even get me started on the mess around 530-532-535 and different RAM versions of these... THAT was the clutter they needed to clean up, not the 700 series. Also, who makes a 500, 600 and 900 series? Is it only me who finds that naming convention odd? Shouldn't it be 500-700-900?

Nokia Lumia 8XX with a little low price would have been a killer..

I don't think WP ever supported SD6XX -series.

Wow, those 650 specs look great for a buget/midrange device. Glad that Microsoft is putting AMOLED screens in their phones, even the budget ones. :)

And what are they going to show at the MWC of Barcelona? Last year was 640/640XL!

Yeah, the timing is weird on that and MWC is not too far off either. So either it will just be there or they will save the announcement for then. I don't expect it at CES, however.

Perhaps they had planned to announce the cancelled Intel chipped device. Posted via the Windows Central App for Android

That's what I suppose. Thanks!

What happened to MS promise that they'd be making more phones (probably midrange) with the WindowsHello feature?

Only really looks decent because of the white and gold, otherwise it just looks eh. Add on the lack of a camera button, and it'd be hard to justify upgrading my L830 to something like this. Now, however, I found myself being left out as I'm not interested in the L550, and I would consider an L950 if it didn't have an AMOLED screen. Hopefully they come out with something I can be excited about eventually.

You don't like AMOLED? :O

I prefer the reliability of LED. I don't like using AMOLED screens because, in the back of my mind, I feel like I have to keep everything moving to prevent the burn in effect and having lots of white on the screen would make me feel like I'm unnecessarily killing the battery.

Burn in effect? You do know it's 2015, right? I have only ever used AMOLED for the past years (Samsung, Lumia 800, Lumia 930) and never had an issue with that. On the other hand the blacks onmmy phones were, you know, BLACK. Not gery, washed out, with leaking light sources around the screen, but properly black, which makes everything POP on the scresn, helps readability and works exceptionally well with the Metro design.

Yea its 2015 and burn in still happens. Posted via the Windows Central App for Android

Yep. Burn in is here for my 2-year old 925. It's very obvious in the bottom bar with the ellipses (...) button.

Same, but Lumia 1020 for me. Bottom buttons all burned in. Never left my screen on crazy amounts of time or used GPS much, either. But I still love AMOLED. Posted via the Note 4/Nexus 7 (2013)/Lumia 1020/Lumia 2520

Um, yeah, burn in will always be a thing with AMOLED. No matter what year it is. Posted via the Note 4/Nexus 7 (2013)/Lumia 1020/Lumia 2520

Zero burn-in on my 2.5 year old Ativ S - and the display is just so crisp.

I'm not keen on Amoled either. Posted via the Windows Central App for Android

Yes, a huge downgrade from 830 just looking at the looks. We're stuck with 950/xl upgrade then until Surface Phone arrives.

Same.. I feel left out... One day my Lumia 830 will die and Il have no option :'(

These... are actually good looking.

looks like one of those generic chinese phones. Far from a worthy successor to the 830. Then again, same story with 950 and 925

Funny because WMPoweruser were talking as if it were uncancelled. Of course, I trust Windows Central's accuracy more :)

I don't think that 8xx series is a failure. I think that was the sweet spot where budget and quality meet up. Not as expensive as a 9xx but nearly as powerful as one...

So, you're confusing your likes/needs/preferences with what actually sold. I'm talking about the latter. Sure, I liked the 820/830 too, but that is all beside the point when you are cutting back.

8xx series have great potential. Rhey've been ruined with bad decissions, 810 was exclusive that never updated, 830 was great but waaaaay overpriced, if it was priced corectly it would be nice seller as was 820.

830 indeed had ridicilous pricing (and a low-end processor, weaker than in the then 2-year-old 820). And 820 suffered from being released together with 920 (and WP not supporting 540x960, although I don't know if they would have used it anyway).

Yeah, the major issue with Lumia 830 was the price, it's like that's the major complaint about it. They're asking for a price like it was an entry-flagship. If they released it with Snapdragon 600 and 2GB of RAM (optional), it will make more sense.

First law of internet tech commenting: whatever I like is what the market wants - even when it doesn't

All hail the new savior, Panos's Surface phone!!! :)

Cominc soon in 2017 with SB/SP4 bugs for your consuming pleasure! :P Posted via the Windows Central App for Android

So Dan, what will be the options for a midrange Windows phone? 1G phones get the job done, but there are those of us wo want to step up from the 640 without having to leap to the 950. Have we heard any more about the Jade Primo or any other OEM? The one category we haven't heard about is Enterprise, I would think a solid midrange offering would fit in perfectly.

Jade Primo is likely at CES is my guess. Expect other OEMs at CES too, although how many I do not know nor if they meet your needs, but there will be some.

I'm hoping HTC will (or somebody) will give us another M8 Windows.

Would be nice. Not counting on it, however.

They should have included 2GB RAM ... But it's okay ... Hey Dan, Whether the " Panos Surface phone " will be in a Mid-Range space or high end ?.. Just curious..

Dan always said mid range .

Is that a good news or a bad news ... I'm already pumped.. :D

I was thinking that until the Intel phone was cancelled. I expect the Panos phone to be expensive. Or maybe it has optional expensive accessories.

I expect high-end and premium. Expensive, not mid range.

Hey Dan, are they gonna drop the lumia brand??
Or are they just adding a surface phone and continue with the lumia series?? #AskDanWindows

I hope, Nokia comes back to business..and MS allows them to use Lumia brand..Nokia Lumia sounds premium..

That's too bad. But currently happy with my 9 month old Lumia 830. Dedicated camera button, built in wireless charging, Glance, and double tap to wake. Features I refuse to give up! And currently running W10 mobile like a champ.

I hear you. I recently obtained a used 830 and prefer it to the 930 (also recently obtained). After so long in the 635/640 world, camera button, working glance, and wireless charging are some premium features that I don't want to give up in a future phone.

Glance, wireless charging, double tap and dedicated camera button should be included in all future phones. Once you get use to these features, which are awesome, you don't want it missing on the newer models!

Agreed! I won't even consider the 950 series as a replacement until MS fixes the double tap issue. If it can be fixed.

Isn't the Qualcomm Snapdragon 410 a bit old? It was released in 2014. I'd rather like Microsoft to put in a 415 or higher.

Yeah, Snapdragon 410 would be well over 1 year old when Lumia 650 if is going to be announced in Q1 2016. And, except for the metallic frame and maybe camera( especially Front Camera), nobody would be interested in buying it over Lumia 640, as this won't be any serious upgrade.
In my views, Lumia 650 should have Snapdragon 415 1.4 Ghz quad core processor to be on par with Moto G 2016 with front facing stereo speakers, and Microsoft should soon announce support for latest Snapdragon processors for 2016 line up.
Look at the pricing dip that took place in Lumia 640 from 180$ to 50-60$, that explains the quality and emphasis given by Microsoft in making Lumias. Except for Flagship premium Lumias, Microsoft is always using old Snapdragon processors in low and Mid range Lumias.

Ugly. Can't even imagine of replacing my 830 with this crap.

Luckily you don't have to!

-_- Posted via the Windows Central App for Android

I would love to see a compact flagship in a similar style to the xperia compact phones. something in the vicinity of 4.5"-4.8" screen, and have the features of the 950 series, just in a smaller package. Preferably lower resolution display as well.

Yeah, kind of agree. Funny how we went from small to huge phones now everyone is changing their minds again, lol.

Maybe, that's because Sony and Apple/Samsung have the sizes on offer now - everyone shouts for what they want here and MS needs compact, mid-range and large?

I thought they cancelled the cancellation but in fact they cancelled the cancellation of the cancellation?

It went from "Coming Soon" back to "Undocumented Speculation"

I like that design. I hope it gets uncanceled.

not likely, waaay to late now.

Low, mid and top model. Nothing more! Too many models causes confusion of potential customers. Similar mess creates Samsung, Huawei and many others.

That's why I question a 650. It's a small step from the 550, and doesn't really qualify for a Midrange/Enterprise addition. We haven't heard about that level yet.

Tbh 650 specs feels still lowend. Hope it gets more oomph to be called true midend phone vs competition

Please, 1.5/16G would be good ,2/32G even better. Keep the 5.2" form. Keep the back cover, I like silver and black.

The 650 will become the new midrange.

so Daniel.. which phone was Nadella supposed to be referring to for corporate users again (if, as you say, the Surface phone, is about the "creating new categories" bit)? Posted via the Windows Central App for Android

That is a question that even my sources do not have an answer too. I'm thinking maybe XL due to the way they are positioning the Display Dock, but not 100%.

or was the original Intel phone not yet cancelled at that point? or maybe - and my guess - he was taling about Surface phoned in general and the "new categories " sstuff is just too far out or just marketing fluff. yes ceos do it too, even Masterminds.. lol. Or, Surface is both in his mind. Posted via the Windows Central App for Android 950xl does not make sense as 950 does all of it too. or if it is 950xl then the categorization is even more artificial/confusing/weird than i thought.

There should have been a mid ranger somewhere. Another year, another MS screw up

What about making a 730 successor and pricing it competitive..it will sell well..but they want to give 6.7 MP camera with an old processor and price it ₹15000 (INR),,then they complain it didn't sell well..MS still has not understood..people want phones that can fill the gap between a 950 or Surface phone and a Lumia 650..Not everyone can buy a Surface phone..People like me will leave Windows Phone platform not because they don't like the Software, but because MS doesn't give them enough choice in hardware..

That's a good question, as there's a lot of "noise" out there as we all try to fill the vacuum of Microsoft's cone of silence. The "Enterprise" and "Surface" narrative is starting to get away from them as rumors and speculation get way out in front. They really need to do some PR to reel it all back in. Posted via the Windows Central App for Android

Not everyone can buy a Surface..and not everyone can be happy with a Lumia 650..moreover there is no difference between a 640 and a 650..no one is going to upgrade..

They all look like part of a contingency plan. Had the plan to directly compete with Android/iPhone panned out you'd probably see a lot of these phones released.

I guess I'm one of the few who thinks the iPhone is ugly as sin. Especially the white. I don't like this design at all and sure hope they don't move towards this design direction with the "Surface Phone".

Off topic here but in some ways relevant...what we see here is a common thread in design...the 650 doesn't look too far off from the 950 in design, except for a distinct rim. And is it still a leftover from Nokia? While I ask this, I also remember you saying the 950/950xl was also a spillover from Nokia, but I'm trouble believing Nokia could resort to this sort of a bland design. I mean why would they when they had so many stellar designs right upto that point- even my 930 is spectacular even as I type this on it right now. Isn't it possible that a lazy team in Microsoft designed the 950/950xl and called it a day? And that lazy team has designed this 650 too?

Nokia had their share of bland design ... Anyway, the 950\XL designs were probably designed during the Nokia (PHONE division) purchase timeframe & the designers could've simply decided to take the "not our problem anymore" & threw something together quickly route...

What's the difference between Lumia 650 & 640?

With what Dan has shared, not much, aside from the front camera and processor. I have a 640 and I'll have to pass on the 650, there's just not enough difference to justify giving it a chance. If it was smaller though, I could see myself considering it, but it being the same size, there's no point.

Good cancellation, the render has no camera button (boo), a single led flash (downgrade from 830) and just looks boring. The 8XX series should be a SD6XX series with the dedicated camera functionality and 2GB RAM, then sell it at $199.

You're asking for a lot for $199.

Microsoftinsider.es uploaded a different render of the Lumia 850! http://www.microsoftinsider.es/wp-content/uploads/2015/12/805d47a7d933c8...

Should of been a a
410 processor in the 640.Microsoft are rip off merchants

every time I read how Elop got fired I can't help thinking it slightly ironic that the guy who kept WP alive for the early years got the boot in the end. Posted via the Windows Central App for Android

I have 171 grams in my hand should taking for the next 18 months.

I'm curious about something, what's gonna separate the "Surface Phone" from the likes of the Lumia 9xx & M8? Obviously the specs will better, but what else aside from specs & design? Or is it Just rebranding the next 9xx a 'Surface'?

The "Surface phone" will have intel CPU and possibly be able to run desktop software in Continuum mode.

Hmm...Probably would've bought this ...this looks better than the 950 Posted via the Windows Central App for Android

Daniel Rubino, if you have any contact with Microsoft, please give them this suggestion. A brand new phone named "Microsoft Lumia 920 Remake" "Reimagined" (seriously, there is nothing wrong with adding an exclusive title to your phone). It should have the exact design of Lumia 920, that beautiful flush rugged polycarbonate unibody,but the bezel should be much smaller to accomodate a bigger screen (4.8-4.9", nothing more that that please) 1080p FHD display, would be better if IPS LCD, 2 GB ram, 32 Gb expandable storage, same camera setup as Lumia 950 and 950 XL, Snapdragon 615 or even better Snapdragon 808, 3000 mah (as we know, to make a flush back design, this phone will be quite thivk, so there will be plenty of space to accomodate a 3000 mah battery). 2.5D glass just like Lumia 920. and DO NOT price it a single penny more than 450-470$. Now tell me is that achievable or not? and does anyone agree with me on this one?

As long as many have held on to the 920, I think most would prefer something completely new and fresh. But I could be wrong.

I always thought the 920 was ugly - that, and the price difference, is what put me on to the Ativ S.

Play with Lumia 920 for a couple of minutes if you can find one, and you will know this is perhaps among THE BEST MADE phones ever.
Also, I have clearly mentioned to I'm the request to keep the bezels as small as MS can, so I don't think my suggested Lumia 920 Remake won't be as bulky and bricky as the original one. Posted via my Samsung Galaxy S3 Neo which isn't as much abandoned as any Windows Phone on the Windows Central App for Android

Why does microsoft always desides to cancel all the great looking phones? Gosh!

As you say Daniel , I trust you , this device "650" seems right to me for a secondary phone

That's gonna be my secondary device for sure.. I hope it comes with duel SIM... But the pricing should be right...if they can match the launch price of L640.. This will be the top lumia in market share..

I have an 830 and so ****** of right now! Gawd.... XC

Even though we have our app issues, I love being a part of the journey. Next year will be a great year for Microsoft Imo, especially with a new handset.

I actually don't care about the number of apps in the store.. I'm not concerned about Snapchat... The point is quality of the apps... Which I think is not getting better any time soon.. I don't crave for new features.. I need a stable basic app.. First of all most developers are not interested in WP .. That's fine.. But in those who are interested, some of them are failing to give us a quality app.. Hard truth..

And updates as well. Just look at Kik and Spotify and others updated long ago with no support so what's the point Posted via the Windows Central App for Android

Great job Daniel but a your article seems to provoke more questions.
What's the business phone nadella is referring?
Looking forward, only one US Carrier and only one device available [I.e. 950]. excluding US market, how did the 7XX and 8XX do? Assume 640 sells much better than 640XL. 640XL not available on any U.S. carrier. AT&T 640 selling for $35 during holidays. Can't compare AT&T/Cricket/TMo 640 vs. (unlocked) 640 XL.
Seems if 950XL is only available in direct sales (I.e. MS store) than why can't we have a midrange 850 available in MS store only? It's doesn't seem that 950XL can outsell 650XL, 850, etc. Why would MS not support this price point (I.e. $300-$400).

AT&T was the only ones who sold the 640 XL. As for what you said, even if it was a MS exclusive, it would still be counted as an extra device to produce and manfacture, regardless.

Looks **** ugly to me and a disgrace to the Nokia Lumia 830 which was one of the beat looking Nokia phones along with the 925.

Well, moving to Android..can't afford iPhone..

Enjoy. Posted via the Windows Central App for Android

Ugly phone, glad it was canned. 950 styles even look like samsungs. Nokia design was the best, can't think of a better looking phone than the 1520.

Yep! The 920, 925, and 1520 will go down in history as some of the best looking phones ever made... but I imagine the design is difficult to build, so they are moving towards a simpler boxier design that is cheaper to make, but still looks pretty nice. At least it isn't the Icon... that was one fugly phone.

I must agree with a lot of other commenters: a new 650 model doesn't really make much sense, even in a three models world. It's way to close to the 550 model and leaves a huge gap to the 950. Stating the fact that 73x and 830 never sold very well is, again, a very US-centric observation. In the EU countries these models did very well.
​But sales numbers aside, a three models range of Lumia's should differentiate more instead of this rather incremental upgrade to a 550. Axing the 8xx series seems logical, but it would also seem logical to axe the 6xx series in favor of a 7xx midrange! Especially when the 550 and 650 models turn out to differ only a few bucks in price, that would totally make the 550 instantly obsolete... ​Just my thoughts... :)

We don't know that. We don't know where the 650 fits, though labeling it a 750 makes more sense.

You are right about few things.. Bit not all.. There is another side to it.. W10M is not just about Lumia.. MS is actually hoping for other OEMs to step in.. The 650 will definitely make the 550 obsolete.. But MS had no other choice than releasing 550.. Market share was going down because of no new low end/high end devices ... Consider 550 as a stop gap device.. When 650 is out... 550 will eventually die.. So the Lumia offerings would be L650,L950/XL.. That gives other OEMs enough space to try their luck.. Hopefully other OEMs will flood the market ... Or as Nadella explained before "If they wont step in , We will" ... Although I love to use Lumia , there must be competition in the market.. That will lead to competitive pricing.. Which is eventually good for cunsumer..

550 will outsell the 650. It's cheaper and not missing any features. Posted via the Windows Central App for Android

processor may be..210 vs 410..

It's a nice idea, but after Samsung just gave up on providing any support/updates for the Ativ S I'd be a little nervous about non-MS phones, at least for the next wee while.

I don't think there'll be other OEMs except a couple phones from Acer and maybe Samsung

My thoughts..either a 750 or an 850..price around 220-230 USD..

I'm eating, please don't post this stuff. You'll make me vomit. Seriously, this thing is hideous. Looks like an iPhone copycat.

And everyone was complaining that L950s were not iPhonish .. Sigh

Looks nice imho... Also I believe the 830 was a very attractive device... My gf loves hers

The design's crap. It looks like major samsung phone.

What kinda design do you like?

Funny, that's got to be one of the worst for me. I haaaaaaaaaaaate the metal back, it makes the phone too slick to reasonably handle. That means requiring a case, which means the design is then hidden. My cousin had one, and he fumbled it a million times over. I held it a couple of times, and it was definitely the slickest phone I ever held.

That's good to think about, thanks. But I like the style. Ideally the same sort of design with more of a textured back cover, and removable. I bought a htc 526 for a friend and really like the feel of it. But to each his own. And I've only dropped mine about twice so I'm not worried about fumbling.

They are slippery phones... but boy are they pretty!

I honestly don't even think that. I don't like light-colored electronics. I find that metal unattractive. I didn't like it on the Zune HD 32, either--I much preferred the dark metal of the Zune HD 16. Same for the Surface Pro--liked the first 2, don't like the newest ones. Beyond that metal, it's just a rounded rectangle. No camera button, no off-screen nav buttons. Nothing I can say looks good to me.

I have the 830 and to me Microsoft don't know how to sell their on phones or tablets or PC'S

This is proof of just how cheap a design that reminds of an iphone looks. I'm sure people will love it, especially those who dislike the 950s. I just hope the Lumia line doesn't turn into that.

I really don't care about new Lumias, since that all phones with windows 10 will be updated by Microsoft. What i want is more OEM doing phones or run windows 10 mobile on any android phone with snapdragon or intel SoC.

So obviously Microsoft's strategy to attract OEMs failed then if they are now releasing heaps of different cheap phone models again. And it doesn't help their ASP neither. The ASP of Android phones is about $70 higher than Microsofts'.

Looks nice Posted via the Windows Central App for Android

just make the Surface Phone already, it was good to cancel Low enders to get ready for the Surface Phones

Aimed at different markets, those actions are not tied to each other.

This phone looks way better than 950s

But still sucks.. Reboot of 830 with newer processor and 2gb ram would have been a lot better..

Great article daniel, actually has something in it more than just spreading the render.

Daniel can you please write more pointless articles like this it seems to attract the stupid people away from the other forums...

i actually like it more than my 950. To diverge, what's with the on-screen menu buttons on all these new models? It kind of clashes with certain apps in terms of practicallity and to be frank, I feel gyped on the screen size they're advertising when a portion of it is dedicated to the face buttons and in conjunction with all the plastic contributes to an overal cheap feeling for a $600 device

More ill informed rubbish... You can hide the face buttons.

Where Apples attract people with more money than sense and they have 60% of the american market it doesn't bode well for Windows whom at this moment in time seem to attract the americans with no money and no sense...

I Think 730 Sold Very Well In India...My 5-6 frnds have 730 and I'm Personally was wating for 750 to show up so I can Buy...n it looks it never gonna Happen...MS Should Release 750..n Yes 8xx series was always the odd one

Yeah it really sold very well in India. I know many people using it. I love the form factor as well. The only thing which it lacks is 4G band.

@It Wasnt Me:
It is a sad and unprecedented slide of standards and expectations, if people not only describe the cheap plastic disasters that are the Lumia 950 and XL as "premium" but continue to regard this catastrophes as the new "premium standard" by which to judge further devices...

Thank GOD it was cancelled. It looks like a Galaxy. I hate Samsung Phones and their design. I miss the L800, L920 & L1020 Style. The best! Now I have a L930 that is good looking too, but I really miss my old L800. It was beautiful! BTW, I prefer "physical" buttons (back, home and search).

WindowsPhoenix...Is your life that sad that you spend your time on forums slagging off a phone you had no intention to buy anyway.

Here is the truth. In developing countries, Lumia 7xx is what Lumia 9xx is for developed countries. That is the maximum that most people can afford to spend and still get a quality device. Hence cancelling it is a HUGE mistake. I hope that Microsoft understands this before its too late.

But then again previous 9xx devices have started at $900+ in the past, while the 950 is starting at $600. The 9xx devices are starting a little cheaper, the 5xx devices is bringing back previous features while still hitting that $1-130 range... if I were a betting man, I would guess that the 650 is going to be somewhere between the previous 6xx and 7xx devices. Still a very nice respectable phone like the 7xx lineup has been, but offing a lower price point.
With the top phone coming down a bit to be more accessible, and the 'normal' phone coming up a bit, I think they will still manage to hit acceptable quality and price points in most markets. Besides, that 550 is no slouch either, especially for the price!

$900 for which Lumia exactly, or are you quoting Australian dollars? There's never been a Lumia that cost that much at full retail, not sure where you're getting your info from.

What will happen, if Daniel emerges as wrong and Devices will unveil as 850 as in renders? The unwilling date is near? Will they host special event in CES or silently announce, like they did with 540?

As nice as it can be to have a whole fleet of phones out there, I am glad that the lineup has been truncated.
Now we have a very nice high end device in 2 sizes, and an entry level device. Throw in a true 'budget' device, and we have a pretty full spectrum lineup. Fewer offerings, fewer region/carrier devices, fewer development costs, a more streamlined pipe... it really is the right direction, far less confusion. There may also be some room for a 650XL in the mix to give a budget phablet that would be popular in some markets... but really that is all that Lumia needs. Now, having a 'surface' or non-lumia lineup is a whole different thing. With the surface line we could see a 'desktop phone', or a new 1020-like device with an insane camera. But the point is that it would be a very different product lineup aiming at a whole different group of people and would not muddy the waters and confuse people like Lumia branding has done.

I want a budget continnum phone, maybe an 850 would do it

Maybe a 950 in 7-8 months...

its good that it got canceled this doesn't look superier to 830 at all it looks like a low end not a mid range

Borrowing design elements from the 5S isn't such a bad idea. That was actually the last decent looking phone Apple made before they just starting re-hashing Samsung Galaxy designs.

Microsoft should provide patent protection and distribution assistance for Xiaomi to come in to the US with Android phones in exchange for building two or three midrange Windows phones for 24 months. Something like the Xiaomi Mi4 with US LTE bands and a better camera would be absolutely perfect.

I don't get this looks thing the difference in style is miniscule across smartphones... Shirley it is whats inside that counts first and foremost?

Of course, making such a change would have made it a "Lumia 935" or something.

830 would probably have sold better if it has Snapdragon 6XX series processor (same series as in HTC One M7) but at same price. Having same processor as 630/635 and 730/735 at much higher price why would people choose this?

830 was probably the dumbest decision ever made. Adorable flagship my ***.

adorable indeed... affordable, or flagship, not so much..

By the end of next year Continuum will have taken the snapdragon to the limit and will be looking to go beyond, i just don't see the point in bringing out an inferior phone to run Continuum it would be a disaster. I can see Microsoft cutting the price of the 950 later next year to mid range price, when the new flagship appears.

Bezels are killing me with theses Microsoft lumias

Daniel how about the 1020 series? Will they continue with it? Or it also cancelled?

I have 2 830s. Love this phone. But, if that 850 got released, It would be mine. That ***** sexy!! The bezels. Mmmmmmm

Back on July, you reported to Saana like Lumia 830 sucessor, It would be Lumia 850. Now, you suggest Saana is the Lumia 650 where must be Saimaa. So Rubino, it's time to confirm this pile of info again with your sources.

The info presented here is now the correct info. Sorry, that early on and details get fuzzy from sources.

I remain sad no compelling mid-range every showed up as a true successor to the 8xx series phones. I still love my 810, and I've always liked to imagine it was a sweet spot right under a flagship. Good thing the actual flagships are priced fairly low in relation to their Android/Apple competition.

Ok, planning on getting a 1520, to replace my 925

Looks like they were really planning on pushing the "affordable flagship" idea with the gold and white screaming "I'm premium but you only pay midrange for me BUY ME". EXCEPT the 830 wasn't adorable and the 850 certainly wasn't gonna be.

Thats iphoneish man, where is the lumia legacy, even lumia 520 is superior than this.

Looking good. That's why cancelled by Nadella.

This phone could get Apple some earning. Same like Samsung incident.
#shapepatent

Ok its pure bs.. In my country 730,720,710 are and were bestseller.. People bought these phone coz a)they were in the hottest price band..same as in mi4 nexus 5 range.. I mean you don't sell one fir 120 usd and another for 600usd.. It pure bs.. You got to have a mid range phone.. A phone that will generate number.. That everyone will buy.. This is pure bs.. In my country 6xx series never picked up.. They were substandard phone.. Their hardware were a year old. Like we see in speculated 650.. Nothing exciting and always competed with 550.. Nothing exciting.. Whereas 7xx series had excitemet of flagship.. Or at least design.. But less features.. Which made it best phone.. Microsoft yiu are messing things if you dint release mid range by Feb.. That will deflate all windows hype.. Your call.. At that time we will have mi5 with windows.. Hopefully.. Or android.. People will buy that..

Oh wait that's there strategy.. To make the high end and let other oems make the mid range.. Ohh now i understand.. Lets hope this answers some of doubts of people of my country.
:)

The reason 830 failed was it was priced wrong,it was just too expensive

Lumia 830 did poorly because of exclusive *****

This is the nicest looking phone Microsoft has designed yet... So of course it's cancelled. The 830 was a beautiful device with premium industrial design. The reason it did poorly on AT&T (and elsewhere) is that is was very pooly speced for its $450 asking price. Had Microsoft built in a Qualcomm 6xx processor, 2GB of RAM, a 1080p screen, and maybe OIS, it would have felt like a proper upper-midrange device at that price. As it was you could be a Moto G with nearly identical internals for $175, and even a Lumia 640 with the same processor and screen resolution for under $100. The solution for selling more devices should be obvious: build more value into every price point, not kill the things altogether.

Congratulations, Microsoft phones are now looking even more boring and barely recognisable from millions of other phones. That is gonna definitely rise its market share! ...

Doesn't look much different than my 640xl.. Those bezels would be acceptable if it had front facing speakers like moto g 3rd gen.. Also no camera button, considering the 830 had it.. Only thing i miss coming from a 625..

I'd happily replace my Ativ S with something that looked like that. As it stands, I'm hoping it keeps working long enough for some downwards price movement on the 950 - I'm just not happy spending NZ$1149. Sure, it's slightly less than an iPhone 6S, but more than a Galaxy S6 - not that I'd change platforms. Surely I'm not the only person in the world who wants to spend NZ$800-900?

Not in the least interested by the 2015/16 range of new WP. The 950 is too expansive and not steady enough with W10 and below 550/650 are cheap sets. Basically, people, keep holding on your 7xx/8xx/9xx lots of potential to upgrade (OS + accessoiries). This makes it hard for afficionados to recommand WP anymore ... a) you got the budget : get the 950 b) you got a tight budget : go to a chinese brand. It's a major deception 'cause I used to argue about camera, lenses, Pure View, stabilization, SDcard, good finish, metal frame, removable battery, etc. I guess it's all for the better, will be give more free time out of forums.

Or a discounted HTC One m8 Win Ed.

Don't like these renders at all. White bezels is ugly. And about the L950, I have one and the old L830. While my 950 works well, has all the specs it needs, the design and premium feel doens't match that. My L830 has more quality and premium feel actually, not that I think 950 is bad but it feels a bit plastic. I don't think a premium phone needs metal but 950 is not up there. Feel like 950 is what it is, a gap filler in wait for next one.

So 550 and 650 on the budget side?? Where is this promised 'business phone'? Then again, if 650 has Snapdragon 410, no Qi, 5" etc then look at the prices of BLU devices with this kind of specs. So much chipper!

950/XL is the business phone. Continuum and all with cheap assembly and user replaceable battery no one needs. What is missing is the promised flagship to make fans proud of Windows Phones.

If 650 has a better camera than 730 i will surely buy it.hope it will have carl Zeiss optics

"(Off topic) my story - I've been using L920 since 2012....I still love it so much....Gr8 design & awesome camera....but it heats up so much...so I don't play games & use internet....For browsing & playing games I have bought L640 3 months ago....which is a an awesome device but handling two phones...in one pocket feels annoying sometimes....now I want a midranger like L830 with camera & navigation keys....so that I can upgrade my L920....."

One screen buttons aren't half as bad as you think, as a 920 user to a 950XL. I never hit Cortana anymore! Super thin bezels, and no lighthouse leds at night.

"my guess is the Lumia 7xx and 8xx series never really sold well." Here in India lumia 730 and 720 are one of the best phones.

Glad they didn't release it, it looks godawful. Ambient light & possible IR scanner that looks like they borrowed it from the clunky XPS12 sensor. Worst design elements from the old Samsung line. Bad speaker that has no breathing room, so it gets muffled when placed on the ground. Camera module like ok, but it's just floating there.... And the bad white design from Apple, which shows of the bulky array of sensors. (sine if it's one, MAYBE two, but it just craps up the top in this case, detracting from the overall look. I would have redesigned the language of the 830, not a redux of a 950ish design. Urg.

Hi Daniel as you are saying that lumia 750 & 850 are cancelled than what about the statement msft saying more lumia devices with iris scanner are coming ? they said devices not a device and plus there is an otg cable for lumia 750 also and lumia rm 1182 is tested in Indonesia and two phones in India as well what you say about this ?

Dan, hopefully the 650 will have an XL variant?

I just bought a 640 LTE dual Sim to replace my 925 ( the 950 is great but I won't spend $600 on a phone , matter of principle) . The 640 minor issues are the dull screen (compared to the 925 amoled) , it is a bit underpowered processorwise and the look is all plastic ,ok at that price . The 650 sounds great if it resolves those 3 issues ,and I will get one if there is a dual sim version .

Have said that the 640 is a great phone

New Lumia design is awful

As Opposed to what? It only makes you look shallow with statements like that...

I really hope the 650 is released in January. Was about to get the 640 but if the leaks are true. Will wait!

Half Android Half Lumia. MS really needs to put their design together.!

There are about 1000 android phones? What do you mean by Design?

Android had an intrinsic design?

Just build me an updated 920, 5.2" screen, monster specs, and I would be so happy. That was the king of WP.

850 deserves a 1080p display, while 750 needs a 768 display

Waiting for the price to drop on the XL.

As per most of the tech sites, these are the pics of upcoming Lumia devices. So may be they are not cancelled.

Did...did you even read the article?

It's a... it's a... Sony Galaxy 6s!!!

Looks a bit like a combination with the Lumia 640XL(camera looks simular) and the 640(speaker placement). Not bad looking though.

The Lumia 930 still has the best design in the Lumia line. Aluminum bands along with flat sides. I just don't get the complaint about the polycarbonate backs of the Lumia 950 and 950 XL. It's not like they went with the cheap plastic material that Samsung used. Held both at the launch event here in the Philippines. First thing that I thought was "What the **** are these reviewers smoking? Thinking the build is uninspired and boring". Keep the design of the 950 and 950 XL, slap some aluminum bands on the side, design the speaker holes wherein it'll be proportionate , bump up the screen size to either a 5.5 or 6.0. Posted via the Windows Central App for Android

As a owner of Lumia 830... this is crap... MS is saying: spend another 200 bucks for a flagship or go to budget phones...

Ugly. Looks like an iPhone, probably wears/fades like an iPhone.
Reminds me of the 3GS in a way.

We all know that the Surface smartphone is in Protptype stage now and may become a reallity but we are not sure it will be an ARMS CPU smartphone or an intel CPU smart phone or there may be 2 Surface smart phones. Model #1 = Surface ARM CPU smartphone made of Metal running Windows 10 Mobile OS with the Universal apps continuum feature. Model #2 The Metal case Surface Pro smart phone with an Intel Smart phone CPU Running a modified vertion of Full desktop Windows 10. Capable of running Universal apps in Continuum mode and also capable of Running some full x86 win32 Desktop programs thus making it a Smart phone / pocket PC. Mobile world Congress is where I think Mr Panos will reveal Microsoft's 2016 line up which will a couple of unknown ARMS CPU smart phones and the Surface Smart phones which will be the talk of the mobile world congress

I love this design. Gold accents without fully commiting to the whole body being gold. Don't shelve this look!

Sharp corners were hideous. You people are nuts. I hated the sharp corners. I love the new rounded design Posted via the Windows Central App for Android

OMG, I hate rounded corners, but I love this phone, looks really good... Hope it will get resurrected sometimes...

How can such a high end device be made of such cheap plastic. I am coming from the HTC One M9. That phone is all metal two tone silver and gold. With a gold frame. Now I see what Microsoft has to offer....this light cheap plastic. The display is nice but compared to my HTC One M9 it feels to light and like it will shatter if I dropped it . I really can't stand the snap on snap off back covers. That makes a high quality phone mid range in my eyes. That's what kept me from the 830. Now I like the 850 design. It's something different. Now Microsoft if you're going to give us cheap high end plastic on a phone at least let the plastic be more polycarbonate like the 1520 or the 920. I really don't think Microsoft is serious sometimes. I'm skipping the 950 and the 950 XL. Not because of the apps. I'm fine with the apps. But soley based on the design. I've chosen my next device already. The Blackberry Priv. A beautiful handset extremely premium feel and no cheap plastic backs or cheap anything for that matter. Although Android it actually quite solid. If windows continues down this track I may just choose Blackberry or HTC. Posted via the Windows Central App for Android

I sayed this before,we are lagging around,why should we pick-up once,Nokia is coming back with abang,microsoft Has to note that,people may go back baring in mind Nokia has nice hardware and also will be offering andriod/windows os in there devices.lets find away to manufacture more unites .

Why now? The other question is why now? Why all of a sudden are we seeing various leakers make renders of what is essentially a device that is DOA? Because you really don't have anything else to talk about inthe WP world other than the lack of apps or the unfinished Windows phone 10 OS? Or a rumored surface phone that will do nothing to fix WP. Universal apps will Not work.

They look nice but to me they look almost like iphone

I'm glad to see they're not abandoning the budget line entirely! I'm glad to see its no longer their focus too, but that's beside the point. The ONLY way I will plan on getting this "Saana" is if it surprises the heck out of all of us and supports Continuum. With specs this low, it should be able to be had for not much more than $200, and for that price, I'd buy it just to use it as a "ContinuumRT" computer - with or without phone service! But it doesn't seem like anyone - myself included - is anticipating Continuum out of this, so I really don't see myself ever owning one. In any case, as I said, I'm glad to see a budget Windows phone coming, and if it looks anything at all like "Honjo", it'll be one slick little budgeteer! Cheers!

Although only a render, the design of this so called 850 is a bit disappointing. I can also say the same for the 950 series. I hope MS doesn't move away from the design ethos of past lumias. There something to be said of Scandinavian design element in past lumia handsets. As others have commented the 830 was overpriced for the sd400 chipset and the 930 lacked expandable storage, which for me put me off migrating from my failing 820, and instead opting for 640 to tide me over. There are times I miss dedicated camera button and wish for a bit more gpu grunt, but overall the 640 is a great handset for the price. I think there is still mileage within 7 / 8 series range. MS just need to learn from some of the mistakes from the past including pricing. I know MS are moving away from directly competing with ios and android, but the overall objective to get windows phones into peoples hands both for established and new potential users shouldn't be lost.

Awful as **** Good times when Nokia designers was in charge....

When it comes down to phones, MS is determined to only make bad choices.

I have the Lumia 820 phone and I love it. I would have upgraded to the 850. The 950 is too expensive and I won't downgrade to the 650.
Windows Central Newsletter
Get the best of Windows Central in in your inbox, every day!
Thank you for signing up to Windows Central. You will receive a verification email shortly.
There was a problem. Please refresh the page and try again.