What does the Heart button do in Xbox Music + Video?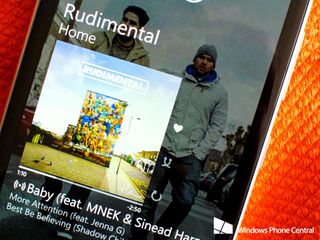 Xbox Music is the phoenix that rose from the ashes of Zune. As you know, Zune wasn't just digital media hardware from Microsoft. It was an entire ecosystem of music and videos that went with you from your smartphone, to your desktop and to the browser. The entire Zune brand and marketplace was more or less killed off in late 2012 so that Microsoft could instead focus on building Xbox Music and Xbox Video.
Microsoft learned a lot from doing Zune. They made a few mistakes here and there, but overall there weren't too many complaints from users about the service itself. It definitely laid the foundation for Xbox Music. You'll even still see relics from Zune in Xbox Music, like that little heart button.
What does that thing do, anyway?
This little heart was pretty important back in the Zune days. Songs could be hearted or un-hearted, which was the equivalent of liking or disliking a track. A song would then be marked as a favorite. Songs you liked would play more often in mixes, while those you didn't like would play less. You could even create playlists for liked songs. Music could also be removed automatically from your Zune device if it wasn't liked. Pretty cool feature, right?
If you head into the Music + Video hub on Windows Phone 8 you'll still see the heart when playing music from Xbox Music. You can heart a song or break that heart, but what's going on with it? Good luck finding out. There's no documentation online anywhere from Microsoft on what the heck those hearts do in Windows Phone 8. We've long suspected that they helped shape and inform Xbox Music how to better make Smart DJ playlists for you on Windows Phone. However, Smart DJ isn't exactly front and center in Xbox Music anymore.
Head into the dedicated Xbox Music app on Windows 8, Windows Phone, iOS, Android, or the web and you won't find Smart DJ. Instead, you'll find Radio. This section is where you create streaming radio stations based around an artist. However, you won't find the heart button in any of these modern Xbox Music experiences. So we don't see any way for you to help cultivate and refine a particular radio station. Instead, you're at the mercy of whatever the Xbox Music algorithm thinks goes with Miles Davis, Zedd or The Weeknd.
And that kind of sucks. Hearting a song in the Zune days was a great way for the system to learn your music tastes. With Xbox Music, there's no direct way to give feedback for these radio stations. There's no direct way for Xbox Music to learn what you like outside of it just observing what you listen to.
Songza, Beats Music, Spotify and most other modern streaming platforms have ways for users to give direct feedback about a song. Whether it's a thumbs up or thumbs down, giving a heart or breaking a heart, they all have feedback.
Xbox Music does not.
Going forward we won't be seeing those hearts. They're already going away in the recently released Xbox Music app on Windows Phone. You don't see them on Windows 8, iOS, Android or the web. In fact the only play you can find them today is in the Music + Video hub on Windows Phone 8. The screenshots we've seen of the music app in Windows Phone 8.1 don't have the hearts either.
The hearts are, for all intents and purposes, dead. A vestigial button from Zune. So on this Valentine's Day, while someone else may you give you a heart, it won't be from Microsoft.
Get the Windows Central Newsletter
All the latest news, reviews, and guides for Windows and Xbox diehards.