Microsoft publishes Xbox Music app for Windows Phone 8, focused on the cloud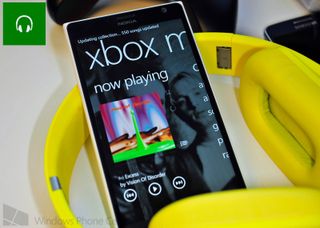 Hot on the heels of Xbox Video coming to Windows Phone 8 today, Microsoft has also pushed out a separate app for Xbox Music. While we've known about the Video app coming, a separate one for Music was not expected this early.
Heading to the Windows Phone Store, you can find the app resting at just 6 MB in size. It does require a Xbox Music Pass account to log in, as this app seems more focused on the cloud (though it can access your local music as well). In addition, Microsoft has added back Radio and editable playlist support with the app, giving it a slight edge over the native version.
Xbox Music
"Want the latest and greatest Xbox Music features on your phone? With the Xbox Music app and your Xbox Music Pass you can explore, stream and download millions of songs on your device. It's the best way to get all the music you love on your Windows Phone."
See artist details with pictures, bios, album lists, and related artists
Manage your personal music collection, shared across all of your devices
Explore top songs, featured artists, and recommended albums to easily discover new music
Download songs for offline playback
Create and manage playlists that automatically sync across your pc, tablet, Xbox, and the web
Radio instantly creates playlists based on your favorite artists
Stream ad-free music from a catalog of tens of millions of songs
Once again, by having a separate app, Microsoft can dynamically update the Xbox Music service on the fly as opposed to having to roll them out in an OS update. For now, users can have two versions loaded on their phone, but in the future (Windows Phone 8.1) we envision Xbox Video and Music being separate apps all together and not baked in.
From the official post (opens in new tab) about the app: "Xbox Music Preview is available in all 22 markets where Xbox Music is available today... The full release will roll out in 2014. "
Regional availability: Argentina, Australia, Austria, Belgium, Brazil, Canada, Denmark, Finland, France, Germany, Ireland, Italy, Mexico, Netherlands, New Zealand, Norway, Portugal, Spain, Sweden, Switzerland, United Kingdom and United States
We'll follow up with a video and more info later, but for now, you can head into the Store to pick up Xbox Music for Windows Phone 8 (Music Pass required).
Thanks, WPScoops, for the tip!
Windows Central Newsletter
Get the best of Windows Central in your inbox, every day!
Daniel Rubino is the Editor-in-chief of Windows Central, head reviewer, podcast co-host, and analyst. He has been covering Microsoft since 2007 when this site was called WMExperts (and later Windows Phone Central). His interests include Windows, laptops, next-gen computing, and for some reason, watches. Before all this tech stuff, he worked on a Ph.D. in linguistics, watched people sleep (for medical purposes!), and ran the projectors at movie theaters because it was fun.
Pshhh, it doesn't even animate the tile while playing music. It's also missing the album art. The cloud would be fine but that also uses my data.

+920 All it needs is the live tile...

I don't get it!!?? Microsoft owns Windows so is it asking too much if I want the "Live Tile" feature??!!
The Xbox Music & Xbox Vodeo apps just sit there...not flipping not updating, just "Android Looking". I'm sorry I love Microsoft but dislike some of their design choices. Btw, same for the Xbox Glass App.

Yeah. WP7 at least had a tile that showed the picture of the last artist being played, that was much nicer. Don't know why they can't have that in WP8.

Ya, that is disappointing, but I would be surprised if that feature wasn't added in a future update.

It's weird how the live tile doesn't work. It also seems to show missing art for albums and artist which display just fine in the old app.

I am so sick and tired of this app not having any support for cover art, even when all my music on the phone is tagged. Actually, it did show the coverart before i signed in but after sign in.... GREAY TILES! Great! Seriously MS! Now fix this!

Too bad it looks nothing like the Xbox music app for windows 8.1

I will never get though why the tile and splashscreen of the Windows 8.1 app is orange, while the app is green. Same with Xbox Videos. Why not make it green like on WP?! If Xbox is the brand for everything related to entertainment, then everything related to entertainment should be green.

Yea it still animates the original music&video tile, it it nice for syncing stations with Xbox and windows 8 plus the ability to make playlist

This app is so beta that it should not have been released yet.

Microsoft didn't force anyone to download this app nor are they forcing anyone to use the app.

When they remove "music + videos" they will be lol

I'm pretty sure at that time it won't be beta and will at least have current functionality along with some new tricks

This, FFS, THIS! That orange/red tile + splash screen are disgusting. I wonder who is in charge of these decisions, he/she needs to be fired ASAP.

i waas the first!!region issues???

For your kind information, neither Xbox Music nor Xbox Video services are available in India, so you won't be able to download these apps. Microsoft is not willing to comment on the availability of the same, which leaves us in a completely hopeless situation. I doubt if these services are ever going to be released in India at all.

Why ?? India me log music nai sunte kya ?? Gawaar Microsoft..

Atleast we have Nokia Mix Radio.. But this sucks :(

I know, it sucks without the Nokia MixRadio+ subscription, which again isn't available in India.

just change your region to USA and download it easily without proxy trick

Changing my region and downloading apps isn't a big deal. Are you going to buy me an Xbox Music Pass from the US or from any of the other countries where this service is available?

For everyone who is saying you need an Xbox Music pass to play locally stored songs, I don't have an Xbox Music pass and I'm using the app right now to play my locally stored songs. If I open the app and go to my collection, some songs have a radio signal next to them (indicating they are part of my collection but not on this device) and some don't (indicating they are a part of my collection and on my device). Without an Xbox music pass I can play the latter on my phone, but not the former.

No, you can't. I've tried it already, all it displays is a message stating "You need an Xbox Music Pass to use this app on your phone." with only two options "sign up" and "cancel". Cancel closes the app and sign up takes you to the Xbox Music webpage to sign up for a 30 day trial.

Use the hardware return button ;D

Oh, okay, you're right. I'm not doing that, except that I am, right now. Don't tell me that I can't do something that I just said I was doing. It makes you look obnoxious. Meanwhile, KarmaEcrivain94 figured out the trick all by himself and even managed to use a smiley face in his reply. Nice guy.

Regardless, going by the first line on the app description it's pretty clear you're not supposed to be able to use the app without a subscription.

Which is exactly why I came here and posted earlier that that isn't actually the case (at least for now, anyway).

Here is the trick... when you launch Xbox Music app, quickly tap on artist, albums, songs, genres or anything on the Collection section before the Xbox Music Pass sign up message pop up and you will be able to use the app.

Clearly Anshul doesn't understand how music licensing works. Just because you pirate everything doesn't mean a company can do the same. If the licensing gets worked out in India, they will make the music service available. Sumkay kya?

FAIL on thinking you was first haha

Wow, lots of Xbox apps now: music, video, music and video, games. I feel sorry for new adopters and the confusion that will cause. I'm assuming they will kill off the music and video hub to avoid duplication.

The builtin music and Video will probably disappear once WP8.1 comes out and Xbox Video and Music app will come pre-installed with the update.

Don't see that happening as the Xbox music app requires a subscription, not even Microsoft is stupid enough to think people will pay a monthly fee to play music they already own.

Obviously they would drop that requirement...

I've download Xbox music and see that my current play (via music+video) is carried over. So it should be able to play offline content. The only hindrance is the requirement of music pass is absolute. Until this dropped, I don't see music+video will be removed.

They will probably drop it. This is only a preview. Full app is coming in 2014. Probably with WP8.1

I assume they would integrate this into the current hub in much the same way music works now except they'll have the ability to update it seperately .

This is cool! But why do we need a pass :'( it looks so clean and sexy I want naow! Can't wait for WP8.1, it's shaping up pretty nicely

One reason I like it baked into the OS is that it launches/resumes quickly, not a big fan of the app plans, but if it means quicker updates, that's good. Can you find out if they will be allowing Play To Xbox One on WP within Apps, it's someting I use a lot on my Surface(via Charms bar), but absent on the phone.

Radio!!
Now we just need cloud collection management.
Off topic: Anyone know of an app that keeps you in the loop for new hits based on artists in your collection?

Click and hold to add new song to collection...oh boy! The simple things.

You can play music from the Xbox music app in 8.1 to Xbox One? How? I haven't been able to figure it out.

Swipe to charms bar, devices, play to, Xbox one

It is even more useful for playing videos from your PC on your Xbox One. Love that feature.

Also works from Windows 7 via "Play To" in Explorer or Windows Media Player and also works from one PC to another, as long Media Player or XBMC is running on the receiver. Im using this feature to stream music to my HTPC (which runs XBMC).

Nokia Mix Radio. There's no need for anything else.

@ CJ look into Sleeve or Nokia Mix Radio if you have the artist on your favorites.

[please delete this. Wrong comment]

I thought the "PlayTo" app could do that? Or are you an unfortunate soul with a non-Nokia device?

No that doesnt work, but you can play music on your Xbox and sontrol it using the Smartglass app.

It shouldn't make any difference for launch/resume. Baked into the OS only means it is an App that is included in the OS. If it is slower it is likely that due to it being a preview there is a bunch of debug code still present. It may also be due to the cloud integration parts.

I need to run a few more tests but this seems to have fixed the most annoying issue in the world-duplicate songs. I have the old unlimited pass and would download songs to my surface, connect my phone and put them on the phone's storage. I also had the music collection turned on so if I downloaded songs on the phone it would put them on my Surface. What ended up happening was I'd have duplicates on my phone- a song in my collection and a song that would stream. You can imagine how annoying that was, and costly. In my limited testing it seems to be fixed, but time will tell.

I can confirm this problem is fixed. I've attached two screenshots, one from the original music app and one from the new app. http://sdrv.ms/1dn8JB4

The 'X' in my app list was empty and lonely. Now I have two apps. Yay!

I said the same thing. I finally have "X" apps :)

Xbox Smartglass can make it 3! Get an Xbox One. It's boss.

Very nice surprise. Just need cloud locker (like Google Music) and this will be a huge win.

THIS would keep me with the MS ecosystem. THIS would bring them up to speed with competitors. THIS is what they need to do.

Sorry for being a div...but what's cloud locker?

They do have a very similar service to Cloud Locker. From a Windows 8 PC you can cloud match the music from your own music collection and then play it from any Windows 8 or Windows Phone device. Even the built in WP8 app supports this functionality.

And just like Spotify, this requires a paid subscription. So, useless.
They better keep the current Video and Music app baked in the OS. For all those of us who don't want to pay for "passes" we won't use but can still have a central hub for media content we, ourselves, put on the phone.

"Useless"? Maybe for you, but not generally. I have lots of "use" for this.

I explained why I called it "useless". All you had to do was read the entire comment.

Right there with you on this one. Something people are missing however is that this is a preview. SO I am HOPING to baby jesus that by mid-January this app catches up to the windows 8.1 version. Currently I can stream brand new albums ad supported of course, AND I still have my full music library like I did on iTunes. So lets see how MS handles this, either keep a music+video hub for personal libraries' or join that with their music services WITHOUT requiring a music pass.

Yep, I download mu music from amazon or Rio my cd's so this app is useless to me.

While I agree that the subscription requirement is stupid you shouldn't tar everyone with the same brush. Separating the Music and Video Hubs means that each hub can focus on what it does best.

Yes. But if that pass requirements does not dropped in the future, I don't see music+video hub going anywhere in the future. How can we play music if we don't have music app that can run without paying anything?

I hope they ditch the baked-in app and make the Xbox Music app work without a pass.

Right now you can trick it and use it without a pass.
As soon as the app opens, slide over to the screen with the list showing music, playlist, etc. Click on music before the sign in pops up, and you are in.

I cant have xbox music,not available in my region,Hell!

Me too ...and what is this music pass every one is talking about

Funny how it doesn't have a live tile.

It sucks! I can't get it in my country, this is where apple beats WP :(

So... buy an iPhone. Problem solved.

And a dozen more created. GTFO, overpriced, restrictive iPhone.

Yes I agree with you totally

They say in the article that its just a preview and it will be released in 2014 with WP8.1 for all countries. For poeple without a pass (like me) its useless anyway.

Requires a pass??? Why can't they give us the same streaming music on the phone that they do on the PC, without a pass?

The Hub concept is gone now. I mean, we don't the app list like we did on the old Xbox Music + Video. I really like lots of the change they made but it seems like the app needs to sign in everytime you resume/launch it. Seems faster. Also the heart option to like a song has disappeared. I mean, I see nice improvement but the team also took out lot of neat feature. The xbox vidoe is good simply because I can access my paid TV shows on the phone now other than I really don't like the general layout of the app. Horizontal layout is not pratical on a small screen. It should be like the

I agree, they patched that requirement out of the Android and iOS apps. We should be allowed to play our locally stored music without an Xbox Music Pass.

I think there's still the music+video app, no? Or is that replaced by today's apps?

It's still there but with WP8.1 I think that will be removed so I'll carry on using that for the moment.

Yup...uninstalled. Sticking to Pandora for streaming. Though don't really like the streaming from Xbox music on PC. I must be able to thumb up and down music...not just skip it.

It is silly, some songs will play in music and video, but not Xbox Music.

I'm sticking to Deezer for streaming. Xbox video is nice and I may use Netflix from now on. Btw I'm getting a PS4

Why do people want to stream music through the cloud on a phone? I got my turned off cause it will eat into my limited data.

Not everyone has limited data, but do have limited space on their phones.

Or WiFi at work, home, or gym.

Unlike other streaming subscriptions, you can download everything, and specifically play what you want. I have a fairly large data plan, but I still download the majority of the music I want when I'm on WiFi.

In this new app you can choose to not use your data plan for streaming music.

Because I don't have limited data like you and I don't want to waste hours managing music on the phone.

Managing offline music shouldn't (and didn't used to be a chore with Zune). Unfortunately we are now left with the 'sync tool' (which should really be renamed 'sink tool' as its about as useful as a kitchen sink at managing music!).

Maybe these are also people who don't ever travel on public transport or go to foreign countries where you have to pay extortionate roaming data charges. Or maybe MS doesn't consider these common use cases for listening to music!?! Mobile streaming should be an optional extra rather than the forced de-facto standard.

Question -
It see that you need to sign in... if I sign in, will it sync my collection to the cloud? I disabled the cloud locker in the baked in Music+Videos hub because I prefer having a local collection instead. Also is it faster than the current music hub? (which is already fast)

Stick to the hub for now. At least until this gets updated...hub is still far better.

Woo! Can create playlists!

I wonder how well it can do that.I guess I'm going to find out soon enough

Created the playlist since windows phone 7 era.

Yes, you can create a single playlist, on the fly, since WP7, but that's it. It was worthless. With XBox Music you can create a ton of playlists, find a song, and pick what playlist to put it in and you can also remove a song from a playlist.

How about lastfm scrobble and can it play my loved songs? Two very important things for me.

Wwowe, they fixed so many things with the new Xbox music. I already u pinned the old one. So ungrateful but it is good and nice surprise. The team is not slow after all.

Wish they added "live" tile

i'm wondering if I can store content on my sd card using this app.

im sure you can store podcasts and songs on sdcard with the hub, i did with my 620.

Podcasts are gone? You can't even search for podcasts. Type in Joe Rogan for instance and you only get his comedy albums not his podcast,,which being highly popular would surely be on the list.
Also none of my music apps are in there. WTF?
No tile animation with artist on this app, but tile animation on the Music+Video tile, though that tile does not show the current song playing, you have yo go back to the new Xbox music tile to see that. Crazy.
Finally you can share what you are listening to with friends on Facebook, though getting to that is a little buried.
No recently played or history. Also just noticed that if the song title is too long, it doesn't scroll or truncate, it just cuts it off. Weird setup.

Podcasts being gone is my concern too. If they remove the current music and video app and replace it with this I feel they should put out a podcast app. I've tried a couple of the podcast apps in the marketplace and I haven't found one I like.

Whoa really, I will stay away from this then currently. I need my podcasts.

They just published the Xbox video app. More of the same.

Anyway to overcome region issue????????

Both video and music not available in India...

I wish I could use it like the old Music + Video app. I'm lapping in apps, but can't use the new Music app.

Fuck! In India nor XBox video nor XBox music available.. I changed region to US and downloaded the apps but when I chnge region to India back again these apps dont work :\

Android got it way before WP. Nice.

I'm assuming this is a joke. Otherwise...wow.

Nice! Kind of scared that this will replace the built in app in 8.1... There is no podcast support. Anyone know if 8.1 will drop podcast support from the built in app?

I was wondering the same thing. Perhaps they might do a separate app for podcasts (kind of like iOS).

It's not like the app is going to stay like this for the rest of time. There will be updates to this app, and I assume that if the plan is to remove the Music+Video hub in a future OS update, they'll make sure that this is equal to or greater than the hub by then.

Thats a pretty big assumption considering that when they removed/rebranded Zune and replaced it with Xbox Music many features were removed and are still not available.

Why is it saying not available ?? (Lumia 620 GDR3, India)

It's not available in india, sorry m8

Go to language+region settings. Change location to United States, restart phone. Download apps. Change location back to India.

WP8, WP8.1 or something after, Microsoft pls. support all regions.. Up to now, Xbox and online services are limited and often useless...

FIRST MICROSOFT AND THEN GOD knows....why is there region availability issue

Because of licencing deals. Blame the record companies not Microsoft.

And here some the seemingly obligatory deluge of mindless complaints. :-/

Missing feature are tolerable: Not more Hub, Not heart to like a music The Hub concept is gone now. I mean, we don't the app list like we did on the old Xbox Music + Video. I really like lots of the change they made but it seems like the app needs to sign in everytime you resume/launch it. Seems faster. Also the heart option to like a song has disappeared. I mean, I see nice improvement but the team also took out lot of neat feature. The xbox vidoe is good simply because I can access my paid TV shows on the phone now other than I really don't like the general layout of the app. Horizontal layout is not pratical on a small screen. It should be like the like vertical scrollling. They also added some nice animations. Overall, solid update.

Of course I need an Xbox Music pass to use it :P Managed to get around this by turning on airplane mode though. Seems much slower the Music+Videos app.

I wish the app would use the metadata and album art in the file info instead of pulling it from Xbox Music. Have the same issue with the Windows 8 version of the app :(

Slow performance on Lumia 1020 compared to the built in app... That's gonna have to improve.

Both the new xbox apps are not available for India....why doesn't Microsoft shove all these apps up their ass

There are most comments from US ,thats why maybe,but we are second yippee !!

Unfortunately, the world is not made up if one single country with the same laws and restrictions applying to everyone everywhere. Such obstacles are just a part of the world in which we live and are not the fault of Microsoft.

Just change your location to United States in the Language+Region settings, restart your phone, download the apps, then change your location back to India.

Whats the deal with needing to be signed up to music pass? That aint right.

This isn't at all confusing. Probably gearing up for 8.1? Anybody else notice that the context menu and tile (when being moved about on your start screen) are transparent? Not revolutionary but a slight change to the norm.

Hi. I jst want to tell tat currently available Xbox Music is very very annoying.While playin Music ,volume hangs repeatedly and every tym we ve to restart our mobile. I ve been writing dis so many times and der r many other people who ve shared their unhappiness over this issue on Nokia Conversation but the problem is goin unnoticed.Is this new app goin to solve dis issue.

Can you rewind and forward within a song with this app or is it the same as native where you can only skip to the beginning of the song or to the next song? That is the most annoying thing about the music app on Windows Phone!

You can rewind and forward just fine natively, just press and hold the rewind/forward button

You can forward and rewind. Hold the buttons dude. Its been there all along.

Not for my device? With Lumia 820? Seriously?

App seems slower than than the music and videos hub. Doesn't have any way to check out new songs in store from a specific genre like the hub does. Live tile is useless. I'll continue using the hub.

Why the hell is a music pass required... I want to use it for My local tracks.... Fuuuuuuuu

use the xbox music on the phone?

Because... it's the XBOX MUSIC app. It's designed for Xbox Music, not to be your native player... not yet anyway.

When the message pops up that says a music pass is required, just press the back button once to remove the message.

Not yet available in my region (Nigeria)

Playlists don't sync. I can only download songs one by one. Where are the improvements? :(

XBox 70% service not giving for India they just givening only for us ,UK they have to think about bollywood yet

Has Xbox yet added the feature to add personal collection to the cloud to stream? Or does my collection still need to MATCH what is already in Xbox's catalogue?

Why did they decouple music+video hub? Having several apps in one place is nice.

Cause they are trying to make it like Windows 8.1. Where the two are separated

Well let's just hope it ties into the hub...That way they can update everything and still have a hub. Problem solved.

app is so bad, it contains some parts from music video hub/some parts of magazine, but why? it just an app, not system like settings by nokia. Live tile - doesn't work, controls are connected with stock music app (music controls with volume button, i mean), app backgrounds are great (like big cover art in cool resolution), but for lockscreen stock music hub downloading another images.. i'm just do not understand why they make this app..

It is easy to use this app without an Xbox Music pass. You just going into the app switcher with the app open, then just resume the app.

DAAAMN holmes. You the smartest one in this whole comment thread! Thanks for the tip.

I hope it will replace actual Music + Video hub and will be much more complete than that. It need to be open to non-Music Pass owner and be more quickly to open... Good job MS.

is it me or the live tile is not working on the new app?

Incomplete replacement for music/video hub with no podcast support

Not a replacement... not yet anyway.

I just love what windows phone is doing right now. Many well recognized games on other platforms, their own games, key official apps, and xbox make this a really attractive OS. Thank you!

.... Maybe I should of bought a year of Xbox Music for $50..... argh.

So now I need to subscribe to music pass to play my own music that I have on my phone (using this app)? I thought this is where MS was going. Devices and Services. Buy the phone and subscribe to many services. I see the handwriting on the wall it's just a matter of time and everything will be subcription based. I understand needing revenue for streaming, but to play my own music seems kind of weird. Oh well.

Just use the native app. No one is forcing you to subscribe to Xbox music pass or to use this app

Thank you for the insightful suggestion. I will keep it under advisement.

How to use the app without Music Pass: When the Xbox Music Pass dialog box drops down, don't click the 'sign up' or the 'cancel' button. Press the hardware 'back' button and the app will work for songs 'on my phone'. However, it will bug you to sign in everytime you open the app. Hopefully this will change after it's out of beta.

switch off data after signing in for the first time and then access music in memory ..... and to access it while on data or wifi after opening the app when the pop up says to sign up press windows button and then resume it back ... work arounds for those with no passes... what is the use u get covers and album art

My only gripe with it is that when you add a song to "Now Playing", it tosses it in at the end of the playlist. I just like to hit shuffle on all my songs, so the list is 2800ish songs, so the song I wanted to add is now song 2800ish+1, this is the same on the Win8, X360 and X1 apps as well. In the Music+Video app, the new song is the next in line, where I want to hear it.

I just dont get what im getting for my $9.99 that i cant do with the pandora app + music + videos app. I cant ever see myself paying for this service. I dont mind an ad every now and then to sream music for free, and i have all the songs i want to own in my personal collection. I like the look of this app, but you will not get me to pay for it. M$ needs to stop trying to nickle and dime me.

I'm quite surprised that xbox music has that VOD record.

Folks I understand the concerns you have and I share then too, but please keep in mind this app is less then a day out and there are more then enough room for improvement. Also remember its an app now and you can tell the team directly how you feel in the review section of the download page.

So. How does one play their music stored on the device using this app, without paying €10 per month?

Put your phone in airplane mode. Go on the app, you should be able to access your music on your device. Once you're on it you can switch off airplane mode and it shouldn't boot you out :)

You can also use the app switcher to navigate away and when you come back to the app, the prompt that you have to have music pass will be gone.

Thanks! That's a lot easier

When the Xbox Music Pass dialog box drops down, don't click the 'sign up' or the 'cancel' button. Press the hardware 'back' button and the app will work for songs 'on my phone'. However, it will bug you to sign in everytime you open the app. Hopefully this will change after it's out of beta.

I know that I'm really late with this, but I'm just a little confused. There's the new xbox music app in addition to the music and video hub? I think the app is cool, but I don't understand having both on the phone. Can someone explain this?

Word on the street is the Music + Video hub is getting removed from the core OS and will be replaced by the Video app and the Music app. This should happen in WP8.1. The logic behind it is that Microsoft can update those apps very fast instead of having to wait for large device OS updates being approved by the carriers.

But why does it have to be released BEFORE WP8.1? It will just cause more confusion.

MS made music on the OS a hodge podge of cluster &uck, when the reality is that after all of this nonsense, in 2 to 3 years they will be right back to the Zune experience we all loved.

This app looks really good, but why, oh why do I need an Xbox Music Pass to use the app? Why can't I play my local music normally?

You can with the native music-video app.

What's the point of this app if still playing through regular player?

All media plays through the native player.
This app is strictly for the Xbox music pass.

Staff coped player with a collection of clouds. Why a separate application?

I'm sorry, I don't understand what you're saying.

my English is not so good, sorry. I'm talking about that old skillfully use the Music application and local storage and cloud. The new application still slowly loaded music tracks, play music through the system application, and simply does not have a live tile.

Stop it with the BS, the app has access to locally stored music but requires a music pass to access it. The Android and iOS apps had that requirement patched out so I can't understand why they left that requirement in for WP. If it was for Music Pass only then it wouldn't have access to locally stored content.

BS. You need Xbox music pass to play your own music, seriously? How the hell WP play music from your phone? Only through paid subscription?

Probably the same way you did it before this app came out.

Don't over use your brain, save for later.... I was talking about the new app only, u smart ass.

Use the existing Music hub like you did yesterday. This is a early preview app, eventually it will replace the Hub and you won't need a pass at that point to use it.

Wow today is like Christmas.

PRESS THE BACK BUTTON WHEN IT ASKS TO REGISTER FOR MUSIC PASS!!!

Wow I don't understand why everyone is freaking out over this. These are preview apps. The current app is still available. When WP8.1 is released, these apps will replace the current one, but they will be updated to include all the features that are in the current one. We haven't lost any functionality with this, only gained it. And you don't need an xbox music pass to play music stored on phone, I have successfully managed this with the new app without a music pass

Thanks for expaining. Sometimes Microsoft doesn't make things entirely clear.

It also needs to have the pause and ff buttons above the album art, don't like having to bend my thumb down just to change songs. Keep it the same way as on the native music app

I hate the fact that you have to reach up for the music controls, makes no sense. They changed it in mango and I want the old controls back!

If it don't scrobble it doesn't count.

A good start, but needs some improvments. The Music+Video live tile was gorgeous; this one (or lack of) not so much. My library is also missing loads of cover images; this isn't the case in the build-in app.

Just like that dastardly 8.1 app, this is destroying my metadata and album covers. WTH?

So this means that when they remove music and videos from the system i can't use this app cause I need music pass and my downloaded music is gone on my phone.

What will likely happen is that once 8.1 comes out, and this app replaces the current Music & Videos app, you will not require a subscription, but the version that is out for 8.0 does at the moment as their primary purpose is to bring some of the experience of the Music app from Windows 8.1 to Windows Phone 8.0.

The app on Windows 8.1 doesn't REQUIRE a Music Pass though!!

Don't be ridiculous. Seriously.

Nice, but so slow!!! I have thousands of album and on the previous music app they all load, with album art, instantly, now if I want something in the "Z" section on my 1020 it takes over a minute to load every name before it gets there... It's nice that it can be updated anytime like any other app, but Music Pass always tells you that you have access to millions of songs, so it needs to be faster if you want to take advantage of those millions of songs!!!

this is my only complaint so far. its so slow.

I haven't got GDR3 so if I downloaded these new music and video apps what about the earlier combined one???? How to uninstall that one

U are from India? if yes,bad luck and if outside India great but needs to pay for features.

you cant uninstall the old one period. If you desparately want to do it you need to uninstall the os itself as it is baked in to it

Can I sign in with my wife's or sons account and not disrupt their account?

Requiring a music pass is DUMB (and I do have one). Does it check the pass every time you start it? What if I am travelling and don't have an internet connection at the time? With the hub it can go several days before it tells you you don't have a license for the music (if obtained from the pass).

Are you dense? Maybe this app is MEANT for people with a Pass. You still have the M+V app. Good grief.

oh god, use the xbox music hub that is already on your phone that allows you to not have to have a pass. This is pretty much a preview of xbox music of how they want to do it in future OS updates. common sense says, they are not requiring a pass to allow people to listen to music on their phones. So when the hub goes away, the new stand alone app will function as we have it now or close to it without a pass.

Two bright posts come to save the day!! Wow. Obviously I am making a comment on the app replacing the hub "as is" if it does in fact replace it at some point (which would make sense). Not making assumptions that they may change it if it does. Jeez! Also common sense is not always common at Microsoft. But since you two work at Microsoft thank you for letting us know that you would know how they would change it. Geniuses.

Music Radio with Ads would have been good... I would listen to occasional ads than to pay 10$ for the music, which i can't own...Also i think it would be better if they avoid signing to the acct every time..

Can anyone tell me that you can actually manage music playlist easier with this app without doing several insane steps? Haven't tried this app yet.

First impressions are you can manage playlists. I can make a bunch of lists. I can pick a song, hit the little ... at the bottom and pick 'add to...' and BAM, I get all my playlists that I can add that song to. I can then open a playlist and reorder the songs or actually remove songs from the list. Magic...

If this is the future of Xbox music on my phone I'm cancelling my subscription. How can this slow as hell app be compared to the native experience?

It's a preview app, dude. Not final product. If you think it's too slow just use the old music hub until it improves.

It's going through a pretty long "Updating collection" process and my playlists are starting to show up! Excellent!
Looks like a separate app needed for Podcasts. Not excellent.

Yay!! we have 2 xbox releases in a day ;)

From Windows Phone community forums: Xbox today also released a preview version of Xbox Music, which lets Xbox Music Pass subscribers stream millions of songs and download favorites for offline listening. The app can also manage and play songs from your personal music library. Download Xbox Music Preview
Other highlights:
Create and manage playlists that automatically sync across PC, tablet, Xbox, and the web
See artist details with pictures, bios, album lists, and related artists
Explore top songs, featured artists, and recommended albums to easily discover new music
Use the radio feature to instantly creates playlists based on your favorite artists
The Xbox Music Preview is available in all 23 markets where Xbox Music is available today, and Xbox said the full release will roll out in 2014. Check out the official Xbox blog for more details.
Enjoying the music,
Greg

You mean like a 'alpha' version of the app? if that's the case, I hope they make the future release for non-subscribers with ad-version radio...

So it does everything the current Music+Video app does. No confusion there.

I wish it had the swipe gesture to go back and forth through songs like in Xbox Music + Video instead of the previous and next buttons, plus live tile would be nice. Further updates might respond to these "issues"

Still not syncing playlists created from Win8 app. 6 playlists on PC only the one I created in the OS app. Grr

Can't use it at all without a music pass. ☹

when the prompt comes up that this app requires music pass, hold the back button, swipe over, then swipe back to the new xbox music app. The prompt should then be gone.

Thx. I would still expect a better music experience.

Why can't I use this as mu offline music app, and radio player, goddamnit. What difference would it make?

Well, you actually can, just press the back button when it asks you to sign in. It's a bit slow, but, hey, it's a preview.

When I logged into this App with my ZUNE (Xbox) Music Pass, it said "Updating Music Collection" and counted up to 230 songs. Lucky for me, I had storage set to store Music+Video on my 65GB SD card! Now I have 24GB of video + Music on my SD card.

Jesus. Its awesome except for them dropping the podcast option...grrr

Yeah. Not ok. I listen to podcasts almost every day.

Nice! Looks like I can finally use the same music pass on two different windows phones, unfortunately I switched to 2 iPhones because it already let you do that with the xbox music app for iOS - but now I can actually consider going back to WP next time around.

I used it months ago on my Lumia 900 and Lumia 521 at the same time without issues.

I probably should have specified that the two windows phones had two different live ids on them (one was mine, one was my wife's).

I don't understand why everyone is saying it requires a music pass. I don't have a music pass and I'm not having an issue at all playing my local music. If it prompts for music pass, just click outside the prompt or click back and the prompt goes away, voila, problem solved!
Too many people look for nothing but issues instead of actually trying an app before going negative.

The interface is stupid. It shows you two buttons. Clicking outside the buttons is not intuitive. Plus it specifically says "You need an Xbox Music Pass to use this app on your phone." Plus, it prompts you every time. You are saying this isn't stupid?

I have not had it prompt every time but I also never never say the first prompt except for a millisecond glimpse as I was tapping through. Might be that I was in a hurry and tapping fast?

I have a negative opinion of the "theoretical" strategy that A) the Music + Videos will be removed in 8.1, leaving only Xbox Music + Xbox Video B) the workaround to get past the prompt (which I do see every time) will be patched C) so you'll be left with looking for third party options for playing locally stored music (if the 8.1 API supports third party apps accessing your music) It's entirely possible that as of 8.1, anyone without an Xbox Music Pass will be unable to play music stored locally on their phone. If Microsoft is anti-consumer enough to do it. What we know is that this app, a preview, officially states "Xbox Music Pass is required." What we don't know is if 8.1 will drop Music + Video as it is now. And it's absolutely a guess that they will drop the requirement. It's also a bad interface if it stays the way it is now, requiring either "tapping outside the buttons visible to you", "going into airplane mode" or "using app switcher" each and every time you open the Xbox Music app. None of those are good user experiences! We have every right to be critical of Microsoft's decision to go this route. It's very similar to how they limit your ability to use the Xbox 360 and Xbox One to access services such as Netflix and Hulu - UNLESS you pay for Xbox Live.

So far it crashes a lot, and is super slow... but it says it "Updating collection..." and is only a few hundred songs in, so maybe it will get better after that. What I don't like is that the fonts and buttons are much smaller. On my Lumia 521 it was already hard to control it when using it, especially when it's in the dashboard mount in the car. With these even smaller button, it will be even more cumbersome. Wish there was a way of having the controls bigger. I love the new sharing option! Before, when clicking "Share" it just brought up email as the only option. Now it allows linking on Facebook (and probably other places too, but it's the only one I have set up on my phone). That's very welcome.

Lot of great stuff with the app. Now give me podcast and local music support and we're good.

This is great mews and so far love the app this is a step in the right direction. Seperating these apps gives MS ability to add features faster and easier. Now, we need: Ability to buy multiple single tracks at once Zune style screen saver with ability to have it always on when connected to charging or not Sorting of library from XBM pass music and personal ripped music True music storage for personal collection Fast forward and rewind in musicplayer

If they implement this and REMOVE the actual MUSIC+VIDEOS system I will sell my WP device, this app is a cr** no swipe left-right, stupid small buttons placed down and at the TOP a stupid message "NOW PLAYING" useless words placed wrong, hate it, let it how it is Microsoft, just one TIME listen to us.

Its a 'preview', basically a beta ya know. Chill.

For a beta it's a cr**, and be serious every OS has music and video players implemented, not apps!

It's a mixed bag, for sure. Some things are better than Music + Videos, many things are worse. Since this is a "preview" version, we can hope things get fixed before any drastic changes to Music + Videos are done.

It's just a preview... i.e. beta. It's a little early to get all freaked out. :)

Don't care about anything but the fact that now when I add a song to the collection on the phone it now syncs with the W8 version and cloud. I do most of my music discovery while on the bus or waiting around at school for class to start. Not having to wait till I can pull out my surface pro to add songs to my list is wonderful. Also totally down with the fact that you can truly "select all" in the cloud music list on the phone and download all of them rather than having to select each albulm or each song if in the song view is a def plus in my book.

Does not download music to SD card. Sucks.

Sure it does. It has the download option when showing an album, and each individual song has a little download button to the right. Of course, it kept crashing on me so it actually never downloaded anything, but it's clearly supposed to. :)

So the radio feature is free on the Xbox one and windows surface but we need a Xbox music pass for windows phone 8? That's dumb

I know people are saying it's new, it'll improve, but that's not the way MS are handling things. MS stripped many features when they moved us from Zune to Xbox Music & Video app. People said don't worry, it'll improve, but that was not the way MS chose to go. Now they strip more features in the new separate apps and won't let you play music from your SD card any more (doubtless MS will claim this is for 'security reasons' as usual...), and charge you a fee to have these features stripped. It is not reasonable or logical to think they will suddenly reverse course and provide greater flexibility again. MS have made their design direction painfully clear to everyone. Come on VLC, we need you before MS cut us off from our media!

I play songs from my SD card fine on the app I don't get how yours doesn't

I can't get it to play from the SD card, it keeps starting to stream even though the album is downloaded. Maybe just a bug. Edit: scratch that. It plays the file locally, it just used the moving ellipses when it started playing as it used to do in Music+Videos when it streamed music. The fact that there is no indicator about whether the file is local also confused me.

Hey man. Does this mean I'll have to pay just to listen to the music I own? (ie buy a song transfer it to phone). Because when I open the app it wants me to have a "pass" that costs. Otherwise I can't even get into it. All I want is my music on my phone l, not another damn streaming service.

FM Radio appears to be gone now :(

I really hope they can expand to more markets.

Hopefully the built in one is removed next update

Didn't read all the comments but dint luke how podcast are missing. So now I need to use three apps for all my stuff. Do like how music app allows me to filter out music on phone or stream only.

I'm probably alone on this but I dislike all this focus on the cloud!

So I can't put my own songs from my PC on this app without paying for an Xbox PASS?? I may be confused. If they are getting rid of the old music+video app how will I get songs on this app? I do not care to have a music streaming service. I just want songs from my PC. Someone help me out!!!!

Help you out? Just don't use this new app yet, maybe? Apparently you can just click the back button when it asks you to sign in too.

It might just be me but I feel kind of sad to see the "Hub" go in 8.1, I like the idea of things being decoupled form the OS but I don't like how it would be split into two apps... Just my 2¢...

For those who are Spotify subscribers, is there any value in this app? The feature set looks identical.

Am I missing something or is this app ridiculous? Requiring a music pass it's just stupid!

It is pretty bad, from the gigantic font hovering above everything (is it 2010 again?) , to the skip glitching that hasn't been fixed when having a song in collection on repeat, to the fact that you can't even preview the app without a subscription. People will use 'beta' as an excuse, but I'm certain this will most likely be released officially as is, come next year. Make me eat my words Microsoft.

I certainly hope you're wrong, but I fear you're not. I agree about the ridiculously large header!

I'm not the biggest fan of the UI in this one. I'd much prefer a tiny Xbox music at the top that was stationary than the big panorama banner they have now. I'm also not a fan of putting the controls back on the bottom like they were in WP7.0. Plus the tile doesn't animate. I like the new features like better playlist support, but for now I'm going to keep using the music hub.

I'm confused. What's the difference between this and the regular music hub. I thought that was Xbox?

Me too! At first, I thought it was something like what Nokia did with Nokia Music < Nokia MixRadio

Wish the damn Windows 8 app would work. Never been able to play music off of it.

Just separated apps, same UGLY design, no animation, no time bar and limited for pass users GTFO, deleted

Will MPATool be working on this?

Until it does I won't use.

[BEGIN RANT] Thank you Microsoft for ignoring the Philippines for anything XBox. [END RANT]

Thank you for voicing that out.

I was all about using this until I realized live tile isn't live like the hub. Funny thing though if I play from the new music app the live tile on the hub shows what im playing on the music app.

Hey, anyone know how take screenshot of WP panorama app?

Press lock screen and Windows key together

I mean take screenshot of the entire panorama, not just what's on the screen at that moment

Requires xbox music pass? So if i updated it, i cant play musics in my phone (in memory) ??? Didnt update

Don't get it unless you want overage charges, plus its not as quick as the preinstalled music and video app because it always has to sync all your music.

No live tile :) C'mon MS! Fired!

I still have the old $15 with 10 free songs to keep plan. I cannot figure out how to purchase a song using a credit with the new music app.....has anyone figured this out?

Please login with music pass - uninstall

Ok, maybe I missed it, but other than separating Xbox music & Xbox videos into separate apps, what are the benefits for splitting them and the comparative improvements? Why didn't they just update/fix the current app? Zune in wp7 was far better. I read the article but can't see a compelling reason for this change.

Who writes for this site that listens to VOD?

Is it me, or is anyone else unable to see their playlists. My playlists are blank.

The "FM Radio" functionality is gone in this release!

I just seamlessly created a playlist hmmmmm finally.

I tried creating a playlist in the app and wtf a playlist with 68 songs took 200 extra mb from the memory. All my tracks are local, this shouldn't be this way!

Does anyone know if you can login using an account that isnt your primary microsoft account? Been really wanting to let the kids use the zune pass, but tired of the inconvenience of using my ms account on all the devices and them using my skydrive, messenger and to-do-list. i'd totally do a reset on their lumia 520s and set them up on their own account if I could just use my account on the new xbm app.

OH , by all means lets make it easier for Microsoft and not the people who buy their crap. I am updating from windows phone 7.8 to 8.0 now and experiencing the excruciating lack of WIRELESS SYNC. I DON'T WANT MY MUSIC AND VIDEOS ON THE CLOUD!!! THE CLOUD SUCKS!! PEOPLE GET HACKED ON THE CLOUD!!!!