Microsoft releases Xbox Video app for Windows Phone 8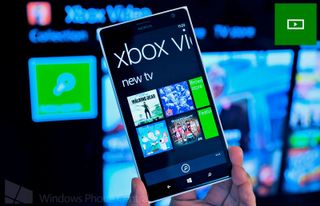 After what seems like an eternity of waiting, Microsoft has finally plugged one of the last big holes on Windows Phone 8: the ability to buy or rent videos from their Xbox Video program. Up until now, it has been impossible to transfer previously purchased content from Xbox Video to your Windows Phone, despite the promise of "three screens and the cloud".
Now, version 1.5.1256.6 of the app has gone live and users with a Windows Phone 8 device can browse, stream and even download videos right to their phone.
Xbox Video
"Xbox Video brings the latest movies and TV shows to your Windows Phone 8 and makes it easy to watch what you love wherever you are. Rent and buy new blockbuster movies and favorite classics, or catch up on last night's episodes of the hottest TV shows, and watch them on your Windows Phone 8, PC, tablet, Xbox One, Xbox 360, or at XboxVideo.com."
Get the latest TV shows the day after they air
Ratings and reviews
Rent and buy the latest blockbuster movies
Resume watching from where you left off
Stream or Download movies and TV
Trailers
All in all, it seems like a solid app, though we still have to put it through its paces. For instance, we already received a playback error with Pacific Rim with a message of "Failed to acquire license for download". We'll chalk that up to the service being fresh and some kinks needing to be worked out.
With Xbox Video being separated from the main OS, and rumors that Xbox Music will get the same in Windows Phone 8.1, Microsoft should be able to quickly push out updates and fixes for the service as it grows. That dynamic ability should benefit customers, instead of having to wait for an OS update.
Regional availability: Australia, Austria, Belgium, Brazil, Canada, Denmark, Finland, France, Germany, Ireland, Italy, Mexico, Netherlands, New Zealand, Norway, Spain, Sweden, Switzerland, United Kingdom and United States.
Although the app current does not support HD Playback, Microsoft will be bringing that feature later on. From a Microsoft spokesperson: "We're thrilled to release Xbox Video for Windows Phone 8 customers and look forward to adding HD playback in 2014"
Pick up Xbox Video for Windows Phone 8 here in the Store or scan the QR code below. [Update: Microsoft has also released an Xbox Music app. More info here.]
Windows Central Newsletter
Get the best of Windows Central in in your inbox, every day!
Daniel Rubino is the Editor-in-chief of Windows Central, head reviewer, podcast co-host, and analyst. He has been covering Microsoft since 2007 when this site was called WMExperts (and later Windows Phone Central). His interests include Windows, laptops, next-gen computing, and for some reason, watches. Before all this tech stuff, he worked on a Ph.D. in linguistics, watched people sleep (for medical purposes!), and ran the projectors at movie theaters because it was fun.
No HD playback right? Also, excited for Xbox Music to become a separate app.

Today's your lucky day! http://www.windowsphone.com/en-us/store/app/xbox-music/d2b6a184-da39-4c9a-9e0a-8b589b03dec0

Thanks for this! Downloaded and looks pretty good so far.

Is there some sort of membership for Xbox video like there is for music?

No there isn't. You purchase everything individually, there's no subscription. You just log into your Microsoft Account and any purchases are made through there.

So my question...can I buy a movie and have it go right to my phone's storage? Or is it like XBM where my only choice is cloud unless I do 20 steps involving other software....

There's a download button on the video details page, once purchased.

Not available in India...

Its not useful in India coz xbox music and videos don't work in India. Maybe in the future due to the crazy usage of Windows Phones in India.

Its not about the usage, since Microsoft is the middle man, they can't sell music & videos without a license.... Every country requires one & certification can take a mwhile. All Digital Music sellers must have one .

Ultraviolet support would be amazing.

At least UV support is now available on the WP8 Flixster app.

Are you sure, last time I checked it didn't support it!! Edit: It certainly is available, US only though :(

Yeah, I got rather peeved about that one, I have a tasty UV collection but no opportunity to make use of it. Waiting for J Hifi to add video support (hopefully they do).

It does not work if you have a large library. We really need a Vudu app.

Woah woah woah. When was this?!?!?

Well, its not playing any trailers I've tried.....bad start.

not available in india???...this means music+videos app gets separated??

Dont really think I would use this BC of my surface. But winning! Just downloaded. Boom Shocka Locka

It say "App Not Available" what to do

You wait until your region supports it/it becomes available.

We got Xbox video (in all its SD glory), Xbox music, just need Xbox live.....

Xbox Music is out too! http://www.windowsphone.com/en-in/store/app/xbox-music/d2b6a184-da39-4c9...

Xbox music app also released

well atleast apps should have access to videos folder!!!

Play pre recorded videos in the app

Not available again to many countries...?

Omg thank you!!!! I have all the seasons of Dr House in there.

One of my previously purchased movies on Xbox video isn't showing up. Pretty bummed.

Mine are showing. You need to sign in though.

Oh dang couldn't click that link quick enough. Should be sweet on my L1520

Prepare to watch your movies in all their SD glory......:)

HD is unneccassary on 4" screens if you ask me... SD on 4" is still a pixel density higher than regular TV on a >30" Full HD TV.

Lumia 1520 has 6" screen with 1080x1920...

It says "It is not available for your device". What the heck? I am using Nokia lUmia 920 with GDR3 and Amber!

I to am using a L920 GDR3 and Amber on ATT USA... Watching Skyfall now, app working well. Try a restart.

Xbox Video & Xbox Music both are not available in India.

So will Music+Video be getting removed sometime soon, or will Video actually be set up in the Music+Video sometime down the line?

I'm wondering this as well. How will podcasts be handled? Currently they are accessible from Music+Video, but in the stand alone apps, they are nowhere to be found.

How weird it looks with that Xbox name in the name in the app list. Now I have "Musik + Video" AND also on "X", Xbox Video.
Well, at least its here.

No Windows Media Center support? At least we'll be able to watch on our Media Center Extenders (Xbox 360s).

Will we be able to browse videos on the phone and not just movies?

U have to pay for everything? There's no pass or anything to buy for unlimited streaming like Xbox music?

Oh, look...another US-Centred Microsoft App. What a surprise.

Small correction ... It's working on my Swiss Lumia. Hope it will be released in all other countries as well!

Also working on my UK ATIV S, check the supported countries list in the article before posting rubbish like that!!

oh, look... another of your stupid and ignorant comments. what a surprise /s it works where xbox video (and music in the xbox music app) works and every country needs a license for you to sell music and video and not every license is easy to get....
you can of course do a favor and try to see the supported countries first, before posting ignorant comments (well its hard to hope your comments will be smart someday but oh well, its my advice)
do you need more explanation about this? apparently you need some help to understand some stuff.

I can buy all kinds of movies and TV series in german...

I would love to see all regions, but the list below shows more than the U.S. Regional availability: Australia, Austria, Belgium, Brazil, Canada, Denmark, Finland, France, Germany, Ireland, Italy, Mexico, Netherlands, New Zealand, Norway, Spain, Sweden, Switzerland, United Kingdom and United States.

Service not available in Costa Rica :'(!!

Costa Rica hahaha, not even xbox live works there (in so many years), thats why my friends with 360 had to get mexico or US xbox live accounts. its hard to think small countries like CR will get it first than other bigger countries like India, but licenses are needed for Microsoft to sell music and movies there. maybe in some years!

Not available in India?....

CHECK OUT NEW XBOX MUSIC APP!!!SORRY BUT NOT IN INDIA...its raining gold today..speculating dat TR2 might be out today!!!Daniel i bet v r getting TR2 today!!

Yeah... Temple Run 2 should come soon , and so should GTA San Andreas :D

Finally MMA on the go!
I might start taking advantage of season passes now.

I'm sorry...what's the point of the Xbox Music app again? Isn't this already available by the default in the Music + Videos hub? I've been waiting for Xbox Video to come, but Xbox Music seems pointless...? Am I missing something...?

I don't think it's pointless, I think that in WP 8.1 the music and video hub will cease to exist and xbox music and xbox video will take over. Good idea IMHO, although the insistance on an xbox music pass worries me as that means being unable to play locally stored music without paying £8.99 per month.

If you take one out, you need to have the other, but read the article...with both apps modular they can update more freely. One of those things that don't require great detective skills... ;)

I understand that, but as it stands for WINDOWS PHONE 8, this is pointless because the hub still exists. I can understand this for the future after 8.1, but for now only Video is needed (imo). It's good to have it on the marketplace though.

There are many reasons this new app is not "pointless". For example, I can now stream purchased movies from Xbox on my phone. The built-in music and videos app does not have this functionality.

I find it ridiculous that you have to have an Xbox Music Pass to use the Xbox Music app when that requirement was patched out of the Android and iOS apps.

Microsoft has a business model similar to "one step forward, two steps back". They release this after much waiting and you can't even play HD. Isn't that fantastic? And people wonder why WP can't catch a break from bloggers bashing?

Yeah I want to see uv support be added Xbox video. this would make it one of the best video apps ever if this happens

daniel could u clarify region issues...will it be launching in india???does it means music+videos app gets abolished!!

pretty awesome day if I must say so myself. get a 1520 for free. Get a $50 app voucher that just got applied to battlefield premium. Now xbox video to fiddle around with. What next....! EDIT: Spoke too soon. Looks like XboxMusic is avails too. I am in my glory right now. Good time to be a Microsoft fan

I can't get it in my country, this is where apple beats WP :(

Standard def plenty on typical UK broadband. Love this news

Its cool but I actually liked the idea of hubs on the phone as a gathering area of related apps and services...too bad they just couldn't do everything something like that would promise. =[

Won't let me play HD videos it seems. For example, last year or so XBox Video on X360 had the first two seasons of Duck Dynasty for free. I bought those and I can watch them on my Surface RT and download them to my Surface RT. It doesn't look like it will let me watch them on my 928. EDIT: I take it back. The Video app doesn't make you sign in right away like the music one does. Once I signed in, I could see my purchases adn stream the stuff I own.

Wow, working in Switzerland from day 1 without any glitches (yet)? Good, good!

Well, correction. Can't buy anything.

Not yet available in my country (Nigeria)

Why have Music + Videos app then, if we have separate apps for music and video?

That will be the next logical step. Remove the music+video hub. everyone is speculating that with windows phone 8.1 update that is exactly what will happen. But before they can do that the Xbox Music app that just got announced today needs more work. They need to take off the requirement of signing on with a Music Pass and also integrate your personal libraries exactly how the app functions in windows 8.1 Im afraid we all gotta live with that annoyance of 3 apps until April or so lol

Nice now I can watch Downton Abbey on my phone :)

Wow so its finally realeased! But i got to say that this app looks horrible what are the designers doing ffs!?

Nice, though I don't know why they use rotten tomatoes for ratings instead of IMDB lol.

I don't trust ratings but it's better to have a rating system than none at all.

Microsoft have to understand Indian are also using windows phone and here windows user much better then usa why this kind of apps are not for India?

Cause. No one else matter. Lol jk jk.

Good excuse to get a 1520

It won't let me download a movie I had previously purchased. It says checking license failed. I can stream, but not download. Any idea anyone? I'm on Rogers Canada with a Lumia 920.

I have, and it shows and lets me stream my purchased movies, but won't let me download them.

FINALLY!!!! I need my Hocus Pocus on the go. Still one of my absolute favorite movies.

Well so much for the hub experience they've been trying to sell us since launch..

How is this not a hub, it's a video hub and I'm sure they'll add more features soon.

The whole point of the Music+Videos hub was to combine them. To make it a media hub. One stop shop for music and videos. Separating them just makes them regular apps, which they were trying to differentiate themselves from being.

I totally agree, I don't understand the need for different apps. Just hold on to the Music+Video app and when I click on Music the phone cuold fire up a UI like the Xbox Music. I like the hub experience..!

Its sort of a win/lose situation. With the integrated hub you cant update it as frequently as a stand alone app. I am almost positive Microsoft will update the xbox music and video apps frequently to catch them up to par with windows 8.1 where you can manage your personal library as well a stream ad supported music, and explore/buy. The hub is great simply because of the way it integrates any media app you have, but its not too far fetched to assume Microsoft can bring this feature to Xbox Music and video app.

It's about damn time. Now they just need to work on some sort of bundle and get that HD thing worked out.

this is another joke app from MS, why you will want to pay for an HD movie if the app it self does not let you watch it in HD. MS is a complete Joke.

Geez, I don't know. Maybe they'll update it at some point?

You do realize that if you buy a HD movie, it will play in HD on your Xbox as well as on you tablet or computer ( if HD capable ) this isn't about just your phone, its about incorporating a service that already exists to ALSO work on your phone, which is long over due by the way

A bit sloppy not using the same colour for the tile as xbox music or music hub

I'm constantly being told video playback failed.

Has anyone found a way to change how your collection is sorted? The default seems to be to sort by date of purchase (from most recent to oldest). I've got over 120 movies in my collection and this is not ideal by any means. The ability to sort by title should be the most basic of features.

Ah! My work day has just ended. Now to watch some movies!!!

This cool...but ny question is what will happen to the Music/Video Hub?

So, between this and the Xbox Music app can we delete the current Music + Videos app?

You can't uninstall systems apps on your phone

I didn't even think of that. Seems kind of redundant.

Tried to purchase a TV series and it just constantly errors on payment. Went onto my Surface and it worked straight away. Came back to my phone and can watch it (or download it) now it's purchased. You have to be on WiFi and have your phone plugged in for it to download. Also seems painfully slow in downloading (it doesn't tell you the file size so not sure how large it is).

No option to download movie to SD on the 1520. Sucks.

Why aren't creating a Xbox Video Pass? I don't understand the neee for Xbox Video of I've got Netflix. I've looked up the things I missed at Netflix: not as XBV as well.. So If they want to get me (and people like me) away from Netflix: subscription! I don't want to pay for everything seperate.... But I do want everything MS, ah well...

Unfreakingbelievable!! Microsoft added a million European countries but left Portugal out. SOD OFF!!

They didn't for Xbox Music, so it must be local video rights thing. Regional availability: Argentina, Australia, Austria, Belgium, Brazil, Canada, Denmark, Finland, France, Germany, Ireland, Italy, Mexico, Netherlands, New Zealand, Norway, Portugal, Spain, Sweden, Switzerland, United Kingdom and United States

Yes, they did. You're looking at the Xbox music and I was commenting on the Xbox video post. More, even if you change the region on the phone, you can download it but it won't work.

This app is not available for ativ s...

This is cool and all, but I think Microsoft would have a much greater success with Xbox Video if it were a subscription service similar to Xbox music pass. With all the various avenues for getting digital video out there now, there is no reason I would want to pay 6 bucks to rent a movie. I would, however, pay 8-10 bucks a month to have the freedom to watch anything in the Xbox Video Library

+920 +Surface2 +Windows8.1notebook

It's about time! Now just bring my comics back to WP8 (talking to you comixology) and I'll forever leave google behind. Well except for ChromeCast. That's the best $35 I ever spent...well except for that one time at band camp.

All we need now is TV out.

Wow, using 2 factor login is a pain. When you leave to read the text for the code, it sends you back to the start. Wasn't a problem on Xbox music. Will have to login later using email. Also, I understand it may not work in India, but I'm not 100% sure.

Has anyone found a way to change the language of the movies?

Coincidentally, the first video I tried to watch was Pacific Rim, and it worked perfectly. It was the Smartglass edition, in case that makes a difference.

Logged in. Checked the My Videos section and see that the episodes of Friday Night Lights I previously bought through Zune were there. Streamed it. Instant win today. BTW one of the best television series that ever aired if you ask me. Great start Microsoft.

Is it not playing local videos stored in your phone?

I hope Microsoft will give this treatment to all major internal apps, so they can update them any time.

Why can't you play videos from your Phones Storage?

Guess what, 3 months later, Microsoft still doesn't have any kinks worked out. Still have that stupid issue to someone who actually buys his movies, it's like they encouraging movie theft. "Download Failure; failure to acquire license for download."
Windows Central Newsletter
Thank you for signing up to Windows Central. You will receive a verification email shortly.
There was a problem. Please refresh the page and try again.