This is what the future of Xbox looks like
The future of Xbox, what does it look like?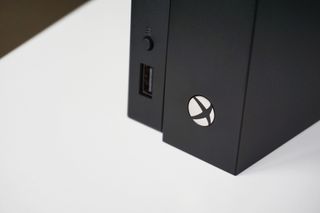 (Image credit: Windows Central)
Microsoft's latest console, the Xbox One X is off to a solid start, beating the PlayStation 4 Pro in its launch week by a significant margin.
After years of struggling behind PlayStation in terms of hardware power, Microsoft's Xbox is now firmly in pole position, delivering a $500 box that not only trounces the PlayStation 4 Pro for 4K video game visuals, but delivers additional features like UHD Blu-ray, HDMI-in, and 4K game DVR. The Xbox One X is simply hard to fault, at least on paper.
A lot of the conversation surrounding Xbox has now turned towards its first-party games line-up, which isn't catering to the maturing "core" audience in the same way Sony appears to be, with photorealistic games like God of War, The Last of Us 2, and Death Stranding on the roadmap. By comparison, Microsoft hasn't committed to announcing titles coming beyond 2018, and the ones that are on the way, namely Crackdown 3, Sea of Thieves, and State of Decay 2, probably won't get the same attention as a gritty, narrative-heavy realistic open world title like PlayStation's God of War or Horizon Zero Dawn might.
Also, there's the issue of services and the uncertain future of Windows to discuss. With Groove Music abruptly shut down, many have rightly wondered if Microsoft still has the will to compete for consumer's attention in other areas. Is Movies & TV on the way out too? What about Cortana on the Xbox with Kinect killed off? And what happened to Xbox One X VR?
Here's everything we think we know about the future of Xbox, pulled from insider knowledge, various Xbox exec interviews, and general gaming trends.
Games, games, more games
This is the part you're most likely interested in. What's the status of games at Microsoft Studios?
With Xbox head Phil Spencer promoted to the senior leadership team, you can firmly expect investment in first-party, line-up defining games to increase, but it will most likely be a few years before we see that investment materialize. Now that Spencer is an Executive Vice President, he can pitch strategy directly to CEO Satya Nadella, without having use Windows Executive Vice President Terry Myerson as a go-between for both strategy and budgeting.
One of the reasons we haven't heard more about Microsoft's future roadmap for Xbox exclusives is quite literally cold feet. After high-profile cancellations including Scalebound, and Fable Legends, and notable delays from Crackdown 3 to Sea of Thieves, Microsoft is playing its cards more closely to its chest, waiting for specific development milestones to be locked in before announcing launch dates.
I know from conversations with people working at Xbox that the company is aiming to bring more "core" games to the table, so expect to see some announcements in that sort of vein at 2018's E3 conference.
Spencer said in recent interviews too that Microsoft was looking to either build new studios, or acquire existing ones. There has been a few rumors revolving around PlayerUnknown's Battlegrounds' developer BlueHole Inc. as a potential acquisition target, but nothing has materialized as of writing. If true, that should give you an idea of the type of games Microsoft is interested in building.
"Games as a Service" has been a hot button topic in recent months, due to the creeping influence of free-to-play (or pay-to-win) elements in $60 premium games. In some respects, Microsoft got ahead of the curve with these sorts of mechanics on console, introducing a dedicated mode into Halo 5 dubbed "Warzone," which revolves around wanton carnage using Halo 5's most powerful weapons and vehicles – that you earn (or pay) for the right deploy via card packs.
Microsoft seemed to sidestep criticism for these systems by leaving them in a self-contained game mode. Halo 5's "Arena" PVP system is the pure Halo experience players expect and love, where the only involvement from paid loot packs comes in the form of cosmetic customization. Microsoft repeated the tradition of separating loot packs and a "pure" multiplayer experience in Halo Wars 2 as well, splitting out a separate Blitz mode where players could either earn, or pay their way to stronger units.
The upcoming open-world connected adventure Sea of Thieves is expected to utilize some form of in-game loot crates as well. It's unfortunate that premium gaming has come to this, but considering Microsoft's relatively gentle approach to these systems in previous games, coupled with the massive backlash against more aggressive monetization seen in recent titles like Battlefront II, I think it's fair to expect that Microsoft will continue to be careful about how it approaches "Games as a Service." That's not to say Microsoft will only build service-type games, though.
Microsoft is also working on Age of Empires IV to serve a relatively niche, but passionate, hardcore RTS fanbase. The company also poured funding into other non-live experiences, such as upcoming open world zombie apocalypse simulator State of Decay 2, action RPG Ashen, and the recent side-scrolling breakthrough adventure Cuphead. Xbox has a desire to cater for as many types of audiences as possible with its games, and that's likely to continue.
Cloud and Xbox Live services
The promotion of Spencer to the senior leadership team shows a great deal of faith and support for gaming at Microsoft in general, and it fits right into Microsoft's wider cloud-first strategy. Microsoft has already been able to shift one of 2017's biggest games, PlayerUnknown's Battlegrounds, over to Windows Azure for its live services, ditching Amazon in the process. More companies could follow suit.
Microsoft made a huge deal about "cloud powered" computation at the start of this generation, but it has yet to materialize in any meaningful way, save for the A.I. mobs in Titanfall. Crackdown 3 is supposed to be launching with cloud-powered destruction physics, but the promised multiplayer tests were indefinitely postponed, and we haven't heard much about cloud compute since. I'm not sure whether Microsoft is still pursuing cloud-powered computation for future titles, outside of multiplayer services, but if Crackdown 3 is successful, we could see more investment in this area. For the most part, Microsoft will be using the cloud to increase engagement on Xbox Live.
To this end, Microsoft already has baked new features into Xbox Live — including Mixer streaming, Clubs, Tournaments, and Looking for Group — but the apps that power these services outside of your console are slow as molasses on Android, iOS, and even on quad-core Core i7 Windows 10 PCs.
Microsoft will be looking to improve these systems and services going into 2018, with particular attention paid to Mixer, a fledgling streaming service with the lofty goal of competing with Twitch, which thoroughly dominates the game streaming space. Microsoft hopes that innovations in interactivity will help Mixer along, but in the future, the technology that powers Mixer's extremely low latency between viewer and streamer could end up in other products.
Phil Spencer has previously teased the introduction of a Netflix-like game streaming service for Xbox, allowing gamers to play their games remotely over the internet via video feeds, similarly to PlayStation Now. Microsoft has already been pursuing this kind of futuristic scenario, but found the costs to be prohibitive, and the experience to be sub-par. As global internet speeds increase, coupled with Mixer's low-latency infrastructure and existing interactivity systems, it's not hard to envision how it could evolve to eventually let you stream your own games to yourself, to any device – maybe even competing consoles.
I wouldn't expect an "Xbox Now" service to arrive in the near future, and it won't replace local Xbox hardware even more long term either (Microsoft is already working on the next box). Just know that Microsoft is definitely exploring this concept.
Speaking of live services, what about Movies & TV? After Groove Music's abrupt closure, you might be wondering whether Microsoft's movies and television digital services might be next to join it in the great digital afterlife. However, we don't believe that this is the case.
Microsoft was able to provide DRM-free versions of purchased music on Groove, but doing the same for purchased films and TV shows would be a logistical and, potentially, legal nightmare. Not to mention for heavy users, like myself, storing hundreds and hundreds of videos would be simply impossible. Similarly, refunding the millions of dollars worth of purchased content to existing users would also be prohibitively costly. And simply put, we've heard from multiple sources that Movies & TV is a profitable venture.
The fact is, with Groove, few people were using the streaming service due to competition from Spotify on mobile platforms, and the simple fact few people use their TV sets to stream music. They do however, use their Xbox to buy and rent media from the store on a profitable basis.
Some of the criticism falling on Xbox's media business right now is the lack of evolution and development. Amazon Video and Netflix both now support 4K on Xbox One, while Movies & TV has a rather pathetic selection, despite Microsoft's big push with the Xbox One X. Additionally, Disney has built up a new consortium, allowing users to buy movies and shows from any store front, and utilize them across any platform, dubbed Movies Anywhere. Microsoft's absence from this service is notable, but we've heard that the company is working to fix this situation. It sounds as though the Xbox team is looking to improve on this aspect of their overall offering, so stay tuned for that too.
VR and other Xbox features
Finally, Microsoft is still working to bring some other features to Xbox. There's a complete overhaul of Avatars on the way, which has been delayed into 2018. The new Avatars will be far more customizable than the current incarnation, allowing people to express their identity far more accurately than the limited options available now. We've also seen some evidence that Avatars could somehow link into Remix3D.com, allowing users to customize their own 3D models using Windows 10 apps like Paint 3D.
The Xbox backward compatibility library is expected to expand too, including both Xbox 360 and original Xbox games into the mix. The next wave of OG Xbox games is expected to arrive early in 2018, and the Xbox 360 program receives new games every few weeks as usual.
One segment of gaming that remains unknown is VR.
Microsoft announced the Xbox One X with heavy references to VR, stating that the specs were chosen specifically to enable high-fidelity VR experiences. Since then, strangely, Microsoft scrubbed all mention of VR from the console's marketing, leaving us with a relatively uncertain idea of when (or indeed, if) it will come to Xbox One.
Microsoft has stated that it would like to make the headsets wireless before bringing it to Xbox, as to not interrupt the flow of living room use, i.e. not having cables draped all over the place. It's a noble effort, but for those wanting VR today, it leaves us without a firm date for when Xbox One X will see VR. We can only hope we'll get some form of update in 2018.
The future looks bright
The biggest takeaway for this year's Xbox effort is the promotion of Phil Spencer to the senior leadership team, and by extension, the entire Xbox team. For the Xbox team to have a direct line to shape and influence the entire Microsoft ecosystem is a huge watershed moment, and should not be taken for granted by any Xbox fan.
More games are coming, more features are coming, and importantly, more Xboxes are coming. It seems unlikely that Microsoft will allow Sony to outpace it in the power argument in the future, putting an emphasis on Xbox customer's desires and needs above everything else.
It's a great time to be an Xbox fan. I firmly believe that the current team running gaming at Microsoft is ready, and crucially, finally fully able to bring about an exciting future for all gamers in this ecosystem.
Windows Central Newsletter
Get the best of Windows Central in in your inbox, every day!
Jez Corden a Managing Editor at Windows Central, focusing primarily on all things Xbox and gaming. Jez is known for breaking exclusive news and analysis as relates to the Microsoft ecosystem while being powered by caffeine. Follow on Twitter @JezCorden and listen to his Xbox Two podcast, all about, you guessed it, Xbox!
So basically just a bunch of back compatible titles and 3rd party games for the next few years? They decided to launch a brand new console with minimal 1st party games and might not have any big new 1st party titles until the next Xbox is ready to release. No VR until they have a major leap forward in the tech to make it wireless.... And you think the future is bright because Spencer got a promotion and MIGHT be able to do things now... lol have fun with those assumptions when the games and new studios don't materialize in the next 3-4 years and never do...

I was thinking the same exact thing. I like the Xbox, but this article reads like a bunch of wishful thinking. I know what has been said by Phil and the rest of MS Execs, but don't tell me, show me. While Sony is enjoying well received first and second party games left and right with more to come, all we get is a more powerful console to play the same old games we've already played. Yes, it will play 3rd party games better, but where's MS answer to God of War, Horizon, Nioh, Bloodbourne, Uncharted, need I go on. I like Halo and Gears, but my goodness how much more can we take? I'm happy Phil got promoted, but until I see some positive change in the games department, I will remain skeptical of Xbox future. Sorry to be a downer.

Satya's head remains in the cloud and this should cause for concern if any MS product owner. You are not a downer what is a downer is that I have to buy an android phone.. I never purchased an Xbox One I already knew their fate was sealed from their retarded lunch under spec'd system with the kinnect bundle. I have gaming on PC since, it get all the MS titles for the most part and the Sony japanese excluives that don't make their way to the Xbox. Like Nioh, SFV and Nier etc.. Until they can demonstrate a reason for me to purchase one I can't go near it I think even the original xbox was a more compelling purchase. At this point they aren't even trying..

You know MS doesn't actually care that you aren't buying an Xbox. Your're still using Windows and buying their games on it so they get your money one way or the other. They don't need you to buy their console, it's just another avenue for them to push their software. Just saying...you aren't actually sticking it to the man as it were. =/

I agree. I don't buy the idea of waiting for wireless VR (with high resolution, low latency, acceptable weight and several hours of battery life). When that happens, maybe we already see PS6 or iPhone 20. If Xbox One X is capable of VR, make it happen before the end of life of this generation.

Boome, It's not often I see a paragraph so full of dumb. Not sure why Sony always gets such a pass while MS gets all the criticism. PS4 Pro launched with jack and ****. It's a really fun game. Sony's exclusives don't exactly pour in either, and unlike Sony, MS doesn't want to advertise games that are years out. Going off Sony's worst E3 show ever, and their latest show fail, why Sony isn't getting bagged on is beyond me. As far as VR, they aren't waiting for wireless. They've got VR games and 1st party games in development. VR will just use the already out Windows VR headsets. Phil Had to clean up quite a big mess the guy before left, and he's doing a great job at it. Xbox will come back, hell it already is.

Xbox is the only MS consumer dvision I have any confidence in. If MS screws up Xbox I will have nothing further to ever do with them ont he consumer side. MS is on shaky grounds lately I hope they don;t **** up Xbox as well. Satya cannot be trusted with a consumer division.

And here I was thinking this would be an article about selling the entire division, kit and caboodle to Sega.

The most powerful system doesn't always win. The original Xbox was more powerful than the ps2 and list. The ps3 was more powerful than the 360 but lost. So by you going by the first week of sales and getting overly excited is premature. The Kinney was the fastest selling tech ever and look what happened to that. Ms doesn't care about there customers and they keep proving that over and over again

If Nadella is still CEO then, the next xbox is going to be cubial warfare only....

I would also be hesitant to intro or even attempt VR since everyone just about 💩💩💩 all over their efforts there...to that point, it's a miracle they bother doing anything for the ungrateful community but that's just my feelings on the matter 😒

The future of Xbox: Satay awakens from his nap, discovers this product his company makes called Xbox One X, uses it for a while... "wow this is neat.............. kill it".

Sadly me (I have both platforms) and buds are moving to the PlayStation camp which it came out of now where MSFT needs pump out games.

Prior to Phil Spencer being promoted, Microsoft Studios had experienced alot of cuts that in term has had a detrimental affect on the first party line up. Therefore reinforcing the view I have about Satya Nadella being primarily a numbers CEO, numbers don't tell the entire story. If Ballmer was a numbers CEO than surface would have been axed after the initial stock write down, xbox would have been axed as it took about billion dollar cost to ensure customers experiencing the RROD issues were well taken care off, bing being axed as it was being run at a loss for aeons etc, however fortunately Ballmer was not a numbers CEO.

It's a great time to be an Xbox fan... reading your article seems the opposite man...

I can't wait, the future of xbox looks really bright and it's the only thing that is as gamer and prosumer giving me hope.

The thing is I actually wanted to buy the new XBox One X, because it is the most powerful console ever. But what is the point of having a powerful console if you cannot even match the games of your rivals? Great, you have the most powerful machine, but not nearly as many good games to play, so what is the point? Sony has uncharted, last of us, horizon zero dawn, etc.... and more to come. And my guess is that it won't be too long before the PS5 comes out and MS will really be screwed. Just stating the obvious.

Now that the X1X is out. Microsoft needs to start throwing some killer games out our way. Especially exclusive games. I own all new gen consoles but I favor my xbox but it's becoming harder to defend them to the ps4 fan boys when they talk about exclusive games. What's xbox got coming out see if thieves, state of decay 2, crackdown 3. Seriously talk smack about most powerful console but no games. At least throw vr out way. Damn damn Damon Microsoft
Windows Central Newsletter
Thank you for signing up to Windows Central. You will receive a verification email shortly.
There was a problem. Please refresh the page and try again.